banana chip maple syrup cake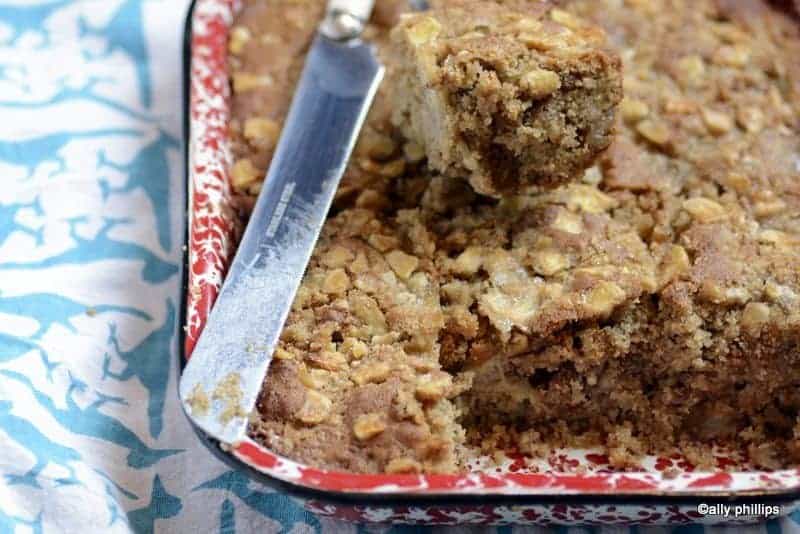 Tresa is one of my besties. My besties are a short list of friends that I would walk over hot coals for. And, one thing I always do when she comes over and we're having eats, which is always, is that I pull out something with crunch and crisp. It doesn't matter. If Miss T is eating hot creamy oatmeal, she wants a little crunch with it. Even if it's just a few pretzels that, by the way, are awesome with hot creamy sweet oatmeal!
Just like T, we all have our palate preferences. I'm hoping that some of you who are reading this recipe are like me. You like something crunchy with most anything you eat. Yes, it just adds to the happiness on my palate. And, that's what I"ve done for this banana chip maple syrup cake. I've added some crunchy crispy bites by using crushed dried banana chips. Sprinkled on top, they don't get soft or soggy during the baking and there's just enough of the texture difference to give you that satisfaction. Yes, nuts can do it sometimes in banana cake, but once you bite into nuts and start chewing, they seem to lose their crispiness. See what you think. If you're looking for the soft-crispy texture duo in a banana cake then this might just be your ticket!
xo ~ally PS~I intentionally make these introductions short to the recipes because I know what you want. The recipe. Not my life history!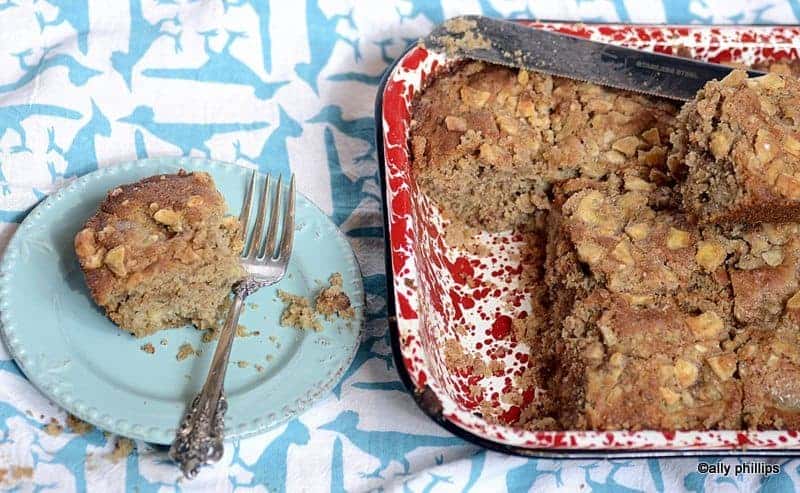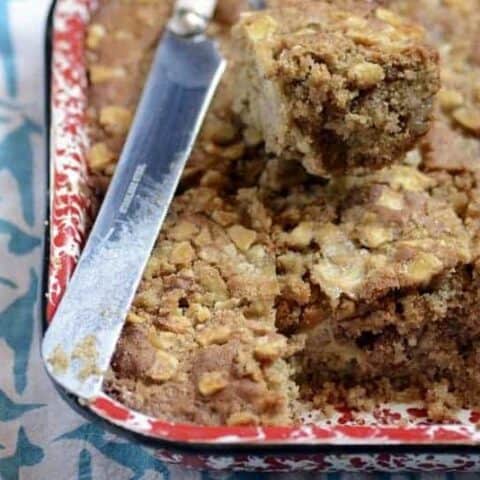 banana chip maple syrup cake
Ingredients
Preheat oven to 350
½ cup brown sugar + 2 Tbl. water
1 tsp. vanilla
1 tsp. ground cinnamon
½ tsp. ground nutmeg
3 eggs, beaten
1/3 cup salted butter, melted
½ cup whole milk
3 bananas, chopped into chunks
1 Tbl. baking powder
1 ½ cups rice flour
1 cup walnuts, chopped
½ cup dried banana chips, crushed
3 Tbl. Maple syrup (real maple is best!)
Instructions
In a medium size mixing bowl combine the brown sugar and water. Blend with a fork to dissolve sugar. Add the vanilla, cinnamon, nutmeg, eggs, butter, milk, bananas and mix together.
Sift into this wet mixture the baking powder and flour. Blend into a thick batter. Add the walnuts and fold in.
Pour into a well-greased baking dish. Sprinkle the banana chips on top and drizzle the maple syrup on top.
Bake in a preheated 350 oven for 40-45 minutes or until a toothpick comes clean from the center. Remove to a cooling rack for about 15-20 minutes before cutting.
Notes
Don't mind the crumbles of this cake. It's perfect for smooshing your fingers into, picking up and eating!