super easy apple slab pie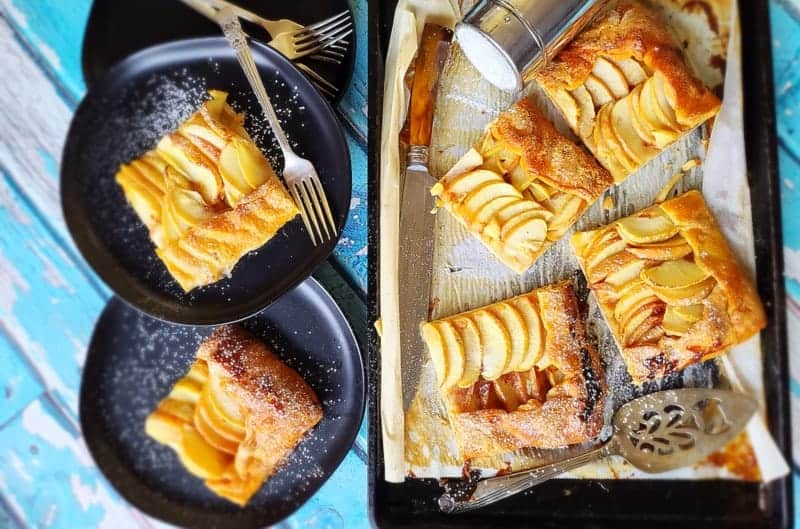 This super easy apple slab pie just makes you look like a fabulous chef! So easy. And, it's simplicity is the exquisite beauty! Perfection!
Slab Pie Recipes
Looking for something really different with the All-American apple pie! Well, then this slab pie will be perfect. So much fun to make!
Recipe for Apple Slab Pie
Now I am totally dedicated to making recipes easy for you, and this recipe for apple slab pie is just that. Even a novice baker can bake!
Yummy Apple Slab Pie
I made this yummy pie to take to a friend's home for dinner. It was just the four of us, so I made some extra big slices that actually weren't that big really!
How to Make Pastry for Apple Pie
You can, of course, make pastry from scratch, but if you're a novice baker, that might be a step that's intimidating. So, I'm using thick pizza packaged refrigerated dough. It's roll out. Comes in a nifty rectangle and is perfect for making a pie. Who doesn't love pizza crust!
Best Apple Pie Recipe
I think what makes this one of the best apple pie recipes is the fact that it's just so darn pretty and different, not to mention yummy. When I post these pictures on social media, that's exactly the first reaction. This apple pie is sooooooooooooo pretty!
Making Apple Pie
Making rustic organic-looking pies, yes, a slab pie, is a unique way to change your presentation. Yes, I have other kinds of fruit pastries and some are very conventional in a pie sort of way!
Upside Down Peach Pie Tart Tatin
What to Make with Puff Pastry
When you're talking about puff pastry, well, then you're talking my language. In today's cooking world, there's nothing better than buying prepared puff pastry! It's super versatile with both savory and sweet recipes. And, gosh darn it, it saves huge amounts of time when you're baking. Why not have your cake and eat it too! Great homemade desserts without a lot of work in dough preparation.
Easy Pizza Dough
And, another prepared and refrigerated product I love is pizza dough. Yes, this product can be used for pizza, but also for baking pies, upside down pies, hand pies, regular pies, slab pies, cupcake pies and more. That's what makes this recipe accessible to any level of baking skill.
Apple Slab Pie with Puff Pastry
While I used pizza dough for my apple slab pie, you can use puff pastry. The puff pastry, of course, would have more flakiness in the finished slab pie while the pizza dough I used is more dougheee! Like a pizza but a sweet pizza dough!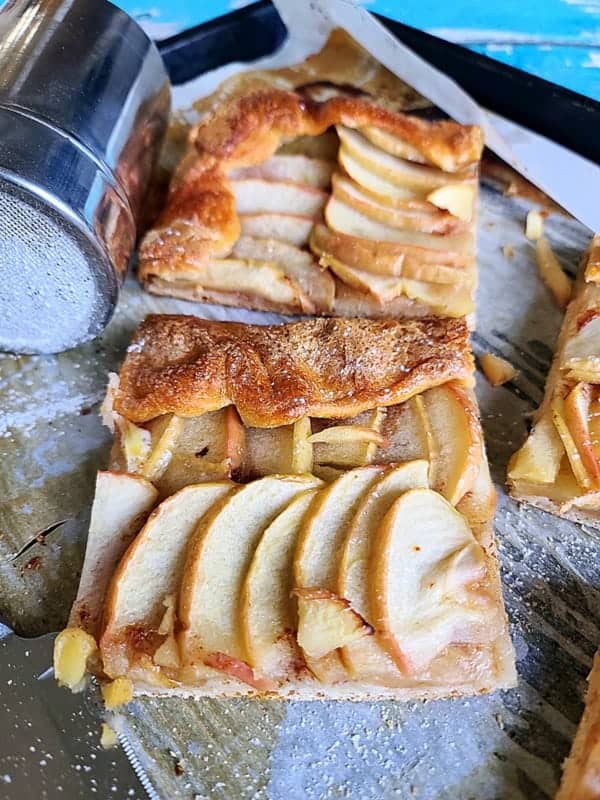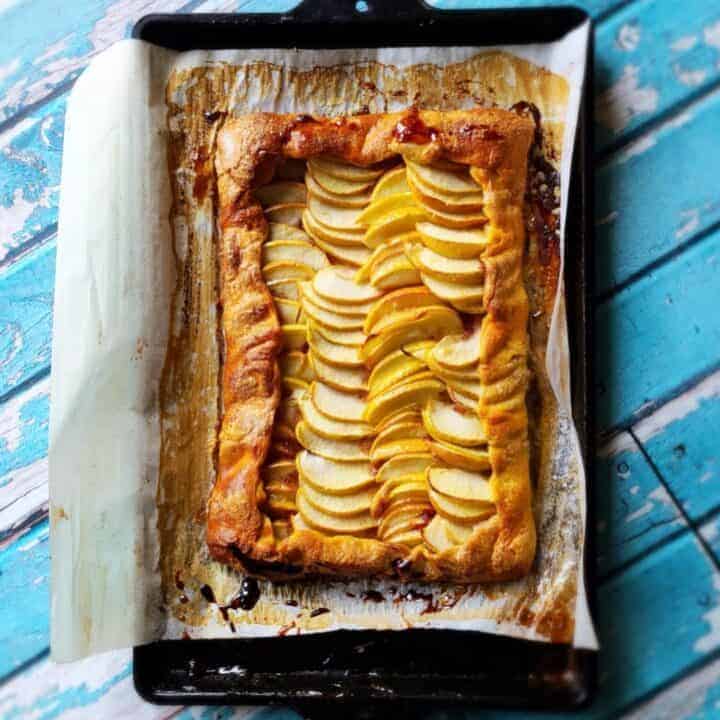 super easy apple slab pie
Yield: Makes One About 12 x 16 Slab Pie on a Cookie Shee

This super easy apple slab pie just makes you look like a fabulous chef! So easy. And, it's simplicity is the exquisite beauty! Perfection!
Ingredients
Preheat oven to 375
1 lemon, large, juice and zest
3 very large apples, washed, and sliced into thin slices with skin on, about 5-6 cups
2 Tbl .arrowroot
1 refrigerated Classic Pizza Family Style Crust, Wewalka brand or similar brand, almost room temperature
5 Tbl. butter, salted, room temperature and spreadable or somewhat melted
1 cup + 2 Tbl. sugar, divided
3 tsp. cinnamon, optional
1 egg white
Instructions
Wash the apples well. Slice in halves, then quarters and use a paring knife to slice into thin slices. Put in the bowl with lemon juice/zest, arrowroot and toss and blend. This will keep the apples from turning brown.
Line a cookie sheet with parchment paper. Roll out the rectangular pizza dough. Gently stretch with your hands to about a 12 x 16 size.
Slather the softened butter on the dough. Blend together one-half of the sugar with the cinnamon. Sprinkle all over the butter on the dough.
Take the apple slices and line three rows on the dough leaving about one inch border all around. Sprinkle one-half cup sugar on the apples.
Fold over the sides and pinch and seal. Use the egg white and brush on the exposed dough and sprinkle the two tablespoons of sugar on the dough.
Bake in a preheated 375 oven for about 35 to 38 minutes or until the dough is golden brown.
Remove. Cool. And, slice!