What happens when your apples start to lose their luster, show signs of aging, and have soft spots and bruises~~I mean it's really funny how food, like people, age in much the same way! Well, what I do is re-invent the food or ingredient and bring new life to it! And these maple syrup fried apples and dates show you why!
These apples are even more gloriously delicious prepared in this way~~plus, there are so many ways you can use them~~you're only limited by your imagination. From topping them on chicken or pork chops to ice cream or pancakes~~the world is your oyster~~ so, here's to ~peace & knowing that that youthful shine of life can be restored with creativity~ ally xoxo  PS~~Hey, how's 'bout a few walnuts for some crunch!
PS~Another great thing about being a foodie is hearing from YOU~~when I posted this recipe, I got this coolest FB comment from a friend in England, she writes: OMG Ally, I just saw your new recipe spiced maple fried apples with dates, how did you come up with this recipe? I feel you have been a North African woman in another life or probably you are hanging out with my mother in her kitchen in Algiers?…in Algeria during Ramadan, most families make this side dish called " tajine lhem lahlou" which means tajine of sweet meat that is made of lamb meat pieces cooked in cinnamon and most spices plus sugar you've listed in your recipe. Once once the meat is cooked apples, dried prunes or dried apricots and almonds are added at the end. This dish is supposed to give the person who was fasting energy boost!
Just so you know, just click~~this is a Dole recipe!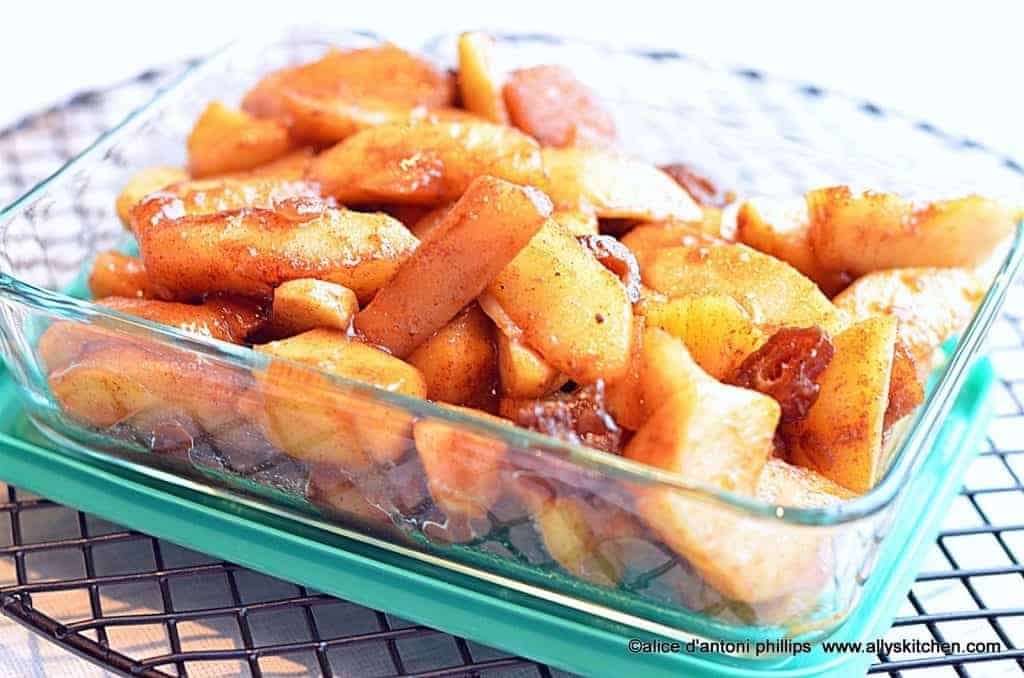 Serves: 6
What you need:
2 Tbl. Butter
6-7 apples, peeled and cut into wedges (I used granny smith and honeycrisp apples.)
¼ tsp. sea salt
¼ cup real maple syrup
½ tsp. cinnamon
¼ tsp. nutmeg
¼ tsp. cloves
¼ tsp. ginger
1 tsp. sugar
¼ cup dates, pitted and sliced into thin rounds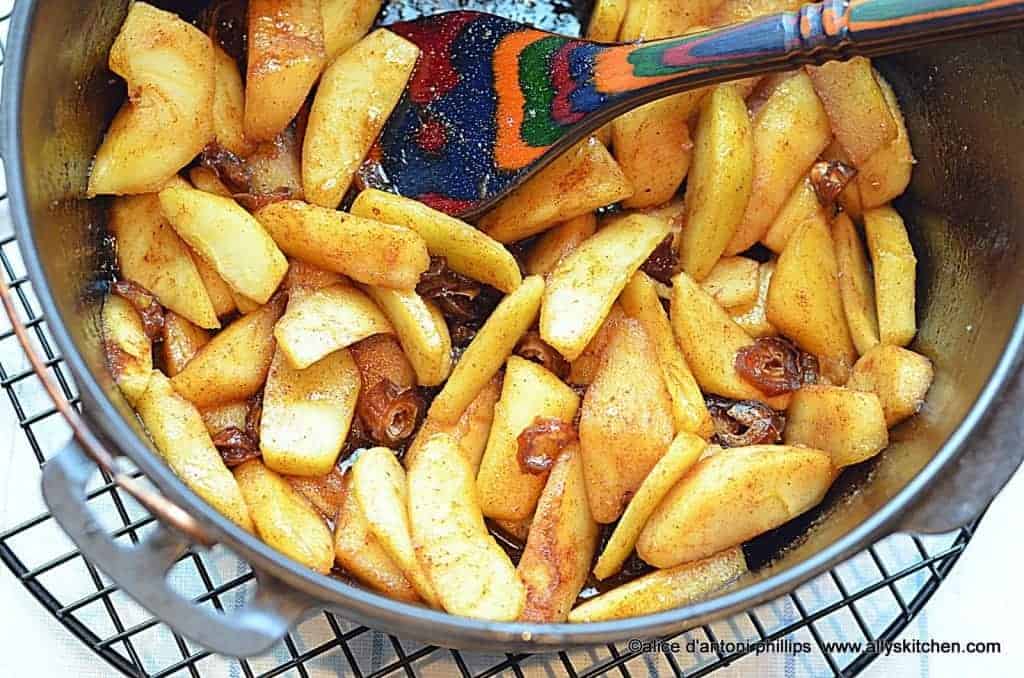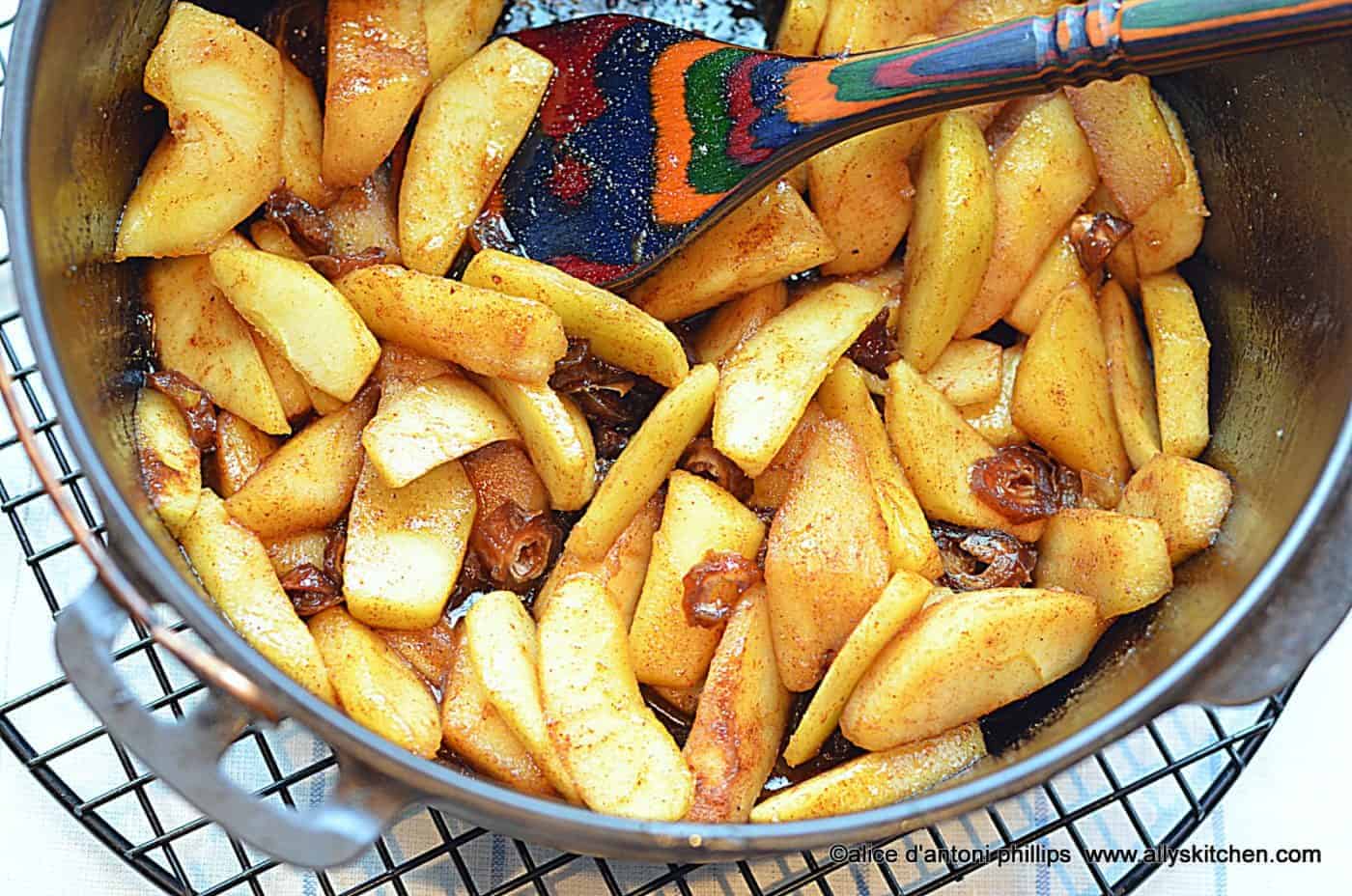 What you do:
In a heavy skillet over medium heat, melt the butter. Add the apples and salt and toss and cook about 3 minutes. Drizzle on the maple syrup and toss and blend; reduce heat to low and cover with a lid and cook about 5 minutes.
Meanwhile in a small bowl, combine the cinnamon, nutmeg, cloves, ginger and sugar then sprinkle it over the apples; toss and coat all the apples with this mixture. Add in the dates; toss and cook another 15 minutes on low. Ready to eat!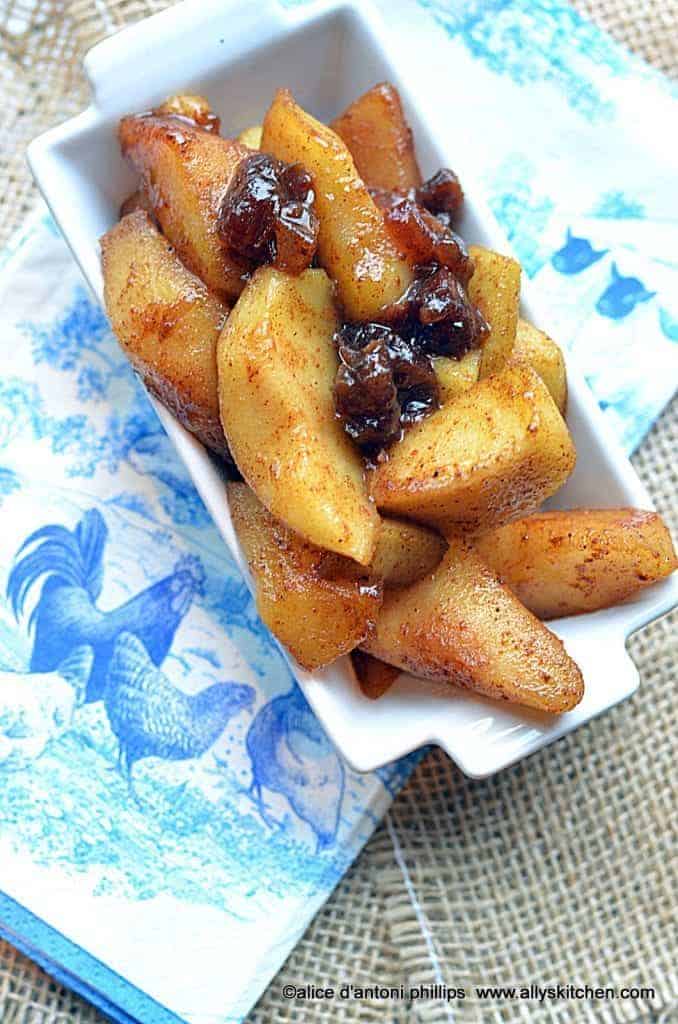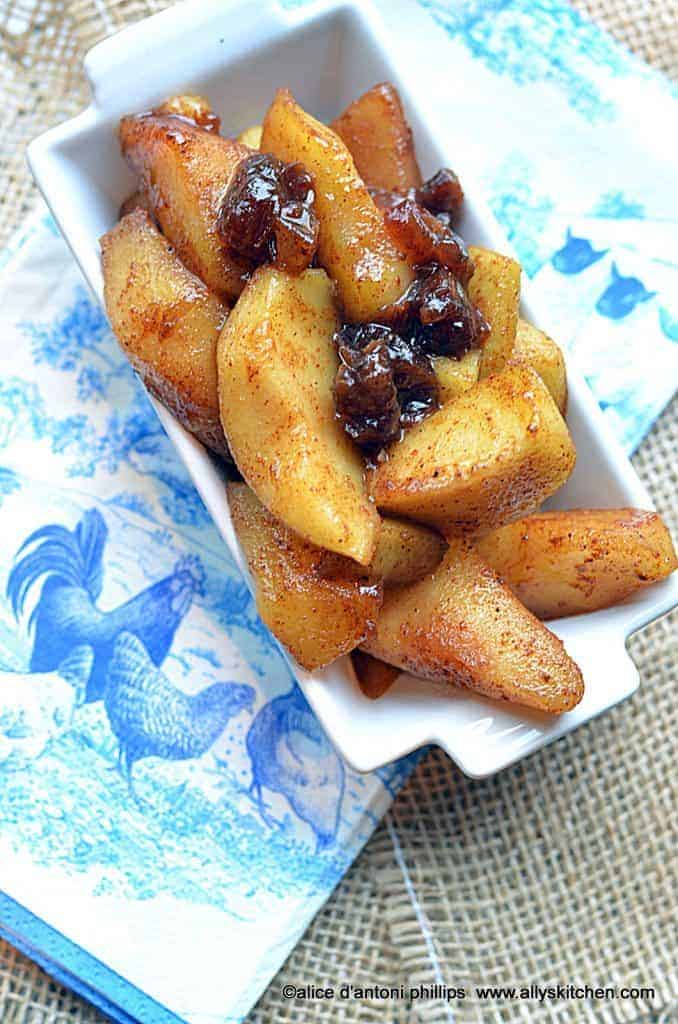 ©alice d'antoni phillips www.allyskitchen.com