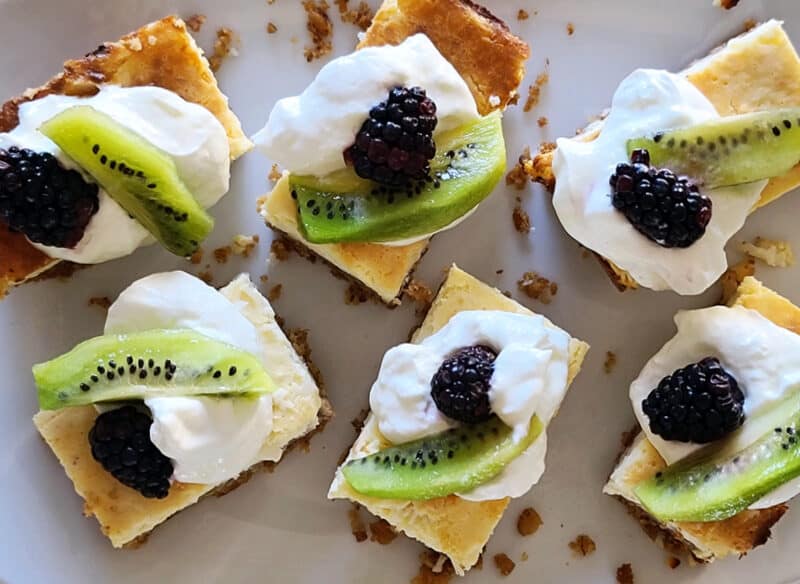 brown sugar almond banana cakeLemon coconut cheesecake made with cottage cheese! Not too sweet, but full of citrus and coconutty flavors! Top with lemon yogurt & berries!
Coconut Lemon Cheesecake
Two of my favorite flavors, coconut and lemon! And, when they come together in a cheesecake, well, just count me super happy!
Easy Coconut Cheesecake
Making this coconut lemon cheesecake is really easy. And, y'all know that I'm what I call a 'rogue' baker. Yes, I like things that are simple to make and things that taste diviningly delicious.
Recipe for Coconut Cheesecake
Another thing about sweets and desserts for me is that I'm not going to make them uber sweet and ooooeeee gooooeee. I like that hint of sweet. I love some different textures, too.
Lemon and Coconut Cheesecake
Lemon and coconut go together splendidly. I mean think about the iconic cocktail, the Pina Colada! Pineapple and coconut, but, hey, you can change it up to lemon and coconut!
Coconut Cheesecake Recipe
I have several cheesecake recipes. I have lots of coconut recipes. Each and every one has something unique and there may be just a slight twist. But this slight twist makes it unique. Think of your children, well, if you have more than one. Each has the basic same DNA (ingredients), but each is uniquely different with a defining 'twist'!
Coconut Cream Scoop Pie
Lemon Cottage Cheesecake
Lemon Cream Cake
brown sugar almond banana cake
Coconut Cheesecake
I'm a coconut lover. When I cook with coconut, I have several choices and applications of coconut. In baking, I typically use either sweetened or unsweetened coconut, frozen coconut, shredded or flaked coconut. And, it all depends on the look, taste, texture and overall ambiance I want to create in the recipe.
Sour Cream Cheesecake
Sour cream in this cheesecake is so tasty! While we love love sour cream for our baked potatoes, to dollop on hot chili beans, to make sauces and more, we can use sour cream in our baking.
The creamy texture of sour cream adds a moisture boost to baked things. And, it sure does to this cheesecake, which is extra creamy.
Recipe Lemon Cheesecake
If you can wait to slice this cheesecake for 24 hours, then the crust is going to set better. I know it's going to be difficult, but another added bonus is that those flavors just intensify in the refrigerator. Be sure to cover the cheesecake tightly with plastic wrap.
Lemon Cheesecake with Sour Cream
While I love a big scoop of Greek Lemon Yogurt on top as a type of 'icing', you could use sour cream, add some fresh lemon juice/zest and powdered sugar (to taste) to sweeten just a tad. Or if you don't want to add the powered sugar, just drizzle a little wildflower honey on the sour cream dollop.
You'll love this recipe. It's so very versatile. You can slice into serving pieces, cheesecake bars, small tasting squares. And, don't forget to top with a variety of fruits!
Also, check out delicious dessert recipes:-
apple date whiskey nut galette
Spicy Hot Sumatran Tiger Chocomallow Locos
Oreo Oatmeal Nut Bars
apple pear pie stackers
Hummingbird Cake
Willy Wonka Chocolate Graham Cracker Nut Bars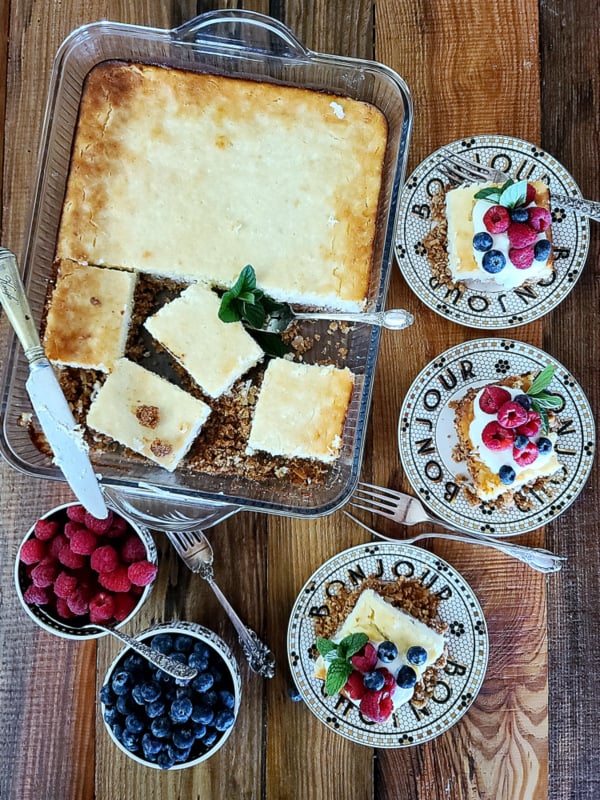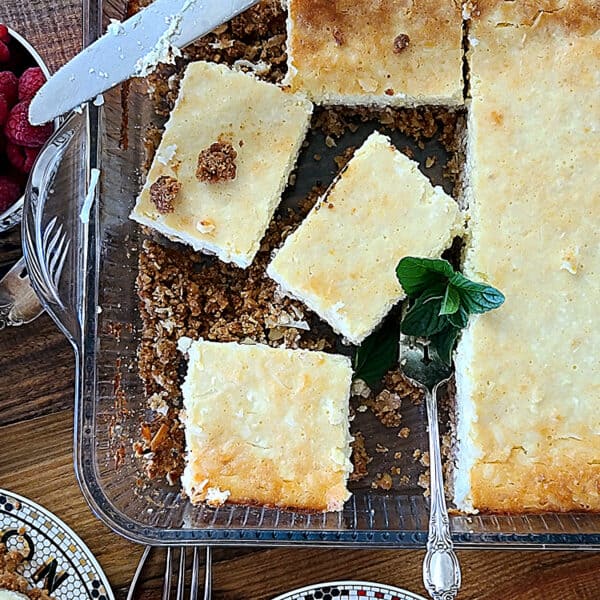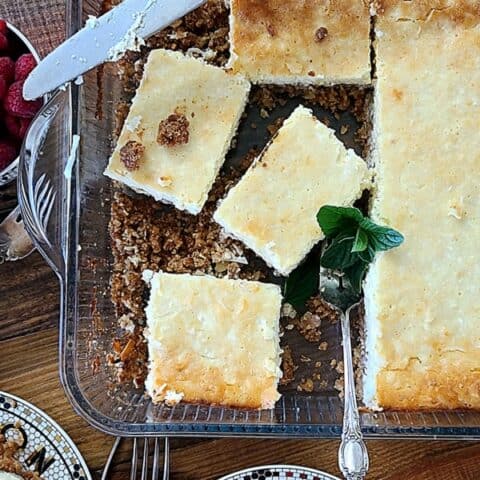 lemon coconut cheesecake
Yield: Makes One 11 x 14 baking pan (outside dimensions)
Ingredients
Preheat oven to 350
CRUST:
5 cups graham crackers, crushed finely
1 cup almonds, sliced and crushed
12 Tbl. butter, salted and melted
1 egg, white only, reserve yolk for filling
FILLING:
4 eggs + yolk from crust ingredients
24 oz. cottage cheese, 4% small curd
12 oz. sour cream
8 oz. whipped cream cheese
1/8 tsp. salt
1 cup sweetened condensed milk
2 lemons, large, zest and juice
¾ cup flour, all purpose
1 cup coconut, sweetened, shredded
Instructions
In a large mixing bowl, combine the crushed graham cracker and almonds. Mix well. Mix the melted (cooled) butter and egg white together and blend into this mixture combining well.

Put in the bottom of an 11 x 14" baking dish (about 3" deep). Pat down well. Put in a preheated 350 oven for 5 minutes to set the crust. Remove and let it thoroughly cool.

In a large mixing bow combine the eggs (and yolk), cottage cheese, sour cream, whipped cream cheese, slat, sweetened condensed milk, lemon zest/juice and flour. Blend well with a hand mixer for about three to four minutes.

Add the coconut and mix into this batter. Pour the batter on top the cooled crust.

Bake in a preheated 350 oven for about 75-80 minutes or until a small skewer comes basically clean from the center. You'll also see that the top will begin to show cracks and crevices.

Remove to a cooling rack and then cover with plastic wrap and refrigerate for at least 30 minutes (before serving) or until ready to serve. Keep refrigerated.