Spicy Hot Sumatran Tiger Chocomallow Locos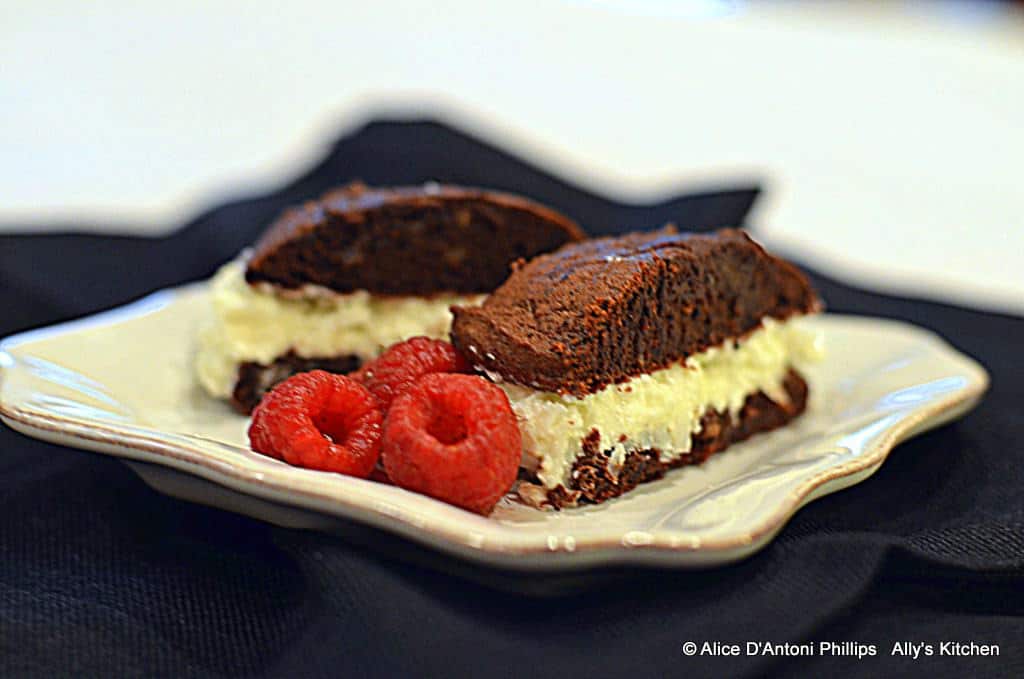 Originally created as an entry into the 2013 Scharffen Chocolate Contests. This cookie sammich had to have a special name.  And, because of that I went to the most creative and zany foodie friends  I know and asked for suggestions…I mean this is not just your ordinary cookie sandwich, right?  It's a work of art.  It has layers of flavor,  It has a depth of dimension.  While it may look like 'just a chocolate' sandwich cookie, it's much more than that~~it's got adventure ingredients that range from Sumatra coffee and cayenne to tequila!
May I present the 'Spicy Hot Sumatran Tiger Chocomallow Loco'~~an explosion of fireworks on the palate! I owe a big thank you to all who chimed in to this Facebook post~~Lori, Adam, Sun City Farm Girl, Phoenix Rising, Kimberley B., Kimberley S., Vona, Radha, Sharon, Nettie, Gina, Gary, & Nanou~~ya'll rock!  Careful when you take a bite…it bites back!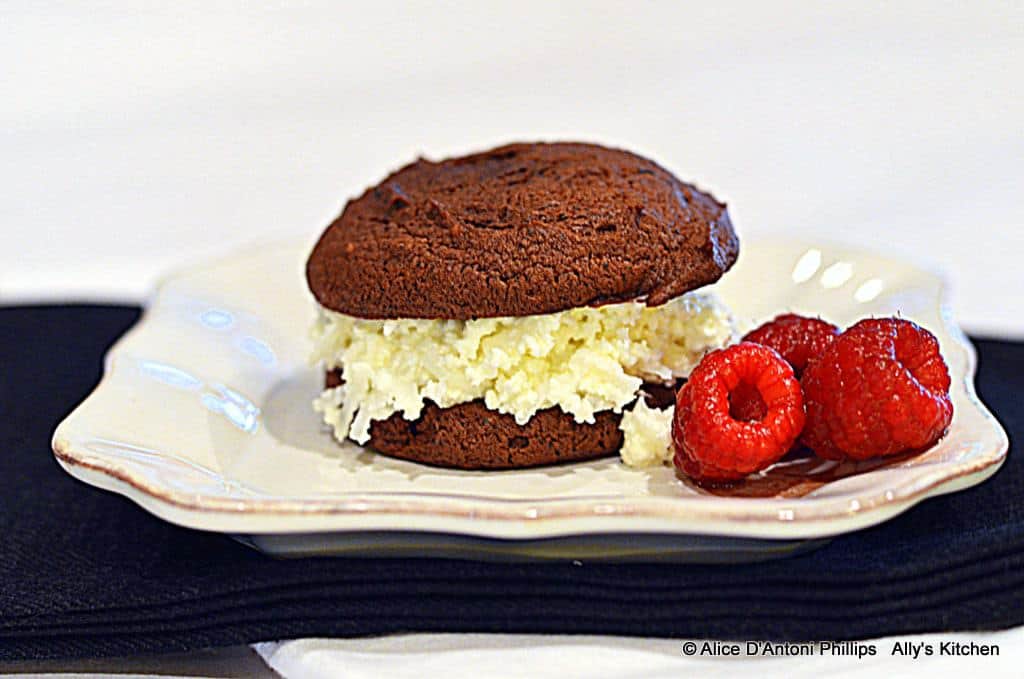 Makes:  12-14 finished sandwich cookies
Preheat Oven to 350
What you need:
Filling:
½ stick room temperature unsalted butter
½ cup marshmallow cream
¼ cup mascarpone (softened)
¼ cup coconut milk
1/3 cup shredded sweetened coconut
Garnish Topper:
4 ounces of fresh raspberries
2 tablespoons of tequila
2 tablespoons of sugar
¼ teaspoon cayenne chili powder
1 teaspoon Scharffen cocoa powder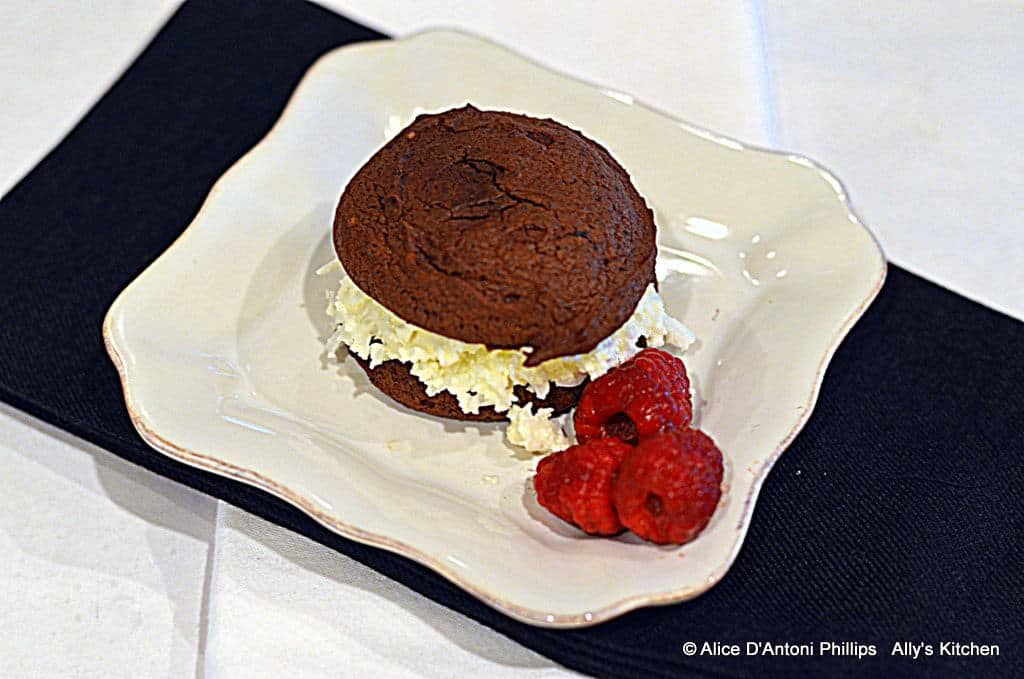 Cookie:
1 cup sifted self-rising flour
1 small box (3.4 ounces) instant chocolate pudding
4 tablespoons finely ground Sumatra coffee
3 tablespoons cocoa powder
½ tsp sea salt
10 tablespoons softened salted butter
1/3 cup sugar
2 beaten eggs
4 ounces (2 blocks) melted Scharffen 62% semi-sweet dark chocolate (microwave 2 ounces at a time about 45 seconds)
1 teaspoon vanilla
1 cup coconut milk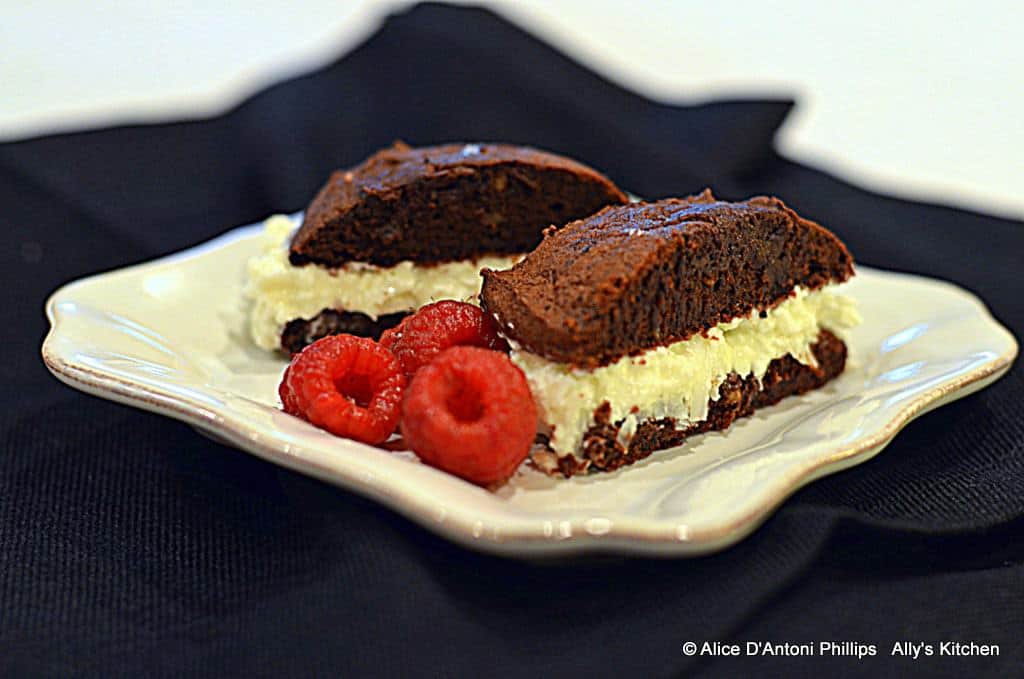 What you do:
Filling:
In a large mixing bowl, combine the unsalted butter, marshmallow cream, softened mascarpone, and coconut milk.
Using a hand mixer on low, whip the mixture for 3 minutes incorporating the ingredients well.
Sprinkle on coconut and blend in with a spatula.  Place in refrigerator until ready to assemble the cookie sandwiches.
Garnish Topper:
 In a shallow bowl combine the fresh raspberries and tequila and toss.
In another small bowl, place the sugar then sift in the cayenne and cocoa powder and blend.
Drizzle on raspberries and toss/coat.  Spread out the raspberries and put in the freezer.
Cookie:
In a medium size mixing bowl, combine flour, pudding, Sumatra coffee, cocoa powder and salt and blend well.  Set aside.
In a large mixing bowl, combine softened butter and sugar and whip with a hand mixer on medium to medium high for about 2 minutes.
Add beaten eggs to butter/sugar and continue mixing on medium speed one minute.
Add melted chocolate, vanilla and coconut milk to butter/sugar/egg mixture and beat on medium speed for 2 minutes.
Start combining the dry & wet ingredients.  Add about a cup of the dry mixture to the wet and blend with hand mixer on medium low.  Continue adding a cup at a time and mixing the dry mixture slowly until all is well incorporated.
Place parchment paper on a cookie sheet.
Using a medium size springform scoop, place individual scoops 2 to 2 ½ inches apart.
Bake in preheated 350 oven about 8-10 minutes.
Remove and using a metal egg flipper press down half of the cookies (that have risen in baking), and these will be used for the bottom of the cookie sandwich.  Leave half of the cookies puffed in baking/as is.
10. Let the cookies cool completely.
Assembly:
 Spread equal amounts of the filling on the bottom (flattened) cookies.  Top with the top cookie.
Garnish on the side with 3 of frozen raspberries.  Ready to serve!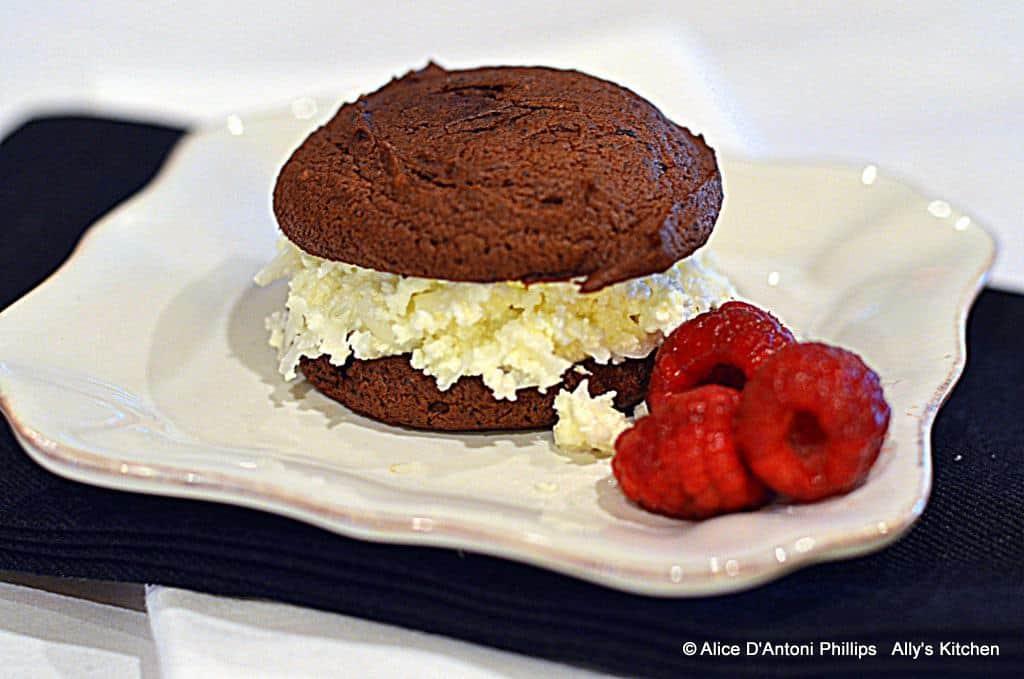 ©Alice D'Antoni Phillips    www.allyskitchen.com