ruby red grapefruit martini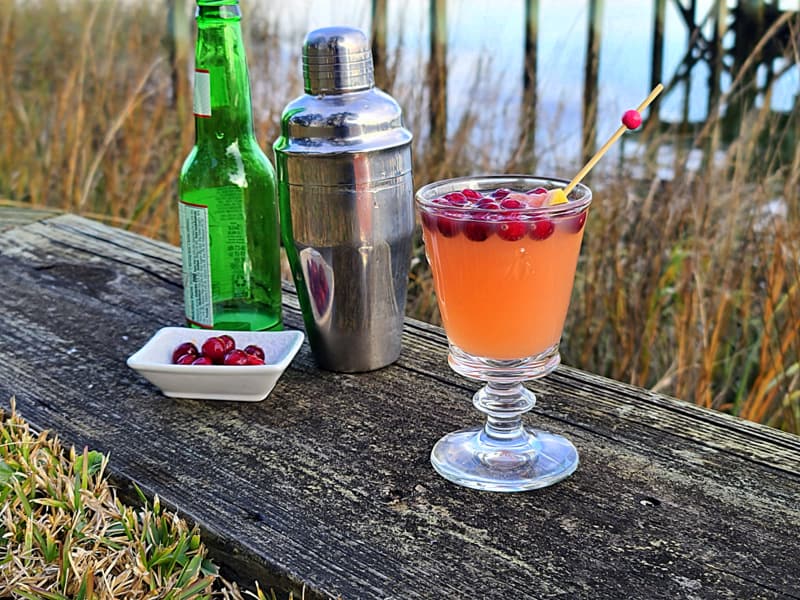 Move over cosmo, the ruby red grapefruit martini has eclipsed into the first place martini! Refreshing, ruby hues, and lots of flavor & sips!
Ruby Martini
My hubby loves a great martini. He says shake it a lot. Get lots of little ice crystals in it. And, whenever he makes a martini, he gets rave reviews! So, I'm hoping this ruby martini will make him proud.
Ruby Red Grapefruit Martini
If you've not discovered ruby red grapefruit juice and my creations, then get ready for explosive flavors that are unexpected. Ruby red grapefruit was a delicacy growing up in those mountains of Appalachia. We usually got this decadent fruit, well we considered it decadent, during the Christmas holidays along with lots of Florida fresh oranges. Oh, if Mom had know how to make a freshly squeezed ruby red grapefruit martini! Her world would have changed for the better.
Ruby Martini Cocktail
The ruby martini cocktail is simple and refreshing. I'm serving it in the non-traditional stemware. Imagine that. Me bulking the 'norm' of a martini glass.
If you're in the mood for a more savory martini, then try my bloody bones martini!
Grapefruit Cocktails
Grapefruit cocktails whether fresh or not are perfect for expanding your palate happiness. And, when you toss in these frozen fresh cranberries your ruby red grapefruit martini stays chilled and happy so much longer. Plus, it just makes you happy seeing those cranberries floating atop the beautiful drink. Careful don't eat them. Oh, they're edible. But, talk about bitter. No, that would spoil your palate.
Cocktail with Grapefruit Juice
When you're mixing grapefruit cocktails with this bold flavors and sunshiny brightness, you'll have choices for alcohol. From tequila and gin to rum or vodka, all work well.
And, here's a tidbit. Grapefruit juice and vodka (or gin) as the spirit is known as the classic 'Greyhound'. In 1945, it was first seen in print in Harper's Magazine. Apparently this was the popular cocktail at Greyhound bus terminas back then. Imagine that. I wasn't of age or I surely would have ordered the Greyhound!
GREYHOUND COCKTAIL RECIPE
Now the Greyhound cocktail has a fun background. How did it get its name?
It first showed up in a 1930 cookbook by Harry Craddock. However, it wasn't until 1945 that the drink was christened 'Greyhound'.
Check out some of these martini shakers. Always good to have the right equipment to make this classic cocktail!
VODKA GREYHOUND
So the vodka greyhound supposedly came about because it was simple and easy to make. And, it was a popular cocktail ordered at Greyhound bus terminals. Yes, I reckon there was a cocktail lounge where folks could hang out and wait for their bus to come.
GREYHOUND COCKTAIL
The original Greyhound cocktail is just two ingredients. Grapefruit juice. And, vodka or gin. Do you count the garnish? If so, that's three ingredients. And, this cocktail would be perfect for your next outdoor party! Who doesn't love a pretty martini glass!
Refreshing Cocktails
Try some of my other refreshing cocktails. I just love finding cute glasses and mixing up my madness! The first two link to the cocktails you'll see in the 'Three Vodka Drinks' video!
Vodka Infused Gypsy Fruit Drink
Vodka Orange Creamsicle
Pink Lady Apple Cocktail
the wild blueberry dream team smoothie
Modern Pineapple Madras
Elderflower Grapefruit Mocktail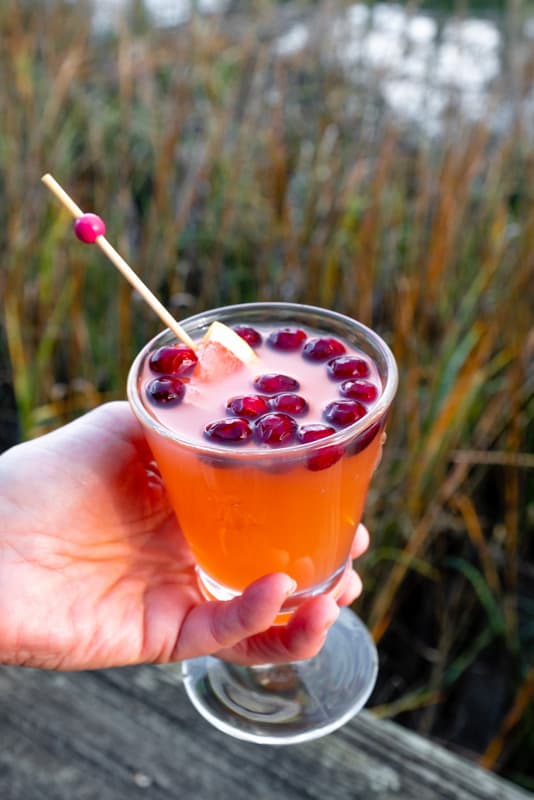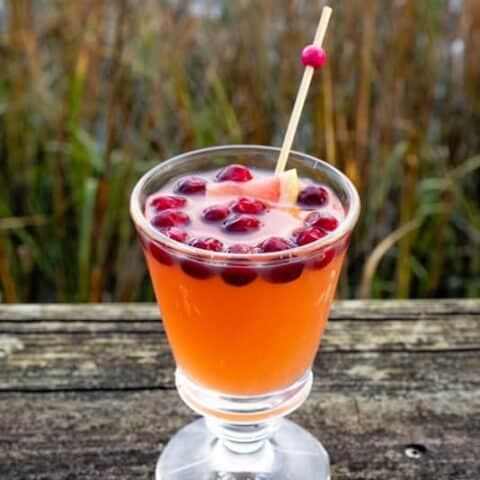 ruby red grapefruit martini
Move over cosmo, the ruby red grapefruit martini has just eclipsed into first place martini! Refreshing, ruby hues, and lots of flavor & sips!
Ingredients
4 oz. vodka
8 oz. ruby red grapefruit juice
Pinch of salt
4 oz. sparkling drink, ginger ale, sprite, 7Up, ginger beer (non-alcoholic), etc.
1/4 cup fresh cranberries, frozen
Skewered wedge of fresh red grapefruit, garnish, optional
Instructions
Fill the martini shaker about three-fourths full of ice.

Add the vodka and grapefruit juice. Shake vigorously for a couple of minutes. You're creating ice crystals.

Strain into a martini glass. Add a splash of the sparkling drink and several frozen cranberries.

Serve!
Notes
Chilled martini glasses are yummy!

Serve in another type of glass. Doesn't have to be the standard 'martini' style!