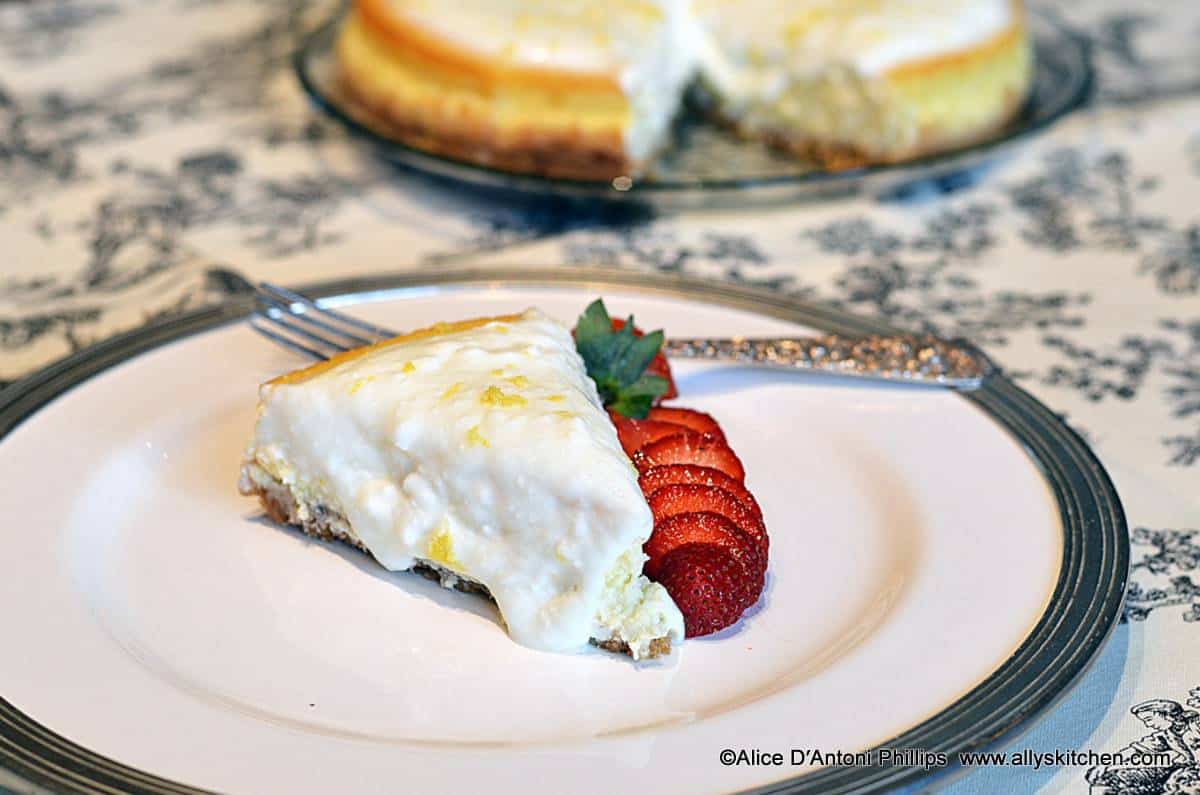 This cheesecake is a variation of my Croatian Mom's wonderful cheesecake she used to make us when I was growing up.  The key ingredient, cottage cheese, was used because it was cheaper and more readily available than creamed cheese, mascarpone, or ricotta cheese, plus cottage cheese is used in many Croatian dishes like 'Strukli', which I love!  This cheesecake is full of lemoneee goodness not only fresh, but the mouth-watering lemon extract from Rodelle Kitchen~~I've found that they have great baking products, so if you haven't used them, give 'em a try~~you can find them in most grocery stores.
This cheesecake is going to be topped with one cup of organic plain yogurt that I added 4 teaspoons of sugar to and a teaspoon of Rodelle's lemon extract…you can top with whatever you like!  I'm gonna also slice some fresh strawberries and serve with the yogurt and cheesecake! Maybe drizzle a swizzle of chocolate ganache!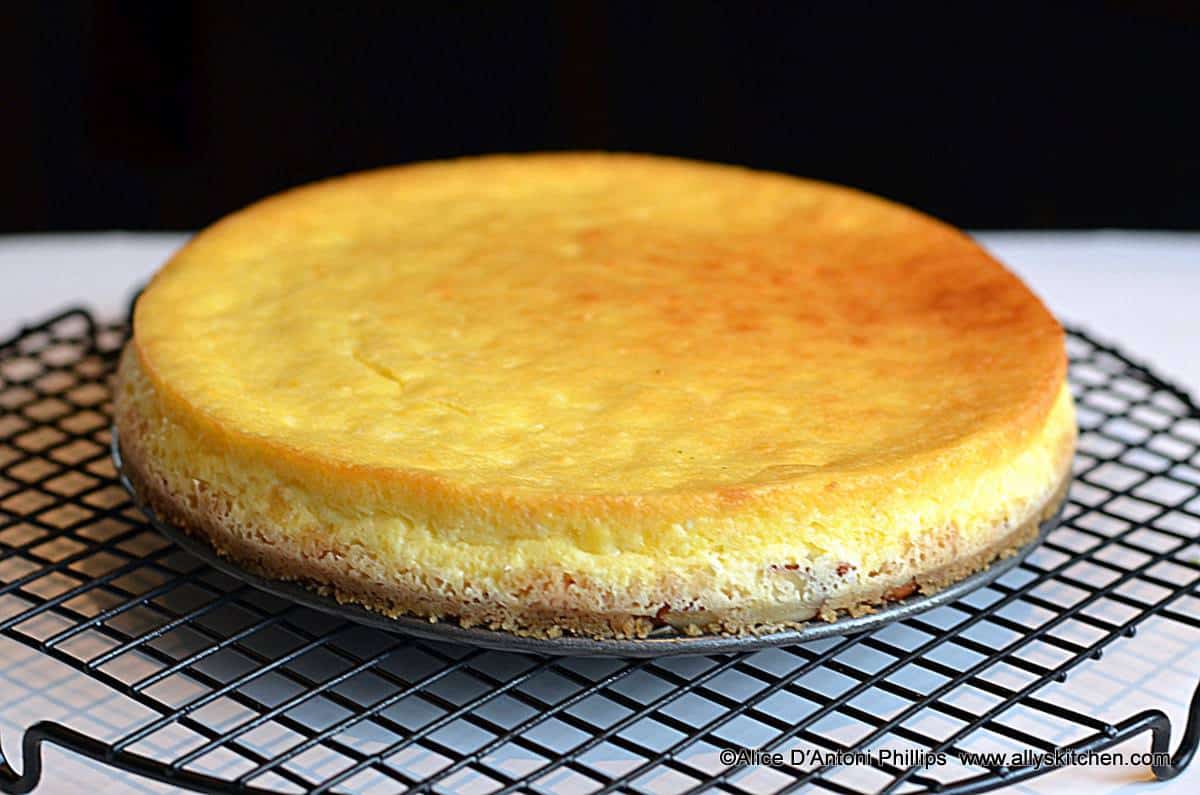 Makes:  One springform cheesecake
Preheat oven to 325
What you need:
Crust:
3 cups crushed honey graham crackers
½ cup sliced almonds
6 tbl melted butter
3 tbl sugar
Filling:
16 ounces small curd cottage cheese
8 ounces mascarpone  (room temp)
8 ounces whipped cream cheese (room temp)
5 eggs
1 ½ cups sugar
¼ tsp sea salt
3 tbl flour
3 tsp Rodelle Lemon Extract
2 large lemons—juice & zest
What you do:
Crust:
Combine the crushed graham crackers, almonds, melted butter and sugar in a bowl and blend well.  Pat into the bottom of a springform pan.  Pack down well.  Coat the sides with cooking spray. Cover the bottom and about halfway up the sides with a piece of foil.  Set aside.
Filling:
Combine the cottage cheese, mascarpone. whipped cream cheese and eggs in a large mixing bowl.  Blend together on low using a mixer.  Add the eggs and blend on low with the mixer.  Then add the sugar, salt, flour and blend on low with the mixer.  Finally, add the lemon extract, juice and zest and blend in with a rubber spatula.
Pour into the springform pan (that is covered on the bottom/sides with foil).  Cheesecake will be baked in a water bath.  Place in a large skillet and pour in about 2 cups of water around the pan.
Bake for about 75 minutes in a preheated 325 oven.  Do the toothpick test in the center.  It should come out basically clean.  Remove and let the cheesecake cool for about an hour.  Refrigerate about 6 hours before serving.
©Alice D'Antoni Phillips  www.allyskitchen.com