Pie pans are good for more than just pies. This banana almond pie pan cake is living proof of that point!
Why a Pie Plate or Pan
There's something fun about using something for what it's not intended for. Maybe that's a little kitchen rebel in me, but when I look at anything, I oftentimes imagine the possibilities. And, a pie plate or pie pan is just one of those kitchen thingeees.
Another thing about using this pie plate/pan is that the cake cooks a little faster because this is a thinner layer. Plus, I mean you have to agree, it's kind of cool how you 'slice' it like a pizza pie or cherry pie.
Sometimes something like this is fun to serve because the person receiving it doesn't expect it to be a cake that's in the shape of a pie wedge.
Let the rebel in you emerge. Hey, even if it's with a pie pan! xoxo ~ally
Love this recipe for a Chocolate Bundt Brownie Cake!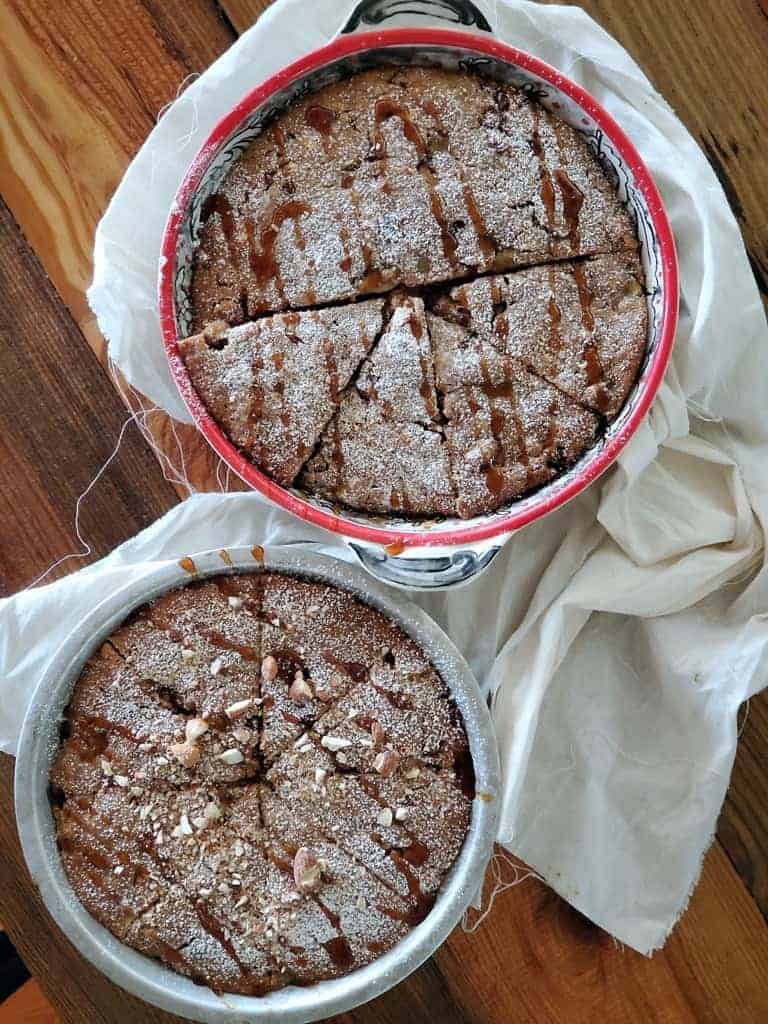 almond date banana pie pan cake
Ingredients
Preheat oven to 350
1 ½ cups flour, all purpose
½ cup ground flax
½ cup sugar
2 tsp. ground cinnamon
1 tsp ground allspice
1 Tbl. Baking powder
Pinch salt
½ cup coconut oil
2 eggs
3 bananas, mashed
½ cup Greek plain yogurt
2/3 cup almond milk toasted coconut, or regular almond milk (unsweetened)
2 tsp. vanilla
1 cup almonds, roughly crushed
½ cup dates, diced
2 Tbl. Powdered sugar, optional for dusting
2 Tbl. maple syrup for drizzle, optional
Instructions
In a large mixing bowl, combine the flour, flax, sugar, cinnamon, all spice, baking powder, salt and blend together.
In another medium mixing bowl (or 3 cup measuring cup), whisk together the oil, eggs, bananas, yogurt and milk.
Combine the wet ingredients into the dry. Blend well. Add the almonds and dates.
Pour equal amounts into well-greased and flour dusted about 7" pie plates.
Bake in a preheated 350 oven for 30 to 35 minutes. Remove and cool. Dust with powdered sugar and/or drizzle with maple syrup if desired.
https://allyskitchen.com/banana-almond-pie-pan-cake/
©ally's kitchen intellectual property