There's not much to say about this other than it's awesome beans! No, I mean awesome apples~~sure hope you have a 'mandolin' for slicing these apples reeeeallly thin because that's what truly brings the flavors out, plus they just pile high and stack up and almost make a pastry dough in and of themselves. If you don't have a mandolin, not to worry, just chop up the apples~~now I leave the skin on because I don't like to miss one iota of healthful benefit~~
Yes, this is great the next morning with your coffee or tea~~it's one of those keepers that you can't get enough of! If you've got some cowboy or cowgirl in ya, then just put this fat baby in a cast iron skillet rather than a baking sheet~~start with your pie crust in the bottom and go from there folding over the dough!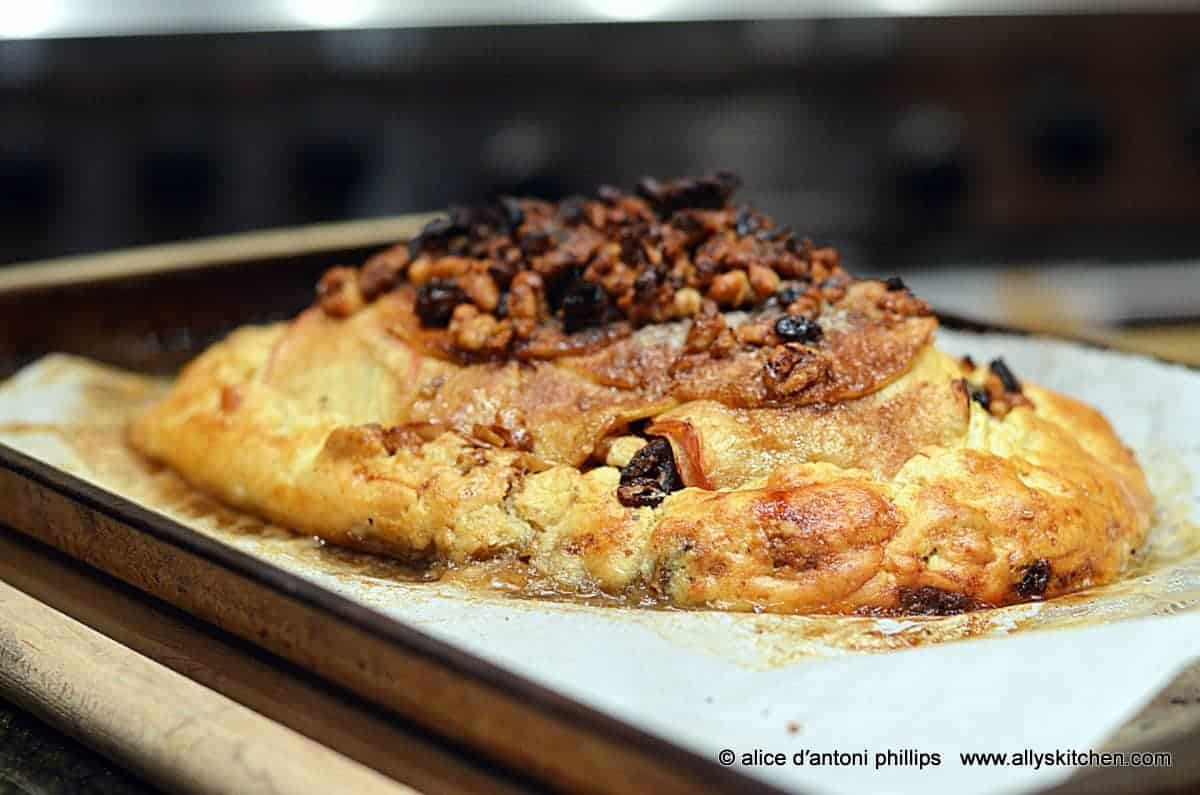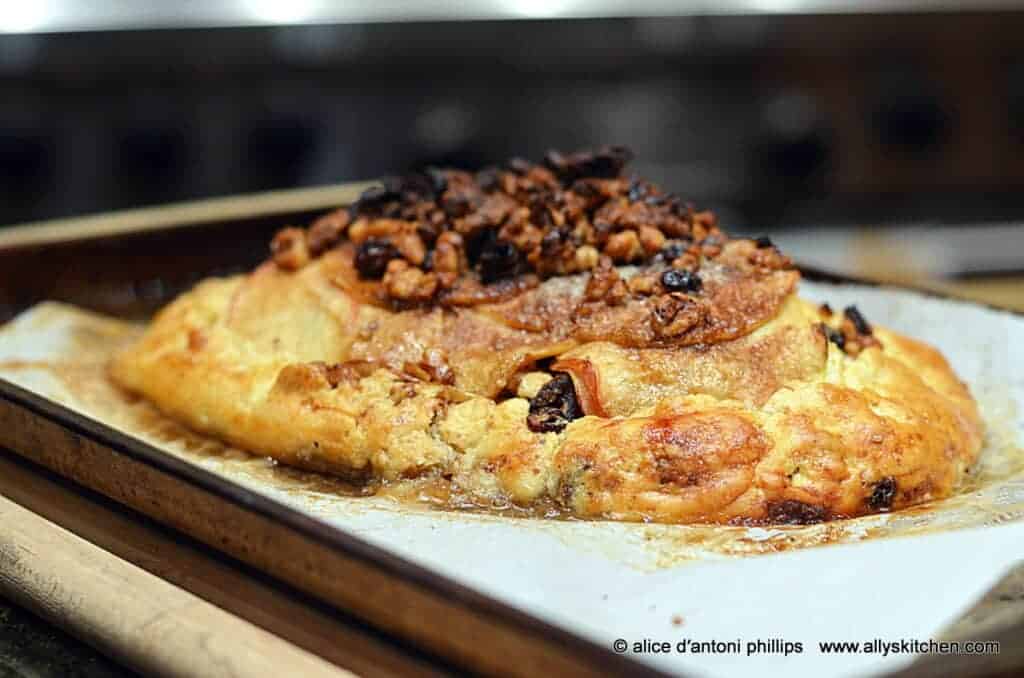 Serves: 6+
Preheat Oven to 350
What you need:
8 tbl butter (divided)
1 cup chopped walnuts
1/4 tsp sea salt
1/3 cup bourbon whiskey (optional~~you can substitute 1/3 cup of apple juice)
1/3 cup dark brown sugar
1 tsp cinnamon
1/2 tsp cardamom
1/3 cup DOLE chopped dates
1/3 cup dried cranberries
2 refrigerated roll out pie crusts
3 large crispy apples sliced in very thin rounds on a mandolin (Note: You can also cut into bite-size chunks)–to keep the apple slices from turning brown toss in some lemon juice
1 egg white + 1 tbl water mixed1
1 tbl white sugar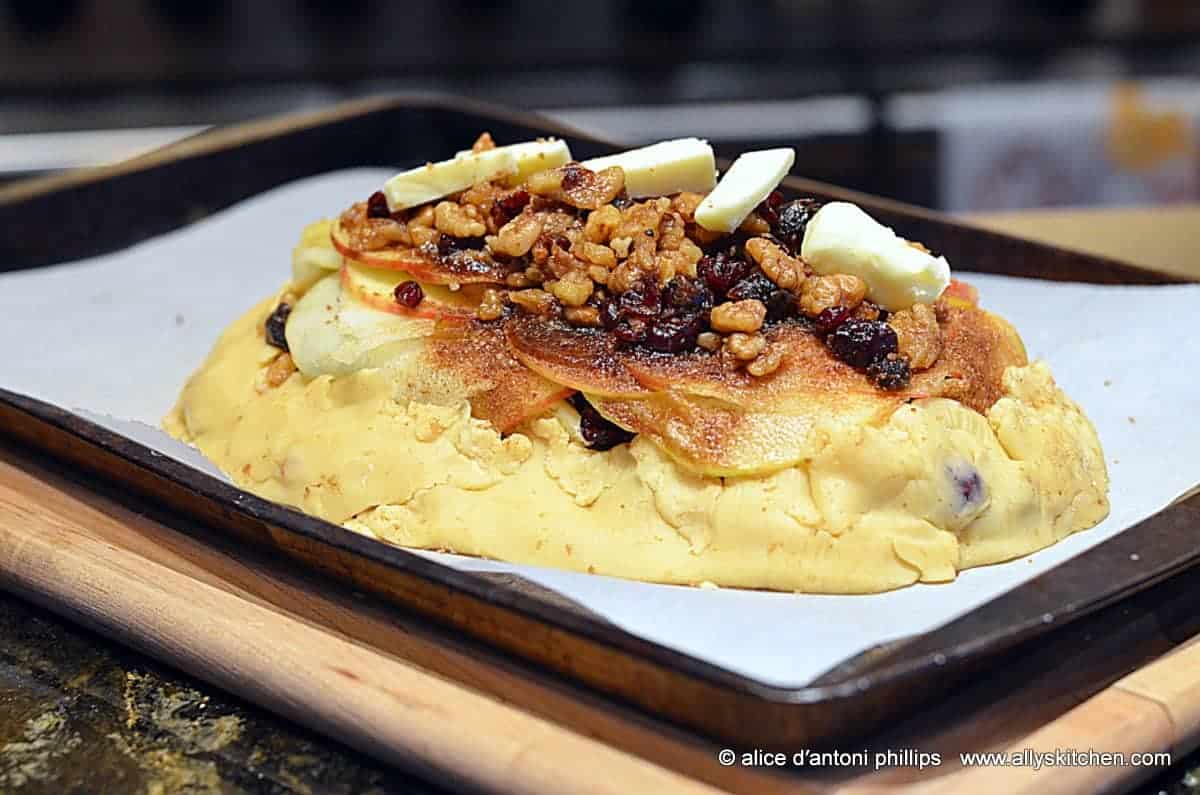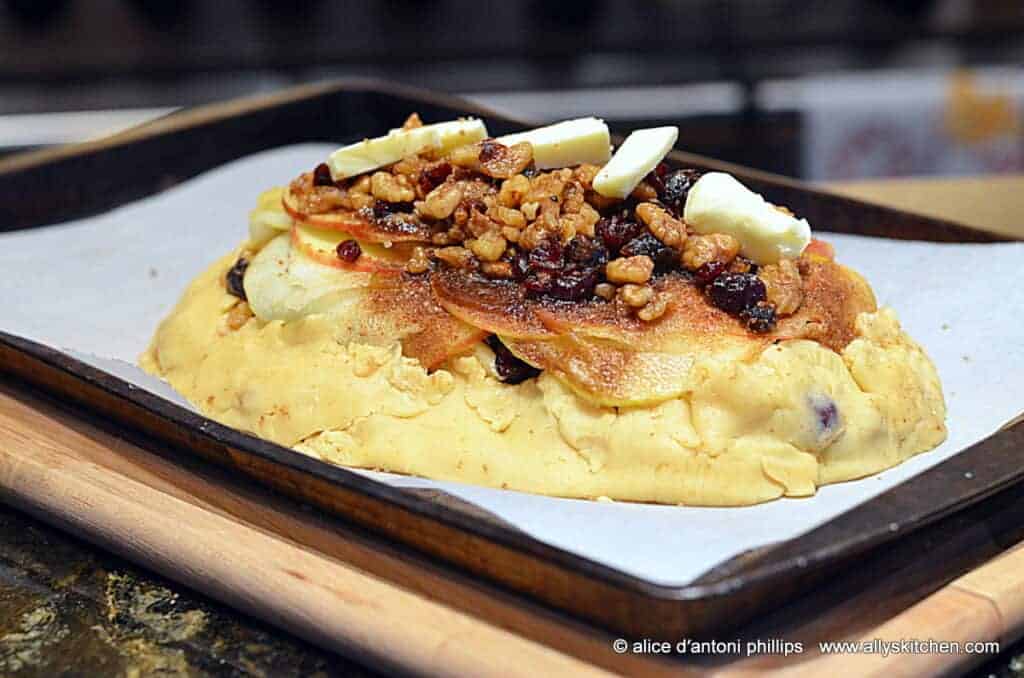 What you do:
In a skillet over medium heat melt 4 tbl of the butter. Add the chopped walnuts and salt and toss and blend. Cook about 5 minutes. Reduce heat to low then slowly add the whiskey. Careful as a flame could shoot up. Cook about 3 minutes. Turn off heat.
Combine in a mixing bowl the brown sugar, cinnamon, cardamom, dates and cranberries. Toss and blend. Add the nut mixture and blend.
Cover a large cookie sheet with parchment paper. Remove the pie crusts from the packaging and roll out each. Overlap the pie crusts about halfway over each other. Layer in a concentric circle half of the apples leaving the perimeter of about 2″ uncovered. Spread on about half of the nut/date mixture over this layer of apples. Top with the remaining apples. Melt the remaining butter and with a pastry brush coat the apples.
Fold up the 2″ dough perimeter pinching and holding together. Brush this crust with egg wash mixture and sprinkle on the white sugar. Bake in a preheated 350 oven about 45-55 minutes. If the outer crust is a golden brown before the galette is done, place a loose foil tent over it. Let it rest a spell~~say 15 minutes~~then slice with a sharp knife~~then get ready to ***swooooooooooooooooooooonnnnnn***