Heavenly Chocolate Cookies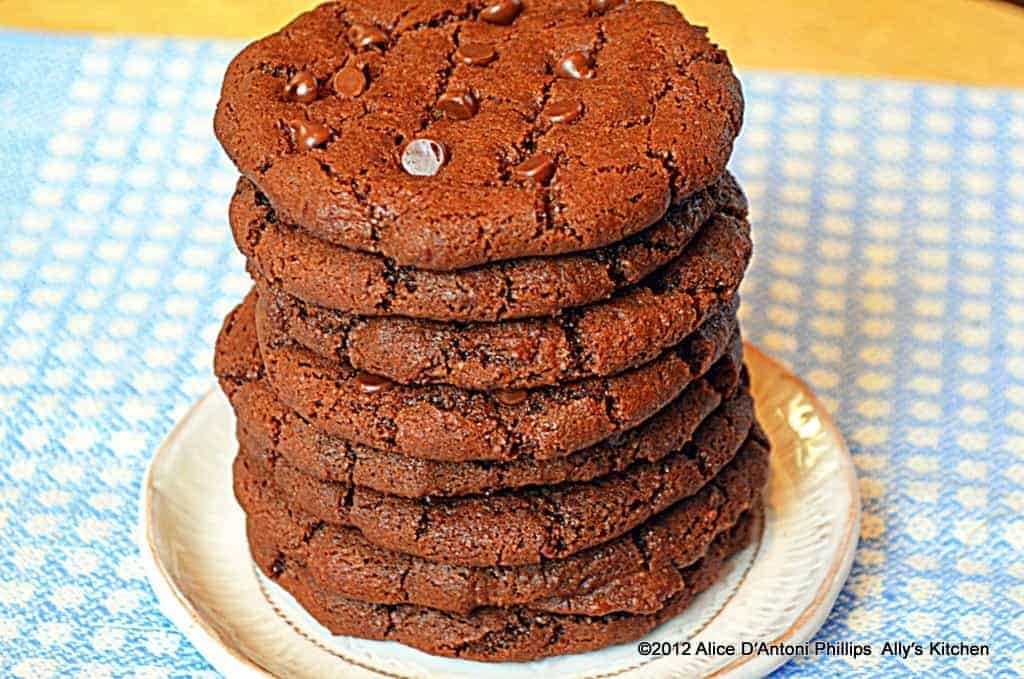 Heavenly Chocolate Cookies might not win the biggest chocolate cookie competition but they are certainly the yummiest cookies you will find on earth!
Easy Homemade Chocolate Cookies
Cookies are always nostalgic and it is a favorite snack for everyone. There are so many other cookies. Cookies are crisp on the outside, soft and chewy on the inside. That makes them delicious. You can bake many varieties of cookies like oatmeal and raisins, walnut cookies, butter cookies, 3-ingredients peanut butter cookies, and many more. Cookies are easy to make and it reminds you of your childhood and your grandma's favorite cookie recipe. Homemade cookies can be made vegan without eggs and you can use almond milk as a healthy alternative to whole fat milk. Enjoy your cookies warm with a glass of milk.
Heavenly Chocolate Chip Cookies Recipe
Are you craving delicious chocolate chip cookies? Did you run out of Chips Ahoy cookies at home? Don't worry you can make delicious rich chocolate chip cookies at home. You can bake a warm batch of gluten-free choco-chip cookies within 30 minutes. If you want something light and crunchy with a nutty flavor then you can try Persian walnut cookies naan gerdooee you will absolutely fall in love with these delicious cookies. Enjoy it while it is still hot.
Cookies with Cacao Powder
Have you ever tried moist, fudgy chocolate cookies made with cacao powder? These dark chocolate cookies are soft, delicious, and rich chocolate flavored cookies. If you are having a chocolate craving then you must definitely try this one, a whole bunch of cookies would be devoured within a few minutes. If you are in a hurry or you are looking for a lazy recipe then you can make these cookies with brownie mix. The end result will be ultimately fudgy, rich, and has an ooey-gooey texture to it. I bet you will never go back to baking brownies again. If you are craving something fruity then try wild blueberry pistachio oatmeal cookies, they are nutty, gluten-free, healthy, and berrylicious.
Easy Chocolate Chip Cookies Recipe
Everyone loves classic chocolate chip cookies and what better way to relish these delicious butter cookies that are easy and simple to make. You can bake these amazing choco-chip cookies at home which doesn't include any out-of-the-box ingredients or chilling time. These cookies are utterly delicious doughy on the inside and crispy on the outside with huge chunks of chocolate and choco chips. Are you up for a question to explore and try some new cookie recipes? You must try this awesome easy honey walnut cookie recipe. I can assure you that it will be one hell of a delicious nutty cookie.
Chocolate Cookies
The smell of chocolate is invigorating and irresistible which makes you want to taste it. Once you taste it you will always end up keeping going for one more, and that is exactly the case with the chocolate cookies too. The dark cocoa powder and the butter combined together to form an ooey-gooey chocolate cookie. You better be prepared to see the entire batch of cookies disappearing in a few seconds. Do you want to try something else that they would love? Try these amazing peanut coconut simple cookies. It is such a delicious treat.
Double Chocolate Cookies
Ever heard of the term death by chocolate? Well! Double chocolate cookies are synonymous with the term, and do you know why? Because they're loaded with cocoa powder and huge chunks of dark chocolates. You get double the fun and fudginess with these double chocolate cookies. These are rich, decadent chocolate cookies that taste just like brownies. If you have kids around or if you make these during a holiday season chanceless are half of these cookies will be gone before they hit any sort of plate. If you are trying to resist the temptation to eat them, which you can't, duh! Then you can try healthier oatmeal coconut cookies which are light and gluten-free.
Chocolate Chip Cookies Recipe
Chocolate chip cookies are very comforting especially when you have them with a glass of milk and enjoy the nice cozy weather sitting by the window. No matter how complicated or easy this recipe might be, they always hold a special place in your heart and they never cease to disappoint! Are you looking for an easy no-bake cookie recipe? We have got the right choice for you. Try our preacher cookies that are healthy and delicious.
And, if you're looking for small chocolate cookie bites that are easy to make and gluten free, then click here!
Dark Chocolate Cookies
These dark chocolate cookies are insane, rich, decadent, and worth every single bite. If you are a lover of dark chocolate then this cookie recipe is tailor-made just for you. Bonus — you can satisfy your dark chocolate and cookie craving at the same time. This cookie is definitely not for the faint of heart. These cookies are irresistibly tempting and such a treat to your eyes that you can either have them with a glass of milk or grab two and have it as such. They are insanely delicious.
However, if you're looking for a healthier version of a chocolate cookie and one that's gluten free, then ckec out my GF Protein Chocolate Cookies!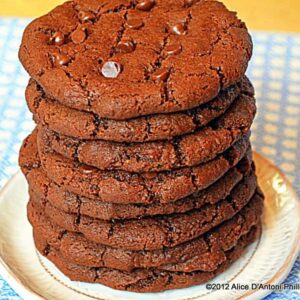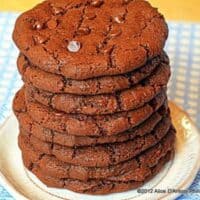 Heavenly Chocolate Cookies
Heavenly Chocolate Cookies might not win the biggest chocolate cookie competition but they are certainly the best cookies you will find on earth!
Ingredients
Preheat oven to 350
1/2 cup coconut oil, solid form, room temperature
1/2 cup salted butter, room temperature
2 cups sugar, can use coconut sugar
2 eggs beaten
1 teaspoon pure vanilla extract
1 teaspoon baking soda
1 cup pure cacao
1 ¾  cups all-purpose flour
TOPPINGS/ADDITIONS:
Mini semi-sweet chocolate chips
White chocolate chips
Walnuts
Fresh raspberries
Instant Coffee
Raw sugar
Your choice!
Instructions
Preheat oven 350 degrees F. In a medium-sized bowl using a wooden spoon, blend together well the butter, coconut oil, sugar and vanilla until light and fluffy. Yes, you can use a mixer, but I use elbow grease. Blend in the beaten eggs.
Add the baking soda and blend in. Using a sifter add ½ cup of the cocoa at a time and blend in. Do the same with the flour sifting in about ½ cup at a time and blending until all has been incorporated. (Note: The batter will be thick and really like the texture of playdough—use elbow grease!) Now you can decide how you want to top the cookies or add to them. Have your cookie sheets lined with parchment paper.
If you're making mini-cupcakes, put the cupcake holders in and give them a quick coating of cooking spray. Using a small cookie scooper (like an ice cream scooper) put dollops on the cookie sheet. You can then gently and slightly flatten them somewhat with the palm of your hand, make criss-cross marks using a fork like a peanut butter cookies, use a small meat mallet (which I used) to flatten, or leave them in the mounds. Top with whatever you choose.
To place the raspberries in the center of the mounds, I created a small opening in the center by inserting the end of a teaspoon into the mound and gently rocking it back and forth to make the hole to put in the raspberry.
Place in pre-heated 350 oven for about 7-8 minutes—do not overcook. You want them chewy when you bit into them. Remove and let them cool a couple of minutes. Enjoy!