The Best Chocolate Cookie Bites GF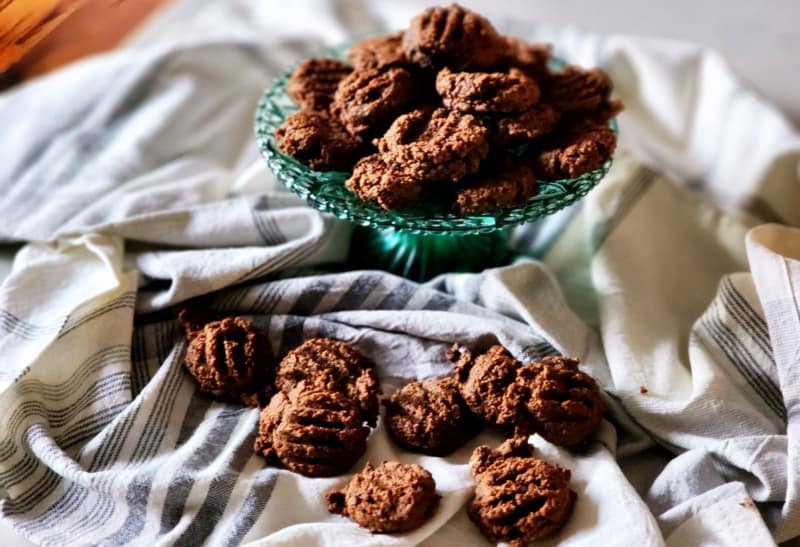 Chocolate cookie bites. Easy to make. GF. And, hot chocolate in them! These bites will satisfy you sweet tooth. No guilt!
Cookie Bites Chocolate
There are so many things I love about these chocolate cookie bites.
They're gluten free. Yes, almond flour is used.
And, they're kind of 'grainy' looking, but moist inside. The outside has a slight crisp crunch. Nice texture for sure!
Chocolate Chip Cookie Bites GF Recipe
And, this recipe only has two tablespoons of coconut sugar in them.
Since there are about 24 cookie bites, that makes them kinda low in sugar. Plus, coconut sugar doesn't spike your glycemic levels like refined sugar does.
Cookie Bites Chocolate
A couple of these cookie bites and your sweet tooth is satisfied.
Not super sweet, the chocolate comes from the Keto Hot Chocolate Mix from FlavCity. All of those ingredients are clean. None of the weird stuff.
Chocolate Cookie Bites
Now you can add more chocolate. I love HU chocolate. It's another of the good guys in terms of ingredients and no weird stuff. In fact, their chocolate bars, which are 70% cacao (that's good for you), are just three ingredients and all organic, cacao, cacao butter and coconut sugar.
Compare these 3 ingredients to other chocolate bars or chocolate chips you find in the grocery store. You'll see some distinct differences.
Hot Chocolate Cookie Recipe
This recipe is so simple. One bowl. First the dry ingredients are mixed. Then we add the wet. That's it. And, there are only six ingredients.
Hot Chocolate Cookies
Don't expect super sweet with these chocolate cookie bites. It's more of that real cacao taste. You might want to add sea salt flakes before you bake them to add an extra flair and pop to the bite.
Hot Chocolate Bites
So when you're not in the mood for a mug of hot chocolate, there's always the mood for hot chocolate cookie bites!
Perfect for the kiddos, too. Think lunch boxes, snacks and more!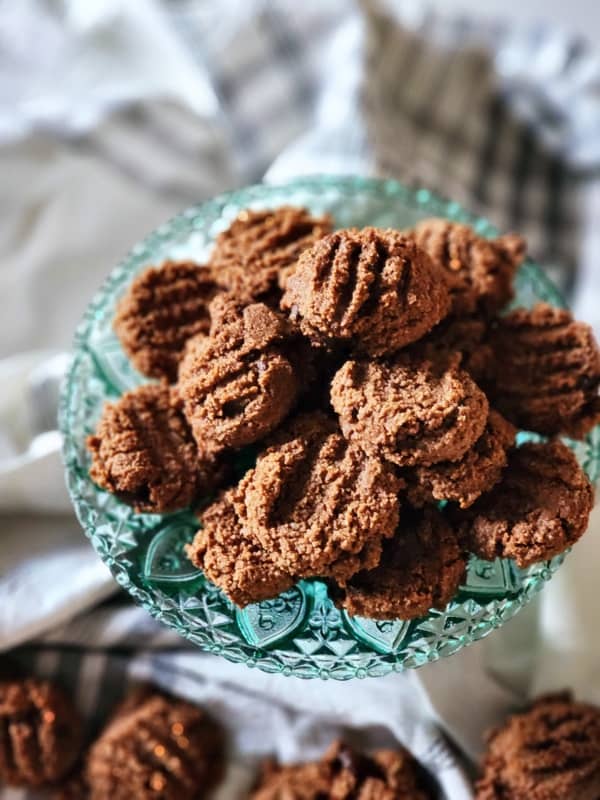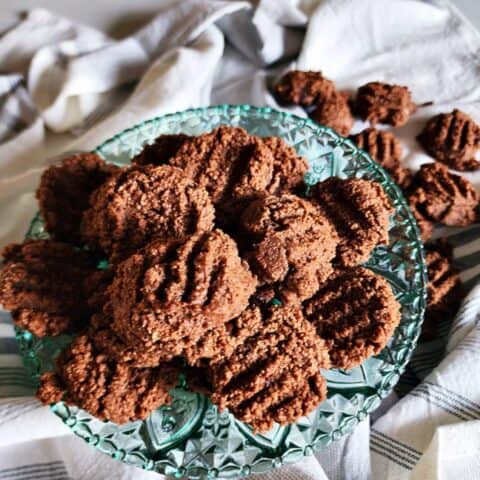 The Best Chocolate Cookie Bites GF
Ingredients
2 cups almond flour
1/2 cup FlavCity Keto Hot Chocolate Mix, Salted Peanut Butter
2 Tbl. coconut sugar
1/8 tsp. salt
1 egg
3 Tbl. extra virgin olive oil, can use coconut oil
1/2 cup coconut milk, unsweetened
1/4 cup chocolate chips, optional
Instructions
Put the almond flour, hot chocolate mix, coconut sugar and salt in a medium mixing bowl. Blend together.
Put the egg, oil and coconut milk in and blend into a thick batter. Add the chocolate chips and fold in.
Use a small spring scoop (about 1 tablespoon amount) on to a parchment paper covered cookie sheet. Take a fork and gently press down just a bit the cookie scoop batter to flatten somewhat.
Bake in a preheated 350 oven about 12-15 minutes. Remove and cool.
Notes
If you can't source FlavCity's Keto Hot Chocolate Mix, please look for one that's not got weird ingredients in it. And, also, adjust by tasting for sweetness. Some of the standard hot chocolate mixes are loaded with sugar.
I highly recommend Hu chocolate bars, 70% cacao, only 3 ingredients, organic and clean, if you want to add chocolate pieces. I just put 2-4 squares in a plastic bag and smash into smaller pieces. Available at my Amazon Storefront.