wild blueberry pistachio oatmeal cookies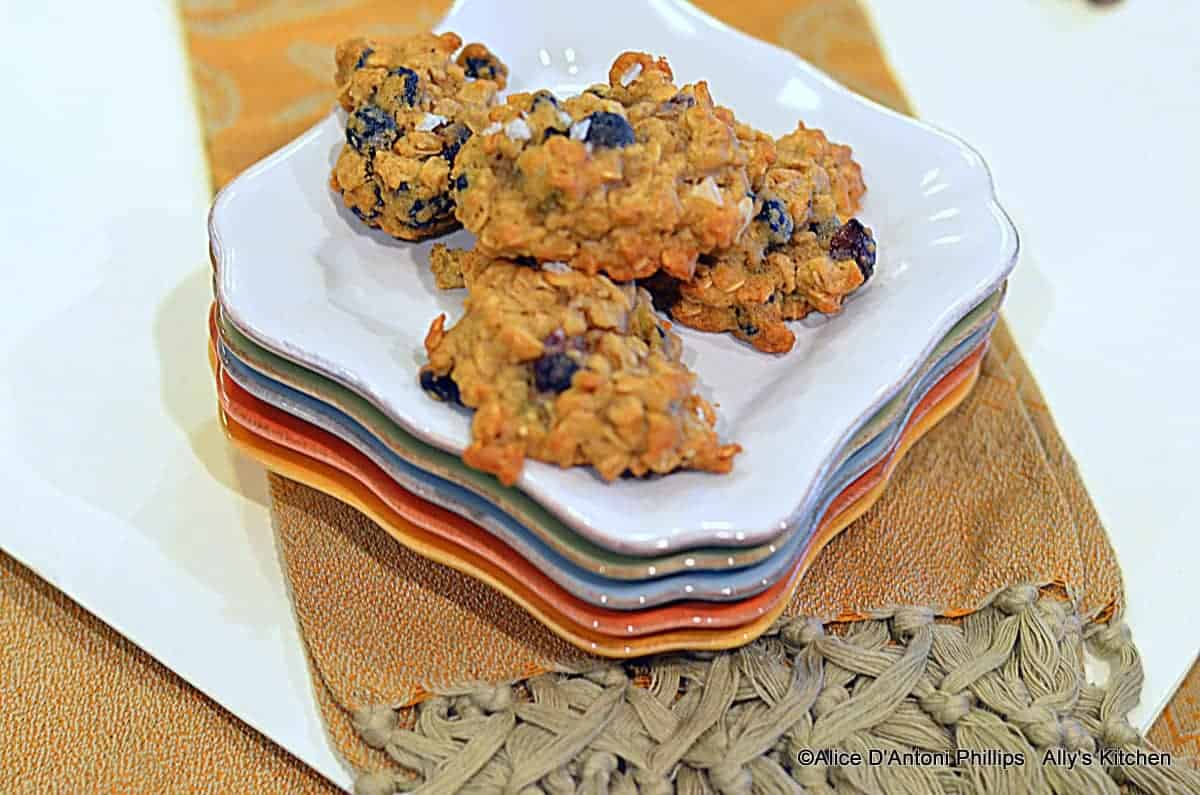 Wild Blueberry & Salty Pistachio Oatmeal Cookies are versatile. It can be your favorite dish for breakfast and evening snacks.
Pistachio Cookies
If you are looking for perfectly healthy and easy-to-make cookies, then pistachio cookies will be the best. I can't explain the taste in the words. You will love it, I promise. Pistachio cookies taste better with lemon blueberry ricotta custard. It can be a perfect breakfast option to start your day.
Oatmeal Pistachio Cookies
Looking for crunchy, relatively healthy, and gluten-free cookies than oatmeal pistachio cookies are a great option. Oat makes this food healthier. It is an effortless and quick recipe that you try once. Oatmeal Pistachio cookies are more nutritious than other because it has less fat and more fiber, protein, and calcium. You can make oatmeal coconut cookies if you don't like Pistachio or to have a different taste. Coconut also has a lot of health benefits.
Pistachio Oatmeal
Are you obsessed with oatmeal? Then perfect combination of oats with Pistachio. An ideal breakfast to make you energetic in the morning. If you are not allergic to Pistachio, then you'll love Pistachio oatmeal. It will be ready within 5 minutes. Pistachio oatmeal may be a replacement for your dessert. You can best enjoy with some cookies like chewy ginger molasses cookies. The best part of this cookie is the peppery and sweet taste of ginger.
Pistachio Cranberry Oatmeal Cookies
An excellent winter cookie with warm flavors and crunchy textures can brighten up your day. You can use different dry fruits, nuts, and spices as per your liking. You can make Orange Almond Wedding Cookies and enjoy both cookies at a time. Both cookies will melt in your mouth. The taste is as sweet as their name.
Vanishing Oatmeal Cookies
There is no better version of oatmeal cookies than vanishing oatmeal cookies. As the name implies, it vanishes after bake. Vanishing oatmeal cookies loaded with a unique taste like chewy and soft.Are you bored of vanishing oatmeal cookies? Persian walnut cookies (naan-e gerdooi) cookies are also a perfect alternative to try once. So let's check this cookie once before it disappears.
The Best Oatmeal Cookies
Oatmeal cookies are always best, no matter what you added as an add-on. The oat makes these cookies best. They are easy to make, crispy edges with softness in the centres, minimum ingredients make it a heavenly taste. You can easily give a special twist by putting extra add-ons. One more thing is they don't require any chilling.It will take you to a healthier territory if you use natural sweeteners. Oat should always be with you in your healthier journey. Chewy oatmeal date raisin nut cookies are one of the best oatmeal cookies.
Old Fashioned Oatmeal Cookies
Simple, super delicious, mouth-watering cookies that our loving Grandma used to serve with a glass of milk in our childhood.
Old Fashioned oatmeal cookies are simple, and it gives a warm homely feeling. You will love the sweetness, which is not too sweet; the perfect amount of rolled oats are so satisfying.
Easy Oatmeal Cookies
Easy oatmeal cookies mean using minor ingredients; no raisins, no chocolates. But produce thick, crunchy, super delicious cookies.
These cookies can be made super easy without compromising craving for a longer time. These cookies are perfectly thick and soft-centers.
How to Make Oatmeal Cookies
Oats, butter, and brown sugar are the main ingredients are required to make Oatmeal cookies. Using this, we can make soft, crunchy, and tasty oatmeal cookies. To make it tastier, you need some add-ons like raisins, dried fruits, nuts. It gives a crunchy and pleasing texture to the cookies. Buttermilk Blueberry cookies are also super tasty and can be made using the same procedure and same base ingredients.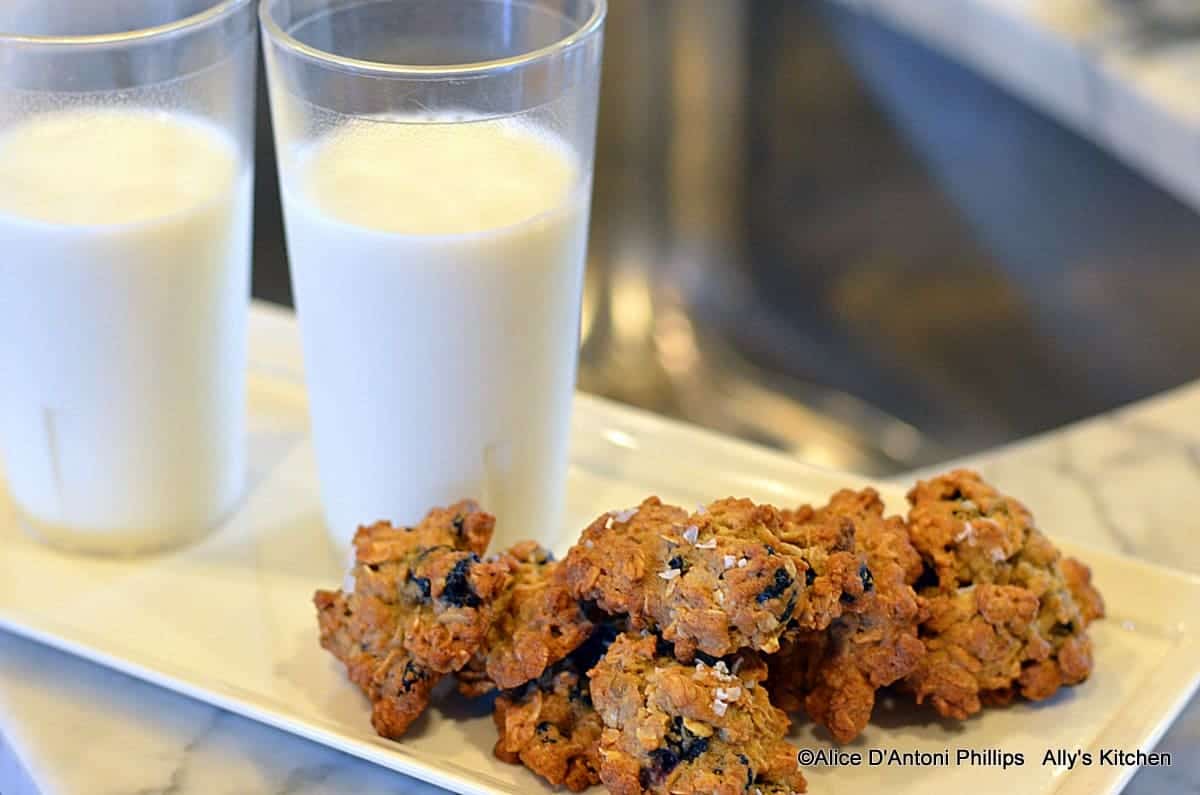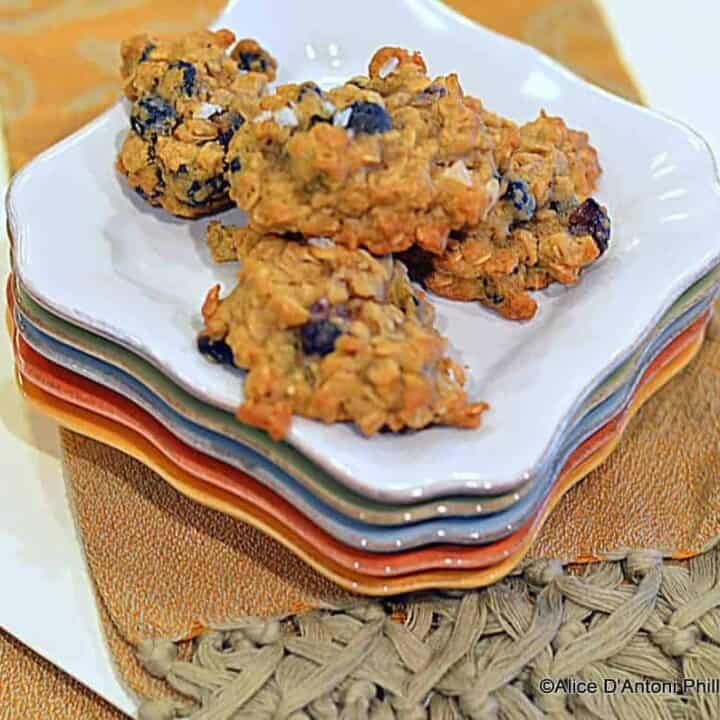 Wild Blueberry & Salty Pistachio Oatmeal Cookies
Wild Blueberry & Salty Pistachio Oatmeal Cookies are versatile. It can be your favorite dish for breakfast and evening snacks.
Ingredients
Preheat Oven to 350
1 tsp. baking soda
1 ½ cups rice flour, regular flour can be substitute
3 cups whole oatmeal, not quick cooking
2 cups Dole Sunshine wild blueberries, thawed and most all the excess moisture drained and patted dry 1 cup salted shelled whole pistachios
1 cup soft salted butter
½ cup packed dark brown sugar
¾ cup regular sugar
2 tsp. vanilla
½ tsp. sea salt
2 eggs, room temperature
Instructions
Have two mixing bowls. In one combine the baking soda, flour, oatmeal, and pistachios and blend.

In another bowl, cream together the softened butter and brown and white sugar until nice and fluffy. Add the vanilla and salt and blend. Add in one egg at a time and whip together. Fold in the blueberries.

Into the wet ingredients, add the dry ingredients about 1/3 at a time and blend well. Put in the refrigerator for about an hour.

Dollop a heaping tablespoon of the batter on a parchment-lined cookie sheet. Bake in a preheated 350 oven about 10-12 minutes or until the center is still slightly soft. Remove and cool.
Notes
Begin eating while they're still warm! They're insanely yummmmeeee!