The Eastern European countries, Poland, Hungary, Romania, Slovakia, Slovenia, and more, have a rich history and culture~one of the traditions that resonates in my mind when I've visited that area is that when you visit most anyone's home, you're immediately offered coffee and cake or cookies. There's always some kind of dessert in the pantry ready to be served.
Since we love Poland and have been there several times, we always seek out bakeries, cafes, and coffee shops where we can sit, order a luscious cups of coffee and have a pastry that just makes the entire day seem worthwhile! These eastern european honey walnut cookies are inspired from these travels and adventures. Crumbly and crunchy, they offer just the right satisfaction for my tastebuds whether it's morning or mid-afternoon or evening. Steeping with buttery goodness, they're kind of like a shortcake cookie, but even better!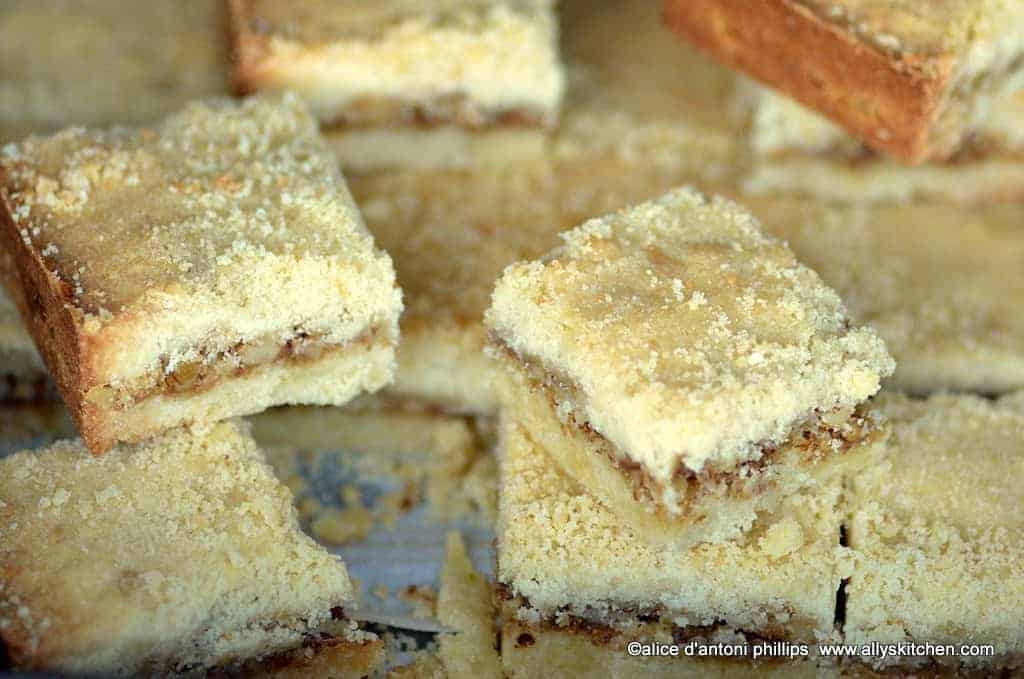 eastern european honey walnut cookies
Ingredients
Preheat oven to 325
8 Tbl. salted butter, room temperature and softened
1 cup sugar
3 egg yolks
1 tsp. vanilla
1/8 tsp. sea salt
2 cups flour, sifted
1 cup finely chopped walnuts
¼ cup honey
Instructions
In a large mixing bowl, combine the butter and sugar and whip with a hand mixer until light and fluffy—about 3-5 minutes. Add the egg yolks, vanilla and sea salt and mix well. Add half the flour and blend in. Add the remaining flour and blend in. You will need to use your fingers to work everything together. You'll have a crumbly mixture.
Line an 8x8 baking pan with parchment paper letting two sides (opposite) lap over the edges. Put half of the mixture into the pan and press down well using your hands or a flat surfaced cup covered with plastic wrap. Put a layer of walnuts and drizzle the honey on the nuts.
Put the remaining crumbly mixture on top and press down well. Bake in a preheated 325 oven about 22-25 minutes. Remove to a cooling rack and cover loosely with foil. When cooled cut into squares.
https://allyskitchen.com/eastern-european-honey-walnut-cookies/
©ally's kitchen intellectual property