Gluten Free Easy Peach Cobbler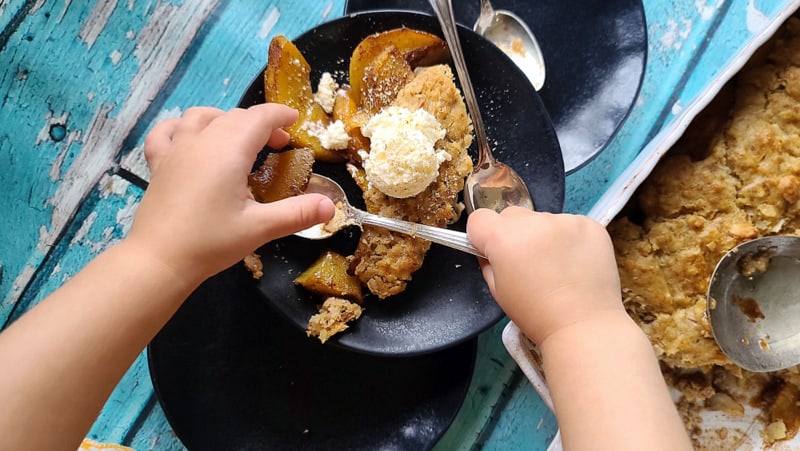 Gluten Free Easy Peach Cobbler is one recipe where you'll never miss the the gluten or dairy! Just savor warm delicious peach cobbler!
Healthy Peach Recipes
I'm usually not one to do much baking gluten free. But, when company prefers that, then I do like to make them happy! So, this cobbler was created for Bobby, Dessi and Rose of FlavCity. They came to visit us for a few days in Colorado. If you didn't see the explosion of cooking, then just wait until the holidays. We'll be at it again!
Be sure to jump over and follow them on social media. They are the real deal! I've learned so very much from Bobby and Dessi!
Gluten Free Peach Cobbler Recipe
This GF peach cobbler recipe uses gluten free baking flour. I used King Arthur Gluten Free Measure for Measure Flour. Now, I've made this recipe three times. First with GF measure for measure flour at high altitude. Second time with almond flour at high altitude. Third time with GF measure for measure flour at low altitude.
The measure for measure GF flour works well at both high and low altitude. The almond flour just didn't work at high altitude.
Gluten Free Cobblers
Gluten free cobblers are super simple to prepare.
I basically seasoned the peaches and then topped them in the baking dish with the batter. Bake. And, that's about the extent of it.
Healthy Gluten Free Peach Cobbler
Now this peach cobbler has two spices in it. Of course, most all of us love cinnamon. But, I'm also adding cardamom. If you've never baked with cardamom, then it's worth buying and putting with your spices.
Cardamom offers a minty, deep citrus like flavor. It's warm and gives an aromatic property to a dish. As we know, cinnamon is more woody with a deep spice and citrus flavor, plus warm and sweet.
Fresh Peach Pie
Nothing's more American than peach pie! And making this recipe gluten free has really made a lot of folks excited!
Peach Cobbler Easy
Now, we know it's easy. There's just two steps. Seasoning the peaches. And, then making the batter. That's it. You can use one bowl for both.
I didn't even was the peaches bowl after seasoning and putting in the baking dish. Just dumped the batter ingredients into the same bowl. While a fancy patisserie might object, it made no difference because the only thing in that bowl were remnants of the peachy seasoning!
Best Peach Cobbler Recipe
As I was photographing this peach cobbler, my 3 year-old granddaughter was here cooking with me.
It was basically cooled. I set up the staging for photographing and she promptly brought her little spoon, sat down and started digging into the cobbler.
Of course, I went ahead and photographed and watched as she savored the bites she could scoop from the cobbler!
Old Fashioned Peach Cobbler
It was surely evident that this peach cobbler was a hit on a pretty sophisticated and adventurous three year-old's palate!
Using the red, yellow and green light strategy to get her to hold her spoon before eating, I did get a few pictures of her divine weetle baby hands!
And, boy, do I love peaches. Here are a few of my other favorite recipes.
Peach Custard Pie
Peaches and Cream Parfait Cake
Cardamom & Cloves Grilled Peaches
Easy Peach Cobbler
One of my favorite baking dishes is a brand called Vietri. It's an Italian inspired tableware and bakeware, and I love it because food just looks so gorgeous in it. Here are a few of the baking dishes that you might like. I'd take them all!
Peach Cobbler Topping
For serving this peach cobbler, I used a dollop of ricotta cheese! Now it's not cheesy tasting, but it gives the refreshing creaminess that you might want with ice cream, but minus all the calories.
Other topping options would be mascarpone or creme fraiche. Then I used a microplane and dusted on some fresh nutmeg. Oh, the aromas! Bon Appetite! xoxx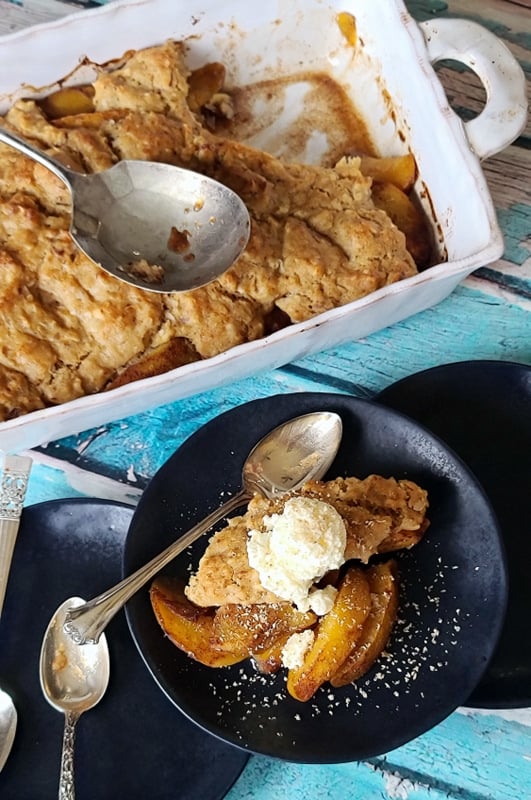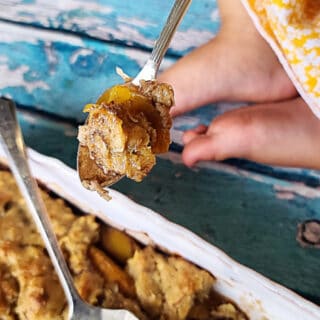 Gluten Free Easy Peach Cobbler
Yield:
One 8 x 13" baking dish
Ingredients
PEACHES:
8 cups peach slices, fresh (can leave skin on) or frozen slices
1 lemon, juice only
1 ½ tsp. ground cinnamon
1 tsp. cardamom
¼ cup coconut sugar
TOPPING:
¾ cup gluten free baking flour
½ cup coconut sugar
1 Tbl. baking powder
1/8 tsp. salt
1 cup UNsweetened coconut, shredded
¾ cup almonds, sliced and crushed with hands
¼ cup coconut oil
1 can (13.5 oz.) coconut milk, be sure to blend with a whisk before pouring into bowl
Instructions
Preheat oven to 375.
Put the peach slices in a large bowl. Toss in the lemon juice. Add the cinnamon, cardamom and sugar. Toss and blend well. Pour into an 8 x 13" baking dish.
In the same mixing bowl as the peaches (no need to dirty another), put the flour, sugar, baking powder, salt coconut almonds. Mix together.
Add the coconut oil and coconut milk. Blend together well into a thick batter.
Pour or dollop on top the peaches. You may leave the perimeter peaches exposed (about 2" perimeter). This is just to show the pretty peaches. If you prefer to not do than, then no problem!
Bake in a preheated 375 oven for 25 to 30 minutes or until the top is browned and the cobbler batter begins to show little cracks and crevices.
Remove and cool somewhat. Serve!

Notes
Remember everyone's ovens are different. Be sure to check your cobbler after about 20 to 22 minutes to see how it's doing.
Fresh peaches should be scrubbed well and cleaned. You can leave the skin on if you prefer.
Frozen peach slices are perfect for this recipe.
If you don't care for cardamom, just put two teaspoons of cinnamon. I love cardamom!