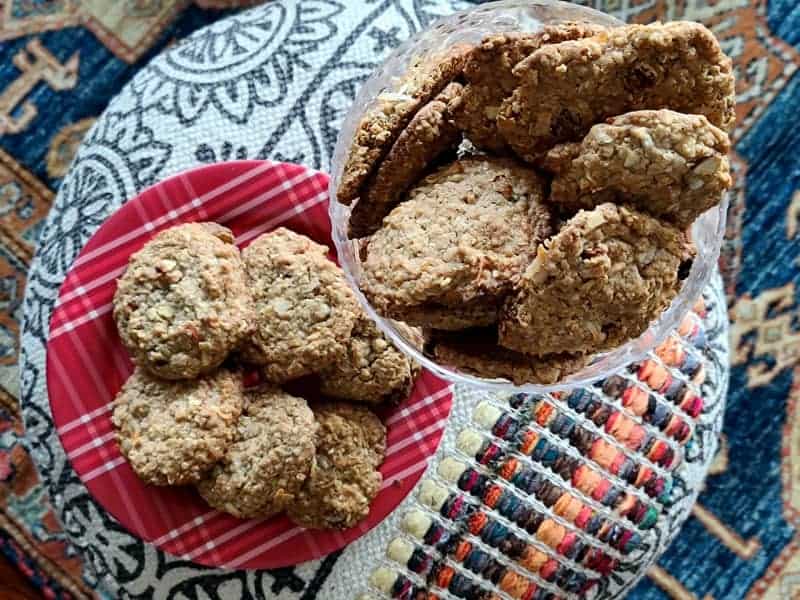 OK, these just might be THE BEST oatmeal coconut cookies you've ever tasted! Crunchy outside. Tender inside. And, they last for days! Bonus!
Recipe for Cookies with Coconut
Forget any recipe for cookies with coconut other than this one for oatmeal coconut cookies. I promise exquisitely ahhhmazing! Now my husband tastes everything I create, and he says these are the BEST cookies he's ever tasted!
Oatmeal Coconut Cookies
One thing about these cookies. They last. Yes, for days! I keep them on the kitchen counter (I know, way tooooooooooo tempting!) in a decorative stand bowl with a lid askew. Honestly, they're as good as they were when they came from the oven. Bonus!
Best Oatmeal Coconut Cookie Recipe
So many pointers make this the best oatmeal cookie recipe. One important ingredient, the oil. Another is the oatmeal. You can use whole oats or quick oats. I've done both, and I love the whole oats better because it adds more texture. The pictures you'll see have each oat used. See if you can tell the difference and decide which is which! Remember, cooking and baking are all about trying new things, experimenting and not being afraid to step outside the recipe box.
Coconut Oil Oatmeal Cookies
Now a lot of cookie recipes call for butter, but this recipe uses coconut oil. A much healthier alternative for these cookies than butter or another type of oil.
Oatmeal Raisin Coconut Cookies
The cool thing about these cookies is that you can do add ons. I love chopped dates in my oatmeal cookies. But, if you want raisins or cran-raisins or even some other type of dried fruit, then that's totally up to you.
Oatmeal Coconut Cookie Recipe
A really great cookie recipe is one that allows you to modify and design to your liking. And, this recipe, once you have the basic dough completed then becomes a canvas for your design.
Oatmeal Chocolate Chip Coconut Cookies
Yes, I've done this dough with mini-chocolate chips. I like the mini version better because they just work well into the thick batter/dough. And, I'm telling you it's thick. And, once these mounds of goodliness bake, they just dissolve and melt into divine cookies!
And, let's talk nuts. Yes, you can add nuts or not. I love walnuts and/or sliced almonds. Just something about the crunch texture. But, again it's a total personal thingeee!
Oatmeal Cookie Gluten Free Recipe
If you want to go gluten free, then substitute your flour in this recipe with something like oat or rice flour or another type of GF flour. I've never done this, but I totally think it would work just fine.
For some other great cookie recipes, check out:
Holiday Best Easy Cookie Recipes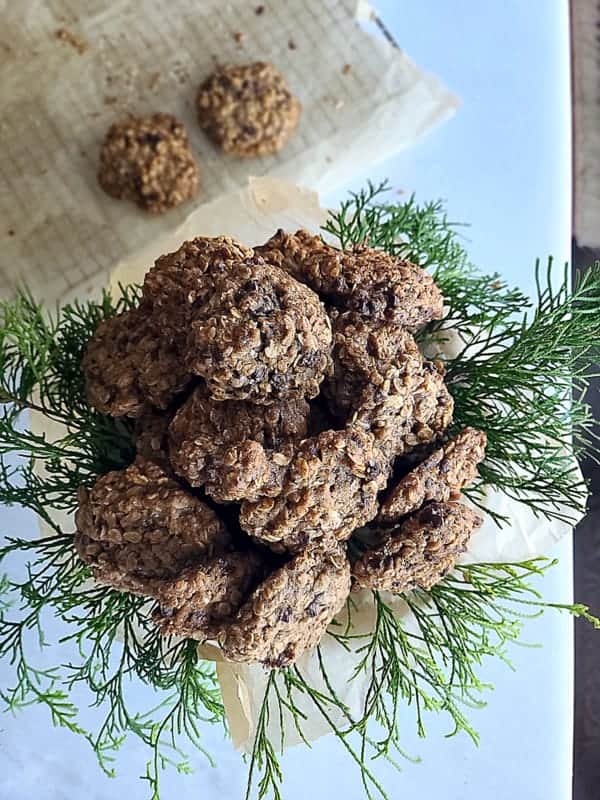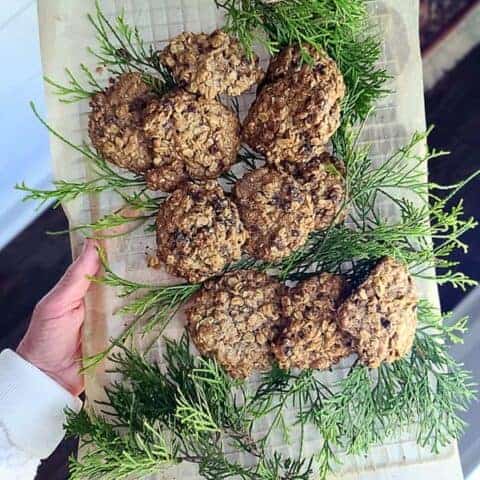 oatmeal coconut cookies
OK, these just might be THE BEST oatmeal coconut cookies you've ever tasted! Crunchy outside. Tender inside. And, they last for days! Bonus!
Ingredients
Preheat oven to 350
1 cup solid coconut oil, room temperature
1/2 cup coconut brown sugar, can substitute coconut sugar for both brown and granulated
1/2 cup granulated sugar
2 tsp. ground cinnamon
2 tsp. allspice
1/4 tsp. salt
1 tsp. vanilla
2 eggs
1 cup flour, all-purpose
2 tsp. baking powder
1/2 tsp. baking soda
2 cups oatmeal
1 cup almonds, sliced and crushed
1/2 cup golden raisins
1/2 cup shredded coconut, unsweetened
Sea salt flakes
Instructions
In a large bowl, cream together the coconut oil and sugars. You can beat on low speed with a hand mixer for a few minutes.
Add in the cinnamon, allspice, salt and eggs. Blend together well.
Sift in the flour, baking powder, baking soda and blend. Add the oatmeal, one cup at a time and work into the batter.
Add the almonds, raisins and shredded coconut and blend together. The mixture will be thick and dough'eee.
Scoop dollops on to a parchment paper covered cookie sheet (makes about 2+ dozen cookies).
Sprinkle the tops with the sea salt flakes (optional).
Bake for 12 to 15 minutes in a preheated 350 oven. Remove, cool and eat!
Notes
Substitutions:
Coconut Sugar for Brown/White Sugar 1:1
Walnuts (or your choice) for Almonds
GF Flour for Regular Flour
Use solid coconut oil that's at room temp