Easy Roasted Buttercup Squash Mash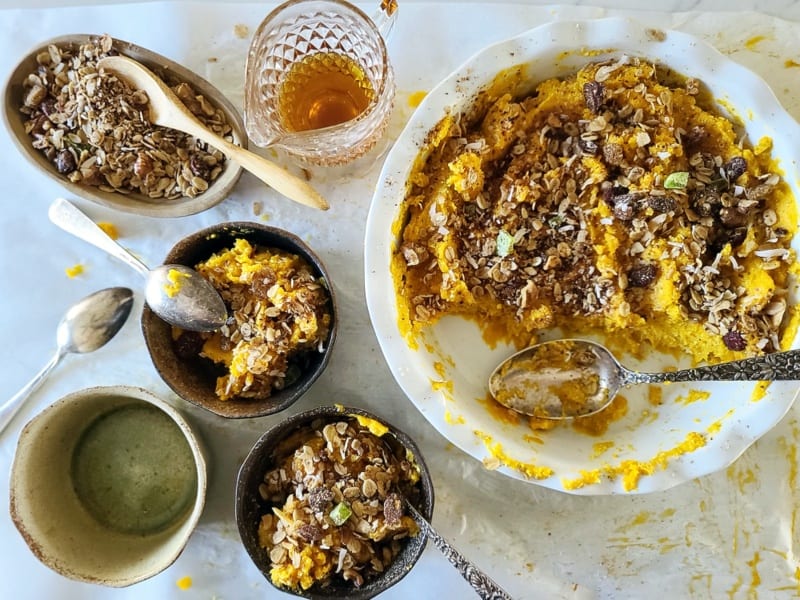 Easy Roasted Buttercup Squash Mash is creamy, delicious and almost like eating a dessert. But, wait, it's healthy, so have a second helping!
Roasted Buttercup Squash Recipes
Roasted buttercup squash is just divine. And, rather than trying to cut and slice that squash, I'm roasting it whole!
No sense in risking cutting off a finger! I mean just knock on a buttercup squash and you'll see that it's mighty tough on the exterior!
Now if you want butternut squash, but don't want to go through the extra steps of buying the squash, peeling, cleaning, chopping, cooking, then take a look at this super easy butternut squash bread made with butternut squash soup! Sooooooooooooooo good!
Squash Varieties
Lots of squash varieties. And, there's winter squash and summer squash.
We're talking winter squash here. Things like acorn, buttercup, butternut, delicata, dumpling, hubbard, kabocha, pumpkin and spahgetti.
Mashed Buttercup Squash
ButterCUP is not to be confused with butterNUT. However, if you're looking for butterCUP, then here's a great recipe!
Think cranberries and butternut squash! Oh, yes!
Butternut are cylindrical shaped and a tan color. They last for months and months. No wonder the Pilgrims loved them.
ButterCUP, on the other hand, are green and turban-shaped. They store well into late winter. Their taste is buttery-sweet. And, they're perfect for baking and mashing!
How to Cook Buttercup Squash
There are various ways to cook squash, depending upon what kind of squash.
For some squash, you want to slice and remove the seeds, then bake, steam, boil, fry/saute' (smaller pieces please) or roast.
This buttercup squash's exterior is like a dinosaur. No way am I going to try to slice it in half or smaller pieces to cook.
So, my strategy is to cook the whole squash, steam it actually, in a large Dutch oven pot covered and in a hot oven.
Buttercup Squash Pie Recipe
It's at least 45 minutes to an hour+ at a high oven temperature for this squash to be tender.
Removing it from the Dutch oven is tricky. I used two large heavy metal spatulas. And, I did this after it had cooled somewhat.
While I didn't want to make a 'standard' pie with a crust, I did want to use a pie plate. So this roasted buttercup squash mash is like a 'pie' but you scoop it!
Buttercup Winter Squash
What makes this buttercup winter squash so delicious are just a few additional ingredients to create the creamy mash.
You can certainly give it a more Fall'ish taste with adding cinnamon. But, I opted not to do this. I just wanted to taste the delicious sweet butttercup squash and not cinnamon. Using freshly grate nutmeg added that hint of spice.
Squash Pies
This buttercup squash mash could certainly become your more standard pie. And, please don't skip the step of adding the Dead Sea Granola. You'll be so glad you made this recipe. I've had hundreds of folks make it, and I've only had one person who said it wasn't as they expected. Those are pretty darn good odds of knowing it's delicious!
If I were to add a crust, I would do a graham cracker crust. Buy one premade or make your own kind of like a cheesecake crust. And, boy do I have a great recipe for a thick nutty delicious crust! Click here!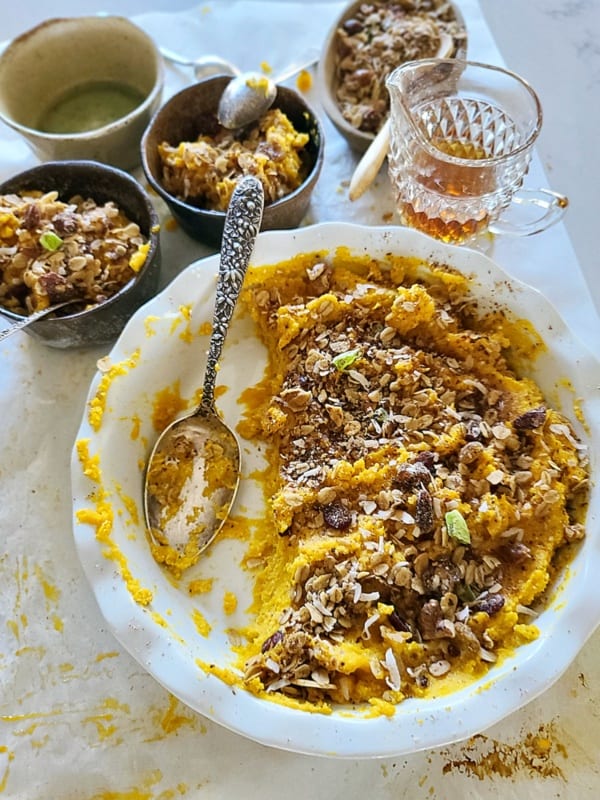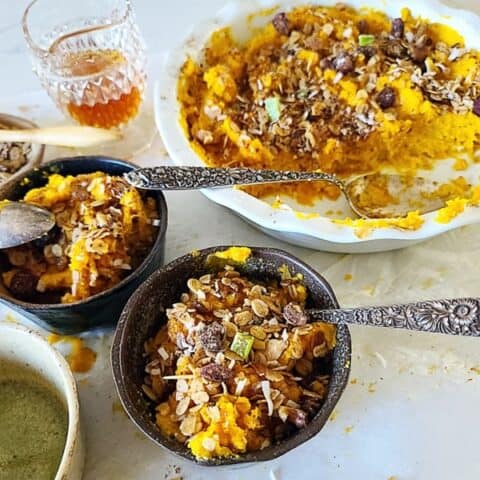 Easy Roasted Buttercup Squash Mash
Ingredients
Preheat oven to 400
1 medium size buttercup squash
1 tsp. vanilla
½ tsp. sea salt
1 cup ricotta cheese
1/3 cup maple syrup
Fresh nutmeg dusting
½ cup Dead Sea Granola
Instructions
Put the whole squash in a Dutch oven. Cover with a lid. Roast in the oven about 45 minutes or until you can pierce easily with a large skewer.

Remove and let the squash cool well enough to handle (can be slightly warm).

Slice the squash in half, remove the seeds (discard), and scoop out the flesh. Discard the skin.

Put in a bowl. Add the vanilla, sea salt, ricotta cheese and blend well into a creamy mixture.


Put in a pie plate (about 9-10"). Smooth and swish the top of the creamy mixture.

Drizzle on half of the maple syrup. Grate a healthy dusting of nutmeg. Add the Dead Sea Granola and drizzle with the remaining maple syrup.

Serve room temperature or warm.