Best time to eat this coconut galette? Right after it comes out of the oven. Oh, yes, warm and creamy, you're going to experience a pastry that isn't too sweet. Isn't too creamy. Isn't too rich. But, just right.
With just five ingredients, you're going to have a tasty dessert that can be refrigerated for later if there's any leftover. Served with some fresh berries adds a new dimension of freshness. If you want to put a meringue on top, have at it. Change it from a galette to a pie.
Using frozen coconut makes all the difference in this recipe. It's like you just schlepped through the jungle, shook a coconut tree and cracked open that delicious goodness. Another option you can change up would be to use coconut milk rather than almond milk. You'd get even more of a coconutteeee taste.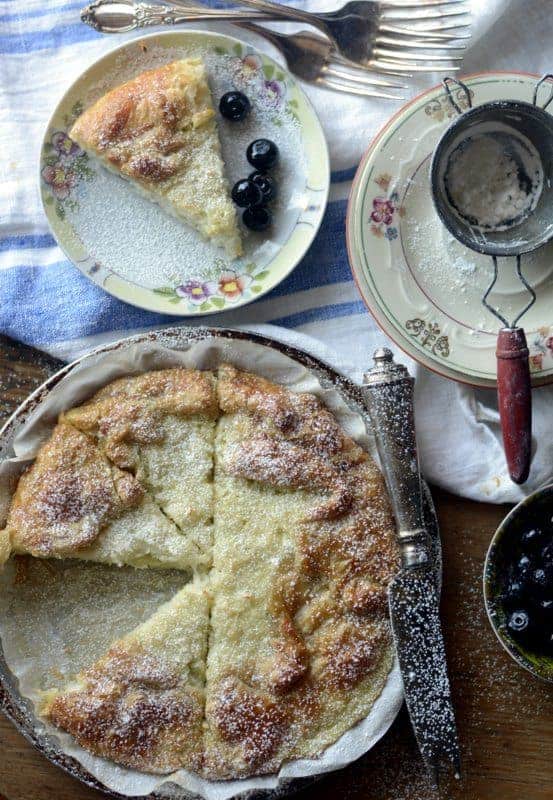 Ingredients
Preheat oven to 350
2 sheets puff pastry, thawed then mold into a larger 'square' about 8x8"
2 eggs, beaten + 1 egg white
¼ cup sugar
Pinch sea salt
1 package (6 oz.) coconut, previously frozen
¼ cup + 2 Tbl. almond milk
GARNISH:
Powdered sugar
Fresh berries
Instructions
Lightly coat an 8" pie pan with cooking spray. Cut a piece of parchment paper to fit into it and slightly up the sides.
Place the puff pastry dough in the pie pan with the sides hanging over.
In a mixing bowl, combine two eggs, sugar, salt, coconut and almond milk. Blend well.
Pour into the pie pan. Gently pull the sides onto the batter and shape irregularly on top the pie.
Use a pastry brush to coat the exposed puff pastry with some of the egg white. Put the pan on a cookie sheet and bake in a preheated 350 oven for about 22-25 minutes. Remove & cool.
Notes
If the exposed pastry dough is browning more than you want, simply place a foil tent lightly on the pie.
https://allyskitchen.com/coconut-galette/
©ally's kitchen intellectual property