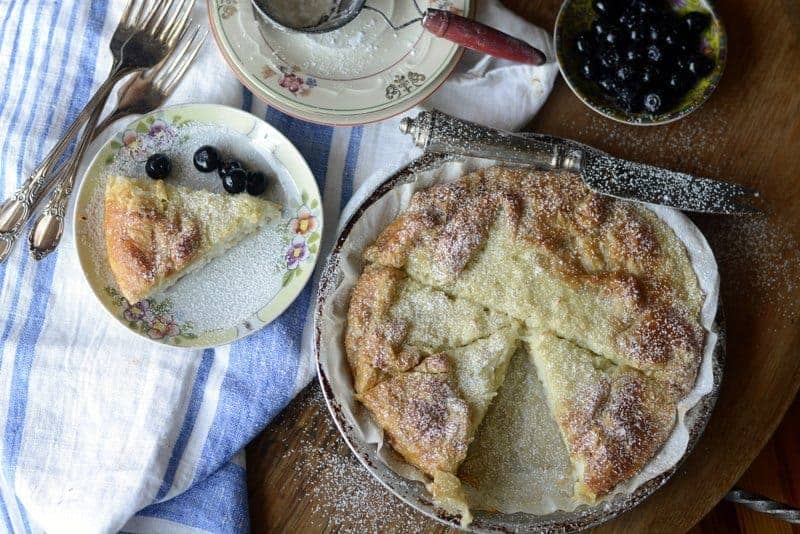 Best time to eat this coconut galette? Right after it comes out of the oven. Oh, yes, warm and creamy, you're going to experience a pastry that isn't too sweet. Isn't too creamy. Isn't too rich. But, just right.
What is a Galette?
The French have given us many wonderful recipes like the souffle, creme brulee, and galette. A galette is a form of pizza pie, or you can call it the free-form crusty round cake. Galette usually has a crispy crust on the outside and a crunchy, fruity, and juicy filling in the center. This is a fruity and sweet take on a pizza. If you ever make up your mind trying a galette recipe, you should definitely start with a blueberry lemon galette; the berries and the zesty lemon give a great combination to the perfectly crispy and crunchy galette! Enjoy!
Galette Recipe
Who said you could make a galette only with the pie crust? You can make a crust even with Graham crackers to add more crispness to your galette, and the sweet and salty taste adds a great flavor to your berrylicious cherry & blackberry galette. Go ahead and cut yourself a slice of this luscious galette and serve it with a scoop of vanilla ice cream on top! It is divine!
Coconut Filling for Puff Pastry
Another delicious French dessert filled with coconut cream is the cream puffs. For your coconut cream puff, you need to make the choux pastry which might look tedious but is quite easy to make. Once you bake your puffs, make a small slit in the bottom and fill them up with your coconut cream. Enjoy them with your cup of coffee as an evening snack. They are crispy on the outside and creamy on the inside, light, coconutty, and cream puffs that will satiate your sweet cravings! Also, the recipe doesn't require any fancy ingredients. So it is simple and easy to make in under half an hour.
Coconut Cream Puff Pastry
Coconut cream puff pastry can be spotted in many French bakeries all along, but you can perfect this recipe at home easily since it's no big deal. If you want to try something besides puff pastry, you can check out the lemon coconut cheesecake. It will be a great delightful dessert for a family get-together or holiday season dinner dessert. It will definitely woo your guests, and they will end up asking you for the recipe at the end! It's scrumptious and subtly coconutty!
Coconut Cream Pie with Puff Pastry
If you wanna bake a pie in just 30 minutes. You can go with rich and thick coconut cream pie. Blind bake your pie crust beforehand and allow it to cool. You can also bake the pie crust a day before and refrigerate it. Now you have to make your no-bake coconut cream filling for your pie. Whip up some heavy cream, add some coconut milk, and shredded coconut to give it some texture. Whip it up until it is silky smooth. Add this to your pie, and Voila! You will have a rich, creamy, coconut pie in front of you! Dig in! If you don't want to indulge too much, then you can check out the recipe for Blackberry Ricotta Muffins, which is on the healthier and lighter side compared to coconut pie.
Easy Coconut Pie Crust
An easy coconut pie is made when you opt for a store-bought pie crust instead of a homemade one. I mean no harm in buying store-bought pie crust. It will make your process much simpler and saves a lot of time kneading the dough. You can check out more easy coconut dessert recipes to woo your family and guests for an ultimate dinner dessert! They'll go nuts!
Easy Bake Coconut Pie
Coconut pie is one of the easiest no-bake pies, like key lime pie. The beauty of this pie lies in the filling; the coconut milk and the shredded coconut topping it off with toasted coconut will take you to a whole different level. Try another popular French dessert, apple date whiskey nut galette with a modern twist. You will never go back to your old apple pie recipe after tasting this galette!
Easy Coconut Pie Filling
Coconut pies are so delicious, and they can be made a day in advance and refrigerated, allowing the coconut filling to set in. You can have it as such without whipped cream topping or can get creative by going for a meringue topping which will give you a s'mores marshmallow taste to your pie. You can have a salad and an English Cucumber Galette for the main course and the showstopper coconut pie for the dessert! It will be the ultimate showdown!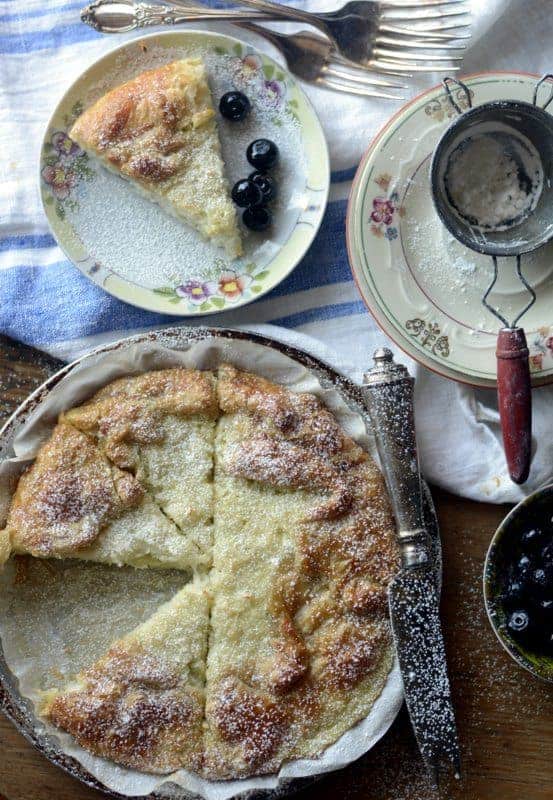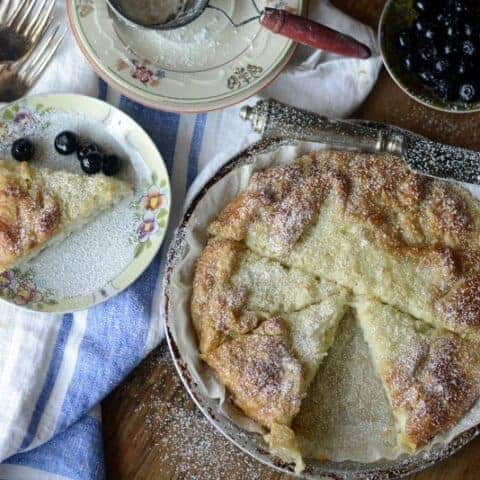 Coconut Galette
Best time to eat this coconut galette? Right after it comes out of the oven. Oh, yes, warm and creamy, you're going to experience a pastry that isn't too sweet. Isn't too creamy. Isn't too rich. But, just right.
Ingredients
Preheat oven to 350
2 sheets puff pastry, thawed then mold into a larger 'square' about 8x8"
2 eggs, beaten + 1 egg white
¼ cup sugar
Pinch sea salt
1 package (6 oz.) coconut, previously frozen
¼ cup + 2 Tbl. almond milk
GARNISH:
Powdered sugar
Fresh berries
Instructions
Lightly coat an 8" pie pan with cooking spray. Cut a piece of parchment paper to fit into it and slightly up the sides.

Place the puff pastry dough in the pie pan with the sides hanging over.

In a mixing bowl, combine two eggs, sugar, salt, coconut and almond milk. Blend well.

Pour into the pie pan. Gently pull the sides onto the batter and shape irregularly on top the pie.

Use a pastry brush to coat the exposed puff pastry with some of the egg white. Put the pan on a cookie sheet and bake in a preheated 350 oven for about 22-25 minutes. Remove & cool.
Notes
If the exposed pastry dough is browning more than you want, simply place a foil tent lightly on the pie.