GF Protein Chocolate Cookie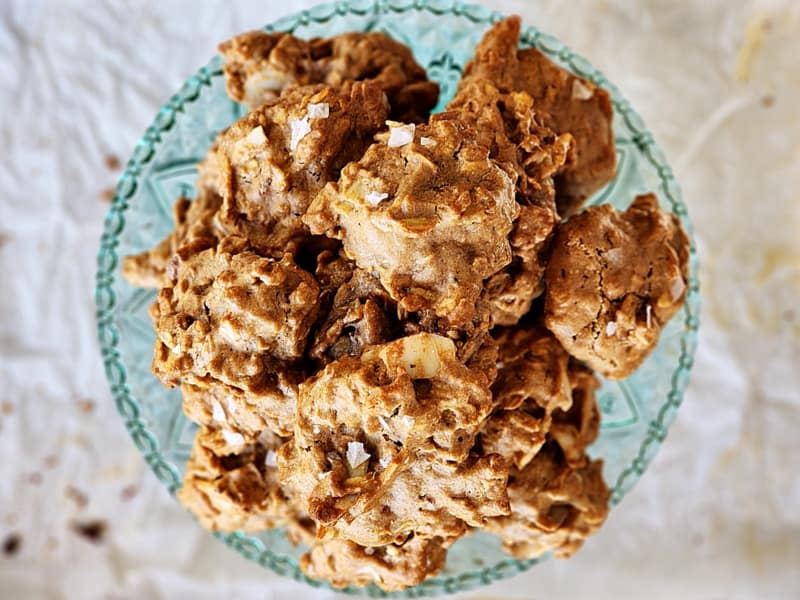 A cookie that's healthy? Yep! GF Protein Chocolate Cookie fills the bill! It quells the sweet cravings without all the sugar!
Protein Chocolate Cookie Recipe
When you think chocolate cookies the word 'protein' usually doesn't come to mind.
Well, if you add some nuts to the cookie recipe, you'll get some slivers of protein.
Chocolate Protein Oatmeal Cookies
But these cookies, about a dozen and a half, actually have in them 30 grams of protein in them.
Now, just how did that happen?
Protein Powder Cookies
Here you go. It's Paleo Valley's Chocolate Bone Broth Protein Supplement. Yes, you've seen these supplements used in smoothies and shakes, but I use the chocolate in so many other things, too. Oatmeal, pancakes, waffles, cream of wheat, your coffee.
To help add more pop to the flavor, try adding the sea salt flakes on top the cookie dollops before baking. Yes yes, it sure does elevate the taste! Totally optional, of course.
Healthy Chocolate Protein Cookies
By having this to add, I'm infusing just a tad bit more of nutrients.
And, at our ages, in our 70s and 80s, I look for all ways to do this to keep our auto immune system more robust and healthy and our overall health heartier.
Protein Chocolate Cookies
These cookies have another added bonus for these cookies.
They're gluten free! Actually, there's no flour in these cookies whatsoever. I love the addition of whole oats and sliced almonds. Both add texture and crunch.
Chocolate Protein Cookies Recipe
These cookies are in no way super sweet. In fact, they only have a hint of sweetness. We're not big on heavily loaded sugar desserts.
Another thing about them is that they have a crunch from the way they're just organically dolloped on the parchment paper to bake. These little crevices, cracks and peaks make for the best bites.
And, here's how I store them for a say three days. I put them on a cookie/cake pedestal, drape a sheet of wax paper over them and then a clean dish towel on top of that. This helps maintain the crunch. If you store in a tightly covered contained, they'll get much more soft. Of course, if that's your love, have at it!
Finally, the last option. If you want more chocolate taste, then add to your recipe two tablespoons of organic cacao powder. Here's to chocolate!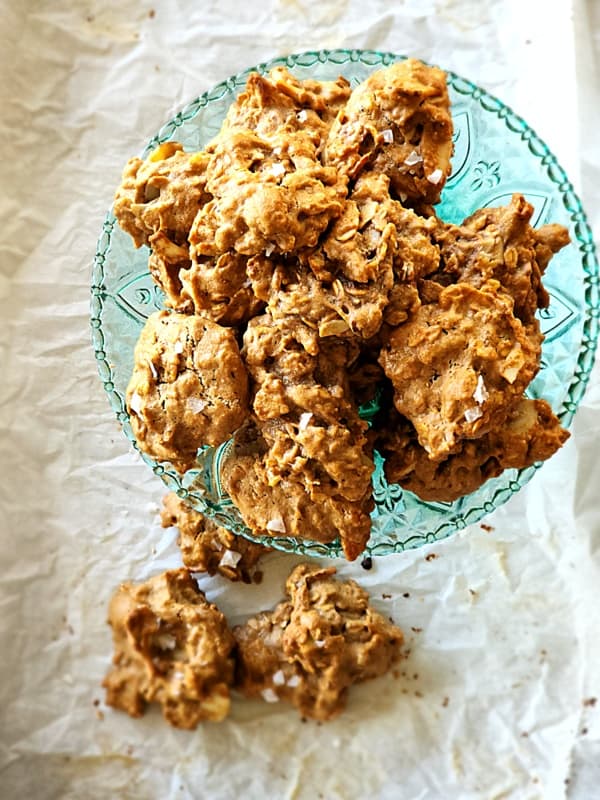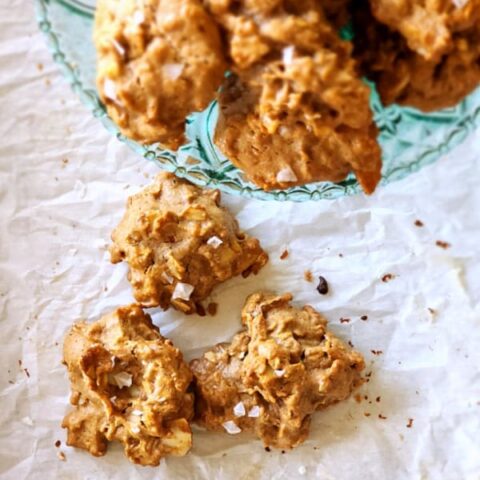 GF Protein Chocolate Cookie
Yield: About 18-20 cookies
Ingredients
Preheat oven to 375
2 pasture raised eggs, beaten
1/4 cup coconut sugar
2 scoops PaleoValley chocolate bone broth protein supplement
8 oz. nutter butter or granola butter
1 cup whole oats
1 cup sliced almonds, crushed
Sea salt flakes
Instructions
Put the beaten eggs in a large mixing bowl. Add the coconut sugar and whisk in dissolving the crystals well. Add the bone broth protein supplemnet and blend.
Add the nutter butter and blend. Then add in the oats and almonds. Blend into a thick gooey mixture.
Dollop about two tablespoon scoops on a parchment paper lined cookie sheet. Top each cookie with a few sea salt crystas.
Bake in a preheated 375 oven about 10 to 12 minutes. Remove and let the cool.
Store in an airtight container (cookies will get softer) or put the cookies on a plate and cover with a piece of loose wax paper and a clean kitchen towel. Cookies will stay a little more crispy on the exterior lasting a couple of day.