Can deviled eggs melt in your mouth? Well, take one bite of these pimento cheese deviled eggs and you'll see what I mean!
I'm always telling you that food is history, and it's exactly that with deviled eggs, which date back to the Roman Empire. There's lots of versions of deviled eggs from all around the world in different countries. In Belgium, Germany, the Netherlands and France, they're called 'Russian Eggs'. I think of those amazingly gorgeous and intricately painted Russian Faberge eggs, but these Russian eggs are ones that collect dust on your shelves!
There's really no limit to what you can create with deviled eggs. The only limit is your imagination. So, if you want capers, olives, anchovies, artichokes, basil, bacon, cumin, carrots, dates, dijon, whatever, then throw it in! And, if you're a history buff and want to read more about the deviled egg's 'history' then the History has a great review.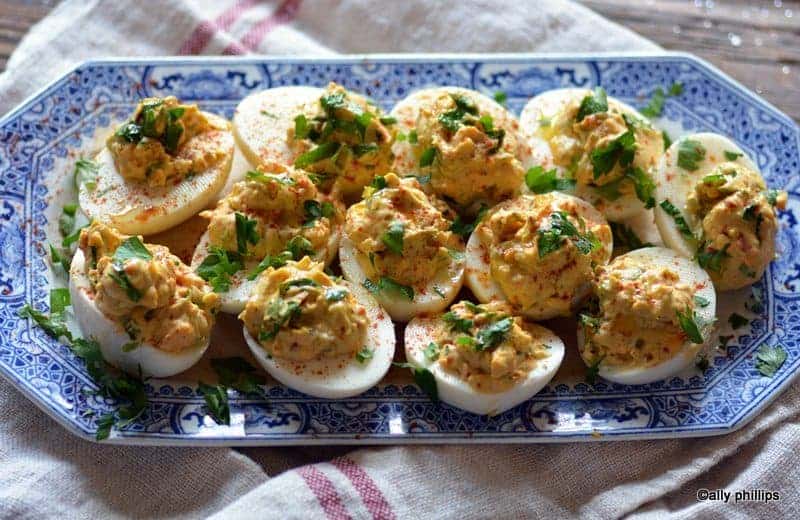 pimento cheese deviled eggs
Ingredients
Makes: 12 eggs
6 eggs, hard boiled, peeled, sliced lengthwise in halves and yolks in a separate mixing bowl
2 Tbl. Mayonnaise
3 Tbl. Pimento cheese (your favorite brand)
1 Tbl. (heaping) sweet relish
1/8 tsp. sea salt
1/8 tsp. coarse ground pepper
1/8 tsp. red chili flakes
2 Tbl. Fresh flat parsley, chopped well + more for garnish
1 Tbl. Extra virgin olive oil
Instructions
Mash the yolks with a fork. Add the mayonnaise, pimento cheese, relish, salt, pepper, chili flakes, parsley and blend well.
Fill the egg whites. Sprinkle with additional parsley and drizzle with the olive oil.
https://allyskitchen.com/pimento-cheese-deviled-eggs/
©ally's kitchen intellectual property