Pimento Cheese Deviled Eggs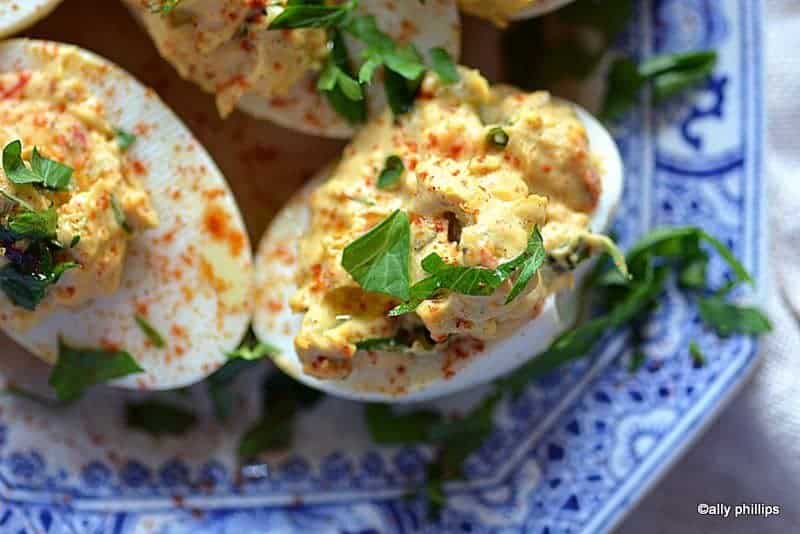 Try easy and addictive Pimento Cheese Deviled Eggs from Ally Kitchen! Bold and zesty with rich pimento cheese.
Best Ever Deviled Eggs
I still say that food is history, and Spicy Jalapeno Bacon Deviled Eggs, which date back to the Roman Empire, are no exception. Deviled eggs are made in a variety of ways in various countries all over the world. They're known as 'Russian Eggs' in Belgium, Germany, the Netherlands, and France.
I've been meaning to post a simple deviled egg recipe here on the blog for years. And I've still (accidentally) (whoops) spaced it off for years. With Easter just around the corner, I thought today would be the perfect time to share my tried-and-true, classic-with-a-few-modern-tweaks, always-always-a-crowd favorite recipe for the best-deviled eggs with you!
Cheesy Deviled Eggs
I'm reminded of those incredibly beautiful and intricately painted Russian Faberge eggs, but these Russian eggs just sit on your shelves collecting dust!
They're super simple to make (and I've included tips for prepping them days ahead of time if you want). If you're not a mayo lover like me, you can lighten them up by substituting Greek yogurt for the mayo. I also like to add a squeeze of fresh lemon juice to mine instead of vinegar, which brightens them up a little. But, above all, I adore this deviled egg recipe because these little guys are simply irresistible. When I serve them for Easter dinner or a springtime brunch, they always vanish quickly, and people always wonder what's in them to make them so light and tasty.
Deviled Eggs with Pimento Cheese
There's really no limit to what you can create with deviled eggs. The only limit is your imagination. So, if you want capers, pineapple jack pimento cheese, anchovies, artichokes, basil, bacon, cumin, carrots, dates, dijon, whatever, then throw it in!
Egg Pimento Recipe
And, if you're a history buff and want to read more about the avocado pimento cheese fruit spread 'history' then History has a great review. The egg whites and filling mixture can be made up to 3 days ahead of time and stored separately in tightly sealed containers until ready to assemble and serve.
Pimento Cheese Eggs
How do we love you, wicked smokey bacon deviled eggs? I'll count the ways for you. Devilled eggs are a versatile snack for picnics, holidays, school parties, and more. Everyone adds their own unique flavor of toppings to this tasty classic. The best part is that kids adore them!.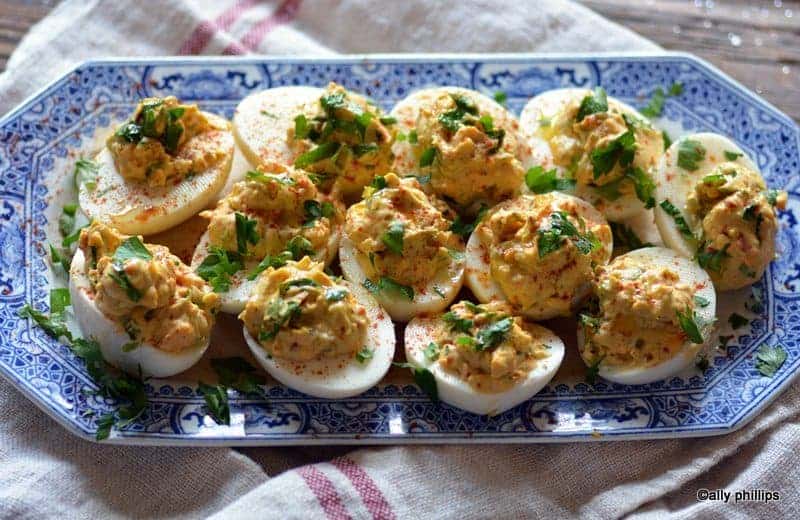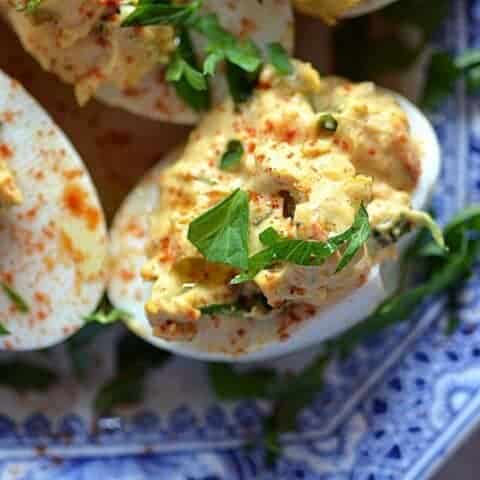 Pimento Cheese Deviled Eggs
Try easy and addictive Pimento Cheese Deviled Eggs from Ally Kitchen! Bold and zesty with a rich pimento cheese recipe for the filling, made with the hard-boiled egg yolks.
Ingredients
Makes: 12 eggs
6 eggs, hard boiled, peeled, sliced lengthwise in halves and yolks in a separate mixing bowl
2 Tbl. Mayonnaise
3 Tbl. Pimento cheese (your favorite brand)
1 Tbl. (heaping) sweet relish
1/8 tsp. sea salt
1/8 tsp. coarse ground pepper
1/8 tsp. red chili flakes
2 Tbl. Fresh flat parsley, chopped well + more for garnish
1 Tbl. Extra virgin olive oil
Instructions
Mash the yolks with a fork. Add the mayonnaise, pimento cheese, relish, salt, pepper, chili flakes, parsley and blend well.

Fill the egg whites. Sprinkle with additional parsley and drizzle with the olive oil.