warm spiced peach spinach salad on toasted bagel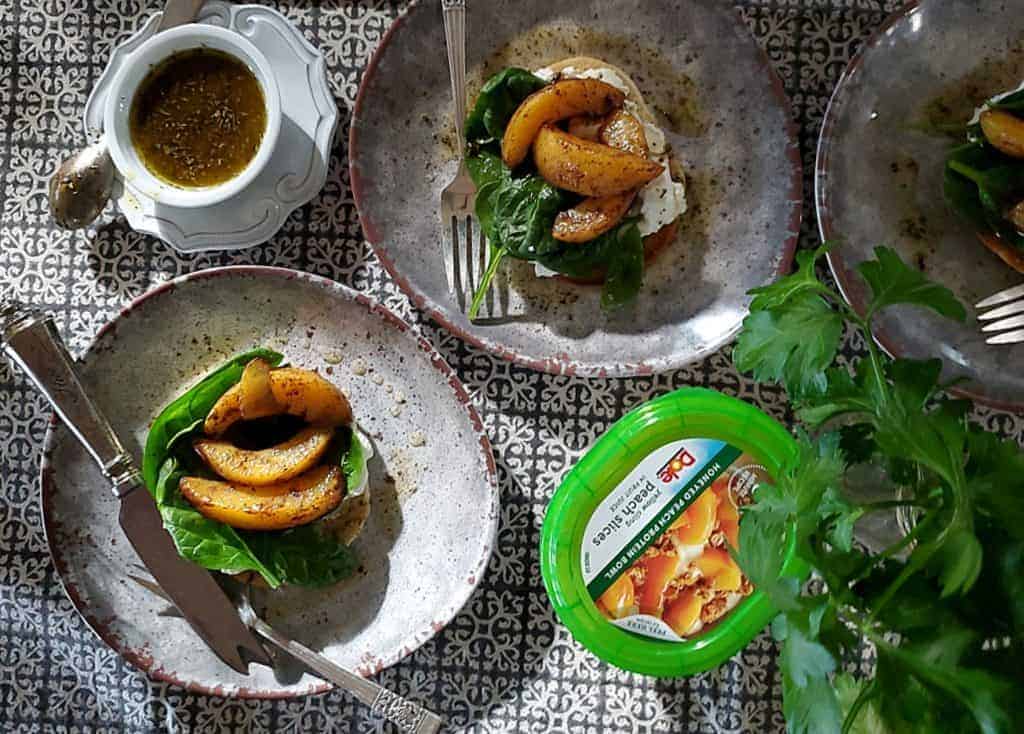 Thanks to Dole Sunshine for partnering with me on this warm spiced peach spinach salad on toasted bagel! I am the creator of this recipe and for the description and information that follows. For a full disclosure, click here!
Need it Fast?
Sometimes the tastiest dishes are ones with just a few ingredients and ones that require the least work! And, this peach salad with warm spiced peaches is that, indeed! And, what's more convenient about this recipe is the use of Dole Sunshine's new Fridge Packs. Now, you will not find these fridge packs in the refrigerated section of your grocery store. Yeah, I know, sounds confusing, but you'll find them on the shelf usually with the canned and jarred Dole Sunshine fruits. What's awesome about this product is that you can use just a small amount and then pop the snugly fitting lid back on, put in refrig, and use for another dish. It's really nice to have this option and to have the built-in storage container that is, of course, BPA free!
Dole Sunshine Peaches
Dole's peaches are just perfect, and they're a generous slice making them perfect for so many things. From small pies, hand pies and just snacking on to a recipe like this for a warm spiced peach spinach salad. Now, they're packed in fruit juices and can brighten even the most gloomy day! As we say at Dole, 'from routine to cuisine', yes, that's what this recipe is! Something that will bedazzle and take peaches to the next level and a salad to gourmet with just a few steps!
Another thing about this recipe, slicing those peaches lengthwise in halves makes them easier to eat with this dish, but I wanted to show you how amazing these peaches are before slicing!
And, as always, these peaches are non-GMO, all natural fruit and packed with Vitamin C! Consume the best!
Just in case you can't find them at your local grocer's, try Amazon! Dole Sunshine Fridge Packs come in four different fruits!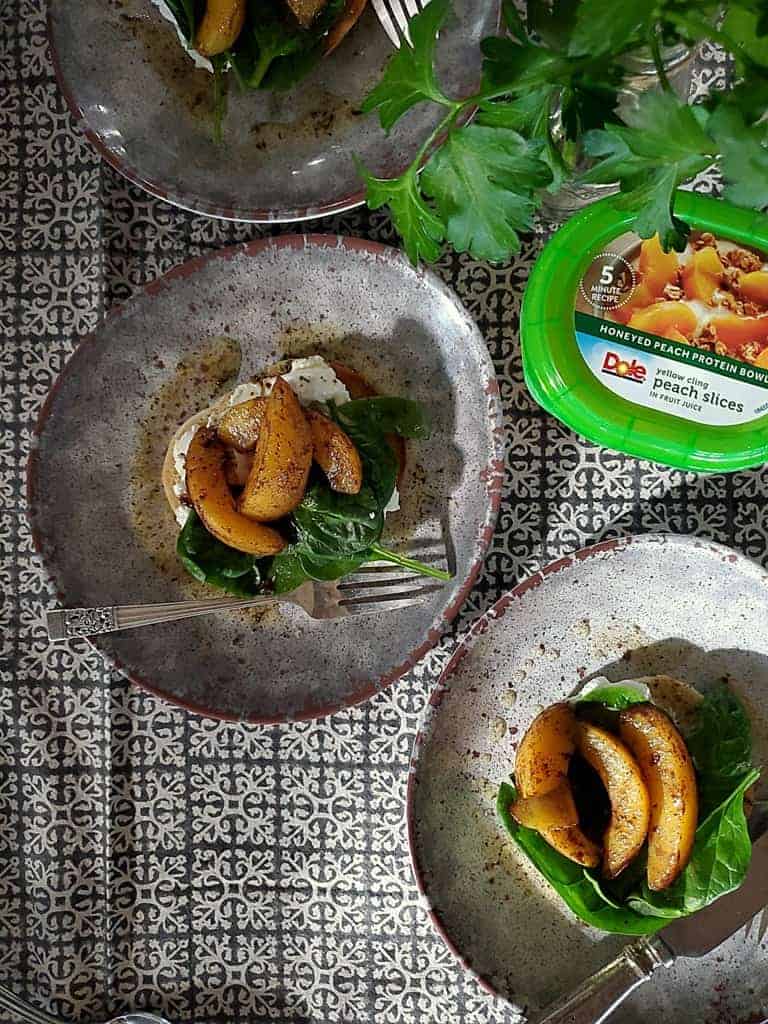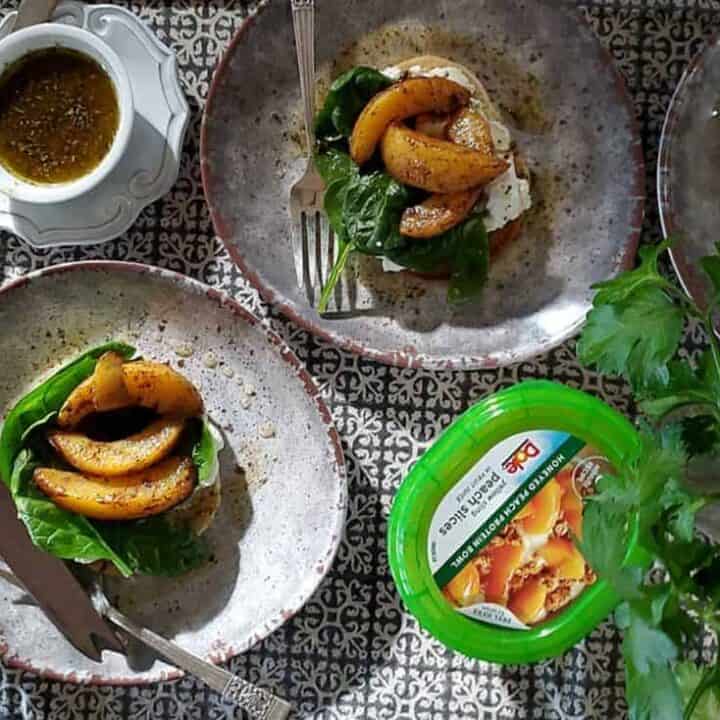 warm spiced peach spinach salad on toasted bagel
Ingredients
1 container Dole Sunshine Fridge Pack Peaches, 12 peach slices cut lengthwise in halves and 5 Tbl. juice
1 tsp. allspice
2 bagel thins, separate into 4 pieces, lightly toast
6 Tbl. whipped cream cheese, heaping tablespoons
1 ½ cups fresh spinach leaves
3 Tbl. extra virgin olive oil
½ tsp. Italian seasoning mixture
Salt and Pepper to taste
Instructions
Put two tablespoons of the peach juice in a small skillet over medium heat. Add the peaches and sprinkle on the allspice. Toss and sauté peaches about three minutes. Turn off heat and remove skillet from blaze.
Slather each of the bagel thins with equal amounts of the cream cheese.
In a small bowl, whisk together well the olive oil, remaining peach juice and Italian seasoning mixture making a vinaigrette. Add salt and pepper to taste.
Place some fresh spinach leaves on each of the bagels atop the cream cheese. Add three peach slices to each. Drizzle a teaspoon of the vinaigrette over each. Reserve the remaining for individual preferences.
Serve immediately.