amazing peanut coconut simple cookies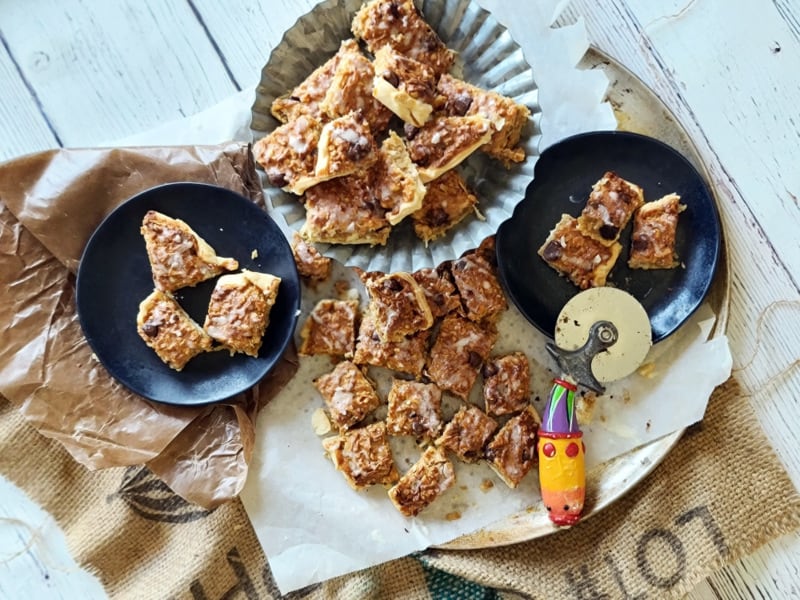 These amazing peanut coconut simple cookies have all the favorite parts of candy bars. Coconut. Chocolate, Peanut Butter. More!
Pie Crust Desserts
Pie crust desserts are not only delicious. But, they're perfect when you need to pinch hit and don't have a lot of time to bake!
And, these amazing peanut coconut simple cookies are one of the best pie crust desserts you'll ever taste.
Easy Pie Crust Peanut Butter Cookies
Think of these easy pie crust peanut butter cookies as the ones you take to covered dish dinners. Or maybe you whip up a batch for your kids' soccer team!
Homemade Peanut Butter Cookies
Probably one of my craziest recipes is for peanut butter cookies.
Imagine making these cookies with only three ingredients. Yes, you heard me correctly, three ingredients. And, of course, one of these ingredients is peanut butter.
If you want to try them, then just click here!
Best Peanut Butter Cookies
Now peanut butter cookies don't just have to have peanut butter. These Preacher Cookies with peanut butter and chocolate are no bake.
I remember growing up in those coalfields of West Virginia and a lot of families up the hollers would make these cookies. I couldn't wait to visit my friends' homes and eat some of them because they're just delicious!
Easy Peanut Butter Cookie Recipe
Another easy peanut butter cookie recipe that also has the iconic jam in it is my Peanut Butter Jam cookie.
While you have a whopping six ingredients, two of which are the peanut butter and jam, it's certainly one of those very easy recipes that gives you great results. And, this cookie recipe is gluten free!
Pie Crust Cookies Recipe
If you've never tried using a refrigerated pie crust for your cookie recipe, then get ready for magic!
Making Cookies with Pie Crust
The pie crust acts as a base for the cookie, kind of like a very thin butter cookie. Making cookies with a store bought pie crust can save some serious time.
And, the thing about these cookies is that you 'pre' cut using a pizza cutter the cookies before baking. Then you have your template for running the pizza cutter through again after the cookies have baked. It's pretty much failsafe. And, you end up with great sliced cookies.
Best Pie Crust Cookies
Undoubtedly, my best pie crust cookies, well, until this recipe, was my Vintage Pie Crust Cookie.
This recipe was bequeathed to me by a dear friend who's taught my boys Spanish in high school. While downsizing and cleaning out her home, she found some of her mother's favorite recipes. Written on old stained and tattered 3 x 5″ cards, she contacted me to see if I wanted them. Of course, I did!
Food is heritage and legacy. And, I wanted the history of these cookies to live on.
Desserts with Pie Crust
As you can imagine, desserts with pie crust are a way to make something super quick and easy. Here are a few of my favorite pie crust desserts.
Ideas for Pie Crust
Pie crust ideas don't just mean sweet. You can also try savory, like this Roasted Tomato Onion Pie!
What to do with Pie Crust
You might ask what you can do with a pie crust besides make pies. Well, you can do crazy things with pie crusts. For instance, why not use a pastry brush, coat the pie crust with melted butter, mix sugar and cinnamon, sprinkle on the pie crust.
Then cut the pie crust (using a pizza cutter) into smaller pieces. You've just made a great treat for snacking or crumble and put on top of yogurt/honey or ice cream!
Need more inspiration? Check out Pillsbury Pie Crust recipe ideas!
Pie Crust Treats
Pie crust treats making baking super simple. If you've not tried my Vintage Pie Crust Cookies, you must! This recipe has such a sweet backstory that I hope you'll enjoy reading!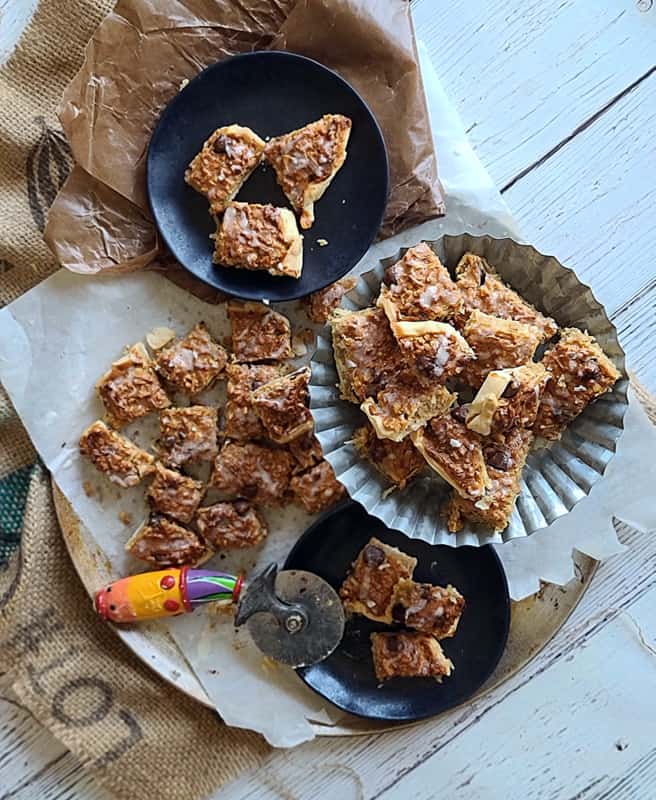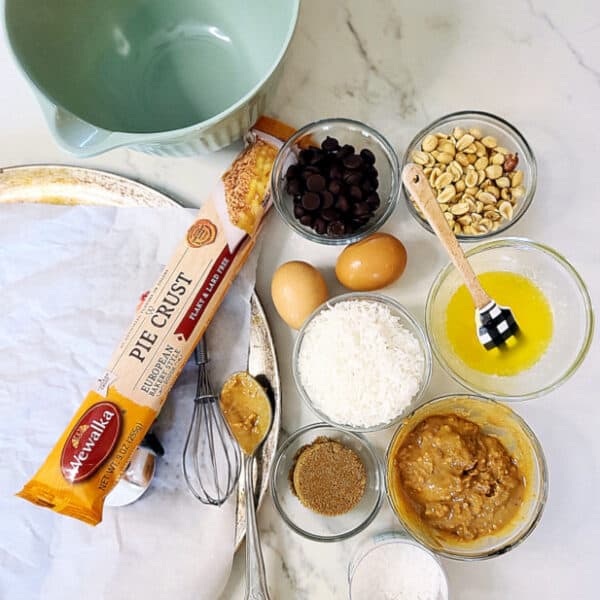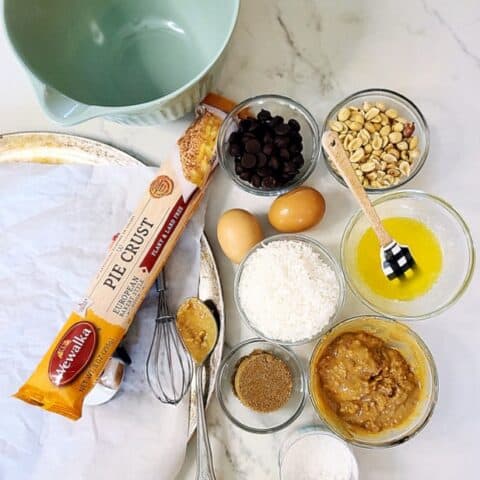 amazing peanut coconut simple cookies
Yield:
About 2 dozen cookies
Ingredients
Preheat oven to 350
1 refrigerated roll pie crust, about room temperature
1/4 cup brown sugar, packed
2 eggs, beaten
1/3 cup peanut butter
1 1/2 cups coconut, sweetened and shredded
3/4 cups salted peanuts, roughly crushed
4 Tbl. butter, unsalted, melted, divided
1/2 cup chocolate chips, semi-sweet
LEMON DRIZZLE (optional)
1 to 1 1/2 cups powdered sugar
l large lemon, juice
Instructions
Preheat oven to 350
Put a piece of parchment paper on a pizza pan sheet. Roll out the pie crust dough. Set aside.
In a large mixing bowl, combine the brown sugar and beaten eggs. Whisk and blend. Add the peanut butter and blend well.
Add the coconut, peanuts and two tablespoons of melted butter and blend well. Blend in the chocolate chips.
Pour this mixture in the middle of the pie crust. Gently spread out over the crust leaving about 1/2" from the edge (perimeter).
Curl and pinch together the dough around the perimeter around the filling.
Use a pizza cutter and pre-cut the round large 'cookie' into pieces. Slice down the middle then two slices on each side. Twist the round pie and repeat making about 24 pieces.
Bake in a preheated 350 oven for about 28 to 32 minutes. Remove and let it cool about 10 minutes then take your pizza cutter and trace over your pre-cut lines.
Let the cookies completely cool before putting on the drizzle (optional).
LEMON DRIZZLE:
Put the lemon juice in a small bowl. Add the powdered sugar. Whisk together well working out any lumps. Add the remaining melted butter and blend well.
When the cookies are totally cooled, use a whisk to 'splatter' on the drizzle.