Cabbage Chard Apple Pineapple Salad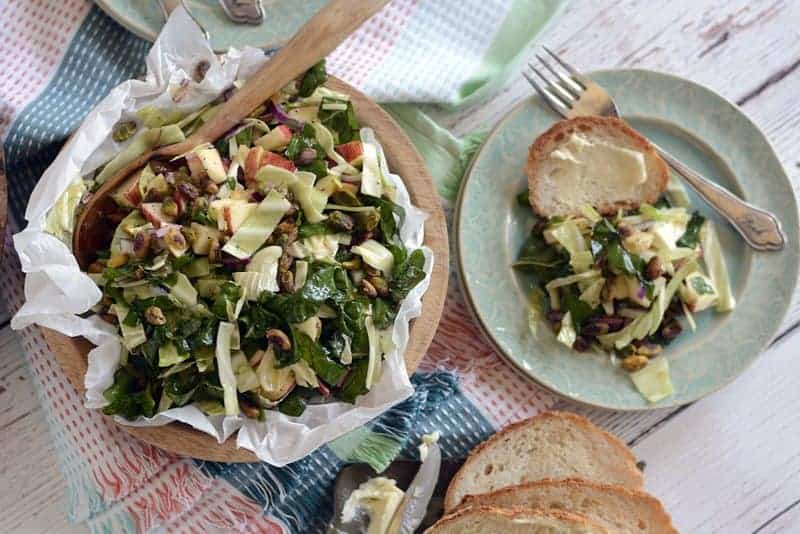 Take a look at this cabbage chard apple pineapple salad. Perfect for any meal or occasion!
Cabbage Chard Apple Pineapple Salad
Vegetables and salads tend to give us more health benefits, nutrients, and value in their most natural form. So, loading up your table with various salads can be a great way to eat especially if you stretch your idea of a salad from what you get in a restaurant with your meal or a typical salad bar layout. I'm talking about putting together some different salads ideas that hit on all cylinders with flavors, tastes, and textures. Salads that are bursting with vibrant colors! I could go on and on, but for now, take a look at this cabbage chard apple pineapple salad.
Best Apple Salad Recipe Ever
The apple flavor always adds variety to the food. Salads are especially noticeably transformed. This is why many people like to add apples to their usual salads and get a completely new taste. Apples are very vitamin fruits. Even though they are delicious in themselves, they are often added to all kinds of dishes, including salads. In salads, apples add freshness; make the taste of the dish special. And importantly, apples do not require, as a rule, any pre-processing. Check out this red chard pomegranate & currant salad! Perfect for Sunday Brunch! Or my Apple Salad with Swiss Chard!
Cabbage and Apple Salad
Most folks know they love cabbage in coleslaw, but beyond that, would you think of cabbage as a main salad. Yes, raw cabbage. When you slice it thin and combine other ingredients like the apples and dried pineapples in this recipe, you're not gonna realize you're even eating cabbage. And, think beyond what you see here with what I've created.
If you want to use purple cabbage, oh, yay, do it! If you want to throw in a hint of bitterness with radicchio then, yes, do it. The counterbalances are here in this salad, salty pistachios, nutty crunch, sweet apples, pineapples, and the mellow tender chard. And, if you want to pair this salad with a fabulous strudel, then you have to try my Apple Ham Strudel. Mouthwatering!
Cabbage Salad with Apple Cider Vinegar
Now I don't like to overwhelm these gorgeee vegetables by loading up on a bulky creamy dressing, so I like to give my salads splashes of citruseeee vinaigrette combinations. Next time I make this salad, I will add some crumbled goat cheese—Hummmm, or maybe just a hint of bleu. The best thing to do is an experiment. Go beyond what you think a salad is, yes, typically lettuce, tomatoes, onions and maybe cucumbers, dressing, and living on the wild and crazy side of life!
Pistachio Salad Recipe
The pistachio salad is trendy; it is not only tasty but also extremely healthy. The addition of pistachios to the salad makes the dish very original and not trivial. You can use both raw and roasted groundnuts. Whole nuts are usually used to garnish meals. Now we bring several exciting recipes for such salads to your attention with which you can surprise any guests.
Besides yummy Cabbage chard apple pineapple salad, I've got a few delicious recipes for you!
Wild Blueberry & Salty Pistachio Oatmeal Cookies with Sea Salt Flakes
Greens & Beans
wild blueberry pistachio oatmeal cookies
Upside Down Peach Pie Mounds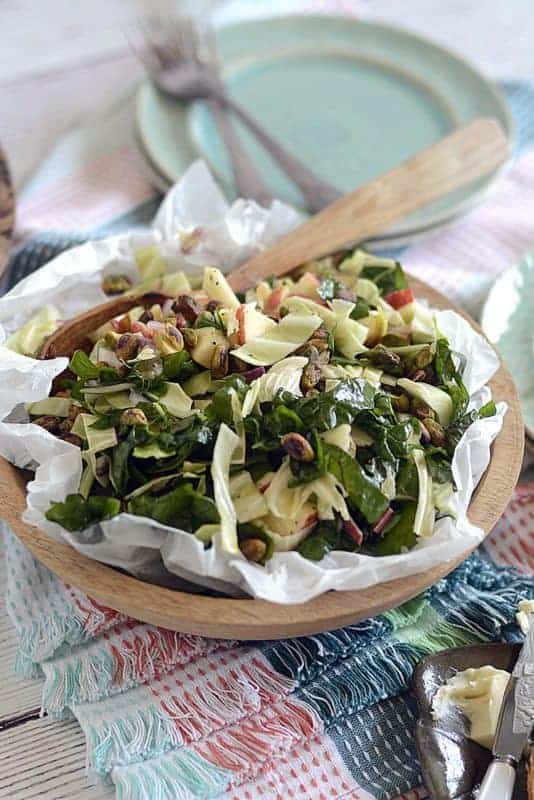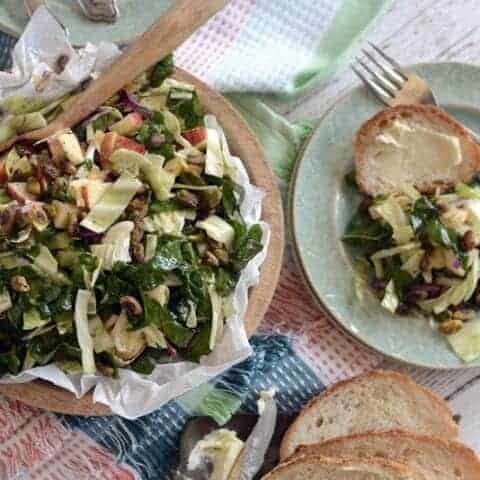 Cabbage Chard Apple Pineapple Salad
Yield: 6+ healthy sized bowls

Take a look at this cabbage chard apple pineapple salad. Perfect for any meal or occasion!
Ingredients
Serves: 6+
3 cups apples, skin on, crispy, cut into bite size pieces
3 cups rainbow chard, sliced with some stems, packed
3 cup cabbage, packed, sliced
½ cup dried pineapple, chopped into smaller pieces
½ cup red onions, sliced thinly into about 1" pieces
2 Tbl. fresh lemon thyme leaves
¼ cup fresh basil, finely chopped
¼ cup extra virgin olive oil
¼ cup parmesan regianno, finely shredded
2 Tbl. rice vinegar
2 medium lemons, juice and zest, divided
1 ½ tsp. sea salt
1 ½ tsp. coarse ground pepper
1/2 cup salted pistachios
Instructions
Put the apple bites in a medium bowl and toss in one half of the lemon juice and zest. Set aside.

In a large mixing bowl, combine the chard, cabbage, dried pineapples, onions, thyme, and basil. Toss and blend. Add the apples. Toss and blend.

In a small bowl, whisk together well the olive oil, vinegar, remaining lemon juice/zest, salt and pepper.

Drizzle over the salad mixture. Toss and blend well. Refrigerate until ready to serve then top with the salted pistachios.