roasted chicken pomegranate & asiago sandwich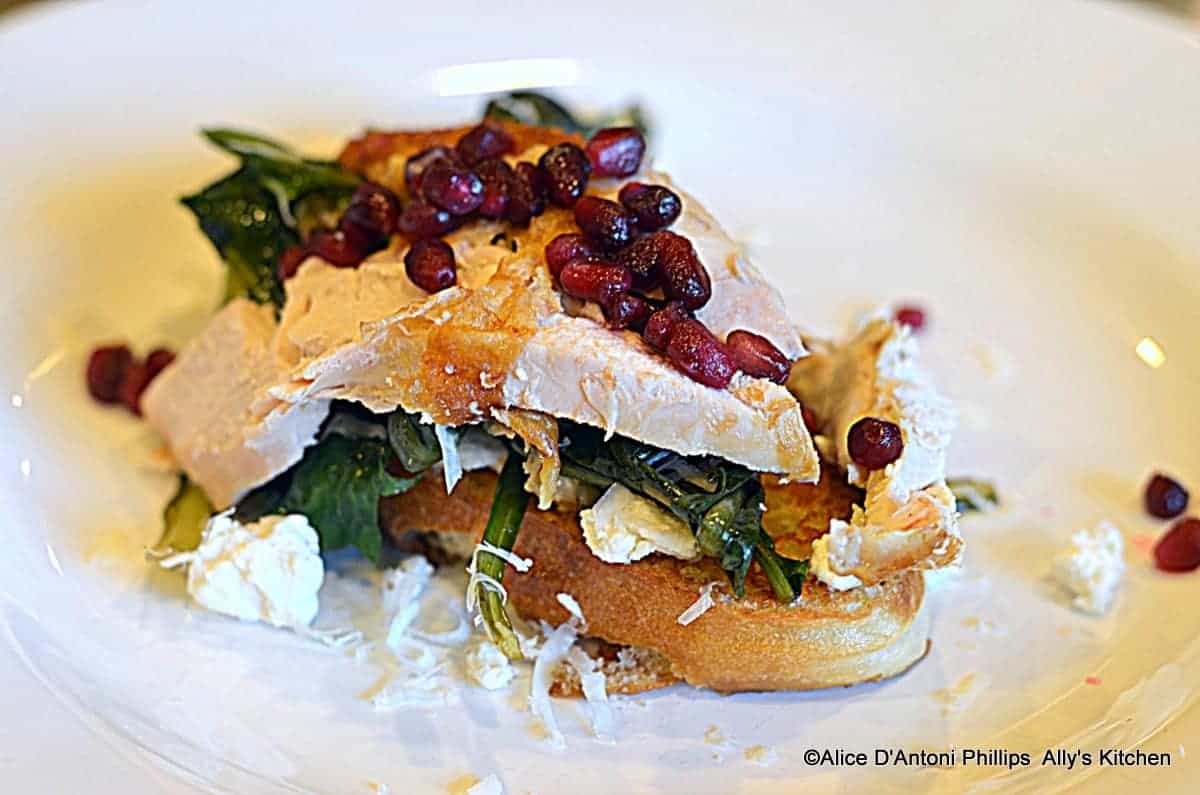 Who doesn't like free!  I got free dandelion greens, nice succulent fresh tender green ones, while walking with my girlfriend alongside the road a couple of days ago.  Brought those critters home~~we both had a mess full we carried and passing cars must have thought we were strange looking with all these greens pressed against our chests as we walked~~and, pulled out all the pine straw, weeds, and leaves, and began washing them. Like leeks, they were full of grit and dirt, so I did a spa bath 4 times in the big kitchen sink.  Then I bagged them and put them in the refrigerator.
Cooked a mess of them the next day.  Now, these greens are full of healthy good stuff that makes your DNA want to run faster and jump higher.  They've got a real earthy taste, kind of bitter, and they can be tough, not unlike other leafy greens like collards.  But prepared the right way, you can transform these rustic peasant greens into something chic and luxurious~~they're kind of like ramps and quite popular in trendy restaurants!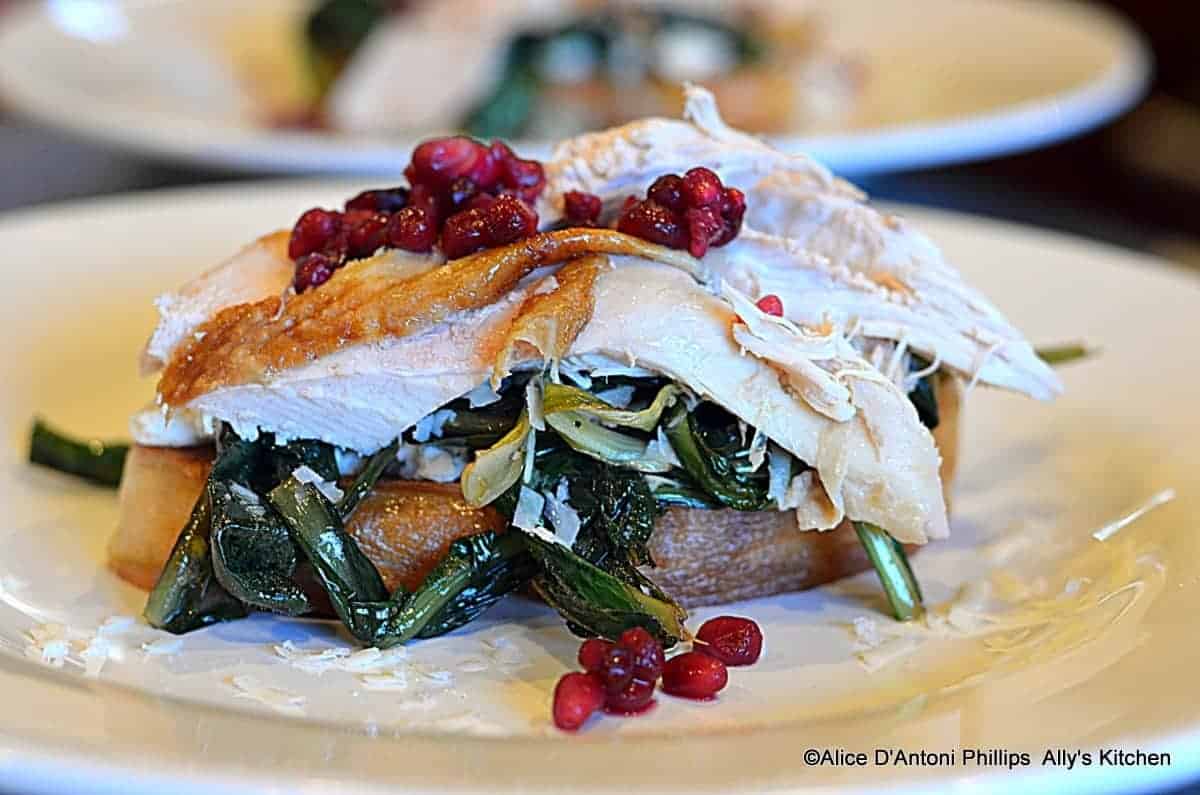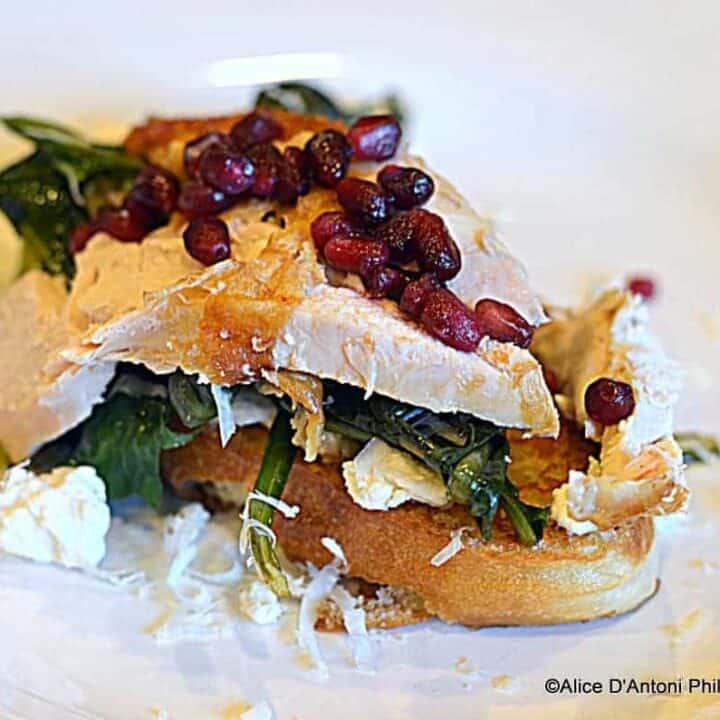 Bacon Dripping Dandelions with Roasted Chicken Pomegranate & Asiago
Ingredients
One (1) store-bought deli rotisserie whole chicken
6-8 cups of dandelion greens washed well and chopped up (You can substitute another green like watercress, arugula, spinach, etc.)
1/4 cup bacon drippings
1/4 cup chicken broth (water will also work)
1 tsp. sea salt
1 tsp. ground pepper
1/2 tsp. red chili flakes
2 Tbl. honey
1/2 lemon (juice and zest)
3-4 slices of ciabatta bread
2 Tbl. butter
1/2 cup crumbled feta
1/2  cup grated asiago cheese
1 cup fresh pomegranate seeds
1/4 cup extra virgin olive oil
Instructions
Preparing the Greens: In a large heavy skillet, melt the bacon drippings on medium high. Add the dandelion greens and toss with tongs. Add the chicken broth, salt, pepper, chili flakes, honey and blend well.
Cover and let the greens cook on medium high about 15-20 minutes. Reduce heat to medium low and cook another 30 minutes (adding tads of water/chicken broth as needed to keep it from burning).
Add lemon juice and zest and blend. Serve or let them steep covered on simmering heat to tenderize more.
Preparing Balance of the Dish: Butter both sides of the ciabatta bread slices and on medium high heat, grill in a cast iron skillet to golden brown. Carve slices of chicken from the roasted chicken.
On a dinner plate, put a slice of the the grilled bread, top with some of the crumbled feta, then some dandelion greens, then slices of chicken, asiago cheese, pomegranate seeds and a drizzle of olive oil.