picnic fresh italian green beans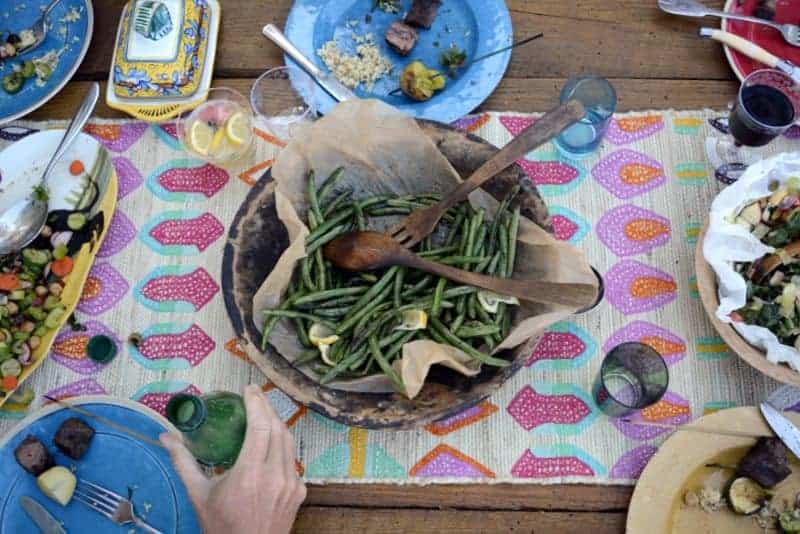 Green Bean
Your picnic will be complete with these Italian green beans! Vibrant and tasty, they're delicious warm or cold. They'll go with fried chicken perfectly!
The humble green bean. Oh, lawsy, I can remember big things about growing up in Appalachia, Southern West Virginia, during the summers. As a kid, doing our chores with my sisters, then heading to the mountains to play all day. Mom's big garden in the back yard. Corn shucking time. And, green bean stringing time. Gathering tomatoes.
Then, of course, Mom's canning time to fill up the shelves in our basement with these vegetables. Those long dreary cold winters meant lots of delicious healthy vegetable soups, stews, and more because of Mom's back breaking work during the Summer. Eeegads, life was so much more difficult since our closest really big grocer, A & P, was an hour from home.
View this post on Instagram
Foods for Picnics
Another thing that we did as kids with our big extended family (my Dad had ten siblings most of which had families) was go to the family run down farm and set up folding tables and old lawn chairs and have family picnic on Sunday. Foods for picnics were divine! Everyone brought something and fresh green beans, half runners, snap, and string beans were popular.
Picnics! They come in so many versions. I mean you can have a picnic just about anywhere at anytime. If you're doing a road trip, pack some eats, and find a cool place to pull off the road and have a picnic. If you're taking a hike, stop in a shaded special spot with some tree stumps or rocks as your table or seats and have a picnic.
If you're off roading in the mountains in the backcountry during the summer, load up supplies and have a picnic at the summit next to the alpine lake (yes, we've done that and it's glorious!!). Taking a walk in the park? Why not pack a backpack for a solo picnic! And, there's nothing better to take on your picnic with whatever you're eating than these picnic fresh italian green beans.
Here's another great bean (garbanzo) recipe of mine to take on a picnic!
Bean Types
There's really not much difference among snap beans, wax beans, and string beans. Variations are in shape and color. And, you can pretty much use any of these in your recipes. Now, Italian beans on the other hand are somewhat different. And, I do love my Italian green beans. For a very complete understanding of the green bean, types, varieties and more, head over to Green Bean Varieties. Blue lake, Eureka, Purple King, Purple Queen and more.
Italian Beans
Italian beans are called Romano beans. Yep, now that's Italian. They're flat and really tasty. I usually buy my Italian beans canned then season them with a variety of flavorings including adding some bacon drippings when cooking. If you find fresh Italian beans, just fry them up quickly in some olive oil and garlic. They're really fabulous.
Fresh Green Bean Recipes
Now, I don't like my vegetables cooked to death. I mean it's really like 'death' if you cook them too long. They lose their color. Their texture can become mushy. And, they just lose some of their nutrients. Yes, like dying. Bad deal.
According Livestrong, eating veggies in their natural raw state is best. But, we know we aren't going to do that with green beans, so reducing the amount of time you cook and the way you cook them, and, in this case, we're basically 'steaming/sauteing' them, does help preserve the healthiness for your sweet littl' ol body!
Give this recipe a try. You're gonna see that there're so many ways to use the leftovers. My head spins with the possibilities! xoxo ~ally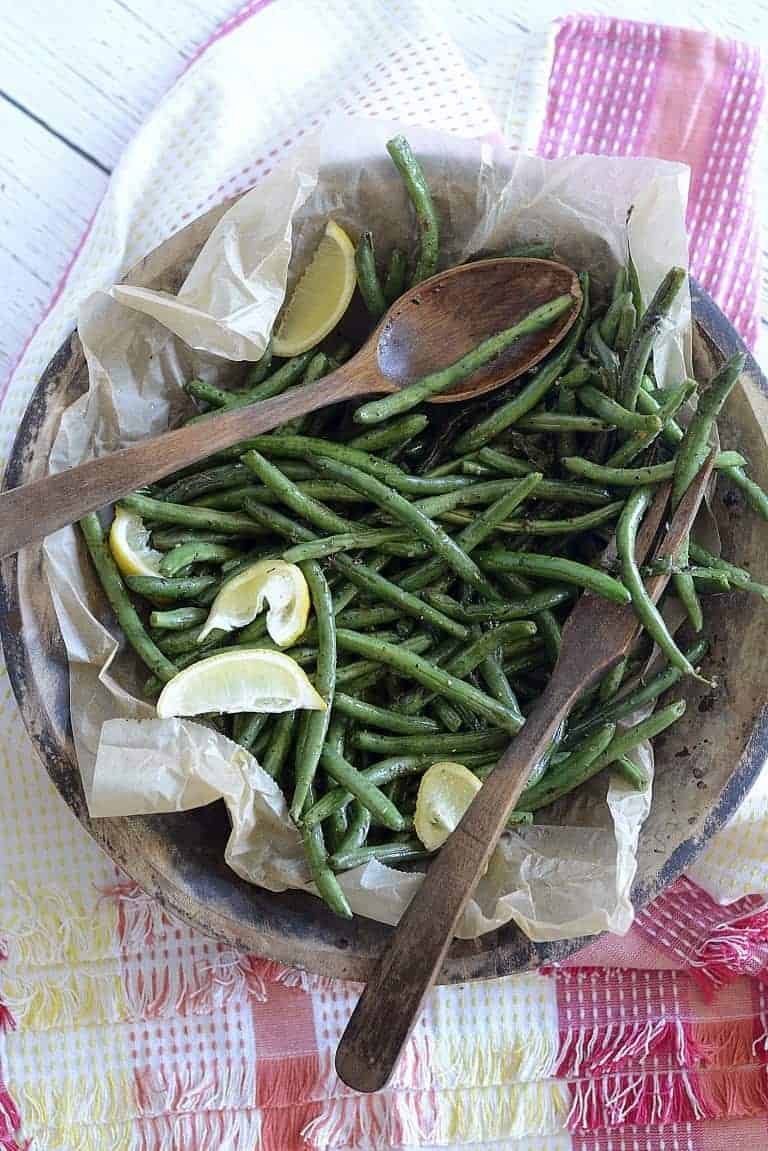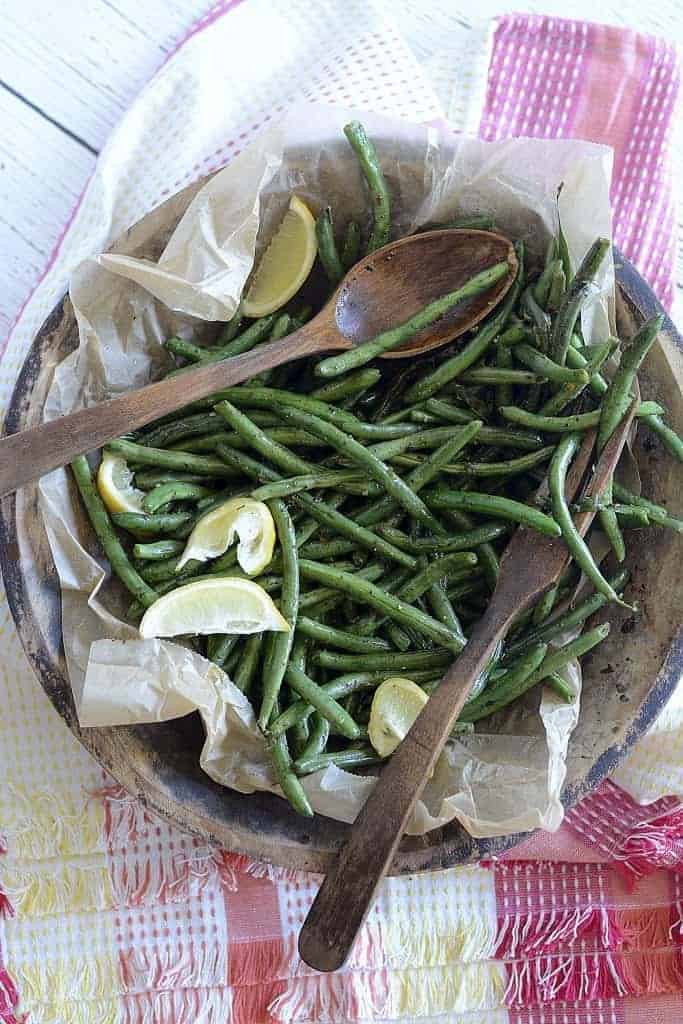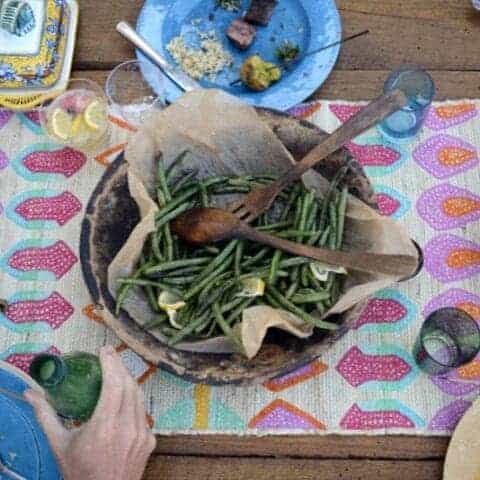 picnic fresh italian green beans
Yield: A Bunch of Folks (8+)

Your picnic will be complete with these italian green beans! Vibrant and tasty, they're delicious warm or cold. They'll go with fried chicken perfectly!
Ingredients
2 lbs. fresh long green beans, ends trimmed
¼ cup bacon drippings, reserve bacon, crumble for garnish, if desired
3 garlic cloves, thinly sliced
1 ½ tsp. sea salt
1 ½ tsp. coarse ground pepper
½ tsp. red chili flakes
2 tsp. Italian seasoning
1 cup mushrooms, optional
1/2 large lemon, cut into wedges
Instructions
Put the beans in a large mixing bowl. Toss with the bacon drippings, garlic, salt, pepper, chili flakes and Italian seasoning. Coat all the beans well.
Use a large cast iron skillet (10-12") on medium heat. Pour the seasoned beans in. Take a rubber spatula and scrape out all the good stuff from the mixing bowl and put in the skillet.
Cover with a lid and cook the beans about 15-18 minutes using tongs to toss, blend and evenly cook. Add the mushrooms, optional, cover and cook on low heat another 5 minutes.
Remove from heat, keep covered, squeeze lemon juice on the beans, turn off heat and let the beans continue cooking in the steam.
Beans will be al dente (with a slight crunch) but nice and vibrantly green. If you want your beans more tender, then simply cook a little more.
Notes
Hey, y'all! These green beans are aahhhhmazing even cold! Yes, they are to die for!!

Here's a great idea! Serve any leftover green beans, chop them into to about 2" pieces, for breakfast with eggs...big YUM!!