Probably one of my most favorite types of foods would be those that are considered 'Middle Eastern'. I just love the spices whether you're thinking Morocco, Israel, Tunisia or other areas in the Middle East.  I've created so many recipes using these spices, and this particular recipe was developed during my preparation for the `2013 World Food Championships where pasta was the themed ingredient for my category, Recipes.
This meatball and sauce have a unique flavor, and, yes, you distinctly know they're not Italian. The harissa and use of pineapples create something that immediately tells your palate that you're happy! You can serve these meatballs with your choice of pasta as you see I've done here with angel hair pasta and with ravioli that I just happened to have on hand, too!  These meatballs would make a mean sandwich, too!
One more thing, while there's a list of ingredients and several steps, try not to be scared off. Really once you get everything together, organized, then the execution of the recipe is pretty simple. It's worth all the effort, too!
This recipe is brought to you by DOLE Packaged Foods, however, all of the recipe development and creative food artistry, including the photography, is solely the work of Ally in her Kitchen.  For more information CLICK~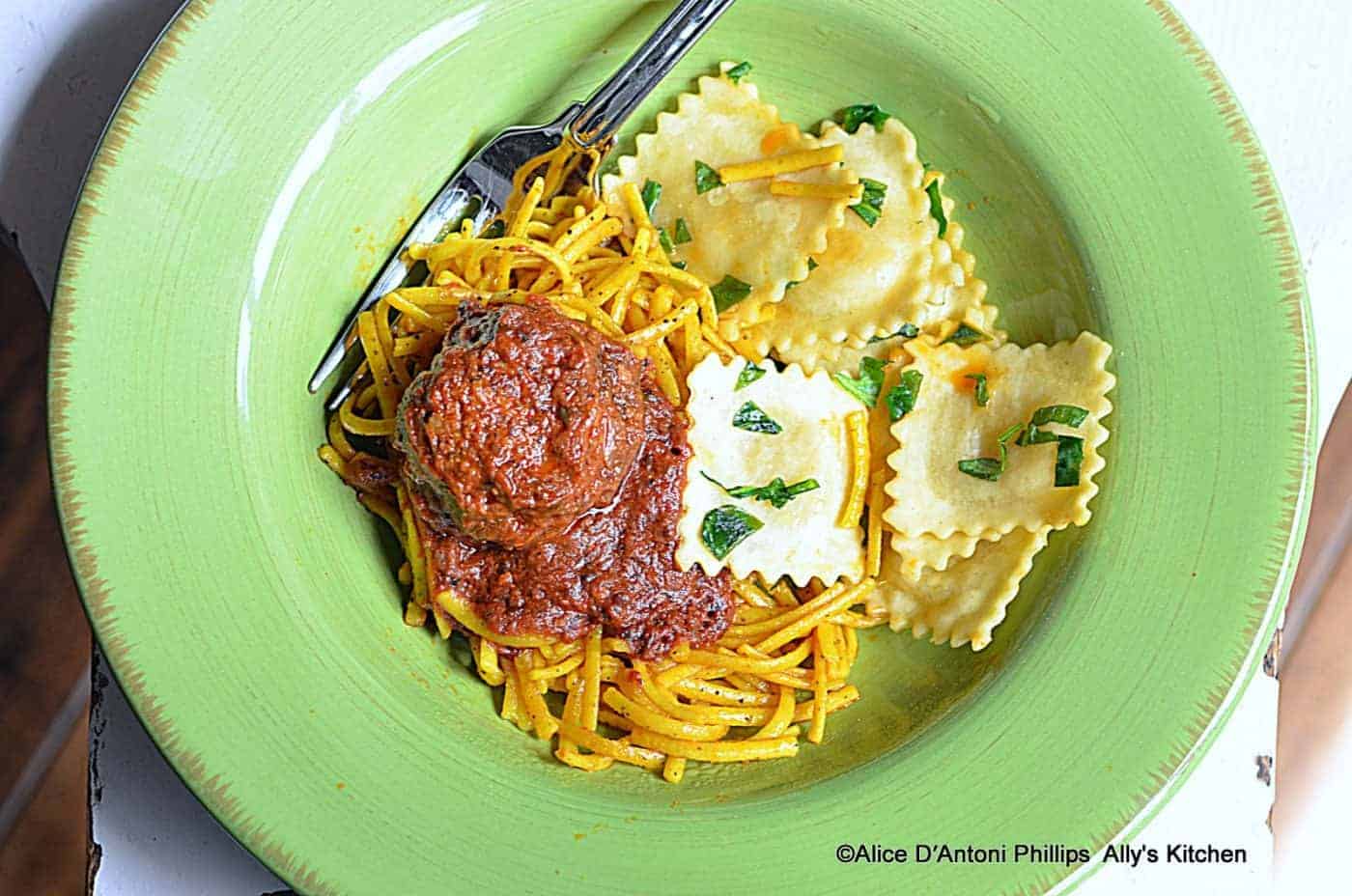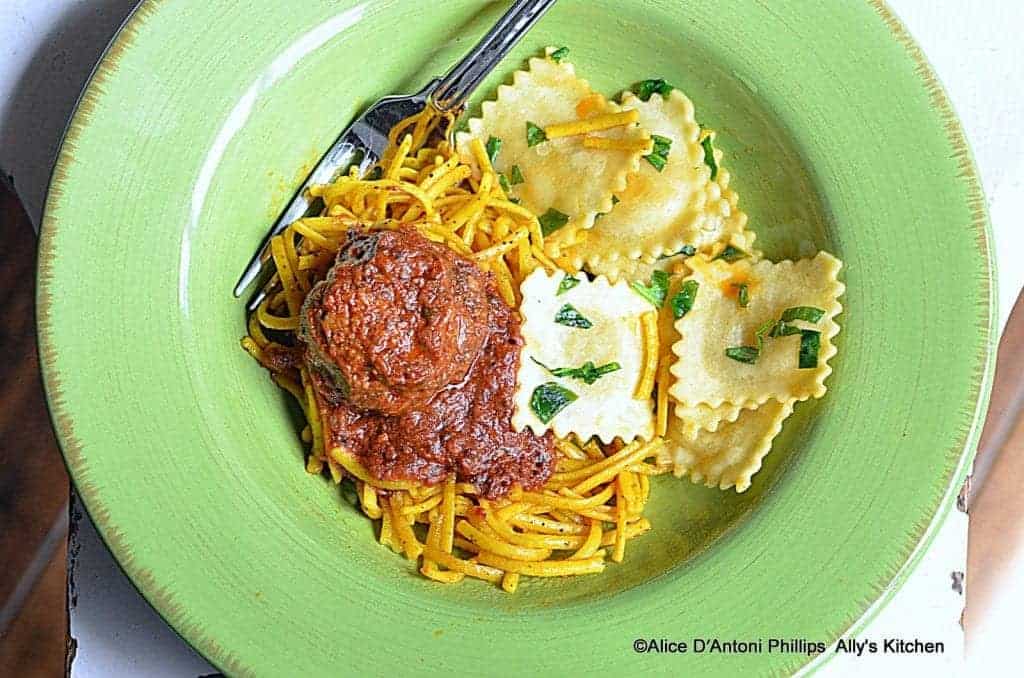 Ingredients
MEATBALL MIXTURE:
1/3  lb each of ground beef, Italian sausage, pork and veal
1/3 cup chopped pepperoni
2 tsp. harissa
2 tsp. sea salt
1 tsp. coarse ground pepper
2 beaten eggs
¼ cup Greek yogurt
1/3 cup pureed Dole pineapple chunks (drain pineapple)
¾ cup Italian bread crumbs
1/3 cup chopped fresh parsley
1 tsp. fresh lemon zest
¼ cup canola oil
SAUCE MIXTURE:
2 Tbl. butter, unsalted
4 Tbl. extra virgin olive oil
2 Tbl. minced shallots
1 Tbl. minced garlic
½ cup red wine
5 Tbl. concentrated tomato paste
¼ cup pureed Dole pineapple (drained chunks)
1 (24 oz.) jar Tomato & Herb Pasta Sauce
Instructions
MEATBALLS: In a large mixing bowl, combine the meats/pepperoni and blend together with your hands.  Sprinkle on harissa, salt and pepper and work into meat blending well.
Add the ingredients eggs, yogurt and pineapple and blend together well.  Add the bread crumbs, parsley and lemon zest and blend well.
Using a spring scoop (small—not ice cream size), portion out about 18 dollops, roll into meatballs placing on a parchment-paper lined cookie sheet.
In a heavy skillet (about 10-12") heat the canola oil on medium high.  Place 9 meatballs in and brown on all sides.  Using tongs, gently remove and place on the parchment paper lined cookie sheet. 
Repeat with the remaining meatballs.  Bake in a preheated 400 oven about 9-12 minutes.  When done remove.
Meatballs will be added to sauce, coated, covered with a lid, and simmered on low for about 30 minutes. (Note:  Be sure to use the rubber spatula to scrape all the good stuff off the parchment paper and into the sauce.)
SAUCE: In a 10-12" heavy skillet on medium heat, melt butter and add olive oil.  Add shallots and garlic and sauté until translucent. Add wine and let it sizzle/cook about 5 minutes burning off some of the alcohol. 
Add the concentrated tomato paste and whisk together well.  Add the pineapple and blend in.  Let this simmer about 3 minutes.
Reduce heat to medium low and add basting sauce and blend well.  Let this simmer on low for about 20 minutes stirring occasionally. 
Add meatballs and coat with sauce.  Cover with a lid and let simmer on low until ready to serve.
https://allyskitchen.com/moroccan-meatballs/
©ally's kitchen intellectual property