Super Quick Pasta Broccolini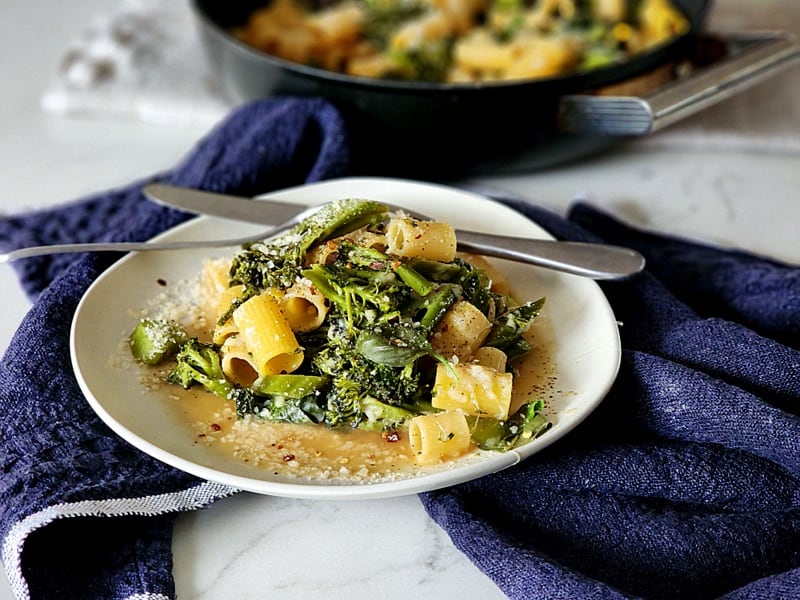 Who doesn't love a one skillet meal that's healthy, quick and delicious! Well, you have the right recipe with this pasta broccolini!
View this post on Instagram
What is Broccolini
Well, the kiddos call broccolini 'baby' broccoli. And, in a way, it is!
The flowerets are smaller. The stems more slender. The tastes are similar, but there's definitely a difference for my palate with broccolini being a bit more refined tasting and unique.
Interestingly, broccolini belongs to the cabbage family. I also think that broccolini is more versatile for cooking things like pizza. Those smaller stems and flowerets just bode well on a brick oven pizza!
Broccolini vs Broccoli
For most, broccolini or broccoli is a toss up. But when you look at the nutritional facts, you'll see that broccolini has more phosphorus, manganese and calcium. And, another homerun is that it's got about four times more vitamin A than broccoli.
Easy Dinner Ideas
There's nothing more simple, quick and easy than this pasta broccolini. It's one of our go to, get it done fast, dinner ideas. And, it divinely delicious and creamy and cheesy.
One Skillet Healthy Meals
Besides being easy and quick, this one skillet pasta broccolini is healthy.
That's in part because of the chicken bone broth from Kettle and Fire that makes the liquid base of this meal. I keep Kettle and Fire bone broths and soups in my pantry just for this reason. It's simple and easy to whip up something in no time, and I know I'm getting healthy.
If you've not tried Kettle and Fire, give it a look. Here's the link and if you use my code, ALLYSKITCHEN, at checkout, you'll get a whopping 20% off your order. Not too shabby.
Easy One Skillet Dinner
Oh, yes, I have quite a few one skillet dinner recipes. That's what people want. Doesn't matter if you're a single retired person, single working, working not working, family, no family, kids no kids. We all want convenience and ease of preparation. Hey, not many of us want to slave in the kitchen then have a complete mess to clean up.
Dinner Recipes with Broccoli
We're all probably in the know about broccoli. Yes, it's probably one we've all tried and that we all love. And, according to some polls it's in the top 10 of most popular vegetables.
Garlic and Broccoli Pasta
But, what about broccolini? Probably not as widely used or known. Many grocery stores don't carry it. But, it's worth trying to find because it's so uniquely delicious and beautiful.
The best way to eat broccolini is raw, well, as with most veggies. But, that might not be palatable, so sauteeing garlic in extra virgin olive oil and adding the broccolini and justcooking it to an al dente texture is absolutely divine. Eat it just like that!
Italian Broccoli Pasta
Yes, you're perfectly fine to use regular broccoli in this recipe. My suggestion is that you trim the stalks, shave off the outer layer (it's kinda chewy and tough), and then thinly sliced some of the stalks as well as having smaller size flowerets. But, not too tiny and small! Make them like a bite size floweret.
Cheesy Pasta with Broccoli
This pasta gets nice and cheesy with the parmesan cheese. I prefer parmesan Reggiano if available. Yes, pricier, but the flavors are just superior to regular parmesan.
If your budget doesn't permit parm Reggiano, then try to source the best parm you can and grate it yourself. Using pre-grated parm will work, but please read the label. You want only parmesan in the shavings or gratings.
Easy Creamy Broccoli Pasta
A last suggestion for this recipe. It's best when you use a smaller pasta like penne, mini rigatoni, capatavvi, bow tie, etc. When you eat you an use a fork and spear both pasta and the broccolini in every bite, then spin and swirl in the cheese cream sauce!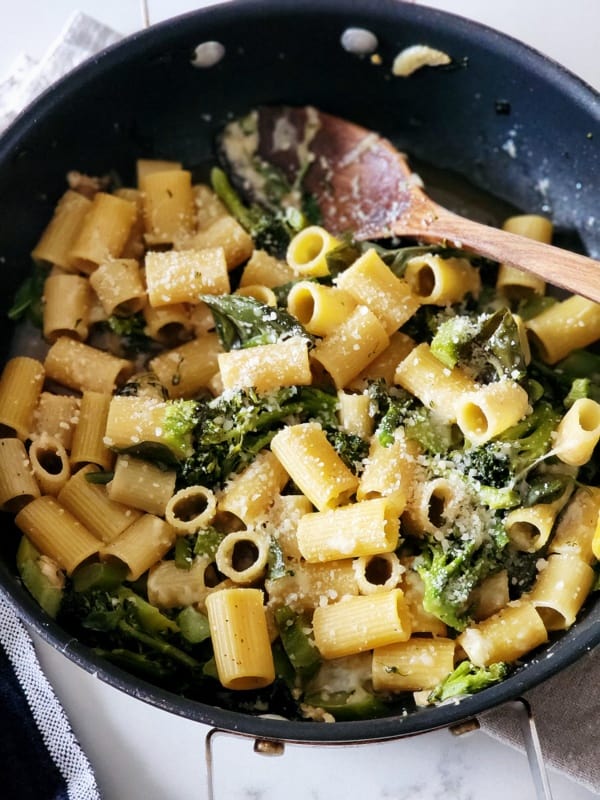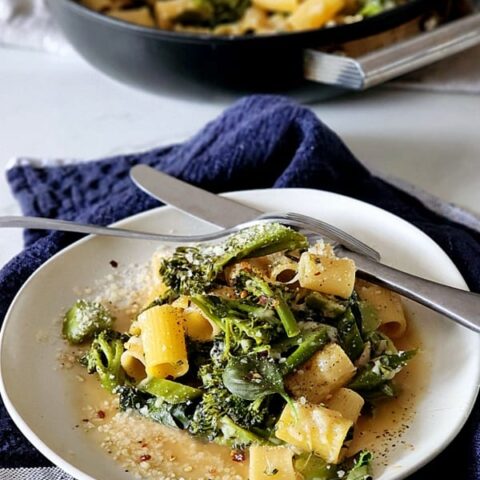 Super Quick Pasta Broccolini
Ingredients
4 Tbl. extra virgin olive oil
3 large garlic cloves, peeled and thinly sliced
1 bunch broccolini, ends trimmed somewhat then sliced and leaving some of the stem on the flowerets, add more if you like
1 box (16 oz.) chicken bone broth + 1/2 cup of water
2 cups pasta, mini rigatoni is perfect for this recipe
1/2 tsp. red chili flakes
1 cup parmesan Reggiano, grated
Salt and Pepper to taste
Instructions
In a large skillet (with a lid) over medium heat, put the olive oil. When hot, add the garlic and saute about 2-3 minutes.
Add the broccolini and toss/blend. Cover with the lid and cook about 3-4 minutes, blending one or two times (don't want to burn!)
Add the bone broth with about 1/2 cup of water, blend, then add the pasta and blend. Turn heat to medium low, cover and cook about 4-5 minutes.
Turn heat to low, blend, cover and cook another 8-10 minutes or until the pasta is al dente. Add the grated parmesan, blend well, and serve immediately while steaming hot!
Notes
This dish refrigerates well and is delicious on day two. To warm, put in a skillet with a little chicken bone broth. Turn heat to low and warm slowly.