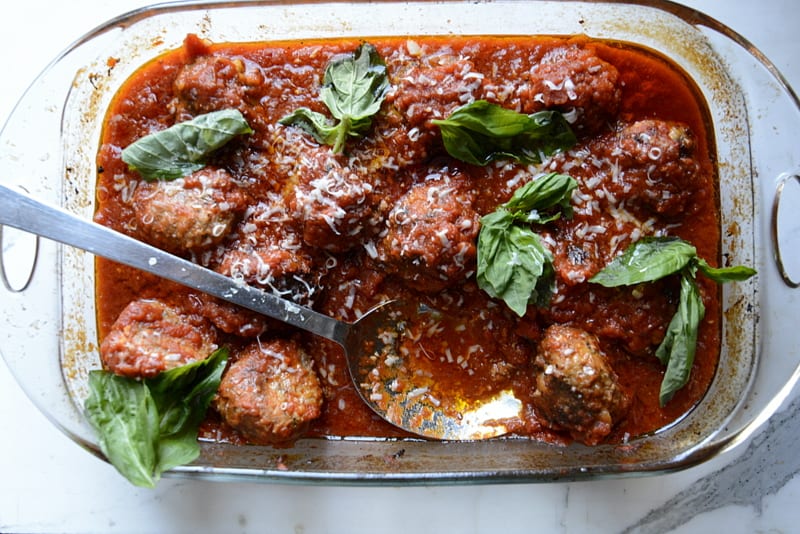 These italian meatballs have a super surprise in the center. Creamy delicious mozzarella cheese! OMG! You're gonna LOVE LOVE!
Italian meatballs
What's better than a big, fat, juicy meatball? That's what a huge, fat, juicy meatball stuffed with melty mozzarella cheese is. My meatballs smothered with melted cheese have always been my preference, because all is better with cheese, right? The cheese is covered inside in this situation, however. You wouldn't even know it was there at first glance, but then you cut it into an extra big meatball and, surprise! Just look at the beauty of the melty tasty easy meatball recipes.
Best recipe for meatballs
We used a blend of ground beef and pork, plenty of garlic and chopped fresh basil and parsley for flavor, and fresh breadcrumbs for texture and shape (fresh breadcrumbs will result in a much moister meatball than packaged breadcrumbs which are usually very dry.)
Meatball Ingredients
For the best meatballs, you have to have the best ingredients. I love using several kinds of ground or minced meats. Plus, there's nothing more amazing than lots of fresh herbs. And, this recipe has the fat content because we're using heavy cream. And, more ingredients that make these meatballs melt in your mouth.
EASY MEATBALLS FOR SPAGHETTI
Delicious meatballs or meatballs in a sauce with spaghetti for lunch and dinner – a quick and tasty dish that can be cooked in one pan with a minimum of effort and time! The recipe is very simple and affordable – the taste is unforgettable. ! If you want to check out another delicious recipe of mine, I think you'll like it
Mediterranean Simple Salad
Mediterranean eggs olives mozzarella
Country style beef meatballs with gravy
French onion lamb meatballs
skinny girl chicken meatballs
Meatballs and Gravy Recipe
Italians call their sauce 'gravy'. We might call the gravy 'sauce'. Whatever you call it, you have to have a beautiful sauce to let the meatballs hang out in. I usually make it easy on myself, and buy a really nice brand of marinara sauce. Because I love a lot of sauce or gravy, I'm going to double and use two jars.
Baked Meatballs
Baking meatballs is really effortless. And, as your meatballs are baking, move on to the marinara sauce. Buy the best brand your budget can manage. You can always improve the taste with fresh chopped herbs, lots of basil or if you have basil pesto, add some to the sauce. Another great add in is heavy cream and grated parmesan. Once those meatballs are ready. You'll drench them in the this sauce, and I guarantee the sauce will move off the charts in flavor and taste because of the meatballs!
Homemade Meatballs
These homemade Italian meatballs get better and better on days two and three. That is, IF there are any left to 'age' that long! I usually make these meatballs when I'm making my 'Bohemian Bolognese', a 'Signature Recipe', because most all the stuff is there and ready to go.
It's just a matter of rolling the meatballs and stuffing them, and, that's an option that you can choose or not. These are great for snacks and making sandwiches, too!
Mozzarella stuffed meatballs
You do not want to compress the mixture for Mediterranean Meatballs With Red Gravy too much when mixing the meatballs. Instead of mushing or stirring to retain some of the fluffiness of the ground beef, imagine it something like 'folding'. This can translate to a lighter texture that is fluffier and eventually a healthier meatball. The same thing you do when you make your balls: form them, just don't pinch them.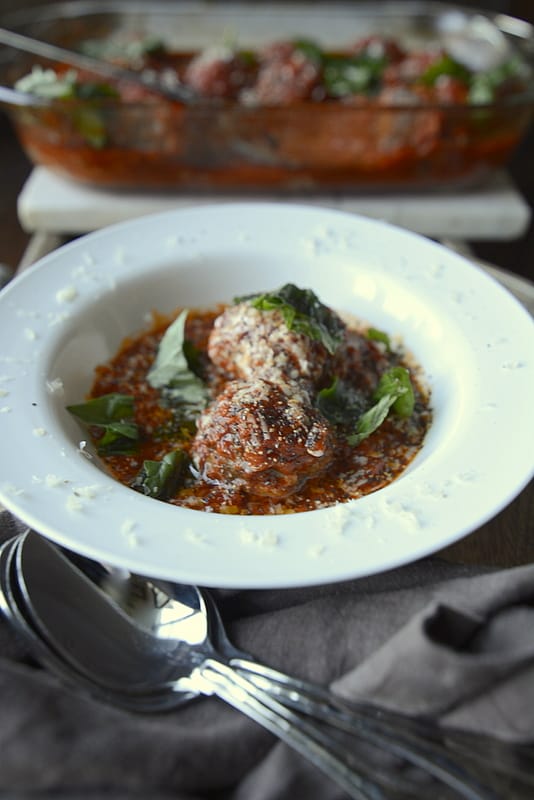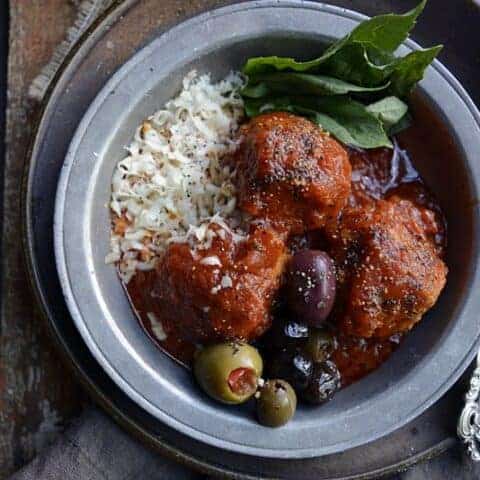 Italian Meatballs
Yield: About 12-15 meatballs depending upon the size of your meatballs

These italian meatballs have a super surprise in the center. Creamy delicious mozzarella cheese! OMG! You're gonna LOVE LOVE!
Ingredients
Preheat Oven to 375
1/2 lb. ground pork
1/2 lb. ground veal
3/4  lb. ground beef
1/2 cup finely chopped pepperoni
1 cup chopped fresh herbs, basil, Italian parsley, oregano, chives
2 beaten eggs
1 cup bread crumbs (I make my own. Any Italian seasoned bread crumb will do.)
1/3 cup heavy cream
1/3 cup grated pecorino cheese
1 1/2  tsp. sea salt
2 tsp. coarse ground pepper
1 tsp. red chili pepper flakes
12-15 (about 1") cube pieces of fresh mozzarella, for stuffing into the meatball, totally optional
2 jars (28 oz.) marinara sauce
Instructions
In a large mixing bowl, combine the meat, pepperoni, herbs, eggs, bread crumbs and cream and blend with your hands/fingers. Add the grated cheese, salt, pepper, chili flakes and blend.
Begin rolling into the meat into balls (mine are usually about golf ball plus size). With each ball, poke your finger in the middle about making a good opening. Stuff in the piece of mozzarella and close opening and roll meatball so the cheese does not show.
Place the meatballs on a parchment paper covered cookie sheet. Bake in a preheated 375 oven for about 25 minutes or until done. As the meatballs are baking, move on to heating the marinara sauce.
Pour the marinara sauce in a large pot over medium low heat. Carefully place the cooked meatballs and the drippings (scrape all the good stuff from the parchment paper) in the sauce. Cover and let the meatballs simmer on low for about 30 minutes or longer.