4 ingredients banana bread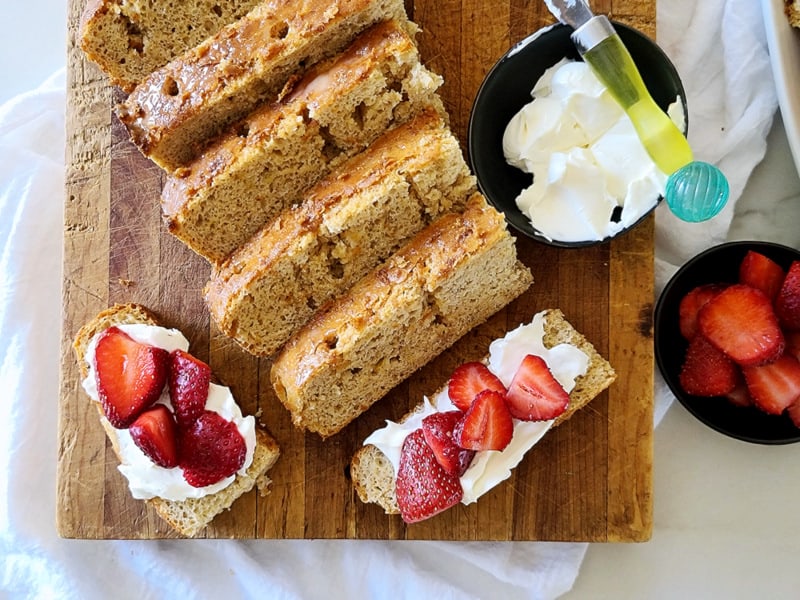 Can you create 4 ingredients banana bread! It's kinda like magic. Dense, spongy, perfect toasted with cream cheese and fresh fruit. It's love!
And, if you want this cake to be super doper moist, then add one cup of diced apples! Skin on!
Banana bread Recipes
OK, when I started this recipe, I thought it was going to be a banana cake. So I chose to bake in a 10 x 10 baking dish. But, when it baked and I sliced it. Well, something else happened.
Quick Dessert Recipes with Sweetened Condensed Milk
I love cooking with sweetened condensed milk. Actually, I didn't know a lot about the 'scientific' nature of it in baking. But, with some reading. I learned that sweetened condensed milk acts as an egg in baking recipes. It also helps in making a moist. And, big bonus is that no extra sugar is needed.
After baking and trying the first slice, I realized that this banana 'cake' should be called banana bread. It was clear to me that this was more of a bread because of the dense spongy texture. And, it needed to be baked in a baking dish, not a loaf pan. Why?
Condensed Milk in Recipes
Well, because the slices need to be small and somewhat thin, about 1 1/2″ thick. The best way to eat these banana bread slices is to butter, toast (under the oven broiler, yes!) and slather with cream cheese and fresh berries or jam or jelly.
Condensed milk in recipes helps do the magic for us. Sweetened Condensed Milk Cake Recipes
So many things can be done with condensed milk! It's a magical caramel sauce. Add it to your tea or coffee. Drizzle it on fresh fruit. Make ice cream with it. Make a tres leches cake with it!
Sweetened Condensed Milk Glaze
Now realize that this condensed milk is super sticky. After pouring in the milk to the batter, I looked and said, hey, there's still a lot of good condensed milk in this can. It takes some work to get out. But with scraping and using a spatula, I got about two more ounces. That's when I decided that this would be the glaze. All I need to do was warm it a few seconds (about 7 seconds) in the microwave on high.
Few Ingredients Banana Bread
Honestly, I think most folks who aren't real bakers would actually bake if there were fewer ingredients and if the recipe is uncomplicated. That's the essence of this recipe.
Easy Banana bread Recipe
It's easy. One big mixing bowl. And, then into the oven. One of the easiest banana breads I've ever made!
Plus, if you want to add diced apples to the batter, you'll get a more moist cake than without! I've done it both ways and both are delicious.
Cake Banana bread
So what is the difference between banana cake and banana bread. Simply put, traditional banana cake is like a butter cake with the mashed bananas added. While banana bread is more firm and dense. This make it perfect for slicing and toasting!
Some banana bread recipes that I know will be perfect for you!
Banana Bread Using Cake Mix
There are a lot of recipes floating out there where you use a cake mix with banana bread. I've done that and it's always failsafe. So you might want to try this Skillet Banana Bread.
four Ingredients Banana Bread
If you want to use more than four ingredients, then try these recipes with great ingredients. Not overwhelming at all! I promise!
Silly Monkey Buttermilk Banana Bread
4 Ingredient Banana Bread Condensed Milk
Hope you'll sure try this 4 ingredient banana bread using condensed milk. Again, this bread is best eaten toasted and topped with your favorite fruits, cream cheese, peanut butter, almond butter, jams or jellies.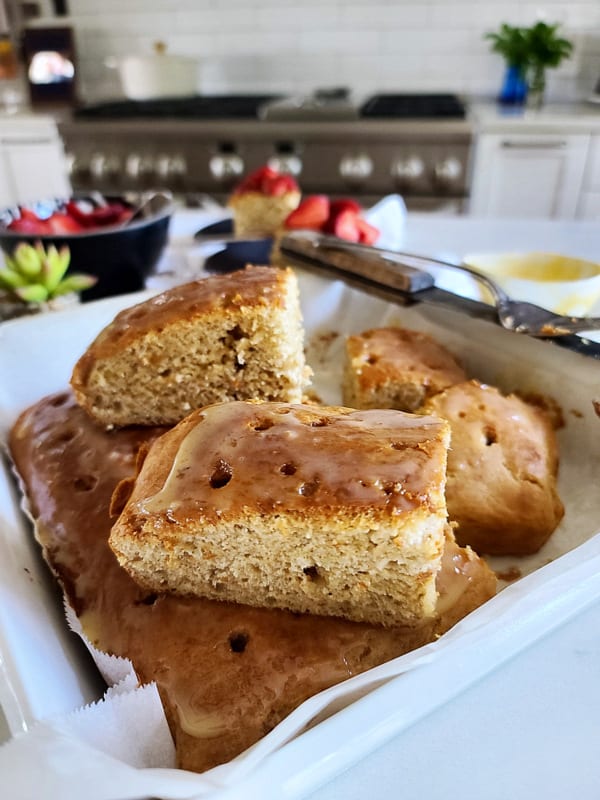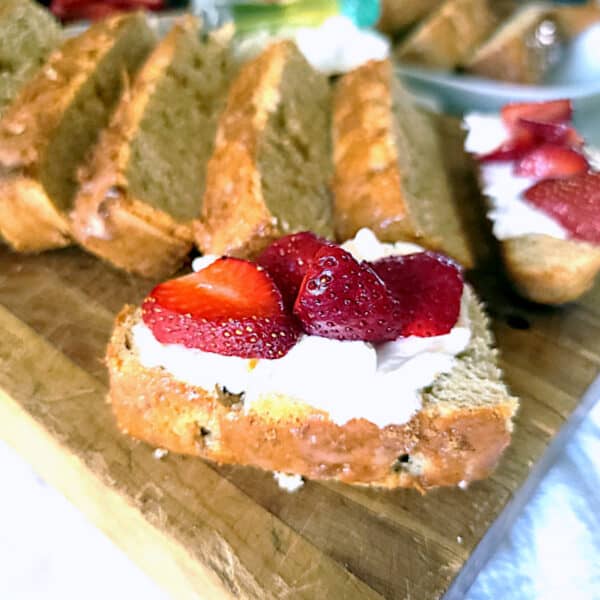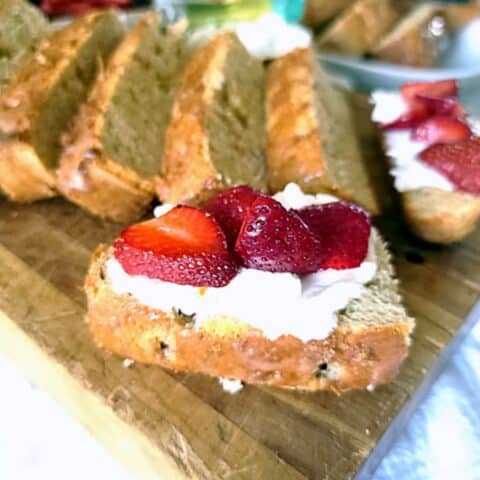 4 ingredient banana cake
Yield: Makes One 10 x 10" cake
Ingredients
Preheat oven to 350
4-5 very ripe bananas, peeled and mashed
1 can (14 oz.) sweetened condensed milk, divided
2 tsp. pumpkin pie spice mixture
2 cups self-rising flour, sifted into batter
Instructions
Preheat oven to 350
Put the bananas in a large mixing bowl. Blend in the pumpkin pie spice (can substitute cinnamon) and about 12 ounces of the sweetened condensed milk. Reserve remainder of the sweetened condensed milk (scraping can well) for the glaze.
Add the flour (sift into the mixture) and blend into a thick batter.
OPTIONAL: Add apples
Pour into a baking dish (10 x 10"). Bake in a preheated 350 oven for 26 to 30ish minutes or until a thin skewer comes clean from the center.
Let the cake rest for about 15 minutes.
OPTIONAL GLAZE: With the remaining sweetened condensed milk, microwave on high for 10 to 12 seconds.
Poke holes in the cake and drizzle on top.
Notes
Optional: Add once cup of medium diced fresh apples to the batter. Makes for more moistness and texture!

If using GF flour, almond, white rice, add 1 tablespoon of baking powder and 1/4 tsp. of salt to flour.