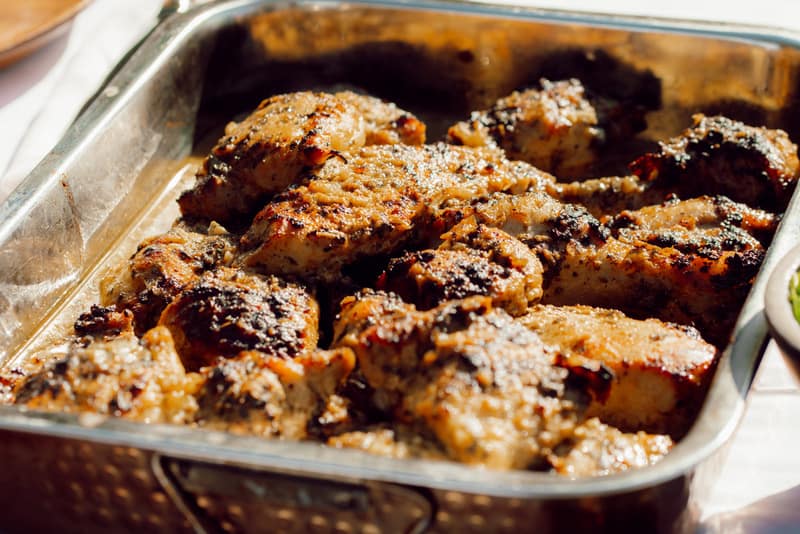 Bring Latin to your table with this mojo cuban chicken. Guaranteed to be gobbled up. All the flavors explode! And, talk about spices.
Chicken Cuban
Mojo pronounced 'mo-ho' Cuban chicken is the bomb. Truly explosive in its flavors.
Cuban Chicken Recipe
And, this Cuban chicken recipe is easy. What makes it so simple is that it's basically the chicken and the marinade.
Cuban Chicken Fricassee
Now Cuban Chicken fricassee is similar but not just like Mojo Cuban Chicken. The fricassee is more of a stew mixture with a tomato base.
Cuban Fricase de Pollo
And, the fricassee can be easily adapted using even the marinade of the Mojo chicken. So if you're looking for new flavors for your chicken, then I'm telling you everyone who tried this chicken was obsessed! The best they'd ever tasted.
Chicken Fricassee Cuban
The foundation of my Cuban chicken isn't the tomato sauce that defines the fricassee. No, it's a marinade of lots of citrus, particularly orange and sour orange at that. If you can't find sour orange, which is sometimes called bitter orange or Seville orange, then don't stress. I used a combination of red ruby grapefruit juice, lime juice and apple cider vinegar. That gave me that 'sour' twist.
Now if you want something with more tomatoeee, then try my Cuban Style Pork Picadillo!
Cuban Chicken and Rice
Serving this Cuban chicken was kind of intimidating. Why? Well because one of my guests for this dinner party was born and raised in Cuba. He came to America when he was about 14. His mother was a consummate wonderful home cook and naturally, he is, too.
So it would be like someone from Cuba making Croatian Cheesecake for me. Something that I grew up on, learned to make from my Croatian mother and grandmother. You just know the flavors and textures you want.
Cuban Chicken Breast Recipes
It's our choice to use whatever cuts of chicken you want. I chose boneless skinless breasts, thighs and bone-in legs. You could also use a whole chicken or a spatchcocked chicken.
Cuban Chicken Thighs
In Cuban cooking, mojo refers to any sauce that's made with citrus juice(s), garlic and olive oil. Once you add in the spices, you have a divine marinade that infuses this chicken with deep flavors.
Cuban Chicken Stew
It's imperative to think ahead when you're making this recipe. Why? Because you must marinade this chicken for at least 24 hours but preferably 36 or 42. I did mine 42 hours. The chicken bathes in the citrus, oregano, cumin, cilantro and olive oil. It permeates the fibers of the meat.
Mojo Cuban
Fresh citrus juices are best. But, if you can't manage that, not to worry. Just get the freshest juices you can. I always freshly squeeze my lime juice. And, if I have the oranges and grapefruits that, too.
Maybe not mojo, but certainly deliciously decadent is my slow cooked Cuban Skirt Steak. Lawsy, melts in your mouth!
Cuban Chicken
Now you have another choice with this recipe. You can cook in a hot oven. Or you can cook on the grill. I chose the former because I wanted to add a lot of the marinade to the chicken as it cooked. I didn't cover it completely, just a couple of inches of the liquid in the pan with the already doused marinade chicken.
Cuban Chicken Dish
In order to get my golden brown glow to the finished chicken, I turn the oven to broil for about 5-7 minutes (put pan about 12″ from broiler). Then remove and cover with foil loosely. Let the chicken rest. You want to use a meat thermometer to ensure that your internal temperature of the thickest or largest piece of chicken is 165 degrees.
Easy Cuban Chicken Recipes
So to make the most flavorful authentic Mojo Cuban Chicken, start from scratch. Put together that marinade. Make sure you use as many fresh ingredients as you can. And, let that chicken hang out in the marinade for quite a while. It's gonna all be so worth it! And, if you're looking for a delicious side, then check out my Cuban Black Beans with Yogurt Sauce and lemon butter herb roasted whole chicken!
And, here are memorable dinner dishes:
Easy Oven Roasted Chicken and Vegetables
Chardonnay Raspberry Spicy BBQ
Sweet & Smoky Hibachi Peach Pork BBQ
Barney Rubble Burger
easy mandarin jambalaya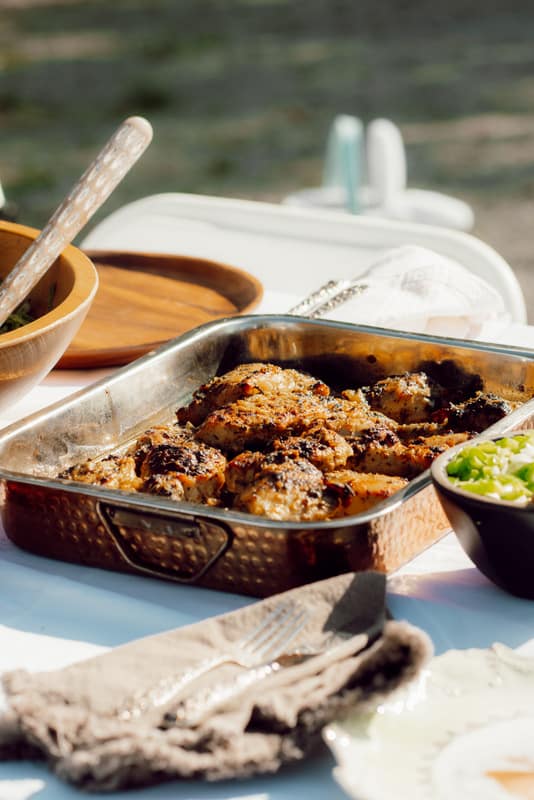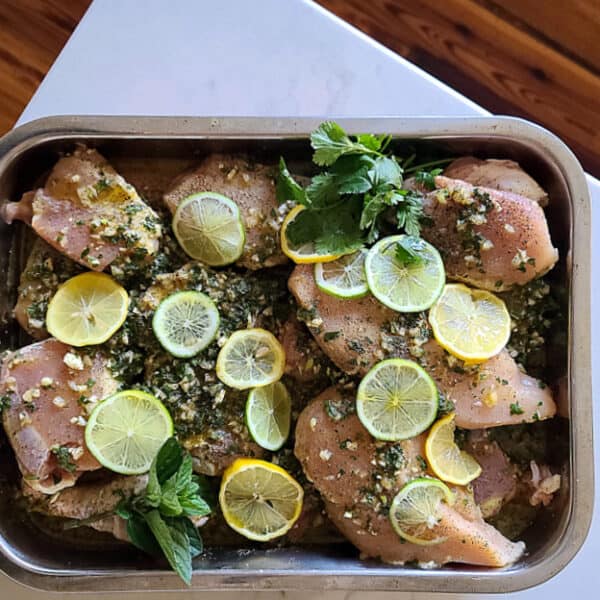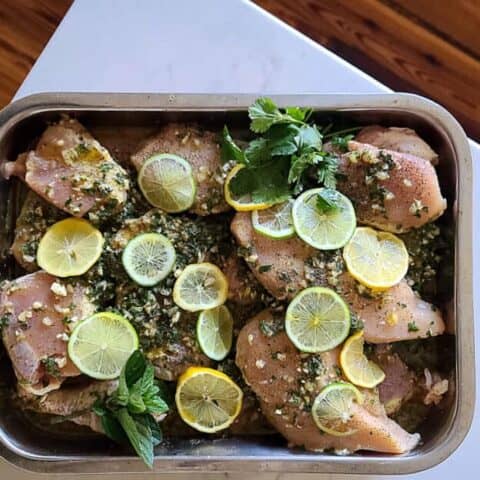 mojo cuban chicken
Ingredients
4-5 lbs. chicken pieces, breasts, thighs, legs
MARINADE:
1/2 cup olive oil
3/4 cup cilantro, packed
1/4 cup fresh mint, packed
1/4 cup ruby red grapefruit juice
1/4 cup lime juice
1/4 cup orange juice
1/4 cup apple cider vinegar
6 garlic cloves, smashed
1/2 sweet onions, large dice
2 tsp. smoked hot paprika
2 tsp. ground cumin
2 tsp. oregano
1 tsp. coarse pepper
1 tsp. sea salt
Instructions
Preheat oven to 400.

Put all the marinade ingredients in a blender and blend well.

Rinse and pat dry the chicken pieces.

Put the chicken in a large baking dish or plastic zip lock bags. Pour the in equal amounts of the marinade. Refrigerate for 24 to 36 hours.

Put the chicken in a baking dish (or dishes). Cover with the marinade sauce about halfway over the chicken.

Bake in a preheated 400 oven for 40 minutes. Turn oven to broil for 8-10 minutes to brown chicken. Chicken should be 12-18" from the broiler. Finished internal temperature of chicken (largest pieces) should be 165. degrees.

Remove. Cover loosely with foil for about 10 minutes. Ready to serve.
Notes
Internal temperature of chicken should be 165.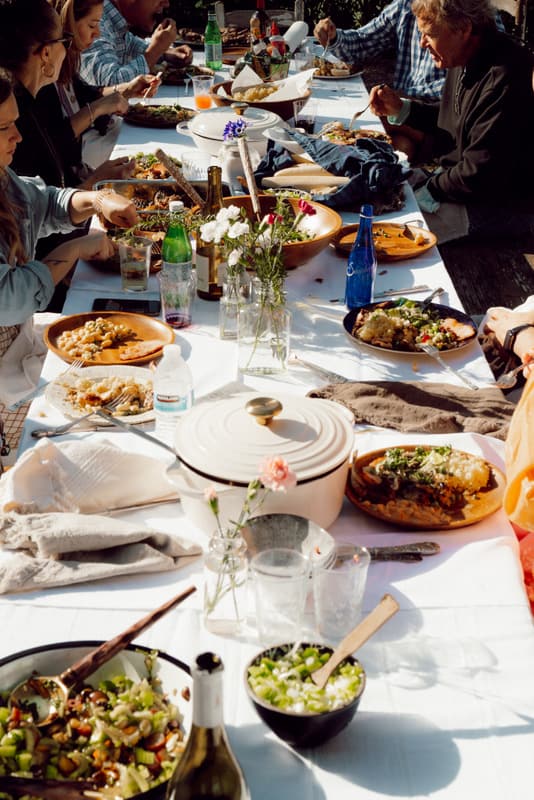 Hey, y'all! Just an FYI! Three of my favorite bistro aprons from Amazon. Yes, I own all three. They're perfect for cooking and serving. Kind of swanks up your presentation and even your overall cheffie feel! xoo ~ally