creamy spicy cauliflower soup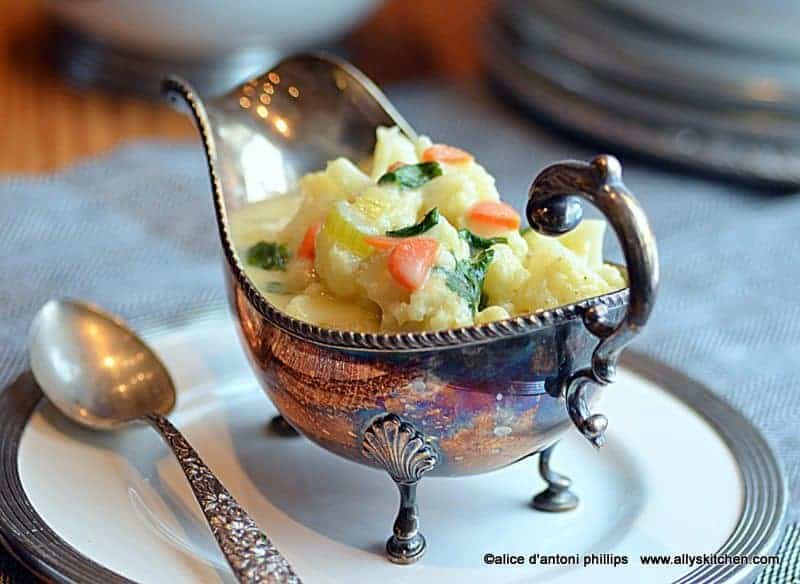 Oh, if you love cauliflower, you'll adore this soup. And, if you don't like cauliflower, watch out, you may not even know that's what's in this soup–yes, it's that good! And, that's exactly what happened when I served it to my main squeeze, my big cheese taste tester, my #1 food seeker…yep my hubby, Ben, my Harley ridin', food lovin', adventure seekin' boyfriend. Dontcha just love that we're still calling each other boyfriend and girlfriend or sweet squeezes. Keeps the fires burning and the passion alive!
This soup takes no time to make, and it's a filling hearty creamy blend of great healthy flavors. Team it up with a salad and some crusty hot rustic bread, just tear it off caveman style, and you're gonna have an adventurous bowl of nutrition that's gonna make you go back for seconds and thirds! This is the kind of eats that lets you find your happy place. My crystal ball doesn't tell tales… xoxo ~ally the prognosticator!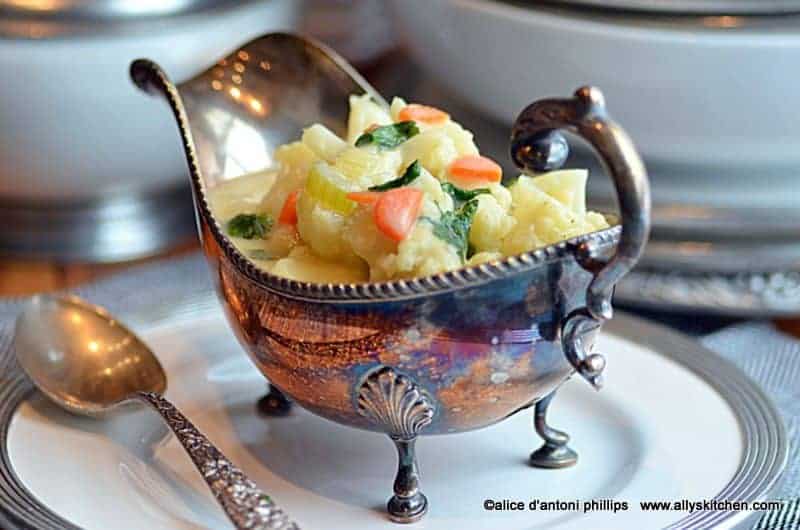 Serves: 6-8
What you need:
8 Tbl. Butter (divided)
¾ cup sweet onions, chopped
1 cup celery, diced
1 cup carrots, diced
1 head cauliflower, cut into small pieces (with just a tad of the stems)
32 oz. chicken broth
1 tsp. sea salt
½ tsp. red chili flakes
¼ cup flour
1 cup milk
1 cup pepperjack cheese, shredded
1/3 cup Italian parsley, roughly chopped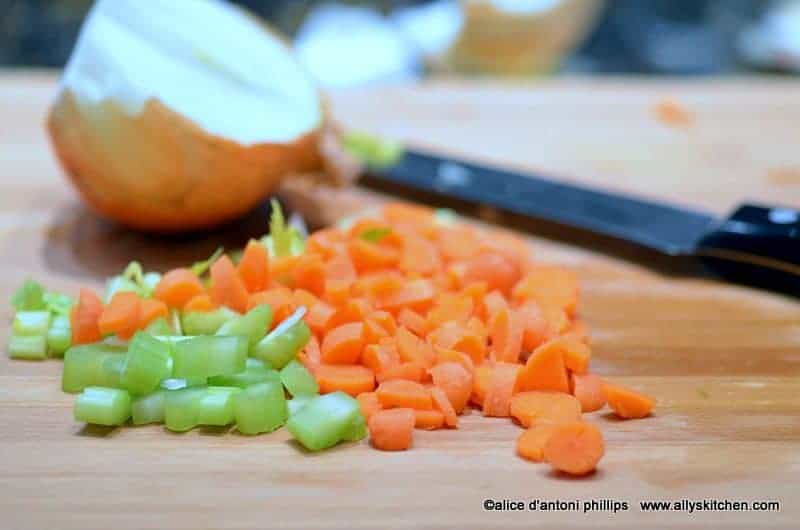 What you do:
In a heavy pot over medium heat, melt 4 tablespoons of butter. Add the onions, celery and carrots and sauté for about 5 minutes. Add the cauliflower pieces and toss and blend. Add the chicken broth, salt and chili flakes. Turn heat to medium high, cover with a lid and cook for about 30 minutes, stirring occasionally.
Make a thickening sauce. In a saucepan over medium heat, melt the remaining butter. Add the flour and blend well; stir and cook about 2-3 minutes. Slowly add in the milk and whisk quickly working out all the small pieces. You should have a thickening sauce about the consistency of honey. Pour into the soup mixture (after the 30 minutes of cooking) and blend well.
Add the pepperjack cheese and blend well. Reduce heat to low and cook another 30-45 minutes or until the cauliflower is tender. Before serving, toss in the parsley and blend.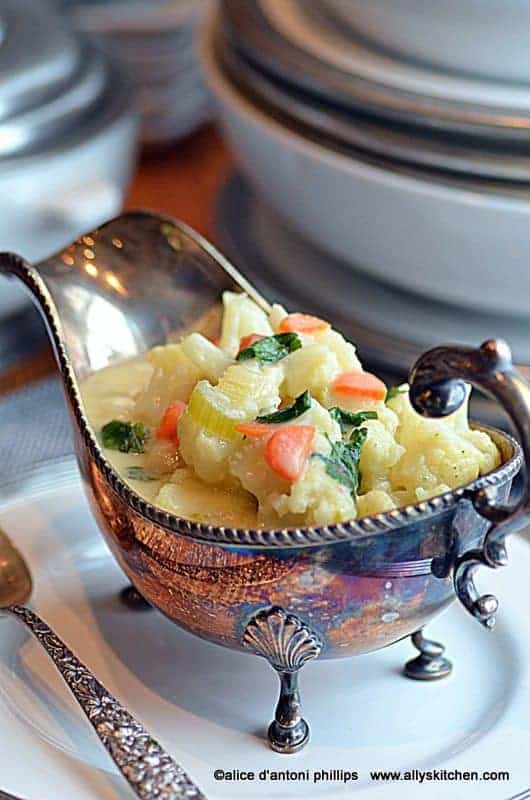 ©alice d'antoni phillips www.allyskitchen.com