southern grits andouille sausage and shrimp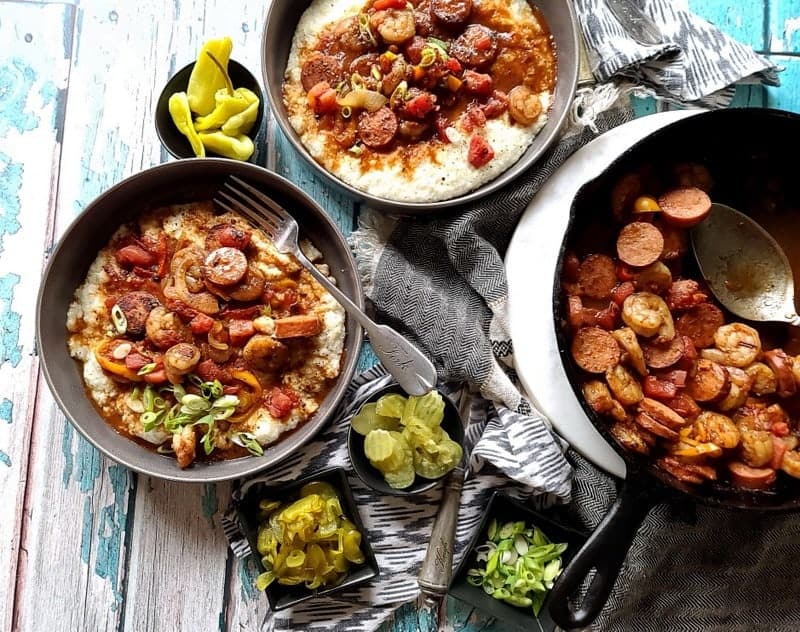 You're officially a Southerner when you make this soulfood! Southern grits andouille sausage and shrimp! It's a meal in a bowl! So EZ!
Traditional Shrimp and Grits Recipe
I'm not quite sure there's one absolute 'traditional' shrimp and grits recipe! Like so many food things indigenous to an area, there're always variations of the recipe. And, it seems, all are usually quite amazingly delicious. And, each one is unique.
Shrimp and Grits Sauce
Now a more traditional shrimp and grits sauce might just be tasso. Wikipedia clears up what tasso is: Tasso ham is a smoked, spiced, and cured meat, a specialty of south Louisiana cuisine. In this case "ham" is a misnomer since tasso is not made from the hind leg of a hog, but rather the hog's shoulder. This cut is typically fatty, and because the muscle is constantly used by the animal, has a great deal of flavor. The butt, which will weigh 7 to 8 pounds, is sliced across the grain into pieces about 3 in (7.5 cm) thick. These are dredged in a salt cure, which usually includes nitrites and sugar. The meat is left to cure briefly, only three or four hours, then rinsed, rubbed with a spice mixture containing cayenne pepper and garlic, and hot-smoked until cooked through.
So essentially, tasso is ham. And, this seasoned ham becomes the deep delicious seasoning for the sauce.
Southern Shrimp and Grits Recipe
My Southern shrimp and grits recipe is going to be more Cajun and Low Country. Instead of ham or tasso, we're going to be using andouille sausage.
Low Country Shrimp and Grits
Low country shrimp and grits is about as traditional and popular in the South as fried pickles, fried green tomatoes, Southern coleslaw, BBQ and mama's fried chicken. Yes, it's a glorious compfort dish that makes all the world better once you devour your serving!
Cheesy Shrimp and Grits Recipe
Now this isn't a cheese shrimp and grits recipe. I figure I'll save my love of cheese for my Jamaican Jerk Mac n' Cheese. Absolutely divine! If you are totally in love with cheese though, go ahead and when you're making the grits portion of this recipe, throw in about a cup and a half of shredded sharp cheddar cheese and melt it in the grits. Yep, then you have your 'cheesy' shrimp and grits!
Recipes with Andouille Sausage
Oh, I love cooking with andouille sausage. It packs so much flavor in every bite. Check out my recipe with andouille sausage 'Andouille Sausage Beans & Kale Stew'. You'd never expect it to be so filling and fabulous!
What's Andouille Sausage?
Andouille sausage is a smoked spiced sausage that originated in France. Yes, andouille sausage is a kind of sausage, but normally sausage is ground meat, while andouille is more chunky because it's chopped meat.
Well, andouille is a type of sausage. Normal sausage is usually out of ground meat. In comparison, the andouille sausage is more chunky because of the chopped pork.
"an DOO ee" sausage is used in a lot of Cajun dishes. It's got a smoky flavor that's perfect for things like gumbo, jambalaya red beans and rice!
Shrimp and Sausage Grits
For me a shrimp and sausage grits is the only way to go. Yes, the shrimp and grits is good. But the shrimp and sausage grits is great. And, the…
Andouille Sausage and Grits
Andouille sausage and grits with shrimp is STUPENDOUS! You've got layers of flavor from the creamy salty buttery grits, the spicy Cajun of the sausage and the fresh sweet of the shrimp. I mean, what's more to love about this recipe!
Cajun Shrimp and Grits Recipe
So this, in essence, is a Cajun shrimp and grits recipe with some killer andouille sausage in it. The red sauce is divinely seasoned. There are two simple steps. Believe me, this is a recipe that once those grits are done and the andouille/shrimp sauce is ready to scoop on, well, it's TIME TO EAT!
Now, my directions show making the grits first. But, hey, you can flip that and make the sausage and shrimp first then the grits. Since neither takes much time at all to cook, it's all good however you roll it! And, one more thing, if you're into Cajun, well try some of my other recipes with these hot tottie flavors!
Cajun Cooking
My Cajun cooking recipes are guaranteed to be Cajun easy!
Cajun Recipes Easy
Cajun Beef Onions Peppers & Paprika Pineapples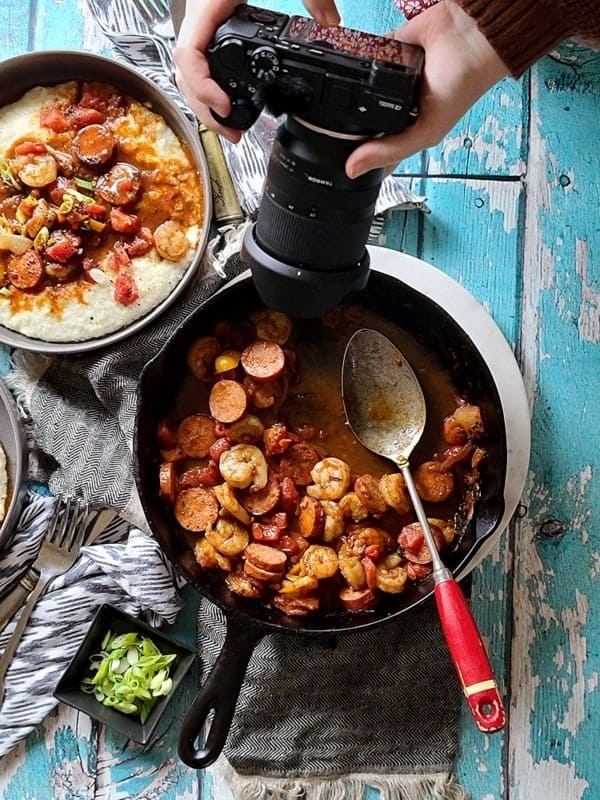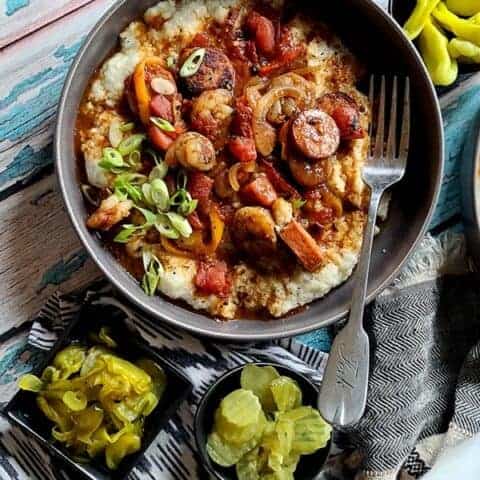 southern grits andouille sausage and shrimp
Yield: About 4-6 servings
Ingredients
2 cups water + 2 cups milk, together
1 cup grits, white, stone ground
½ tsp. salt
2 tsp. butter, unsalted
3 Tbl. olive oil
½ cup sweet onions, French cut
½ cup mini peppers, sliced in thin circles
1 lb. andouille sausage, cut into about 1" round pieces
1 lb. shrimp, large, deveined, peeled, no tails, can be previously frozen
1 tsp. smoked paprika
1 tsp. Greek seasoning
1 tsp. nutritional yeast
1 tsp. salt
1 can (14.5 oz.) fire-roasted diced tomatoes + 1 cup water
Instructions
Put the liquid in a large saucepan. Add the grits and salt. Blend well. Turn heat to medium high and bring to a simmering boil for about 3-5 minutes. Stir occasionally.
Reduce heat to medium low, or a simmering boil, cover and cook about 12 to 15 minutes stirring occasionally. Turn off heat.
In a large cast iron skillet over medium high heat, add the olive oil, onions and peppers. Sauté about 3 minutes stirring and blending.
Move the onions/peppers to one side of the skillet. Add the sausage and fry (about five minutes) browning somewhat on both sides of the round pieces.
Move the sausage to the side of the skillet. Add the shrimp and sauté about three to four minutes tossing and turning.
ombine the paprika, Greek seasoning, nutritional yeast and salt in a small bowl and blend. Sprinkle on the veggies/sausage/shrimp and blend.
Reduce heat to medium low. Add the tomatoes/water and blend. Cover and let the mixture simmer about 10 to 15 minutes.
Serve the mixture over a healthy scoop of grits with freshly cracked pepper.