mandarin spicy chicken wings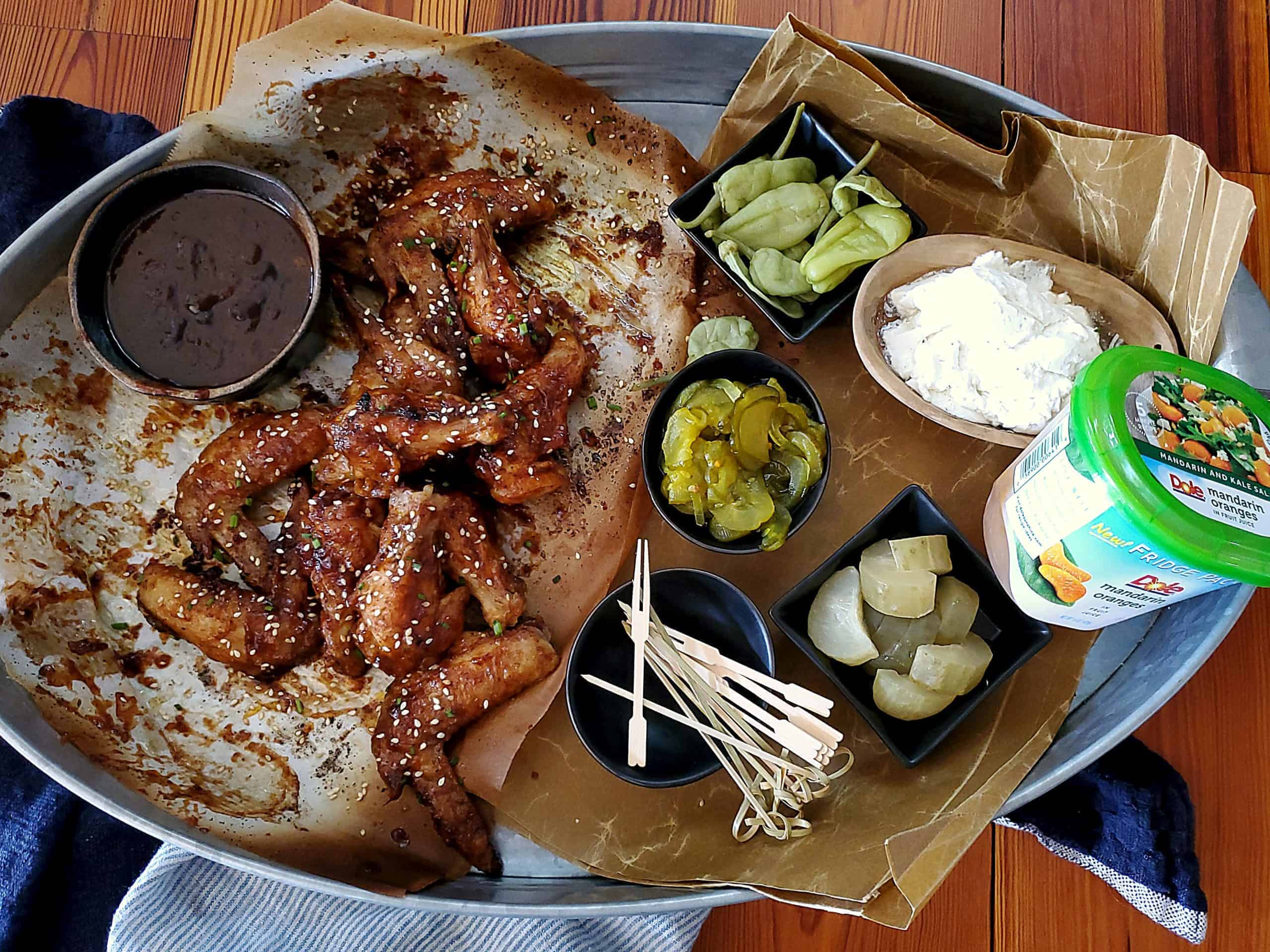 Asian Chicken Wings
Thanks to Dole Sunshine for partnering with me on this mandarin spicy chicken wings recipe! I am the creator of this recipe and for the description and information that follows. For a full disclosure, click here! Easy spicy chicken wings with a splash of sweet mandarin oranges never was so delicious! And, with my simple recipe, you'll be the darling of tailgating!
And, the hints of soy sauce and spices make these Asian inspired chicken wings!
Oven Baked Chicken Wings
I'll admit, sometimes I just don't want to go outside and fire up the grill. That's when oven baked chicken chicken wings happen. A tip on oven baking your chicken wings. Line your baking sheet with parchment paper. It makes clean up effortless. I use parchment paper all the time, and for these wings, I much prefer it over aluminum foil.
Grilled Chicken Wings
Now this recipe can be adapted for your grill too. Just skip the oven baking of the wings and make them grilled chicken wings. Cooking times will differ, but not dramatically. You finished temperature for these wings should be 165.
Sauces for Chicken Wings
Honestly, just about every single orange slice in this fridge pack is picture perfect and juice just bursts when you bite into them. Makes for great sauces for chicken wings. But, we're gonna make these oranges into a sticky glaze that's going to be just spectacular on the wings.
So, as the wings are roasting in the oven, yes, less calories and so simple, you're going to make the glaze that you'll coat on the cooked wings. There's plenty more leftover for dipping. And, you can even use this sauce for other things, like on grilled chicken or pork chops.
You'll get rave reviews for these wings. And, try making a 'wing tray bar' like you see here! It's nice to have small plates and put all those other bites on your plate that you just love with a bite of the mandarin spicy chicken wing! Enjoy the sunshine on your palate, my friends!
Spicy and Sweet Sauce
Mind you, nothing is more delicious than some sweet with your heat. And, the subtle natural sweetness of the Dole Sunshine Mandarin oranges is perfect in this recipe. Now, we're going to be using the new Dole Fridge Packs, which come in several varieties including pineapples, mixed fruit, and peaches, as well as mandarin oranges.
These Fridge Packs are perfect for recipes like this where you need not an entire can or jar, but something smaller. And, something that comes with its very own pop top that you can safely store in the refrigerator for using the remaining orange slices.
Easy Spicy Chicken Wings Recipe
My easy spicy chicken wings recipe will be a winner for you. The sauce that you make to coat them in can also be used for other types of chicken, like breasts and thighs. And, try this sauce on pork. Will make it jump off the plate with flavor!
Ohhhh, here's THE BEST grilled cheese you'll ever bite in to! And, it's got something sweet! Check it out!
Just in case you can't find them at your local grocer's, try Amazon! Dole Sunshine Fridge Packs come in four different fruits!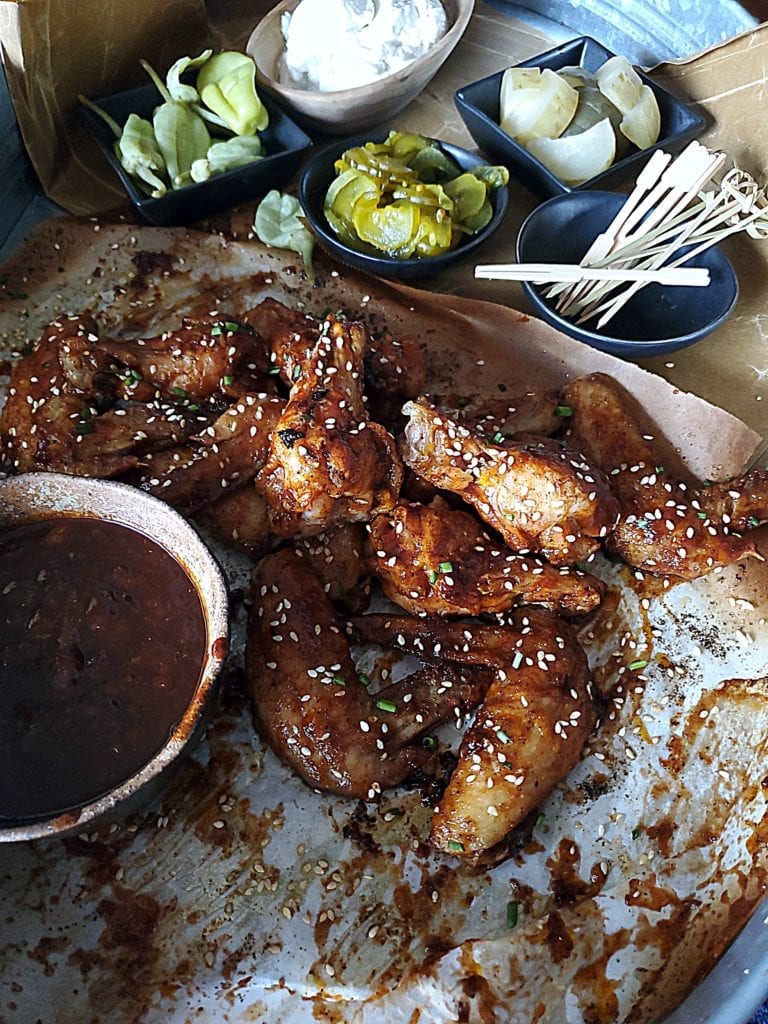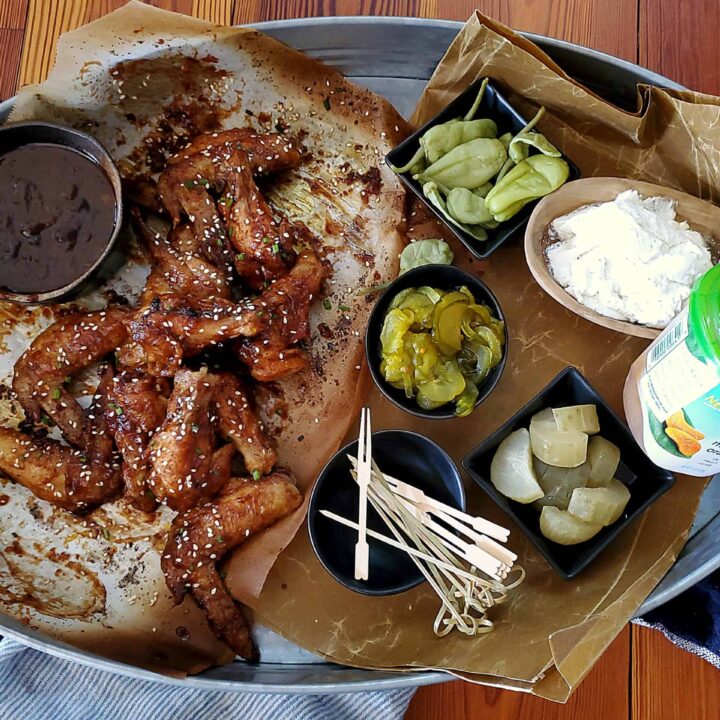 mandarin spicy chicken wings
Easy spicy chicken wings with a splash of sweet mandarin oranges never was so delicious! And, with my simple recipe, you'll be the darling of tailgating!
Ingredients
Preheat oven to 425
6 whole wings, cut into drumettes and wing with tip
1 tsp. creole seasoning mixture
1 cup Dole Sunshine Mandarin Fridge Pack, with juice, refrigerate remainder
¾ cup BBQ sauce, your favorite, not real spicy
2 Tbl. Asian hot sauce, your choice
2 Tbl. soy sauce
1 tsp. garlic powder
½ + 1/8 tsp. allspice, divided
2 Tbl. toasted sesame seeds, optional for garnish
Instructions
Preheat oven to 425. Line a cookie sheet with parchment paper.
Put the wings in a large mixing bowl. Coat with cooking spray and creole seasoning. Toss and blend then place on the cookie sheet.
Put in preheated 425 oven for 25 minutes. When done, turn oven to broil and brown wings for 3-5 minutes (should be about 12" from broiler). Remove to stovetop.
As wings are cooking, make the mandarin sauce. In a medium saucepan over medium heat, add the mandarin oranges/juice, BBQ sauce, soy sauce, hot sauce, garlic powder and one-half teaspoon of allspice.
Bring to boil, reduce heat and allow the sauce to simmer boil for about 15 minutes or until the mixture thickens. Gently smash the mandarins into the sauce. When done, turn off heat until ready to coat wings
Notes
Optional: Toast sesame seeds and remaining allspice in a small skillet over medium heat. Shake and just gently brown for a few minutes. Remove from heat.

Use a pastry brush to coat the wings with the sauce. Use remaining sauce for dipping. Sprinkle with seasoned sesame seeds (optional).