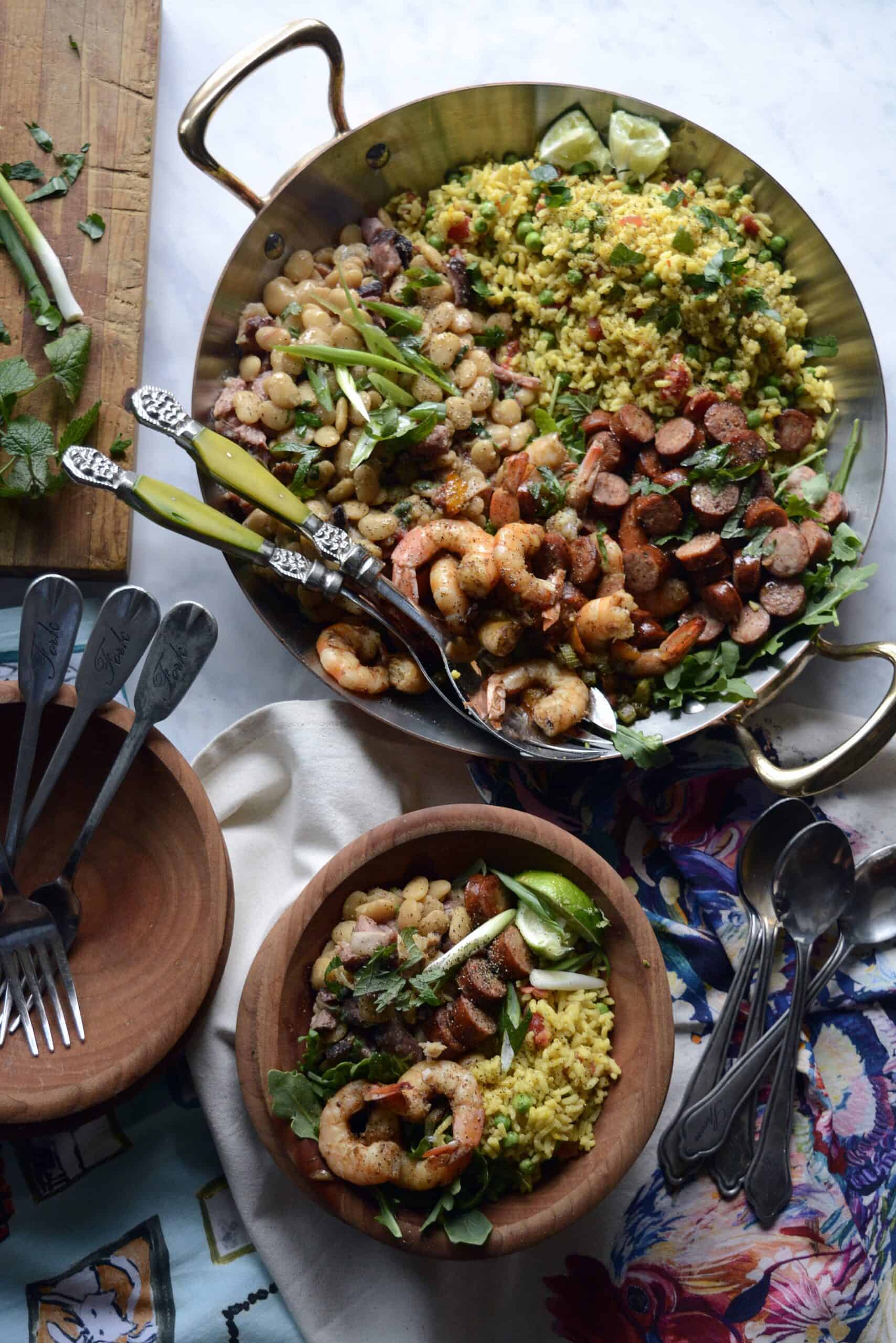 Taste the South with this low country southern jumbalaya! It's a dish full of flavor and history. And, talk about the yummy leftovers! Yes!
Jumbalaya Recipe
Oh, if you've never had jumbalaya, then you're in for a treat! This jumbalaya recipe can be made as is or you can take some short cut steps that you'll see in my 'Notes' in the recipe!
Jumbalaya Ingredients
Now if you're saying, 'Ally! There're a lot of jambalaya ingredients here!' Well, yes and no! It looks like a lot, but in reality, these are just the 'components' of the recipe. So, please don't be shy or scared off by the list. I promise it's gonna be easy and simple. And, like I said, there's a short cut with those beans!
Jumbalaya Seasoning
Lots of jumbalaya seasoning ideas out there. For me, I'll stick with Old Bay on this one. But, you can certainly use a Creole or Cajun seasoning mixture. Or even concoct your own combination of spices. Here're some ideas, smoked hot paprika, cumin, garlic powder, basil, thyme, oregano, salt, pepper, cayenne pepper, onion powder.
Jumbalaya Sausage
Again preferences are surely accommodated with the Jumbalaya sausage, too. I liked the andoille because it's spicy already. But if you want to try something else, turkey, chicken, link, kielbasa, then there are lots of options.
Jumbalaya Rice
One of my most favorite things about this recipe is the Jumbalaya rice! And, I wouldn't deviate much from this part of the recipe. Hey, it can be your go to rice recipe for lots of other dishes, too.
What is Jumbalaya Served With
OK, what is Jumbalaya served with? Well, by itself it's a meal! But, if your hankerin' for side dishes, then here are some of my ideas!
Appalachian Buttermilk Cucumber Salad
Crunchy Pineapple Blueberry Slaw
Vegetarian Jumbalaya
If you want to make this vegetarian jumbalaya, then you can surely do some tweaks and have a hearty jumbalaya! Just fill it with more vegetables, especially onions, tomatoes and peppers. And, throw in other seasonal vegetables like okra, zucchini, squash and more.
You'll need to season your beans differently of course. But, for those who are truly vegetarian, you know what you need to do.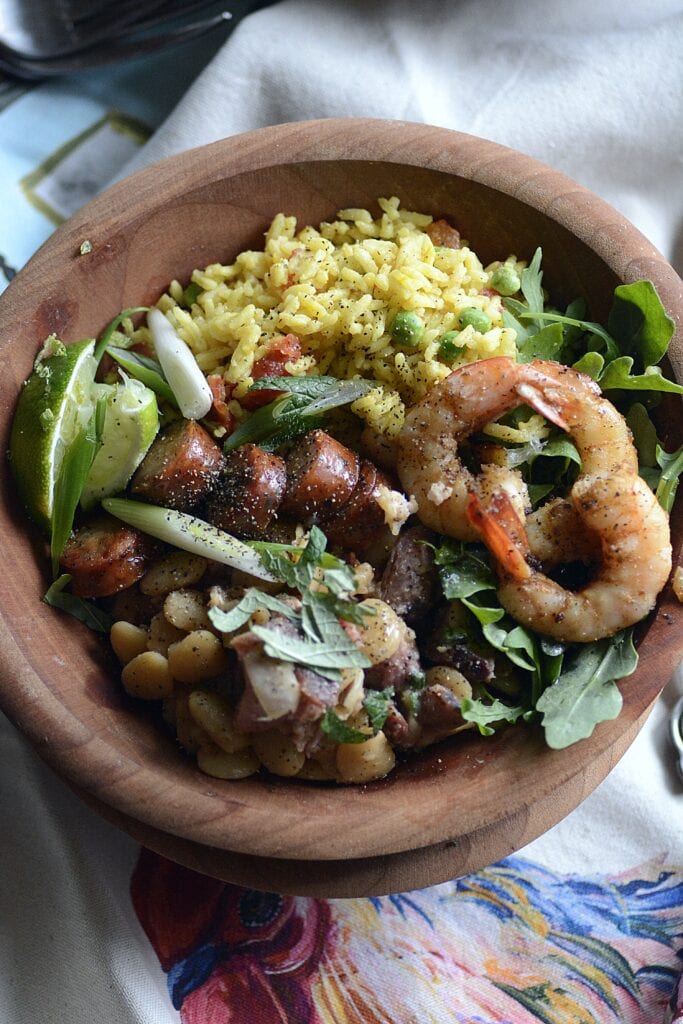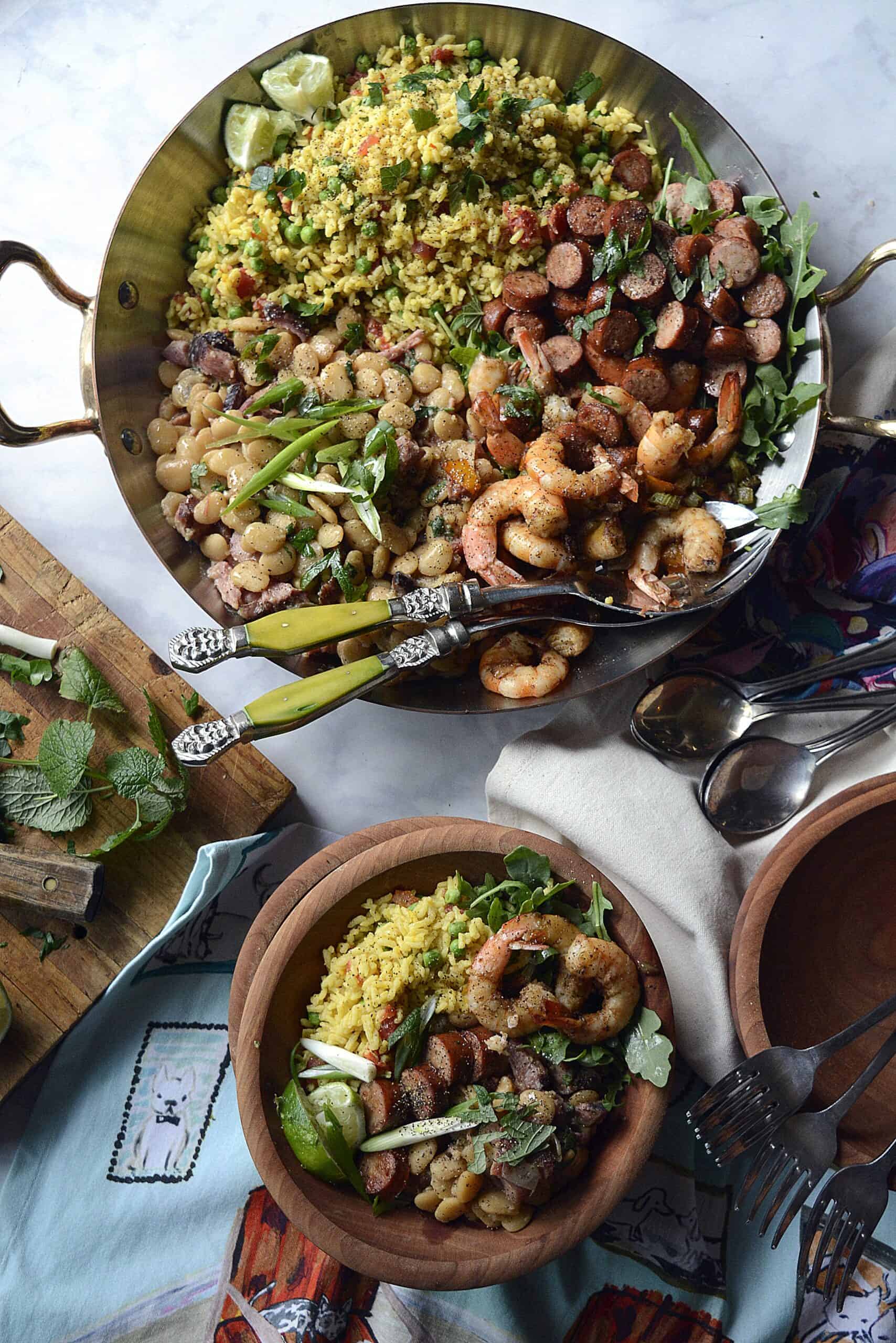 southern jumbalaya
Taste the South with this low country southern jumbalaya! It's a dish full of flavor and history. And, talk about the yummy leftovers! Yes!
Ingredients
BEANS:
1 lb. dry baby lima beans + 9 cups water, divided
1 tsp. sea salt
1 tsp. coarse ground pepper
1 ham hock
1 Tbl. garlic, sliced thinly
1/3 cup sweet onions, diced
½ cup diced ham
1 cup chicken broth
RICE:
1 ½ cups rice, jasmine + 3 cups water
3 Tbl. butter, salted
1 tsp. sea salt
½ tsp. red chili flakes
1 tsp. yellow curry powder
4-6 saffron threads
1 (10 oz.) can diced tomatoes with green chiles
2 cups petitie peas, slightly thawed
½ cup cilantro, finely chopped, divided
MEAT & SEAFOOD:
2 Tbl. oil
5-6 chicken andouille sausages, cut into about 1 ½" rounds
¼ cup celery, sliced
¼ cup sweet onions, diced
½ bell pepper (any color), diced
1 lb. large shrimp, tail on, deveined
2 tsp. Old Bay seasoning
4-5 cups fresh arugula
GARNISH:
Fresh mint, chopped
Fresh cilantro, chopped
Fresh limes
Green onions, chiffonade sliced
Sour Cream
Instructions
BEANS:
Rinse the beans well. Drain. Put in a large pot with the salt, pepper, ham hock, garlic and onions. Pour about seven cups of water in. Blend. Cover with a lid. Turn to high heat. Bring to a boil cooking for 20 minutes.

Reduce heat to medium high. Keep covered and cook for another 45 minutes stirring occasionally and checking to see if you need to add more of the water.

Continue cooking another 15-20 minutes adding water as needed until the beans are tender. Most of the water will be absorbed.

Remove the ham hock. Let it cool and pick off the meat on it. Toss back into the beans along with the diced ham. Add the chicken broth. Stir. Turn heat to simmer and let the beans cook as you prepare the remaining parts of the dish.

NOTE: You may need to reheat prior to serving.

RICE:
In a large microwavable glass bowl, put the rice, water, butter, salt, red chili flakes, curry powder, saffron, and blend. Cover tightly. Place in microwave on high for 17 minutes.


Remove the bowl to the counter and carefully release some of the steam. Use a large fork to separate the grains. Add the can of diced tomatoes with chiles.

Recover and let this sit for about 15-20 minutes then toss in the peas. Set aside until ready to serve.

NOTE: You may need to reheat prior to serving.

MEAT & SEAFOOD:
In a large cast iron skillet over medium high heat, put the oil. Let it get hot. Add the sausage pieces and fry getting a golden brown on each side. Use a slotted spatula and remove the meat to a bowl. Set aside.

Now put the celery, onions and peppers in the same skillet. Turn heat to medium and sauté about 5 minutes. Reduce heat to medium low. Add the shrimp, sprinkle with Old Bay seasoning.

Toss and blend into the mixture cooking the shrimp until bright pink. Remove skillet from heat. Cover and let this steam while you're putting the parts together.

ASSEMBLING:
In a large round serving dish (about 14-16" diameter), visualize three spaces. Put a mound of the rice mixture in one space, beans in another space and in the third space put the arugula and top with the sausage and shrimp.

Garnish with mint, cilantro, splashes of lime juice, and green onions.

Serve immediately. Have sour cream and more green onions, limes and herbs for individual servings.
Notes
Too much time to cook the beans? Then use canned beans, your choice. Black beans, Cannellini beans. Great Northern or Navy beans. Pinto beans. Simmer and cook with some seasonings to add some yummy flavors!

Want to swap out meat for something else. Try kielbasa or turkey/chicken sausage. Omit the seafood or try scallops, clams, mussels or your favorite.