Nothing's more comforting than a big bowl of mashed potatoes. And, when they're seasoned with parmesan and garlic and served with peas, then you have a meal!
Now, mashed potatoes are about as good as the potatoes you use. So you want to choose a potato that's higher in starch because you'll get fluffier, creamier and more flavor packed mashed potatoes. I'd recommend a Yukon. They're inherently buttery and have a very thin skin so if push comes to shove, you don't have to peel. The next best potato will be a Russet, and you definitely want to peel them.
Some things to remember about mashed potatoes:
They don't like being prepared early in advance of a meal. Save them for the last thing before serving. And, serve immediately.
You can boil the potatoes in advance and leave them in the liquid a couple of hours before mashing. Just warm them up before mashing and finishing out the recipe.
Don't overwork those potatoes with mashing and/or the hand mixer. And, never a food processor! Remember that these potatoes are releasing starch and working them too much makes them gluey.
Have your butter a room temperature when you work it into the potatoes. It's absorbed more quickly and the taters will be happier!
You can warm up leftover mashed potatoes, just add more milk/liquid, even chicken stock, and slow warm over low heat blending well.
Oh, yes, if you're wondering what the little black and white 'seeds' are in this photograph, well, I mixed some sesame seeds and chia seeds for some added nutrition! And, if you're ready for dessert, well these upside down peach pie mounds are super popular on my Pinterest page!  xoxo ~ally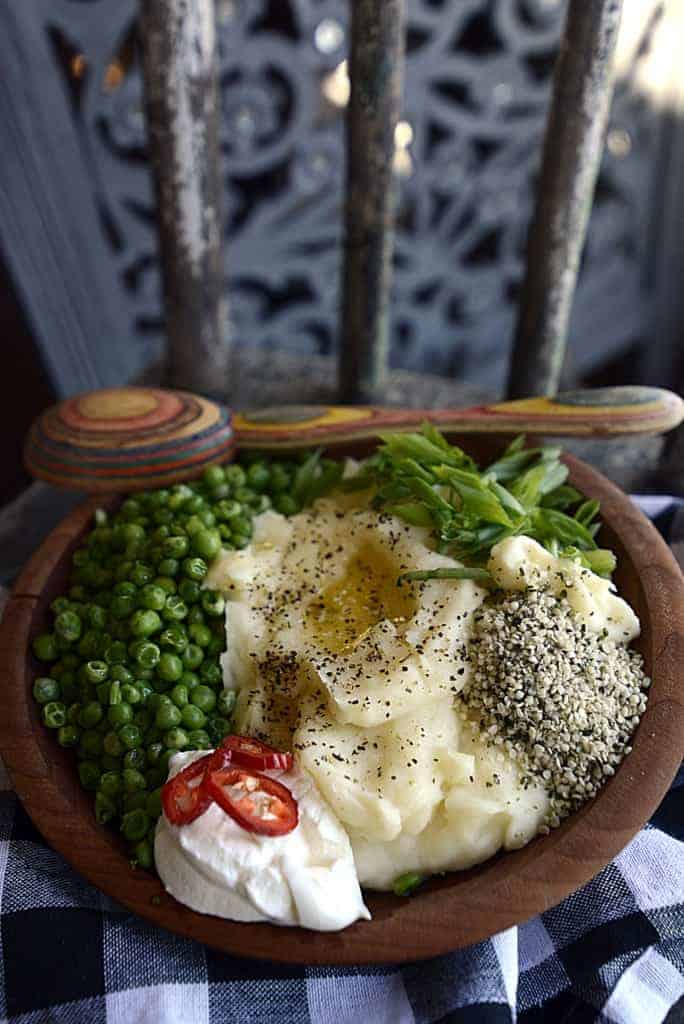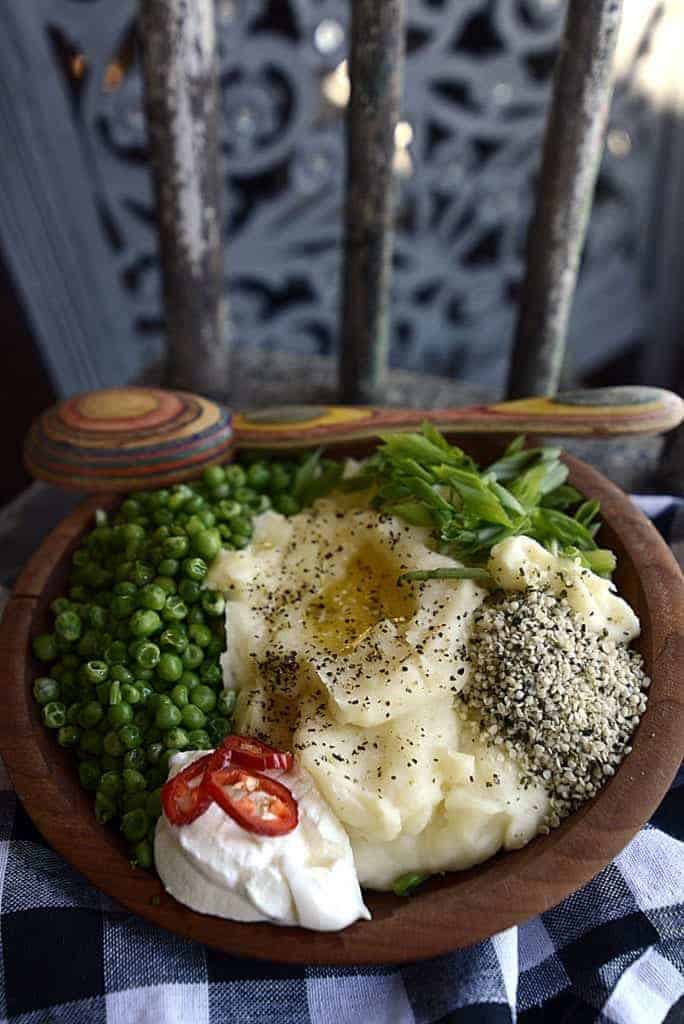 garlic mashed potatoes and peas bowl
Ingredients
4-5 cups potatoes, peeled and large dice
2 cups chicken broth
1 tsp. sea salt
2 tsp. garlic paste
1 Tbl. Braggs Nutritional Yeast, optional
4 Tbl. butter, unsalted, room temperature, plus more for serving
1/3 cup parmesan, grated
1 1/2 cups half and half
1/2 tsp. white pepper
GARNISH
16 oz. peas, previously frozen and cooked per directions
1/2 cup green onions, thinly sliced with greens
3/4 cup sour cream
1/4 cup chia and sesame seeds
Thinly sliced serrano pepper
Freshly ground black pepper, optional for serving
Instructions
Put the potatoes, chicken broth, salt, garlic paste and nutritional yeast in a medium sauce pan on medium high heat. Cover and bring to simmering bowl. Reduce heat to medium low and cook about 15 to 18 minutes or until the potatoes are completely tender and you can pierce with a skewer.
Remove from the heat and add the butter and parmesan then mash/blend with a potato masher. When all the potatoes are roughly mashed, let them sit about 3-5 minutes then slowly start adding in the half and half. Add the white pepper. Use a hand mixer to blend well and continue to add the liquid to your desired consistency.
Serve in your large bowl with peas, sour dream, green onions.
Notes
If you want your potatoes thicker reduce the amount of half and half. And, vice versa, for more creamy potatoes, add more half and half.
https://allyskitchen.com/parmesan-mashed-potatoes-and-peas-bowl-parmesan-mashed-potatoes/
©ally's kitchen intellectual property