maple bacon kale & roasted potatoes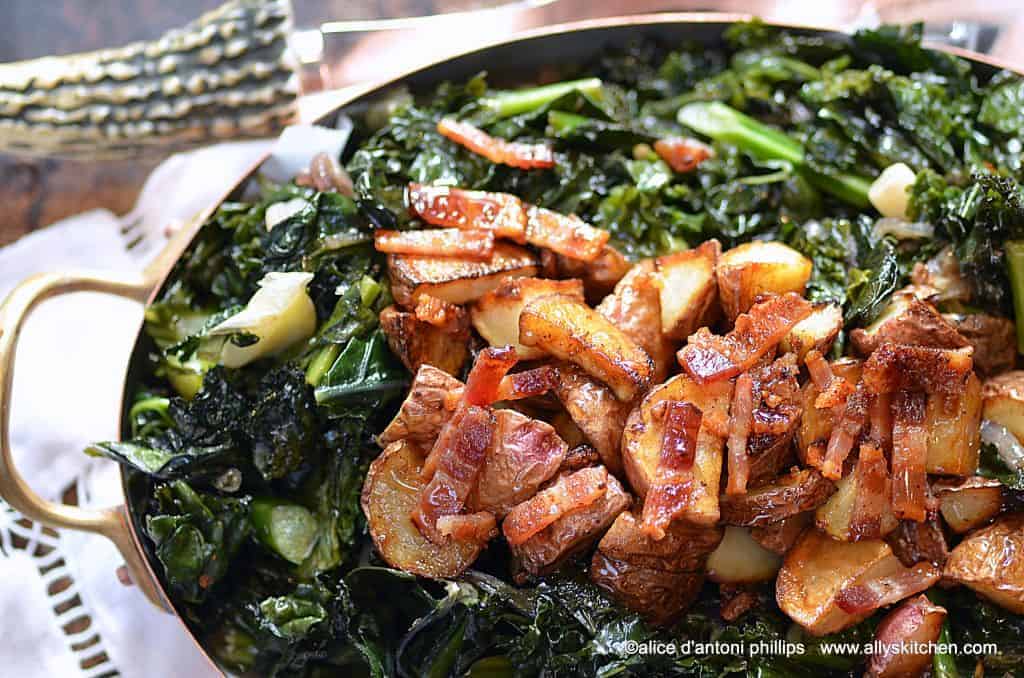 Dinner parties. Love them! Especially when we're invited to someone else's home. That means that I have only a dish or two to prepare and, yes, always a bottle of wine! Plus, I don't have all the extra prep that goes into hosting even a small dinner party for just six~~in other words, I get a break!
When Sally and Matt asked us over for dinner, my pal Sal asked me to bring a salad. Well, I rarely just bring one of something, so I brought two new 'salads' I was working on (Click here for the 2nd salad.) . This is one of them. Now, it's not your typical salad. In face, you might say, 'Ally! That's a side, not a salad!' Au contraire, salads can be hot, warm, room temperature, cold~~that's what 'bohemian bold' fooding's all about~~actually, putting square pegs in round holes and making it work! In this case, this rainbow kale roasted potatoes bacon & maple syrup was a boho warm! Enjoy and always know that whatever you consider a salad IS, indeed, a salad! xo ~peace~ ally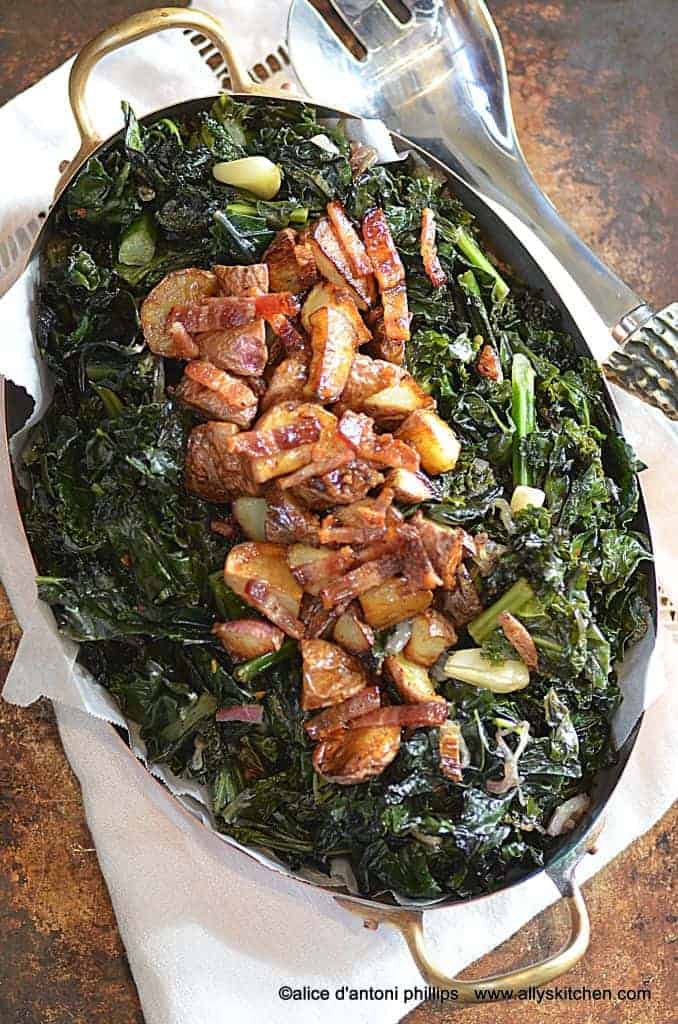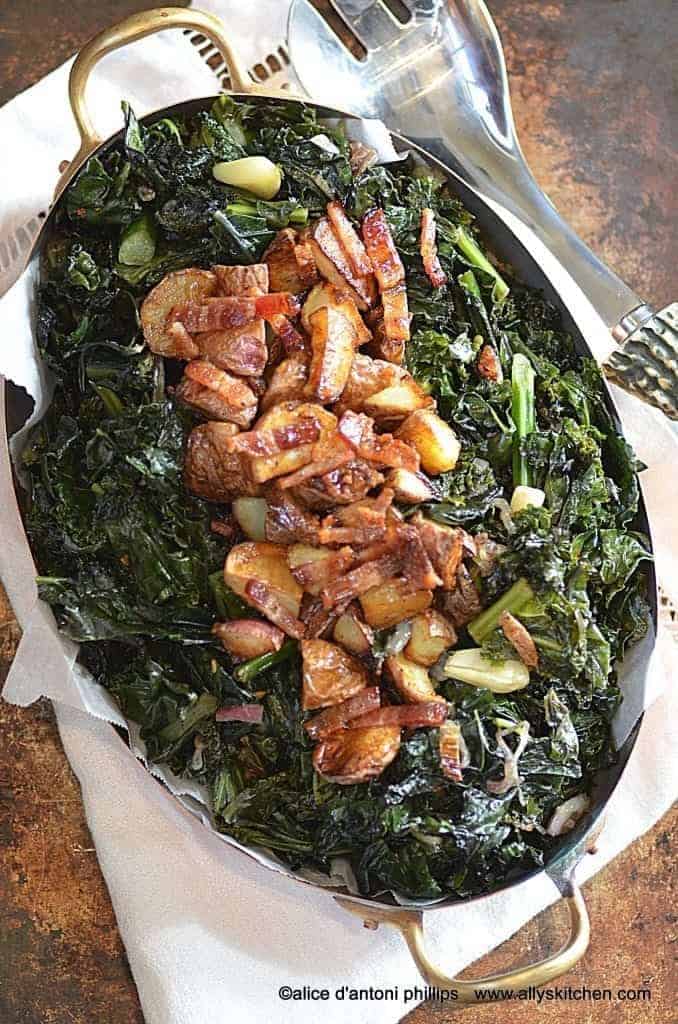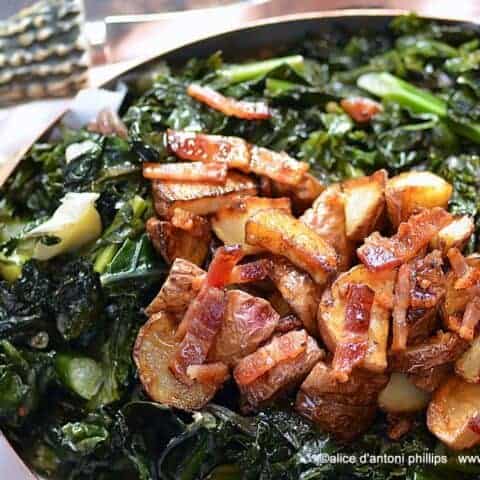 rainbow kale roasted potatoes bacon & maple syrup
Ingredients
6 slices thick cut smoked bacon, fried, drippings reserved, bacon crumbled for garnish (I used a peppered bacon.)
1/4 cup olive oil
Bacon drippings (divided)
1 large shallot, cut in half and sliced thinly
5-6 garlic pieces, peeled and cut in chunks
12-14 packed cups kale, chopped
1/2 cup chicken broth
1 1/2 tsp. sea salt
1 tsp. pepper
1/2 tsp. red chili flakes
2 cups red potatoes, skin on, cut in small pieces
2 Tbl. maple syrup
Instructions
When doing this recipe, I start with the kale then as it's cooking down, I start the potatoes, so they're both cooking simultaneously.
In a very large heavy pot over medium heat, put half the bacon drippings, olive oil, shallots and garlic. Saute about 3 minutes. Add the kale and using tongs toss and blend.
Add the chicken broth, salt, pepper, chili flakes and toss together.
Increase heat to medium high, cover with a lid and let the kale steam and cook about 5-7 minutes (tossing a couple of times). Reduce the heat to medium, cover and cook another about 20 minutes (tossing a few times to blend.)
Put the remaining bacon drippings in a cast iron skillet over medium high, add the potatoes, cover with a lid and cook about 7-10 minutes flipping and turning once or twice (you want the potatoes to get a golden brown on some of the sides).
Reduce the heat to medium low, keep covered and cook until tender, probably about another 7-10 minutes.
For serving, put the wilted kale on a platter or shallow bowl. Make a well like center hole and place the potatoes in the middle.
Sprinkle with some of the crumbled bacon (leaving more for individual garnishing) and drizzle on the maple syrup.
Ready to eat! This dish is even great at room temperature!