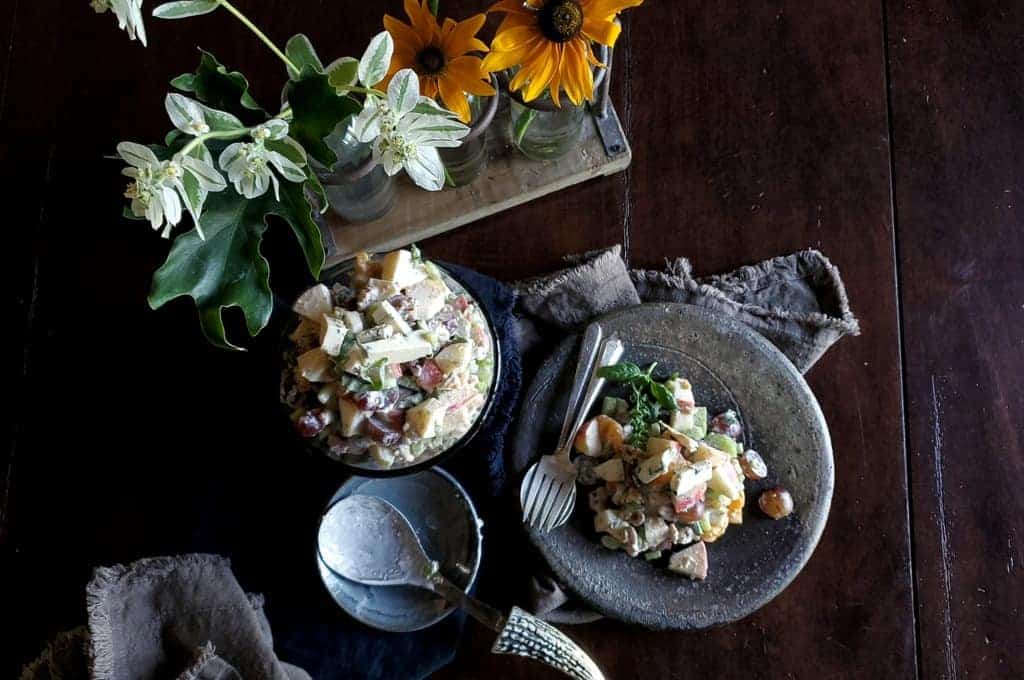 The Waldorf Salad is a classic salad. Oftentimes saved for holiday occasions, this salad has roots that go back to to 1928! This apple basil bleu salad is a revised updated version of the classic Waldorf Salad! I'm using things like mandarin orange slices and green onions to sizzle the flavors. Then the dressing is more than just mayo, it's a creamy delicious dressing that pulls all these flavors and textures together.
Wikipedia History of the Salad
Waldorf salad is named for the Waldorf-Astoria hotel in New York City, where it was first created for a charity ball given in honor of the St. Mary's Hospital for Children on March 14, 1896.[2][3][4] The Waldorf-Astoria's maître d'hôtel, Oscar Tschirky, developed or inspired many of the hotel's signature dishes and is widely credited with creating the salad recipe. In 1896, the salad appeared in The Cook Book by "Oscar of the Waldorf".[5]
The original recipe was just apples, celery, and mayonnaise.[6] It did not contain nuts, but they had been added by the time the recipe appeared in The Rector Cook Book in 1928.[7]
Reasons I Love this New Version
Nothing better together than the sweetness of apples, the crunch, crisp and juiciness and bleu cheese with a sharper more salty taste.
There're more textures to excite the palate like nuts and mandarin oranges.
The dressing incorporates healthier Greek yogurt as well as a little mayonnaise and citrus juice.
Basil leaves! Yes, these leaves that have that are extremely aromatic with a scent of pepper, anise, and mint.
Try it with something like my Kung Pao Chicken. Sure to please! I sure hope you try it. You might just find that the 'modernized' version of the fabulously delicious Waldorf Salad is a great change! And, be sure to check out some of the beautiful serving pieces that I've found on Amazon that you might like to add to your collection of serving pieces. I really love these because they're rustic and so natural looking. And, they blend with so many other dishes! Remember, you eat with your eyes first!
oxxo ~ally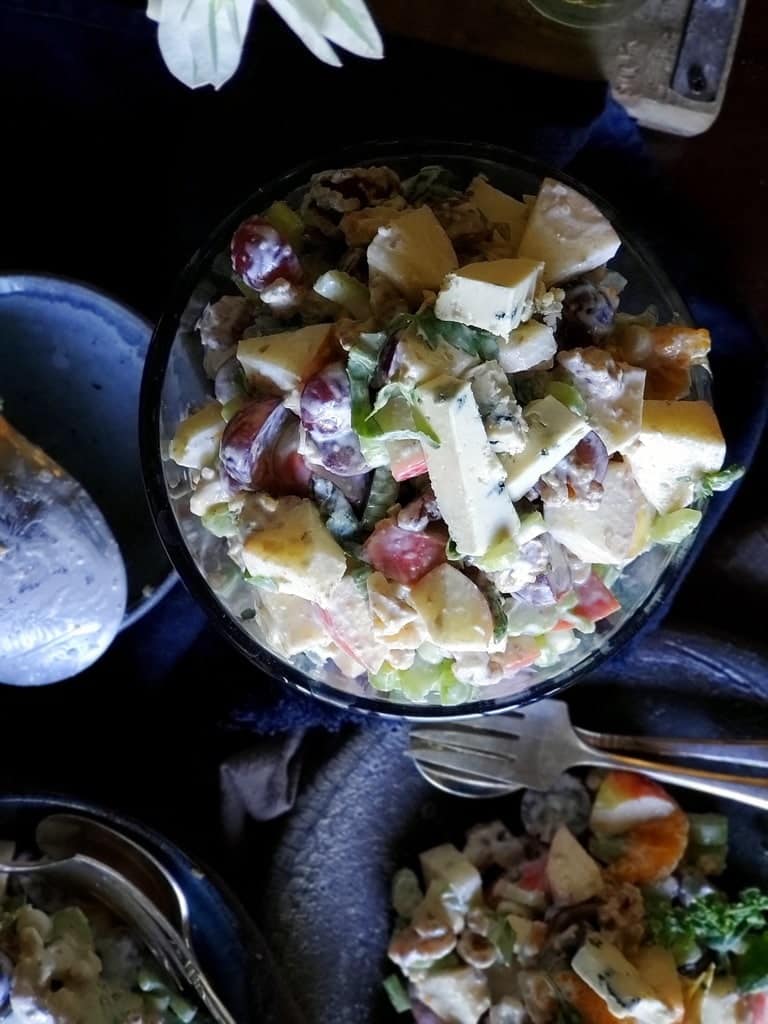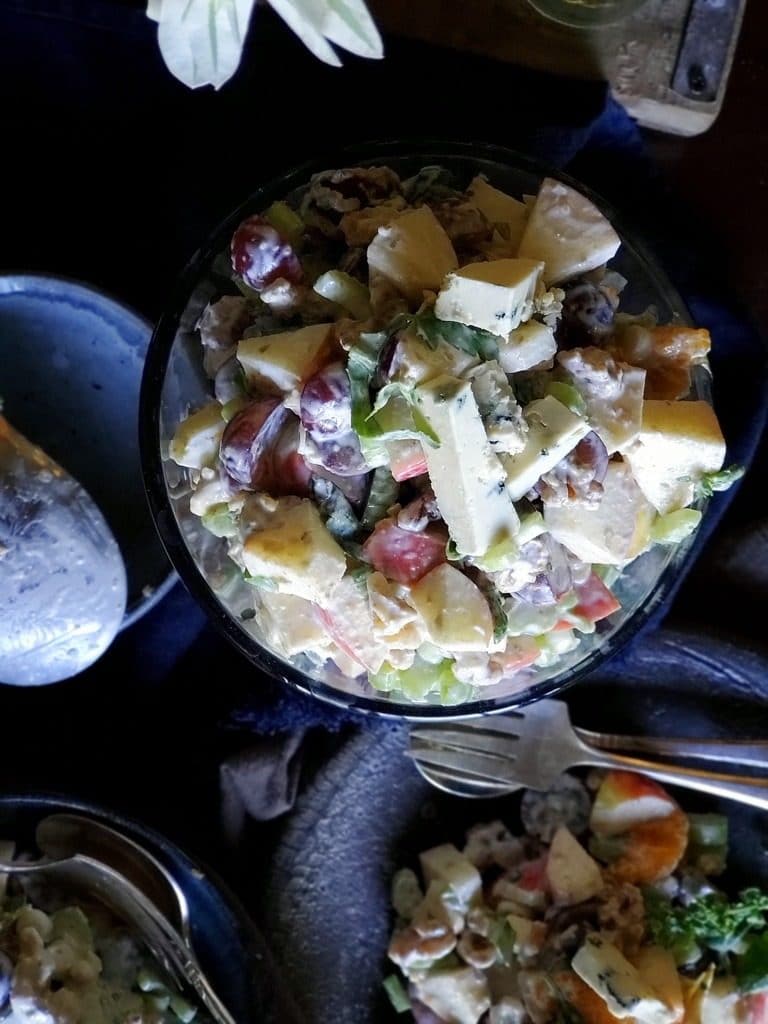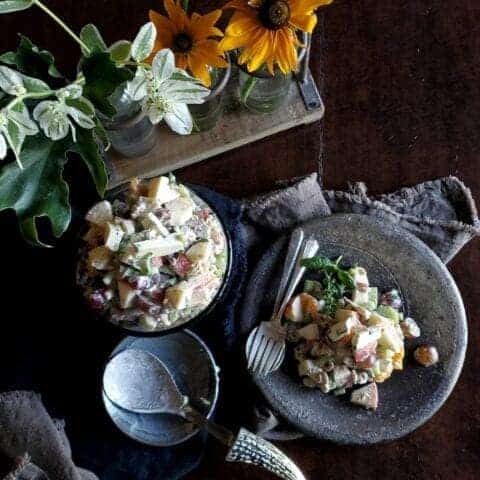 apple basil bleu salad
Ingredients
4 cups apples, crispy variety (i.e., honey crisp) washed, skin on, bite-size dice
2 green onions, thinly sliced with some of green tops
2 cups celery, sliced plus some of the leaves chopped
4 oz. fruit cup mandarin oranges, drained, reserve juice
2 cups red grapes, seedless, sliced in halves
1 cup walnuts, roughly chopped
1 cup fresh basil leaves, loosely packed and roughly chopped leaving some whole leaves
DRESSING:
¼ cup mayonnaise
½ cup Greek yogurt, plain
¼ cup mandarin orange juice, can substitute regular orange or tangerine juice
1 tsp. sea salt
1/3 cup bleu cheese crumbles + more for serving
Instructions
Put the apples, green onions, celery, mandarins, grapes, and walnuts in a large mixing bowl. Toss and blend.
In a smaller bowl, whisk together the ingredients for the dressing. Drizzle over the apple mixture. Add the basil leaves. Toss and blend. Refrigerate about 30 minutes before serving.