I'm always looking for new ways to do chicken. And, this dill pickle chicken is yet another winner. Simple. Tasty. And, with that dill pickle twist! Another unique part of this recipe is the scoring of the chicken breast. It lets those pickle juices seep deep into the meat.
You can use this recipe with bone-in and other cuts of chicken. You'll just need to adjust your cooking time to accommodate this change. A good rule of thumb for doneness would be an internal temperature of 165 degrees.
Here's another great cheeekin recipe! Pineapple Enchilada Slow Cooker Chicken!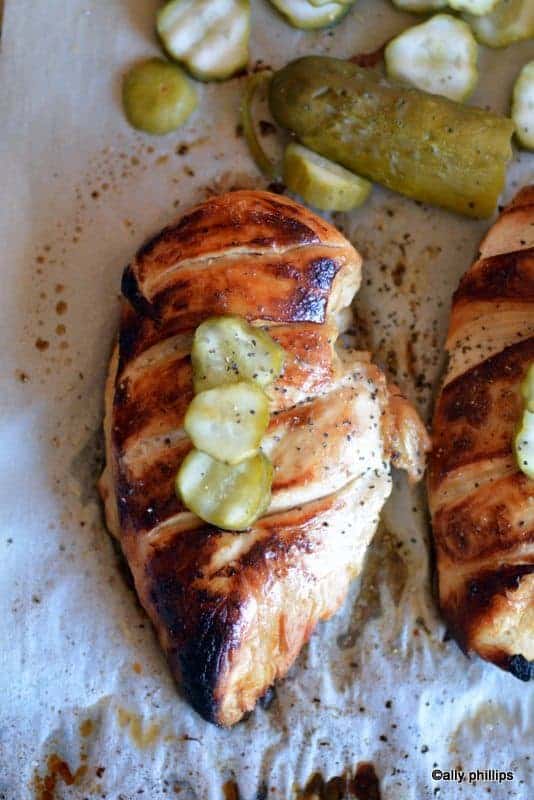 Ingredients
4 large thick chicken breasts, 2 ½ to 3 lbs , boneless and skinless, scored diagonally about ¼" deep
1 cup pickle juice, from store-bought dill pickles or kosher dills
2 Tbl. coconut oil
1 ½ tsp. sea salt
½ cup chicken broth
Cooking spray, canola
24-30 dill pickles
1 tsp. coarse ground pepper
Instructions
Put the scored chicken breasts in a zip lock bag with the pickle juice and marinade over night or at least 3 hours.
Remove, shake off excess juice and sprinkle salt on each side. In a large cast iron skillet over medium high heat, add the coconut oil. Pan sear the breasts on each side until a nice golden brown, about 2-3 minutes each side.
Remove to a parchment paper covered cookie sheet. Cover with doubled foil. Bake in a preheated 400 oven about 25-30 minutes.
Meanwhile, let the skillet cool a couple of minutes then deglaze skillet with the chicken broth and put aside for serving, if desired.
When done, remove the chicken, keep covered, and let it rest about 5 minutes. Before serving, give a light coating of cooking spray, add pickles to the tops of the chicken, pepper and serve immediately.
https://allyskitchen.com/dill-pickle-chicken/
©ally's kitchen intellectual property