greek isles grilled chicken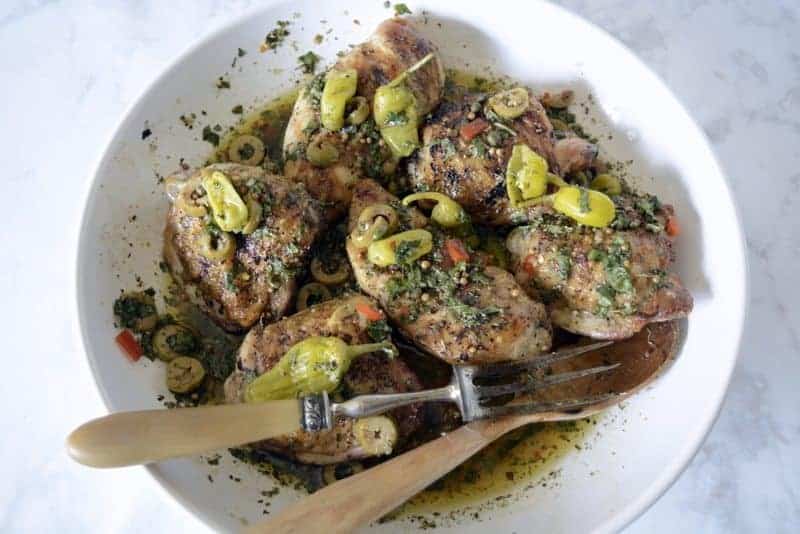 Chicken can sometimes be 'dry' as we know. Especially chicken that's boneless and skinless. Or chicken that's been grilled. Unless you know how to do the chicken right when grilling, you might run into dryness. This recipe is a chicken rescue for that time that it might be a tad bit dry. And, even if it isn't, your chicken's going to be so much tastier!
The vinaigrette dredge for the grilled chicken just moves the chicken from 'grilled chicken' to 'GRILLED CHICKEN'! Packed with different flavors, spices and textures, you'll bite into your chicken, sop it in some of the juices, pick up an olive or caper, and that bite will be heavenly!
I've made this recipe now three times in one week. Yep, it's that good. It made a perfect quick lunch for Father's Day weekend. Just grilled some boneless skinless thin chicken breasts, made a burrata caprese salad, and the vinaigrette sauce and it was devoured. Does take any time to do it either. Probably the entire meal in under 30 minutes!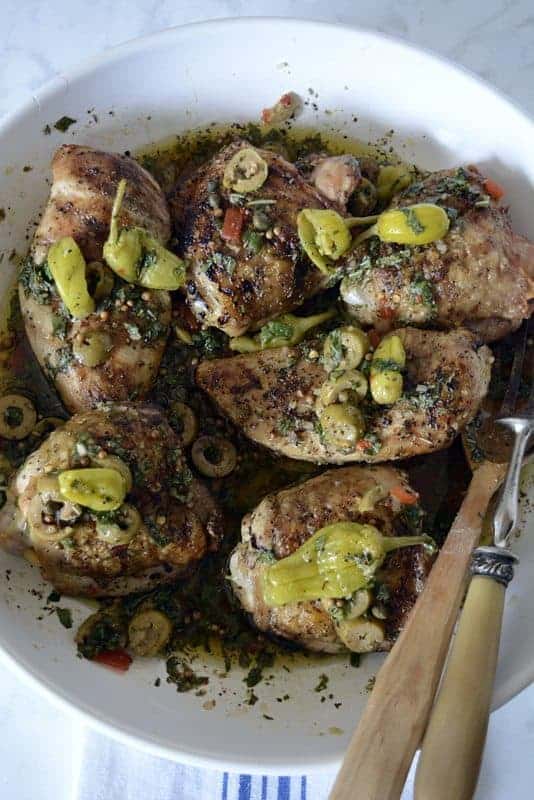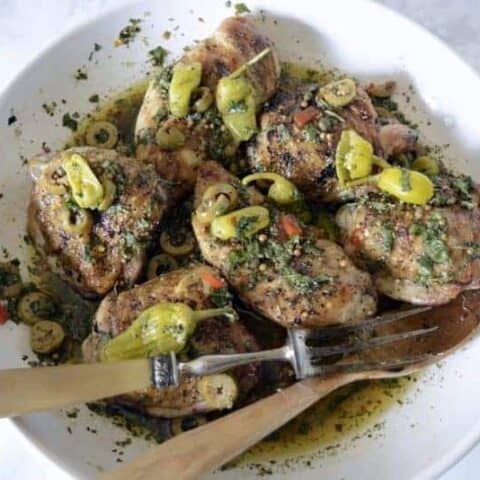 greek isles grilled chicken
Ingredients
SEASONING SAUCE:
1 Tbl. Greek seasoning mixture
2 tsp. coriander seeds
1 tsp. garlic granules
1 tsp. dried minced onions
1 tsp. sea salt
1 tsp. coarse ground pepper
½ tsp. red chili flakes
½ cup extra virgin olive oil
1/3 cup apple cider vinegar
½ cup fresh basil, chopped finely
½ cup pepperoncini, whole or sliced, with some of liquid (about 2-3 tablespoons)
½ cup green olives, with pimentos, slices, with some of liquid (about 2-3 tablespoons)
2 Tbl. capers, with some of the juices
CHICKEN:
2 ½ to 3 lb. chicken, breasts, skinless/boneless and thighs, bone in skin on
3 Tbl. extra virgin olive oil
½ tsp. sea salt
½ tsp. coarse ground pepper
Instructions
In a medium size mixing bowl, combine all the ingredients for the sauce and whisk together well. Set aside.
Wash and pat dry the chicken. Put in a large mixing bowl. Drizzle on the oil, salt and pepper. Toss and blend.
Heat the grill to 500-550 degrees. Grill until the internal temperature is 165. Remove to a large shallow bowl.
Douse in the sauce. Cover with foil and let the chicken sit for about 10-15 minutes.