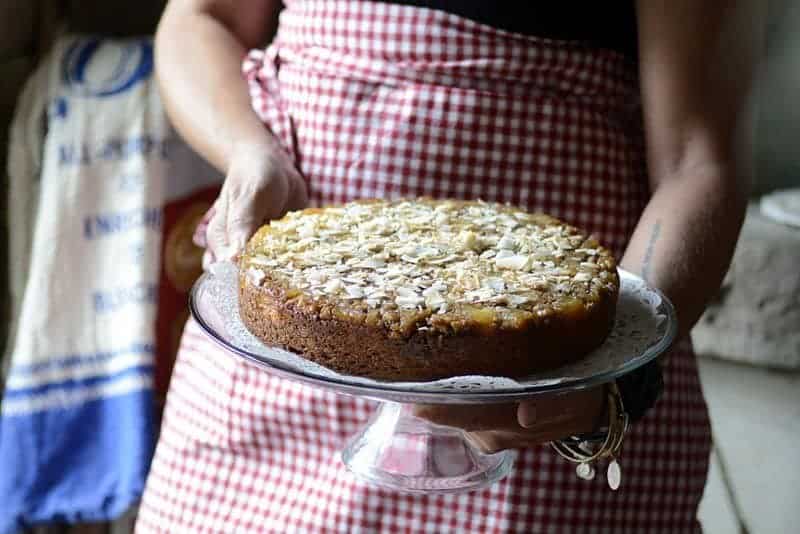 Some cakes are cakes. Whereas other cakes are not only cakes, but they're cakes with a history. Yep, that's what you'll find with my updated version of the pineapple upside down cake. This pineapple tidbit brown sugar walnut upside down cake takes the vintage version to a new level!
Upside down cakes date back in history. Putting the fruit in the bottom of the cast iron skillet then pouring on the batter and cooking over the fire lent itself well to a beautiful cake being flipped upside down when done. Now the pineapple upside down cake goes back to when James Dole (yes, the Dole name) discovered how to slice these luscious sweet pineapples into rings.
According to Food History website: "The first mention in print of such a cake was in 1930, and was so listed in the 1936 Sears Roebuck catalog, but the cake is somewhat older." In Fashionable Food: Seven Decades of Food Fads (1995), Sylvia Lovegren traces pineapple upside-down cake to a 1924 Seattle fund-raising cookbook…While rooting around in old women's magazines I found a Gold Medal Flour ad with a full-page, four-color picture of Pineapple Upside-Down Cake–a round cake with six slices of pineapple, candied red cherries, and a brown sugar glaze. The date: November 1925."
— American Century Cookbook: The Most Popular Recipes of the 20th Century , Jean Anderson (p. 432)
While the traditional pineapple upside down cake is tasty, this pineapple tidbit version with nuts and coconut takes it to a whole new level. You not only get a pineapple tidbit in almost every bite, but you get a little crunch and crispy from the nuts and coconut. If you've like me, I love to have various textures swirling on my palate when I take bites! And, if you want another version of a pineapple upside down cake, take a look at my pineapple upside down mini cakes! Yep, each person gets their very own pineapple! Of course, since I'm the brand ambassador for Dole Packaged Foods (Dole Sunshine), I have quite a few signature recipes made with pineapple, both sweet and savory. Take a look!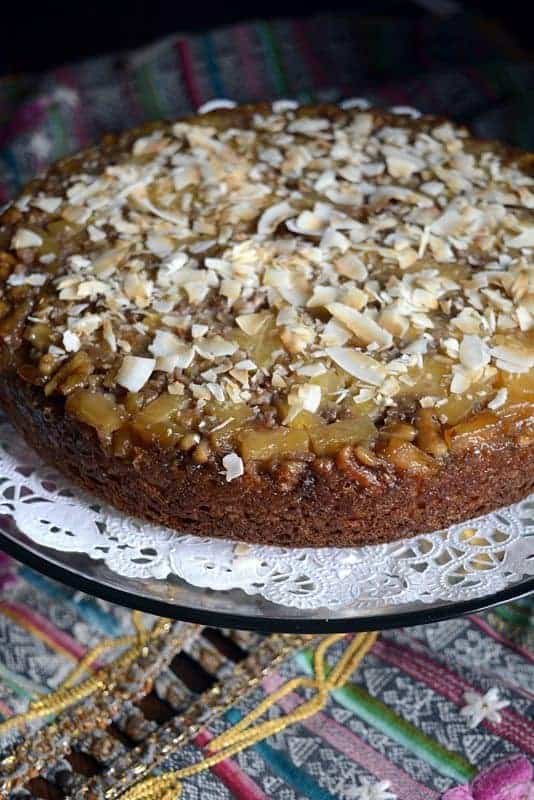 pineapple tidbit brown sugar walnut upside down cake
Ingredients
Preheat oven to 350
1/3 cup dark brown sugar
6 Tbl. butter, salted and melted
1 cup walnuts, chopped
1 can (20 oz.) Dole Sunshine pineapple tidbits, drained (liquid reserved for using in cake) and patted dry on paper towels
1 (15.25 oz.) yellow cake mix
1/3 cup coconut, unsweetened, shaved, toasted
Instructions
Coat the springform pan with oil or cooking spray. Line the bottom with a cut out round piece of parchment paper.
In a small mixing bowl, combine the brown sugar, melted butter and walnuts. Blend and then pour into the bottom of the pan and spread out evenly.
Prepare the cake mix according to packaging directions with the exception of substituting the water with the reserved pineapple juice from the can.
Pour into the springform pan. Bake in a preheated 350 oven about 43 to 45 minutes or until a toothpick comes clean from the center.
Let the cake rest and cool. Disengage the spring form pan and remove.
Place a large piece of parchment paper on the top of the cake then put a round plate (at least 11-12" in diameter) on top. Flip the cake.
Carefully remove the parchment paper on the 'now' top with the pineapple tidbits/nuts. Sprinkle with the coconut.
https://allyskitchen.com/pineapple-tidbit-brown-sugar-walnut-upside-down-cake/
©ally's kitchen intellectual property