Pineapple Tidbit Brown Sugar Walnut Upside Down Cake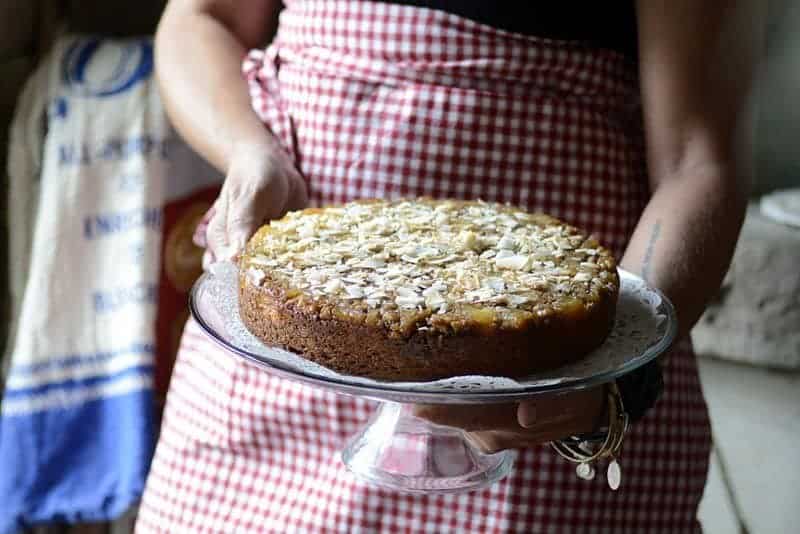 Some cakes are cakes. Whereas other cakes are not only cakes, but they're cakes with a history. Yep, that's what you'll find with my updated version of the pineapple upside down cake. This pineapple tidbit brown sugar walnut upside down cake takes the vintage version to a new level!
How to Make Pineapple Upside Down Cake
Pineapple upside-down cakes are the best! Literally! It needs no topping, no frosting. It's scrumptious, fluffy, and beyond words! A simple cake is made so much better by the caramelized sugar and butter, along with the pineapple seeping through the buttery cake layer. It is delicate and soft, glistening and moist, fruity and chunky, it's the complete package, and it definitely adds to the list of dazzling easy holiday desserts.
Homemade Pineapple Upside Down Cake
Pineapple cakes were a rage during the times when canned pineapple was culminating its way to the top. The traditional pineapple cakes have a maraschino cherry in the center which adds more flavor to the cake. There were almost 2500 pineapple upside-down cake recipes by 1926; it ebbed and maintained its place on top, reckoning it as comfort food. You could also try a simple pumpkin spice apple cake, which gives the goodness of apple and pumpkin spice all the flavors you ever look for in a spice cake. Delicious, soft, and delectable!
Easy Pineapple Upside Down Cake
Are you a lover of an easy mandarin pound cake? Pound cakes are always easy and simple to make; they need a pound of all ingredients and Voila! Your cake is ready to devour! Likewise, upside-down pineapple cake is easy to make as well. The caramelized buttery sponge cake is so soft and moist; you could just sink into the incredible taste of the ooey-gooey pineapple and sticky cake! All it needs is just a bite! You'll be transported to a Hawaiian paradise!
Pineapple Upside Down Cake with Crushed Pineapple
To get the softest and moist pineapple cake, add crushed fresh pineapple chunks into your cake batter; this gives a nice texture to your cake and inflates the flavor of your cake. Fresh pineapple and Maraschino cherries with caramelized brown sugar — need I say more about the end result? Your plate will be empty, and the cake will be lip-smackingly delicious! You can try out a gluten-free banana buttermilk bundt cake for your evening snack or have it with your cup of tea or coffee!
Pineapple Upside Down Cake with Cake Mix
An upside-down pineapple cake is spectacular, versatile, and easy to bake; your guests wouldn't probably be disappointed, and come on! Everyone loves a rich, buttery, and soft pineapple cake. The cake's texture is very delicate on top because of the caramelized sugar and softness when you muddle your way through the cake! It's divine! Guess what else mimics the pineapple cake? A luncheon or rehearsal wedding dinner is never complete without the bridesmaid's peach cake; the whitish, soft, ooey-gooey peach cake is a replica of pineapple cakes but with peaches!
Best Pineapple Upside Down Cake
What contributes to the best upside-down pineapple cake? This cake has a retro charm, and it all starts with caramelized sugar and butter. You could say you can just eat the pineapples off the skillet because it's mouth-wateringly irresistible! The pineapple and maraschino cherries give you the tropical fruity and tangy flavor of your iconic cake! It's so yummy nummy that you can eat it all up and find it difficult to hold back from licking it off the plate!
Caramelized Pineapple Upside Down Cake
If you ask me, I'd say caramelized pineapple is the best! The butter and brown sugar are seeping into the pineapple slices and mixed together to give that caramelized flavor! Damn! It is to die for! If you're all about retro cakes, you can check out how to make a retro birthday chocolate sheet cake! You'll absolutely love it!
Pineapple Tidbits Upside Down Cake
A secret to a stunning, perfectly moist, not too soggy pineapple cakes lies in adding the pineapple juice, which the recipe calls for; if you need more of the tropical fruit flavor in your cake, then you cut chop up some pineapple Tidbits and add it to your cake batter, this way the cake comes out perfectly clean, no sogginess, rich and caramelized! You could have it as a dessert or an evening snack. On the contrary, if you are craving a tea cake, you should check out our old-world Russian tea cakes; they complement your evening tea or even for a sweet snack!
And, if you're hankering for another amazing fresh pineapple dessert that's not a cake, well, try these gorgeous Pineapple Skewers! You will blow away your guests!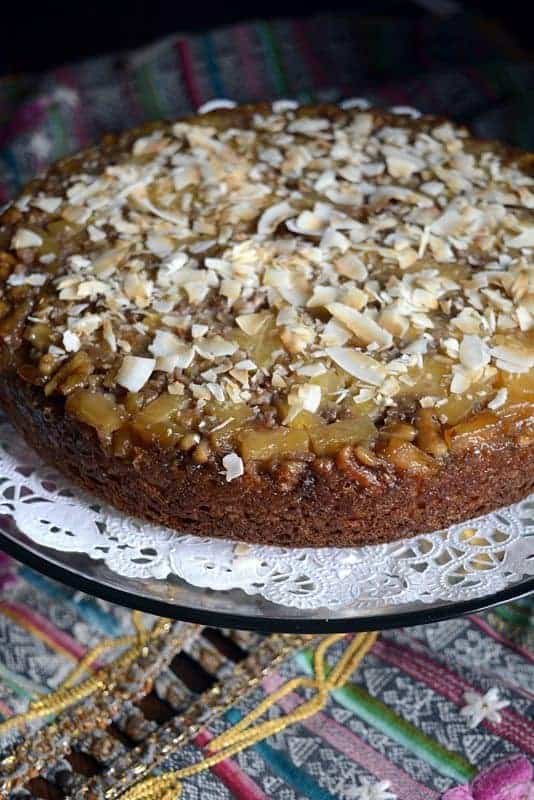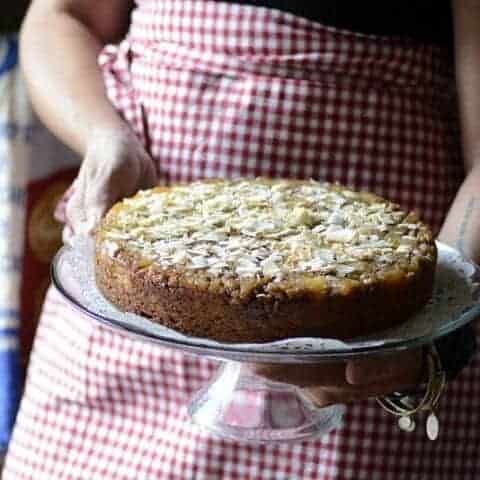 Pineapple Tidbit Brown Sugar Walnut Upside Down Cake
Yield: Makes: One 11" springform pan cake

This pineapple tidbit brown sugar walnut upside down cake takes the vintage version to a new level! Check out now!
Ingredients
Preheat oven to 350
1/3 cup dark brown sugar
6 Tbl. butter, salted and melted
1 cup walnuts, chopped
1 can (20 oz.) Dole Sunshine pineapple tidbits, drained (liquid reserved for using in cake) and patted dry on paper towels
1 (15.25 oz.) yellow cake mix
1/3 cup coconut, unsweetened, shaved, toasted
Instructions
Coat the springform pan with oil or cooking spray. Line the bottom with a cut out round piece of parchment paper.

In a small mixing bowl, combine the brown sugar, melted butter and walnuts. Blend and then pour into the bottom of the pan and spread out evenly.

Prepare the cake mix according to packaging directions with the exception of substituting the water with the reserved pineapple juice from the can.

Pour into the springform pan. Bake in a preheated 350 oven about 43 to 45 minutes or until a toothpick comes clean from the center.

Let the cake rest and cool. Disengage the spring form pan and remove.

Place a large piece of parchment paper on the top of the cake then put a round plate (at least 11-12" in diameter) on top. Flip the cake.

Carefully remove the parchment paper on the 'now' top with the pineapple tidbits/nuts. Sprinkle with the coconut.