upside down peach pie tart tatin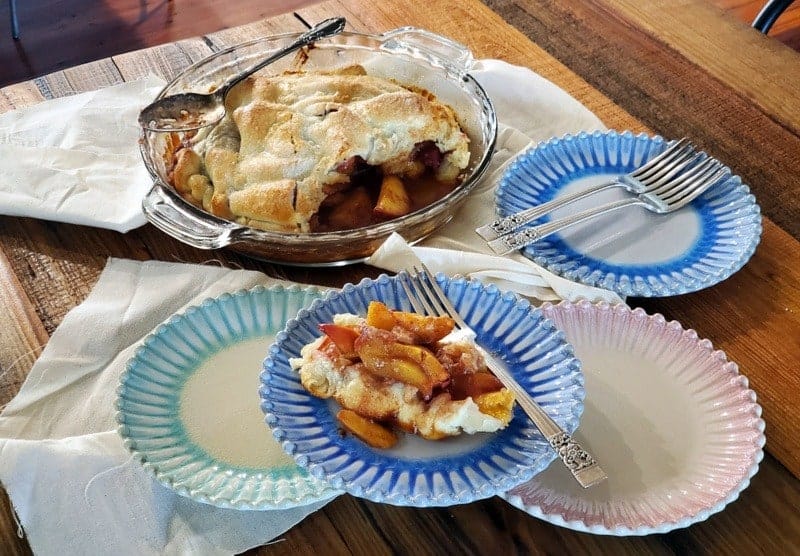 A peach pie that's upside down! Call it a peach tart tatin, too! It's so easy, plus you have some crazy good crunchy flaky, not soggy, crust!
Peach Upside Down Tart
Classically speaking this peach upside down tart or pie can be a kind of tarte tatin. Now that sounds rather fancy and racey, huy? Kind of like you might be thinking, dang, I can't make this kind of pie.
Peach Pie Easy
Then add to that the fact that the tart tatin roots are French, and you might be thinking, whhhhooooaaaa, that way above my baking pay grade! But, you can make it because it's essentially a peach pie the easy way.
Read on and learn some of the tart tatin history and how I do my version of the tarte tatin, and you'll be convinced that you're a superpower in the kitchen and CAN bake it!
Peach Pie Crust
For me and with any type of fruit pie, I love a great crust. One that's crunchy and flaky. And, using this bottom and top peach pie crust gives you just that. A super crispy top crust!
Fresh Peach Pie
You can certainly use either fresh or frozen peach slices for this peach pie. Frozen peach slices from Dole Sunshine makes your creation the closest thing you can get to a fresh peach pie. Yes, those peach slices are pure perfection.
Tart Tatin Definition
According to Wikipedia there's a story behind the tart tatin definition.
"The tarte Tatin was created accidentally at the Hôtel Tatin in Lamotte-Beuvron, Loir-et-Cher, 169 km (105 mi) south of Paris, in the 1880s.[1] The hotel was run by two sisters, Stéphanie and Caroline Tatin.[2] There are conflicting stories concerning the tart's origin, but the most common is that Stéphanie Tatin, who did most of the cooking, was overworked one day. She started to make a traditional apple pie but left the apples cooking in butter and sugar for too long. Smelling the burning, she tried to rescue the dish by putting the pastry base on top of the pan of apples, quickly finishing the cooking by putting the whole pan in the oven. After turning out the upside down tart, she was surprised to find how much the hotel guests appreciated the dessert. In an alternative version of the tart's origin, Stéphanie baked a caramelized apple tart upside-down by mistake, regardless she served her guests the unusual dish.[3] Whatever the veracity of either story, the concept of the upside down tart was not a new one. For instance, patissier Antonin Carême already mentions glazed gâteaux renversés adorned with apples from Rouen or other fruit in his Pâtissier Royal Parisien (1841)."
Pretty cool, huh?
Recipe for Tart Tatin
Like many great dishes, the recipe for tarte tatin is said to have been born out of culinary clumsiness.
As National Geographic describes, "In layman's terms, it's a topsy-turvy apple and caramel tart, baked upside down so the apples stay soft and jammy and the pastry on top crisp — and then flipped over at the last minute.
This little piece of showmanship makes it the perfect dinner party dessert; impressive to look at, yet surprisingly easy to pull off — once you understand the recipe."
Peach Tatin
A peach upside down pie or peach tatin can be even more simple to make if you use a refrigerated roll out pie crust. There are several options at your grocer for this kind of pie crust. My favorite just happens to be Wewalka!
Tart Tatin Peach
To get others impressions and ideas about the tart tatin and in this case making it with peaches, hearing what other foodies have to say about this kind of pie, can shed new light on the subject. I love what Bake from Scratch says about the tart tatin.
Bake from Scratch, describes the tarte tatin like this, "It's modest in its simplicity. Yet, when eaten warm from the oven, this elegantly rustic dessert becomes deeply personal—a mouth epiphany."
Fruit Pie Recipes
Try some of my other easy rustic fruit pie recipes!
Julia Child Tarte Tatin
While this might not be the Julia Child tarte tatin from total scratch, it can be pretty darn close to the deliciousness!
This kind of dessert falls into the rustic organic farm table kind, in other words it can be kinda messy looking or scraggly appearing, but it's insanely delicious. And, that was the entire premise of anything that Julia cooked. It had to be delicious!
You'll have to take a look at my tomato version of the tart tatin. Rather than do a traditional tomato pie (which is a Southern tradition), I wanted to keep that crust crunchy and 'perky'.
And, this technique was the trick. In fact, it was so beautiful and creative that The Food Network magazine put my recipe on the cover!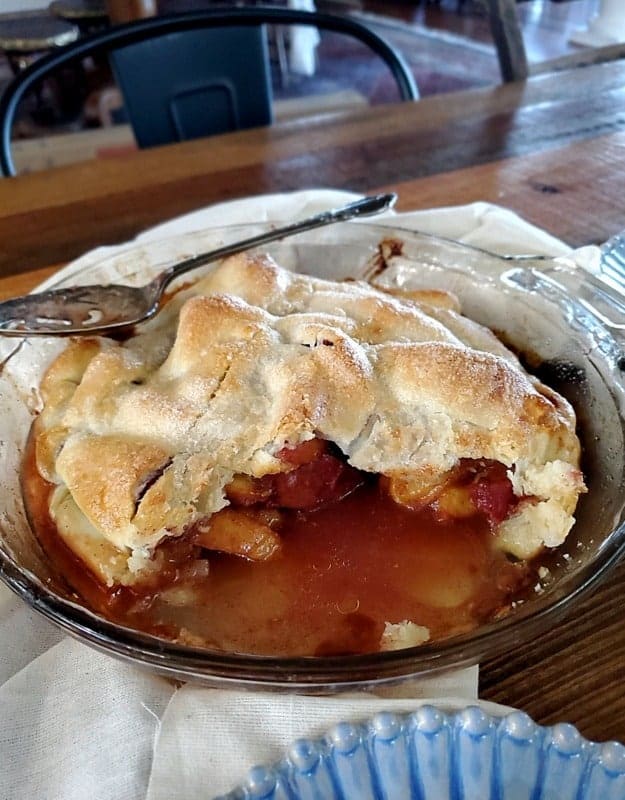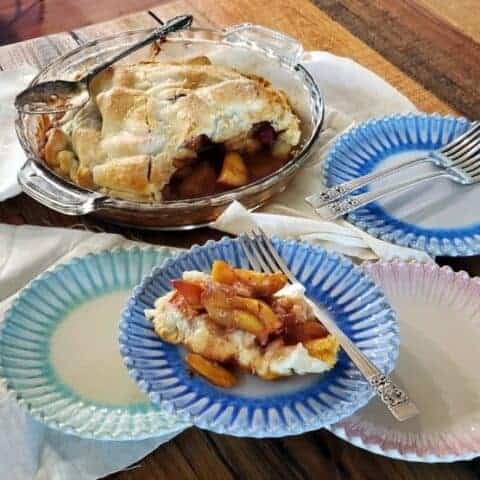 upside down peach pie tart tatin
A peach pie that's upside down! Call it a peach tart tatin, too! It's so easy, plus you have some crazy good crunchy flaky, not soggy, crust!
Ingredients
Preheat oven to 375
3 Tbl. butter, salted, solid, cut into smaller chunks, divided
6-7 cups previously frozen peach slices
1/2 tsp freshly grated nutmeg, can substitute ground nutmeg
1 cup sweetened condensed milk
1/2 cup ricotta
2 eggs, divided
1 Refrigerated roll-out pie crust, almost room temperature, rolled out
1 1/2 tsp. sugar
Instructions
Using one tablespoon of butter, grease the sides of the 8 x 12 baking dish. Put the peaches in the dish. Add the remaining butter to the peaches. Grate the nutmeg on top of the peaches/butter.

In a medium mixing bowl, whisk together the sweetened condensed milk, ricotta, one egg and one egg yolk (reserve the egg white for the egg wash on the crust). Pour over the peaches.

Place the pie crust atop the peaches. Roll and tuck in the sides. Use a pastry brush to coat the top with some of the egg white then sprinkle on the sugar. Cut three "X" slits in the crust (to let steam escape as it bakes).

Bake in a preheated 375 oven about 55 to 65 minutes or until the top is a nice golden brown. Remove from the oven. Let it cool. Ready to serve!