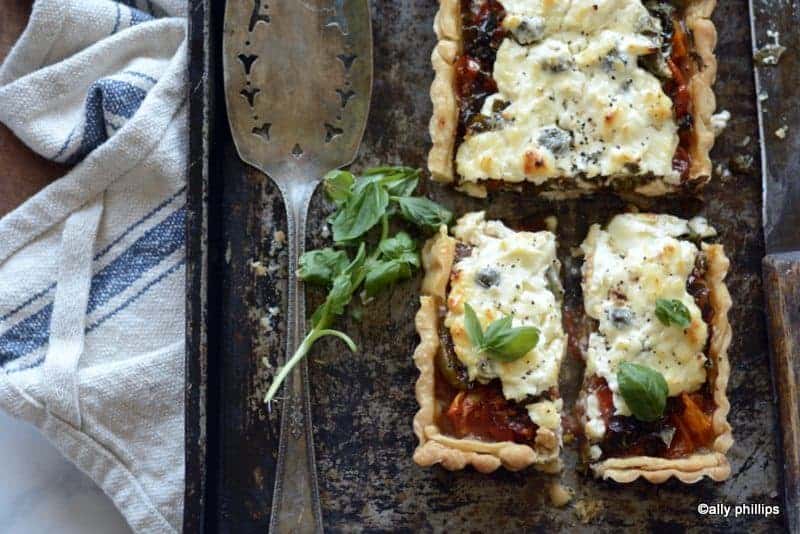 Tomato Pie. It's a Southern speciality. Now this roasted tomato onion pie is not to be confused with the Italian tomato pie. However, really my creation is cross pollination between the Southern tomato pie and the Italian version.
Now the Italian version is also called a pizza, and it derives from the Sicilian pizza. Tomato sauce is usually used as well as cheese and other toppings. The Southern version uses whole tomatoes along with basil, other herbs and cheese. It's most popular in the summer when tomatoes are in season.
Epicurious gives a history of the Southern tomato pie which they note that it's most popular in the Carolinas. Yes, my neck o' the woods. No wonder we love it. Now most folks put a healthy amount of mayonnaise in their tomato pies, but in honor of reducing the number of calories and fat content, I don't. Yes, there's nothing better than a thickly slathered mayo, tomato, salt and pepper sandwich on white bread, that being the sandwich version of the tomato pie, but this roasted tomato onion pie really doesn't need that much mayo!
There's a dual process with the tomatoes. Some are charred and roasted in the oven along with the onions and some of the tomatoes are sliced thinly and put into the pie fresh. The caramelized roasted tomatoes and onions almost have a hint of sweet. Then there's basil, fresh basil, lots of fresh basil.
Topping off this pie, which as you can I put in a tart pan for a tad bit more style, is cheese. Two kinds in fact. And, adding more style to this pie is using the cherry tomatoes that are just adorably stinkin' cute as they peek out from under the clouds of cheese topping! I also like to sneak in other subtle flavors, so check out the ingredients list. Not what you typically see in a Southern version of a tomato pie. But, true to my mantra of #adventurouspalatesonly, this roasted tomato onion pie follows suit. xoxo ~ally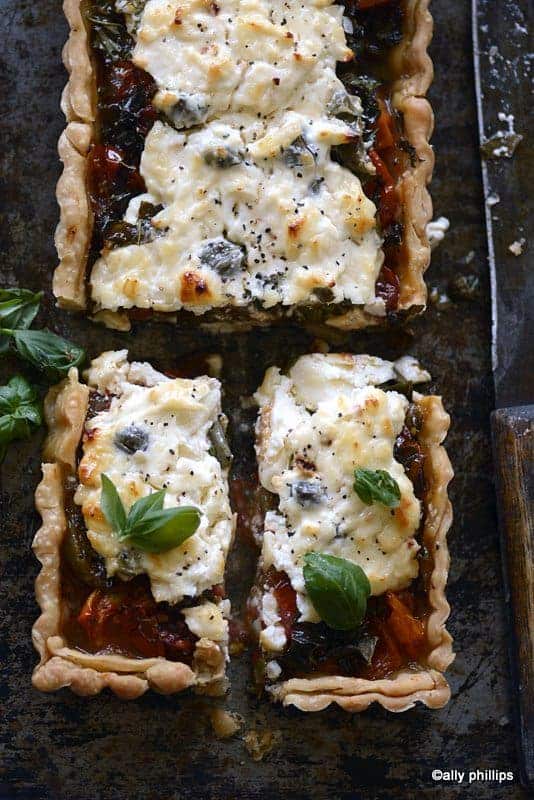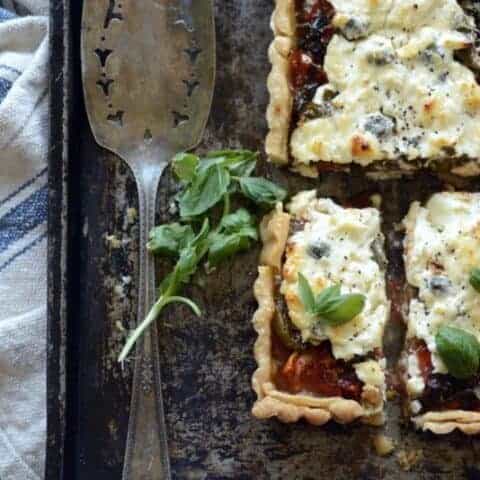 roasted tomato onion pie
Ingredients
Preheat oven to 425 then reduce to 350
1 cup sweet onions, sliced in thin half-moon pieces
4 tomatoes, medium, sliced, divided
1 ½ cups cherry tomatoes, sliced in halves
1 ½ tsp. sea salt, divided
1 ½ tsp. coarse ground pepper, divided
½ tsp. red chili flakes
2 Tbl. extra virgin olive oil
1 refrigerate pie crust, roll out
¼ cup feta, crumbled
1 cup sharp white cheddar, shredded
2 Tbl. mayonnaise
1/3 cup Greek yogurt, plain
2 Tbl. capers, drained
1 cup fresh basil, roughly chopped
Instructions
Line a cookie sheet with parchment paper.
Put the onions, three of the sliced tomatoes, all the cherry tomatoes on the cookie sheet. Sprinkle with one teaspoon of salt, pepper and the chili flakes. Drizzle on the olive oil. Roast in a preheated 425 oven for about 15-18 minutes. Remove and set aside.
Coat a 9" pie plate or tart pan (4.5" x 13.5") with cooking spray. Place the pie crust in it and mold on the bottom and sides.
In a small bowl, blend together the feta, cheddar, mayonnaise, yogurt and capers.
Place the roasted onions and tomatoes in the baking pan. Add the one sliced fresh tomato on top then the basil. Dollop on top the basil, the thick cheese mixture.
Bake in a preheated 350 oven about 32-35 minutes. Remove to a cooling rack. Cool for about 15-20 minutes.
Notes
This pie is fabulous eaten at room temperature.