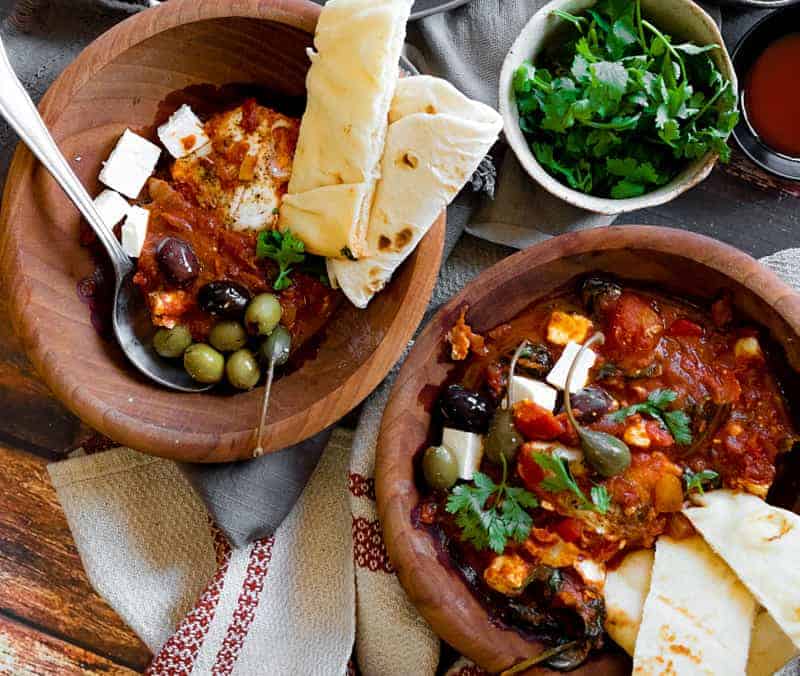 Each bite of this easy harissa shakshuka can transport you to the Middle East! Simple rustic, filling, inexpensive and absolutely delicious!
What is Shakshuka
Oh, you as, what is shakshuka! Well, it's a gloriously hearty rustic and delicious skillet of tomatoes, spices and steamed egg(s) served with lots of bread for sopping.
I'm in an outdoor cafe in Israel and tasting for the very first time shakshuka.
Shakshuka Origin
According to Wiki, "…the "original shakshuka" was made with vegetables, hard-boiled eggs, goat meat and fresh garlic. The dish was brought to Israel by Tunisian Jews as part of the mass Jewish exodus from Arab and Muslim lands, where it has become a characteristic feature of the local cuisine.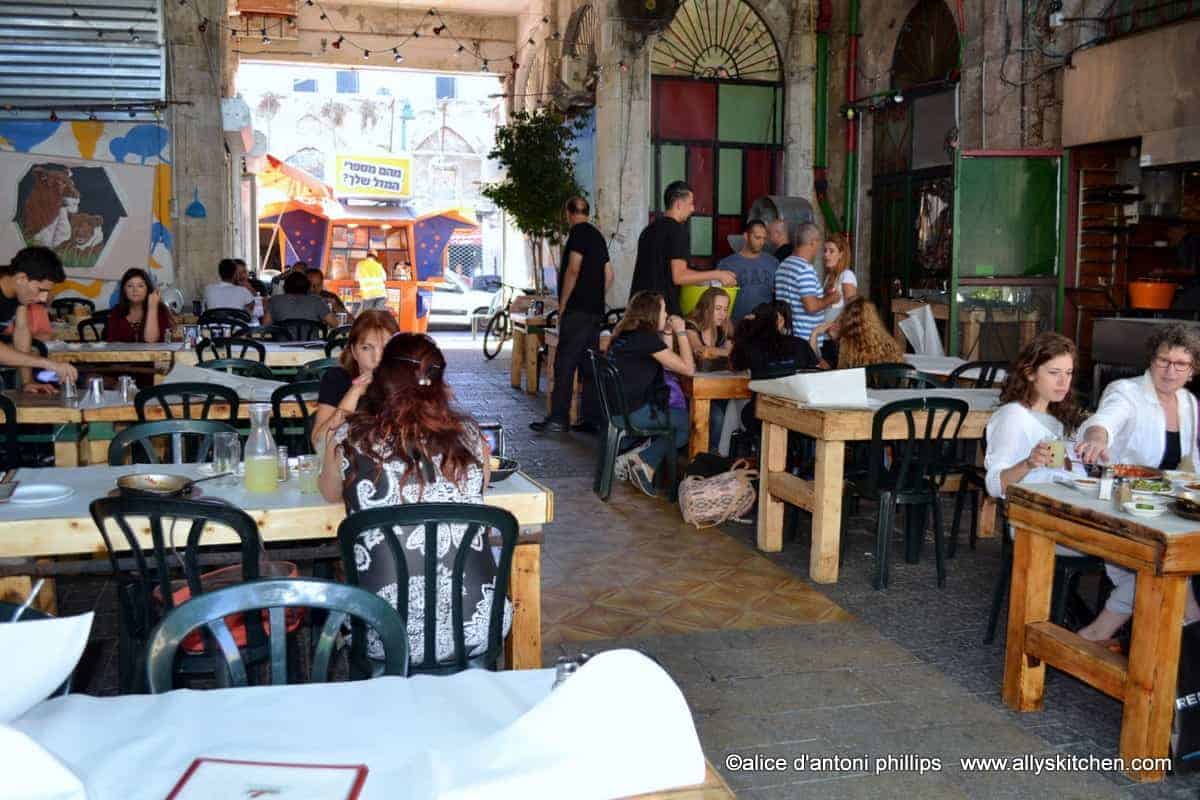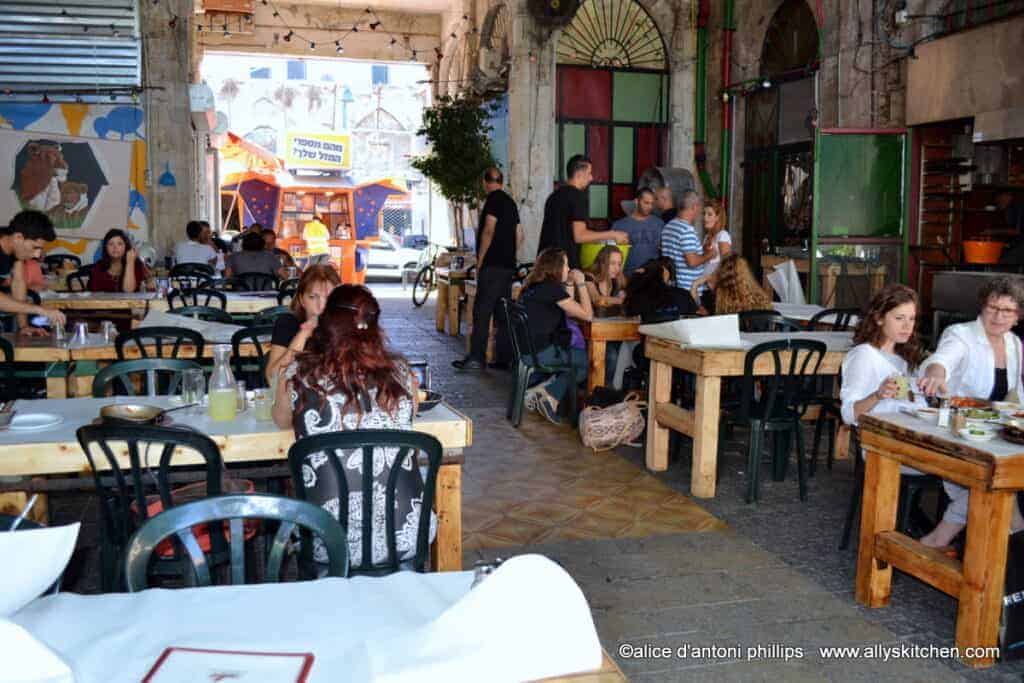 My very first experience with shakshuka was in Jerusalem. Yes, the real McCoy. I sat down at an open cafe along a side street and ordered it. It was a love affair with every sopping of the soft tender warm bread into the egg yolk and tomatoes.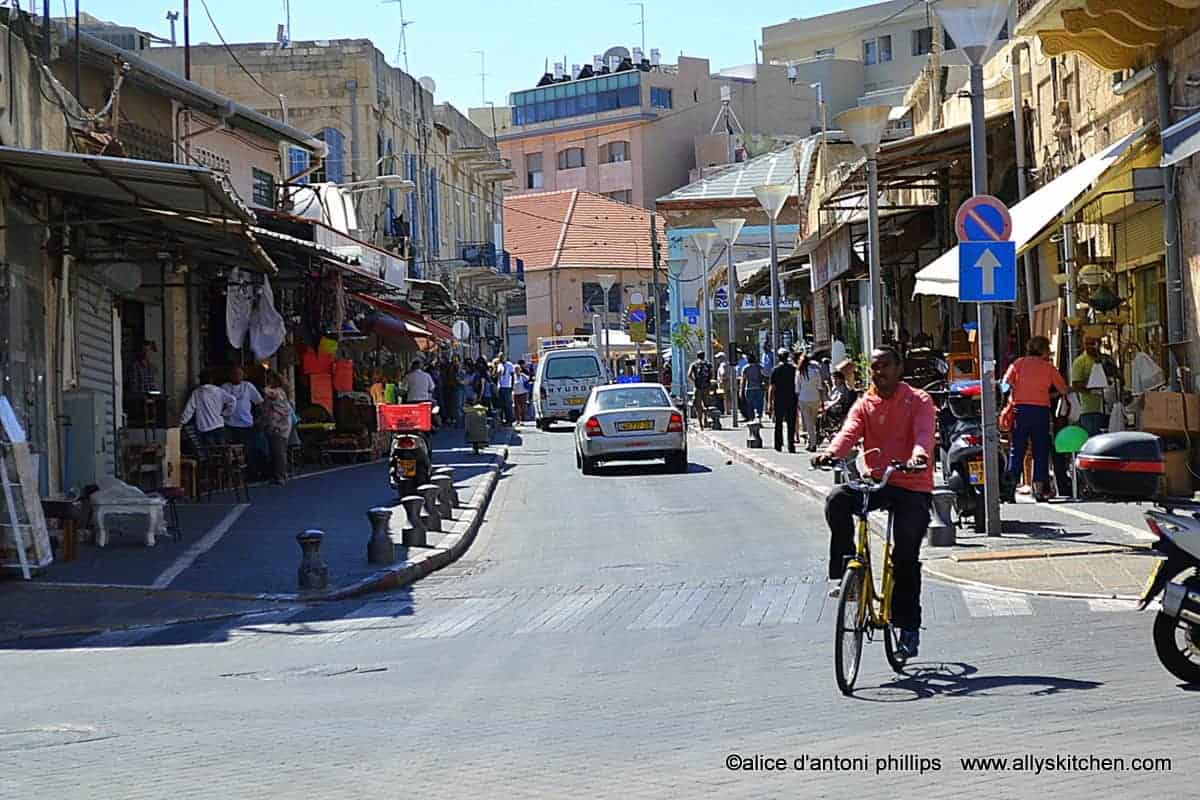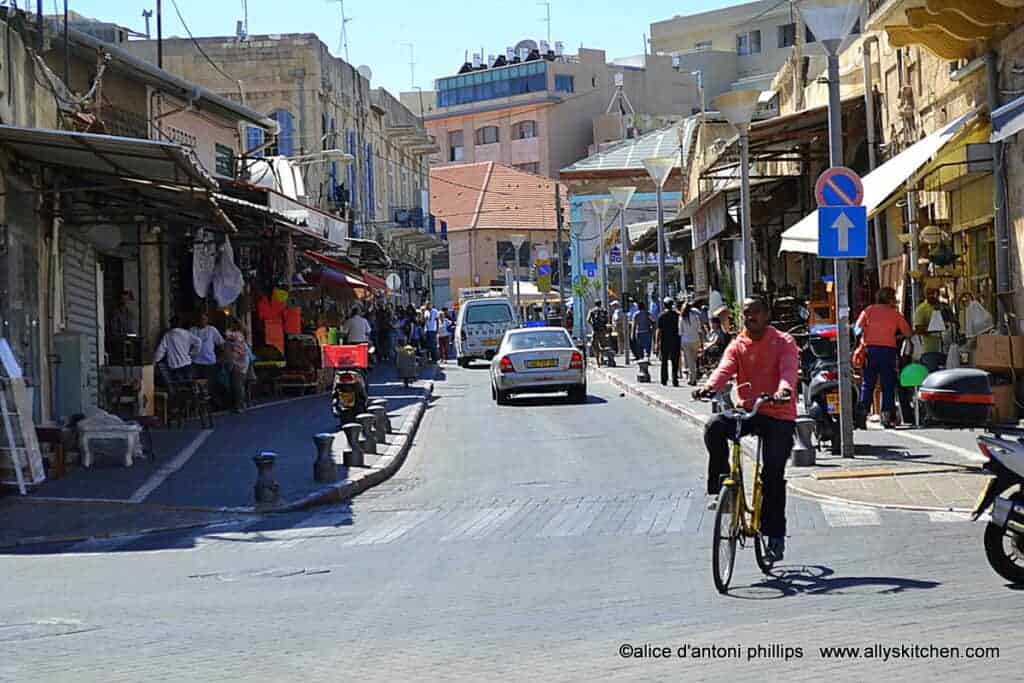 Easy Shakshuka
Easy shakshuka is an understatement. Basically, you are seasoning delicious tomatoes, preferably a very good brand of plum tomatoes, in spices, onions, bell peppers and garlic. These tomatoes cook down to a thick mixture, then the eggs are added and steamed.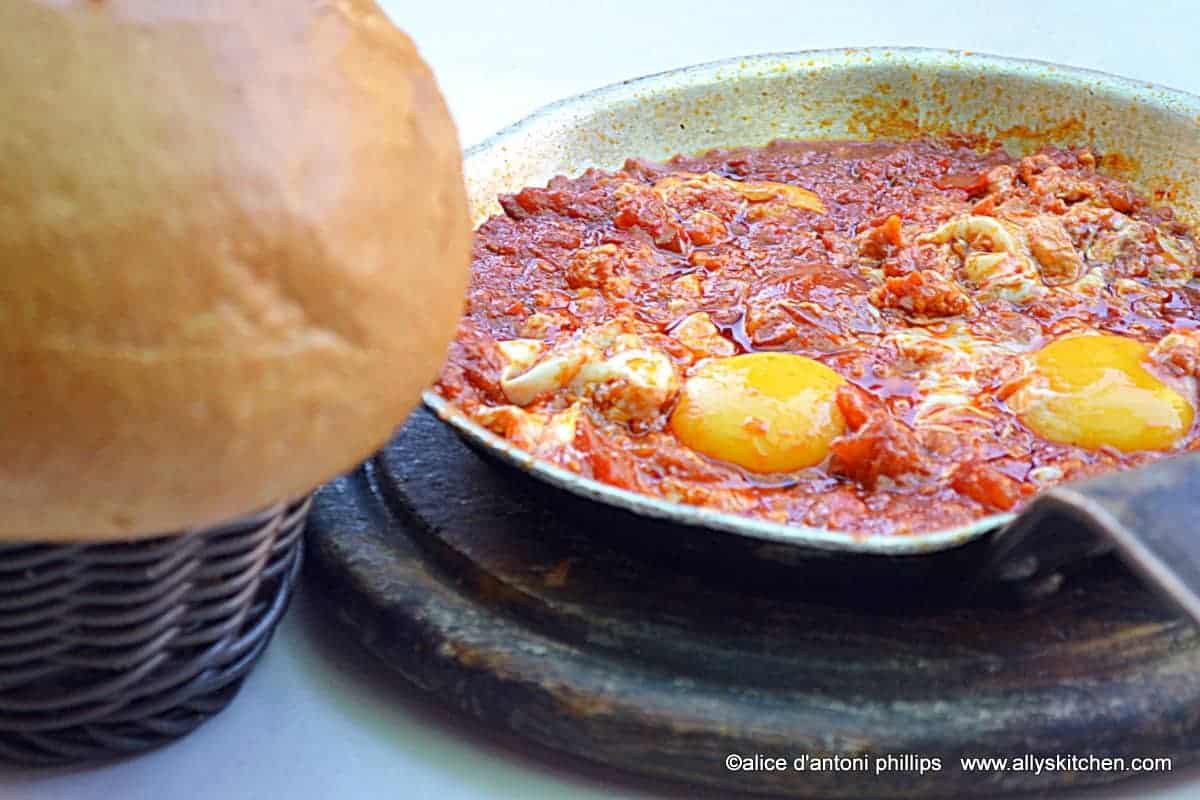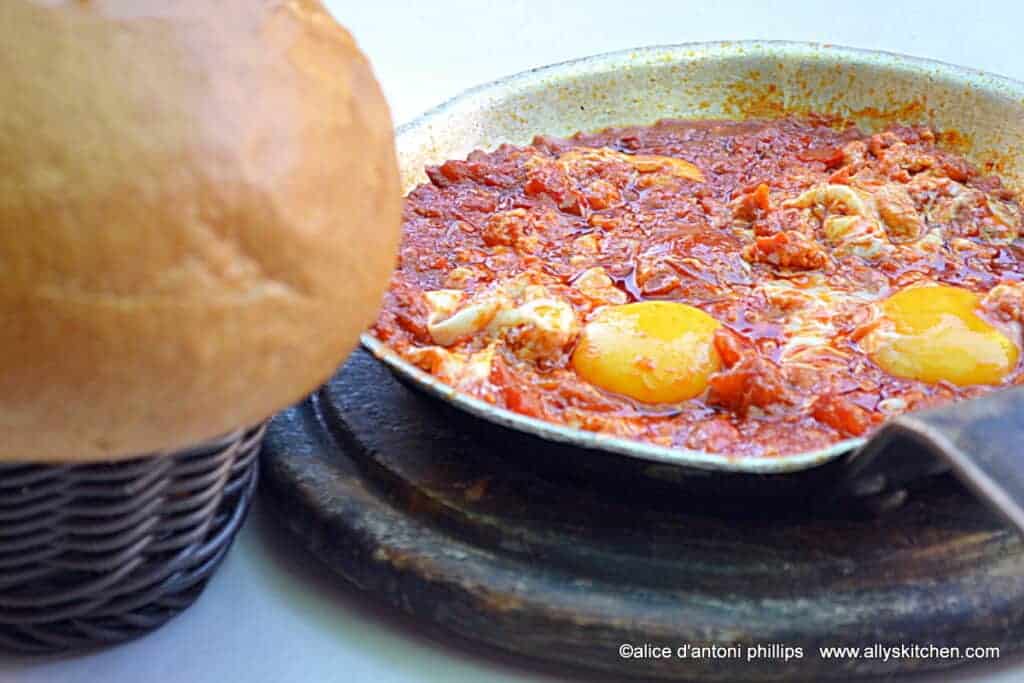 Shakshuka Eggs
Shakshuka eggs can be reated to your liking. If you want your egg yolks well done, then cook longer, If you want sunnyside like yolks, cook less time. And, if you want to add other things, like vegetables and/or beans, then you can make it more of a dinner meal.
Is Shakshuka Healthy
It goes without saying that shakshuka is healthy. Think of what's in it. Tomatoes, eggs, usually olive oil, garlic, onions, peppers, feta cheese, maybe chickpeas or spinach. Yes, it's full of great nutrition and must be eaten hot and oftentimes right from the skillet in which it was prepared.
What to Serve with Shakshuka
You can serve lots of things with shakshuka. Of course a salad would be a nice contrast to the spicy eggs and creamy tomato sauce. And, then you might just have additional olives, pickles, pepperoncini, feta, maybe some pickled corn. Get creative!
Here are some of my suggestions for dishes I've served with shakshuka!
Shakshuka with Feta
Shakshuka with feta seems so natural. The creaminess of the feta as it melts in the hot tomato sauce just rounds out the flavors. And, for me, there have to be olives.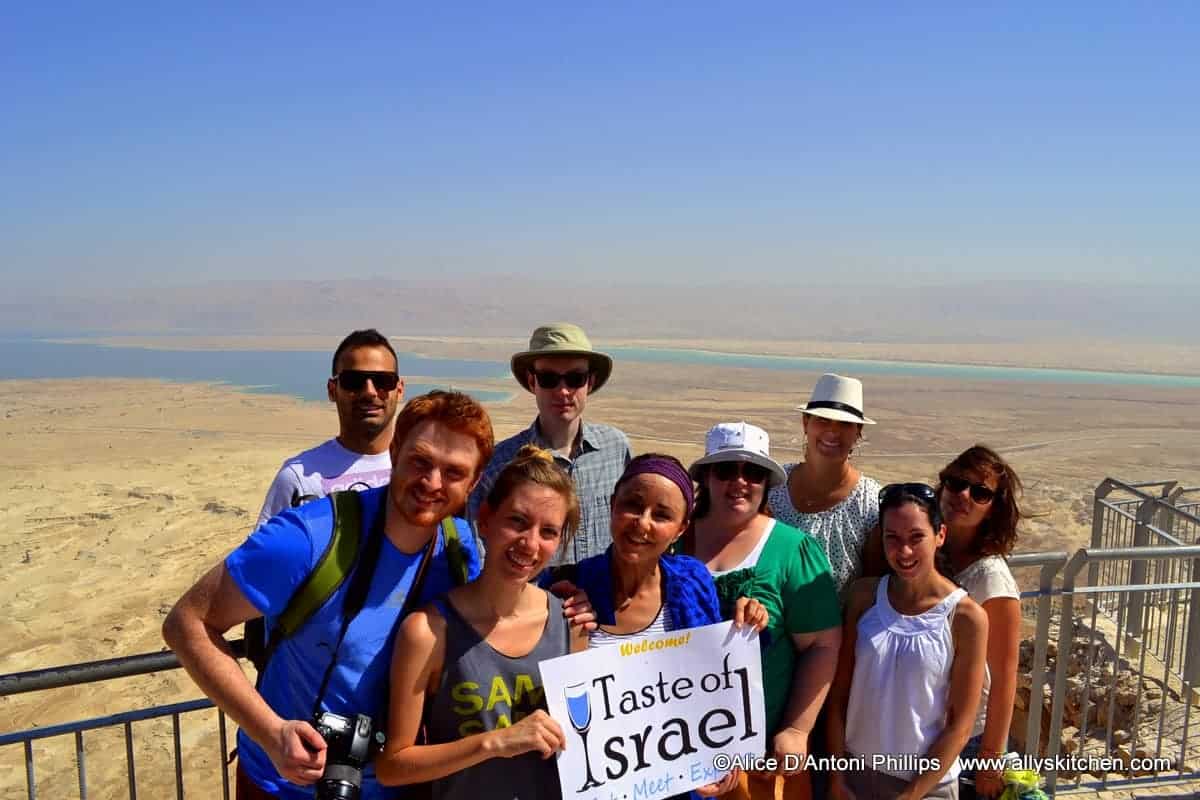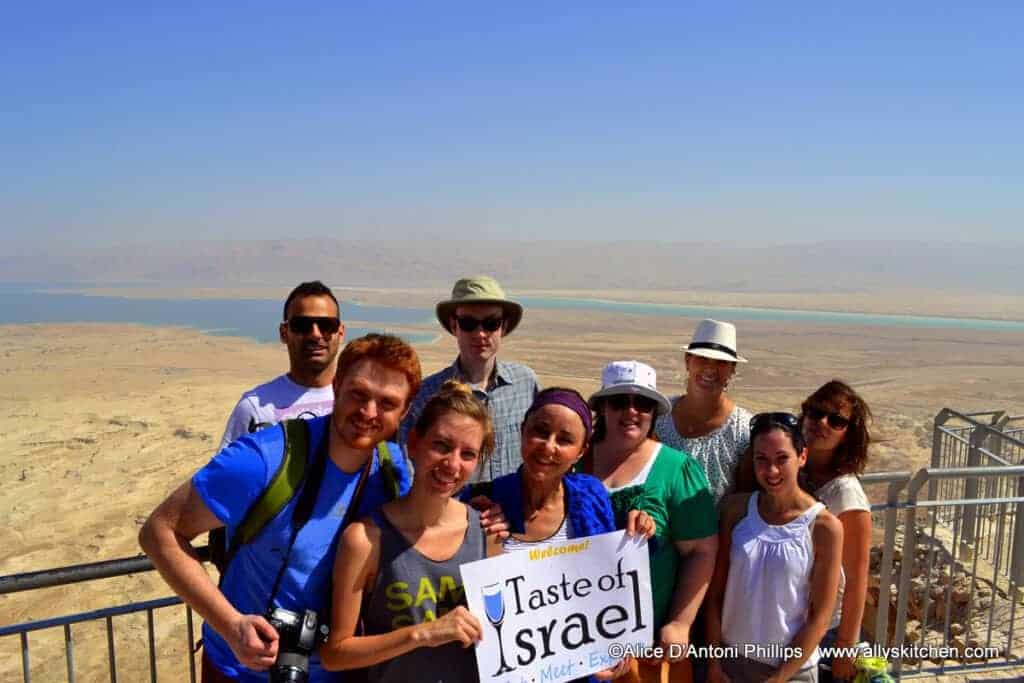 Shakshuka Recipe for One
This shakshuka recipe can easily be made for one. Just make the tomato sauce per the directions, then scoop out about a cup and a half of the sauce into another small skillet. Add your egg(s) and finish the recipe. With the remaining tomato sauce, simply refrigerate and use for more shakshuka or with pasta noodles, rice, as a soup base, whatever!
You might also like my Mexican inspired shakshuka! See if you can discern the differences between this version and the Middle Eastern version!
Shakshuka Recipe Harissa
Now my shakshuka recipe is with harissa. This North African spice mixture is a perfect match for the tomato sauce. And, I add more cumin and smoky hot paprika. Plus sometimes I even throw in some red chili flakes.
Here' my recipe for Harissa! Feel free to share!
What is Harissa
Harissa is a beautiful spice mixture. With distinct earth and nutty tones, it's got some heat going on because of the chili peppers. Don't think harissa is going to be difficult to source. It's a very trendy and really well-known spice mixture in today's markets.
How to Make Harissa
I have an easy and fabulous recipe for making your own harissa, which is super easy in my cookbook which is available on Amazon! Don't miss it! It reads like a novelette. xox ~ally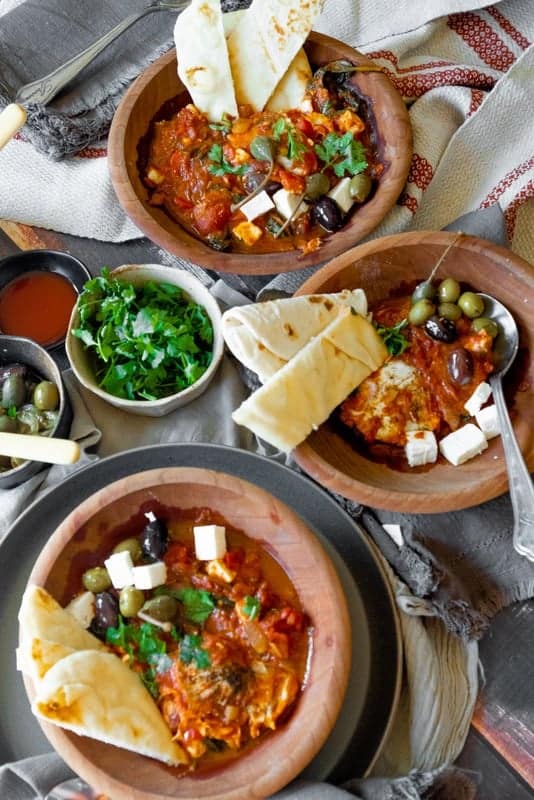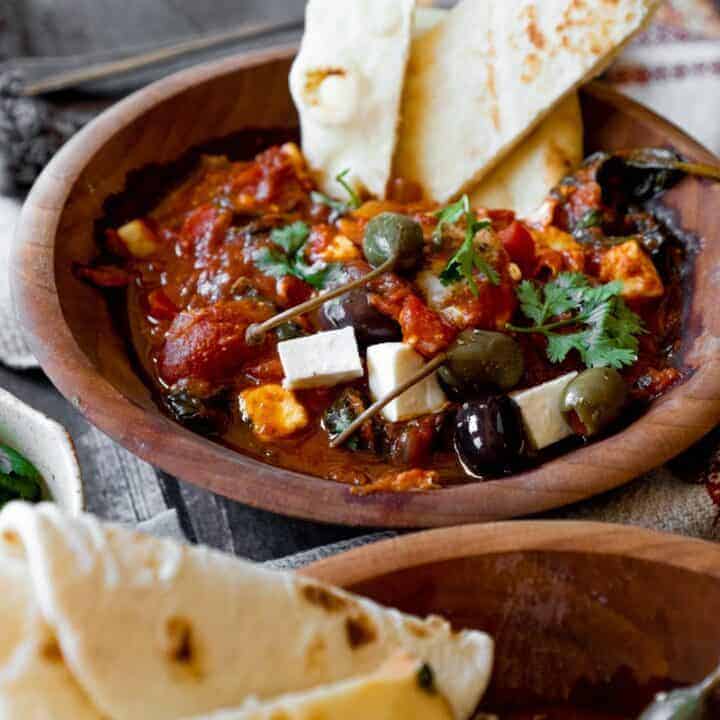 Easy Harissa Shakshuka
Each bite of this easy harissa shakshuka can transport you to the Middle East! Simple rustic, filling, inexpensive and absolutely delicious!
Ingredients
¼ cup oil
2 Tbl. garlic, chopped
1 cup sweet onions, diced
½ cup red bell pepper, dice
2 tsp. ground cumin
2 tsp. harissa
1 tsp smoked hot paprika
1 ½ tsp. salt
1 (28 oz.) can San Marzano whole tomatoes + 1 cup water
1 cup feta cheese + more for serving
3 cups fresh spinach leaves
4 eggs
½ cup fresh cilantro, chopped
Instructions
On a medium high blaze, heat the oil and add the onions. Sauté about 3-4 minutes, reduce heat to medium then add the garlic and continue cooking another about two to three minutes. Add the bell peppers and cook another about three to four minutes.

Combine the cumin, harissa, paprika and salt in a small bowl and mix together. Sprinkle on the onion/pepper mixture and cook about three minutes.

Increase the heat to medium high and add the tomatoes and water. Cover and cook for about 18 to 20 minutes. Smush and break apart the tomatoes as it cooks. Stir occasionally. The sauce will thicken.

Add the feta cheese and spinach leaves and fold into the tomato mixture.

Take your spoon and make small wells or 'nests' as best you can. Crack an egg in each space. Sprinkle eggs with salt and pepper.

Turn heat to medium low. Cover and let the eggs steam/cook to your desired finish, about 8 to 10 minutes for a soft yolk.

Sprinkle with cilantro.
Notes
To cook the whites and yolks more, all the mixture to simmer longer. You can take a wooden spoon and gently move the egg white around into the tomato mixture to cook faster.

Get creative and add to your tomato mixture. Things like drained chickpeas, cooked lentils, other types of drained beans. Also, think about vegetables, diced, zucchini, eggplant, squash, etc.