The Best Maple Mustard Vinaigrette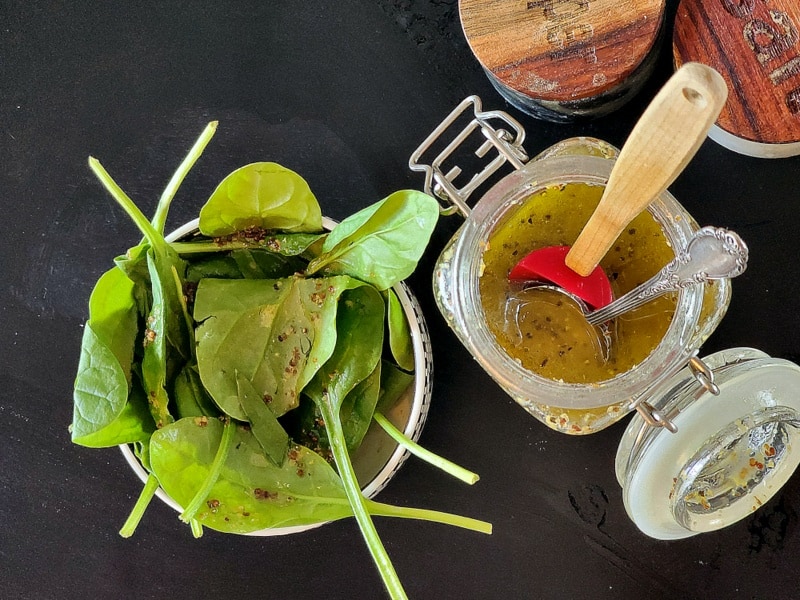 Honestly, you could put this maple mustard vinaigrette on shoe leather and you'd be saying yumm yummmm delicious! It's that good!
View this post on Instagram
Maple Mustard Vinaigrette Recipe
This is going to be you go to recipe for salads, roasted vegetables, and more!
The possibilities for using it extend way beyond the expected.
But, wait, you have another option. For sure, my anti-inflammatory turmeric ginger vinaigrette. I must say, divine!
Creamy Maple Mustard Dressing
What makes this maple mustard dressing outstanding?
It's the ingredients. And, it's the quality of the ingredients.
I strongly recommend that you use each of these in the recipe.
Authentic French Stone Ground Mustard (LARGE SIZE)
Authentic French Stone Ground Mustard (SMALL SIZE)
Maple Vinaigrette
There's something about the contrasting flavors in this vinaigrette that bring it all together. It really packs a delicious punch.
If you're making roasted vegetables, like this Easy Roasted Vegetables and Sausage, try drizzling some of the vinagrette on servings. Just a drizzle and tad. It's that 'pro' move that takes your dishes to another level.
Maple Mustard Vinaigrette Dressing
Yes, you can store this dressing in the refrigerator. It's going to keep at least a week or ten days. However, I'm sure you'll use it up way before that time!
Here's another simple vinaigrette that's been made by hundreds of my followers and everyone loves. It's a tad bit different. Very French, and super simple!
Lemon Maple Dijon Dressing
Honestly, I don't recommend Dijon for this recipe. While similar, there's something about the stone ground that's better. Buuuuuut, if you must, then have at it.
Stone ground mustard and Dijon mustard are both made from mustard seeds. However, stone ground is just a bit more mild than Dijon. That's because the many of the seeds in stone ground are not ground or crushed. This releases more spice and flavor into the mustard, hence, Dijon mustard's Spicer taste.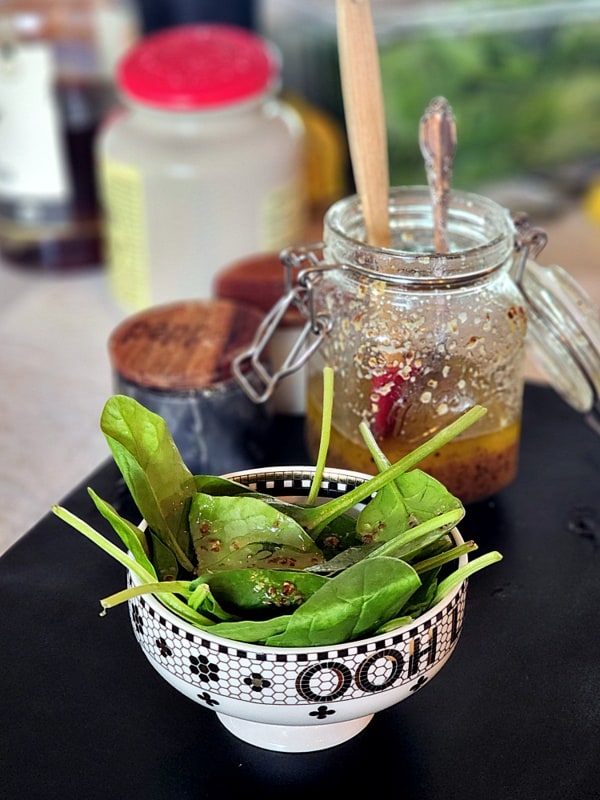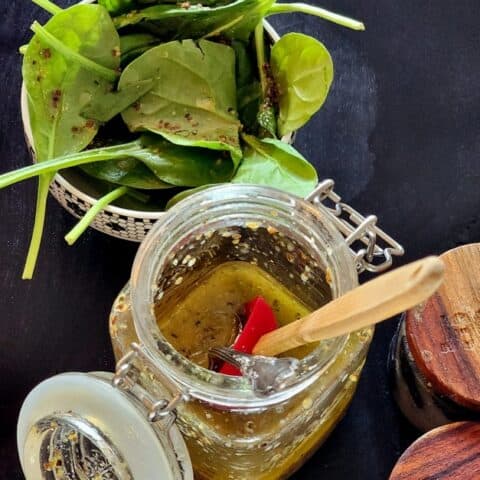 The Best Maple Mustard Vinaigrette
Ingredients
3 Tbl. French Stone Ground Mustard
1/4 cup extra virgin olive oil
4 TBL. maple syrup
1 lemon, juice only
1 tsp. coarse ground pepper
Sea salt to taste
Instructions
Combine all ingredients in a small bowl or jar (with lid). Whisk and blend well. If using a jar with a lid, shake well. Enjoy!