Breakfast is probably my favorite meal of the day. I love eating. And, I love eating even more when I've got an empty stomach. For me, breakfast can happen anytime between when I awake, usually around 7 (sometimes earlier upon demand), and 11 a.m. I suppose that would technically be considered 'brunch', right?
Anyway, it's fair game to have about anything you want for breakfast. Having traveled so much, I do know that breakfast is quite different around the world depending upon the country and culture. Take a look at some of the ways folks eat that first meal from BuzzFeed! It's really cool!
This breakfast tray is a combination of flavors and textures. It's got salty, sweet, juicy, creamy, tangy, tart, crispy, crunchy. It leans towards Middle Eastern, which I love. You could add some nuts, dried fruit, like dates and apricots. And, you might even throw in a sweet pastry or chocolate.
You can change up and swap out what you put on it according to your likes. But, you should try the sauteed warm grapes with pepper and mint. Reeeeeally great! Why not surprise Mom on Mother's Day or Dad on Father's Day with this special treat in bed. Coffee, tea, maybe a mimosa or some champagne. Imagine the ecstasy! xoxo ~ally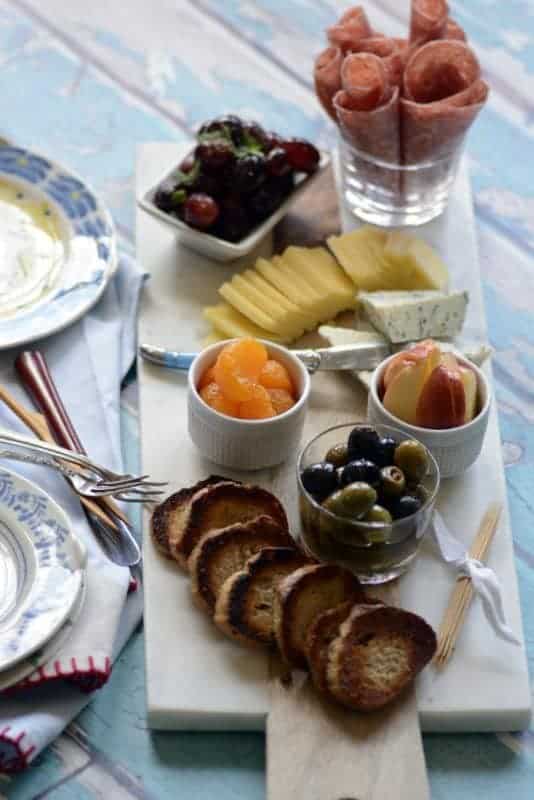 Ingredients
LEMON PEPPER GRAPES
1 Tbl. butter
2 cups red grapes, seedless
1 tsp. coarse ground pepper
1/2 lemon, juice
1 Tbl. fresh mint, chopped
Two type of cheeses (I chose asiago & blue cheese.)
1/4 cup Dole Sunshine mandarin orange slices, drained
8 salami slices
1/2 apple, sliced
1/3 cup deli olive mix
8-10 French bread slices, buttered & grilled
Instructions
In a skillet over medium heat, melt the butter. Add the grapes. Toss and coat with butter. Sprinkle on the pepper. Blend. Add the lemon juice. Toss and blend. Turn off heat. Add mint when ready to serve. Set aside until ready to put on serving tray.
Arrange on a tray all of the nibbles. Enjoy!
Notes
Why not add one stem of a pretty flower in a very small bottle (like an empty spice bottle).
Choose some interesting and eclectic small plates. This is 'mezze' or 'tapas' eating at its finest. Make it special!
Cloth napkins a must!
https://allyskitchen.com/breakfast-nibbles/
©ally's kitchen intellectual property