This is really a super easy pot roast! Just a few ingredients, let it slow cook and you have this sweet and spicy beef roast.
Now I love a good pot roast and with this one, you can choose to do in the oven or in a slow cooker. I've never had any real luck with doing a pot roast on the stovetop, but maybe you have the secret! This roast can be cooked then frozen in freezer bags for later use. It's a great way to have something home cooked in no time at all, so buy an extra large roast, double this recipe and save freeze more for later!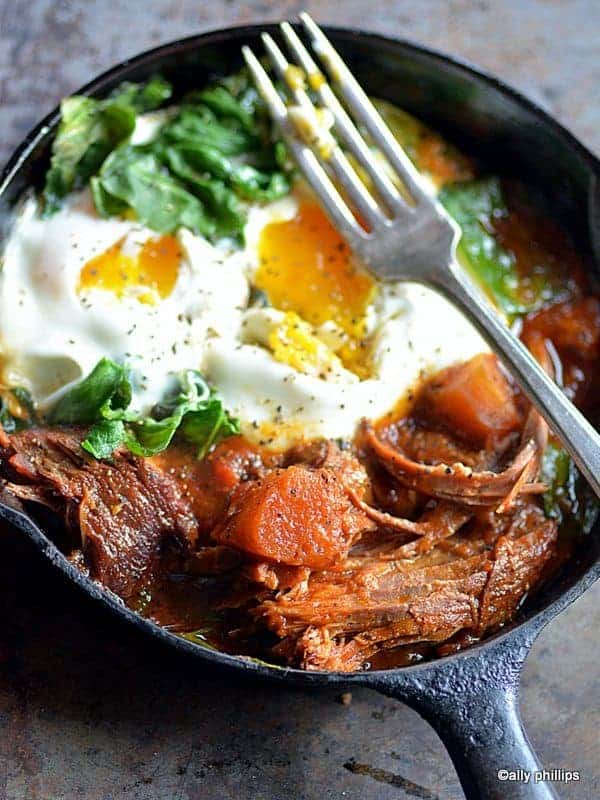 sweet and spicy beef roast
Ingredients
Preheat oven to 425
2 to 2 1/2 lb. beef roast, chuck or rump, cut into 2-4 pieces
3 Tbl. Bacon drippings, canola oil can be substituted
1 cup water + more when cooking
1 tsp. sea salt
1 tsp. coarse ground pepper
1 tsp. sriracha
3-4 bay leaves
4 garlic pieces, peeled and smashed
½ onion, chopped
8 oz. can pineapple chunks, with juice
1 (15 oz.) chopped tomatoes
1 ½ cups tomato vegetable juice
Instructions
Put the drippings in a heavy Dutch oven over medium high heat. Brown the meat well getting a caramelized coating.
Remove meat to a plate. Deglaze the pot with 1 cup of water. It will be a rich dark brown. Scrape the sides and bottom of the pot getting all the good flavorings.
Add the salt, pepper, sriracha, bay leaves, garlic, onions, and pineapple chunks and blend. Add the meat back in. Top with the chopped tomatoes and vegetable juice. Cover tightly and put in a preheated 425 oven for 60-75 minutes. Add 1 to 1 ½ cups of water to the pot.
Recover and cook another hour. Add another 1 to ½ cups of water (or vegetable juice), cover, and turn off oven. Leave roast sit in the oven until ready to serve (if within an hour or so).
Notes
This tender beef roast can be used for sandwiches and more!
https://allyskitchen.com/sweet-and-spicy-beef-roast/
©ally's kitchen intellectual property