The Awesome Easy Pineapple Skewers Dessert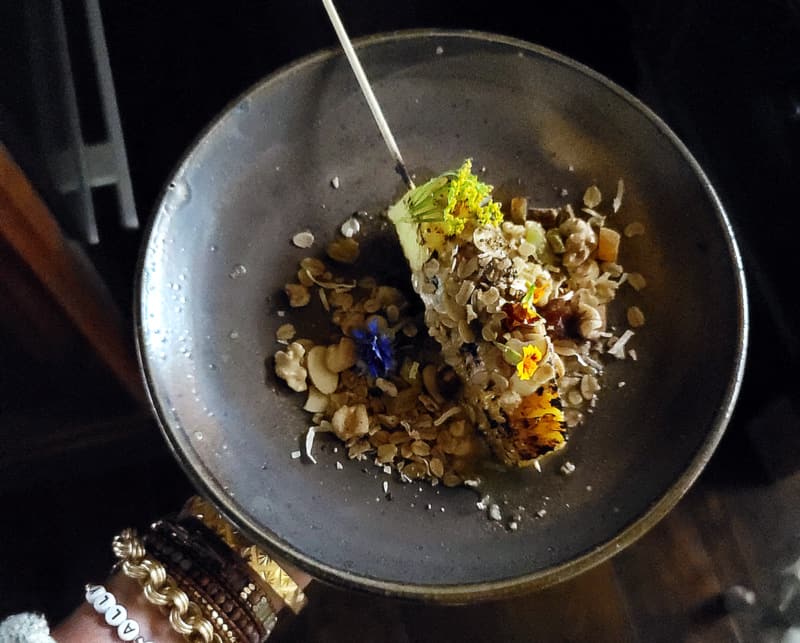 Easy Pineapple Skewers Dessert is the dessert that WOWS! Freshness explodes. And, with the Dead Sea Granola, well, the flavors sparkle!
Easy Grilled Pineapple Skewers
Oh, you're going to absolutely LOVE this dessert! So simple and easy, it's hardly any work at all. And, the great thing about it is that you can prepare the skewers ahead of time and refrigerate until you're ready to grill.
Pineapple Fruit Skewers
Pineapple is the perfect fruit to grill. Oftentimes done with meats like chicken and seafood, it's just so much more intensely flavorful when you grill it.
Pineapple Skewers Dessert
Creating this pineapple skewers dessert was really quite simple! Very special friends who're like family, Bobby, Dessi and Rose from FlavCity, were visiting, and we were doing an all grilling dinner meal. I was in charge of dessert!
Grilled Pineapple Skewers Recipe
And, since I'd just made a big batch of my Dead Sea Granola, I knew that the grilled pineapples with the granola would be an explosively popular way to end the meal. Not too heavy. Not to sweet. Naturally giving you that satisfied sweet dessert feeling!
So, the big thing is to make the granola, which you'll have for soooooooooooooo many other uses, too! Trust me, it's the best you'll taste! And, you know the ingredients because you're in control.
dead sea granola
Grilled Peaches and Pineapple Skewers
Nothing's more gorgeous and delicious than grilled fruit. And, I grill just about anything if I think it'll hold up to the heat.
cardamom & cloves grilled peaches
Vegetarian Pineapple Skewers
Now these pineapple skewers are prefect for those who might be vegetarian, too. And, if dairy is an issue, just use non-dairy yogurt.
Caramelized Pineapple Skewers
You can use pineapple chunks on skewers with meat chunks. For instance, take these red curry chicken skewers. Just add some chicken or shrimp or both, and you have a new creation.
red curry chicken skewers
Grilled Pineapple Skewers Cinnamon
I'm using two spices on the pineapple spears. You're going to have a little 'heat' when you use the Harissa (and here's my very simple homemade recipe!), then you'll get the warm somewhat sweet of the ground cinnamon.
And, just in case you think you'll not use Harissa often, well, think again. Here's a Round Up of some of my fave Harissa recipes!
Amazingly Easy Harissa Dishes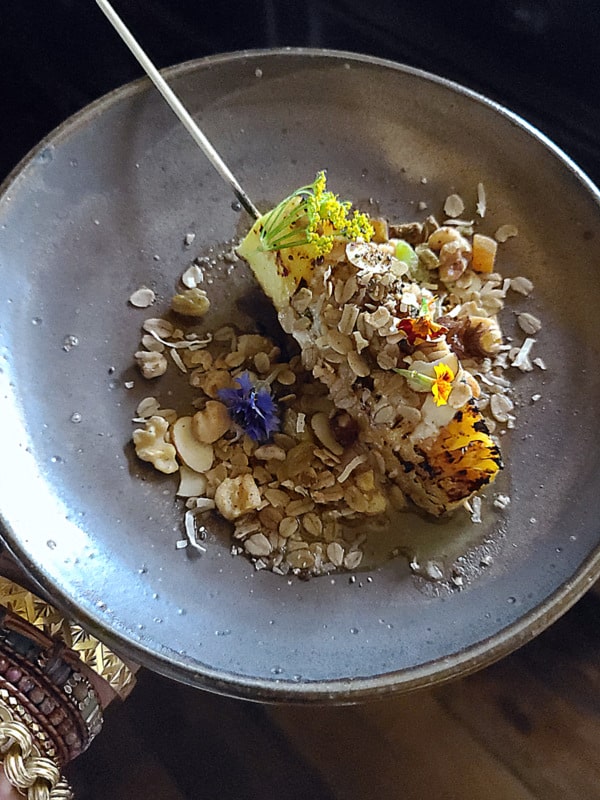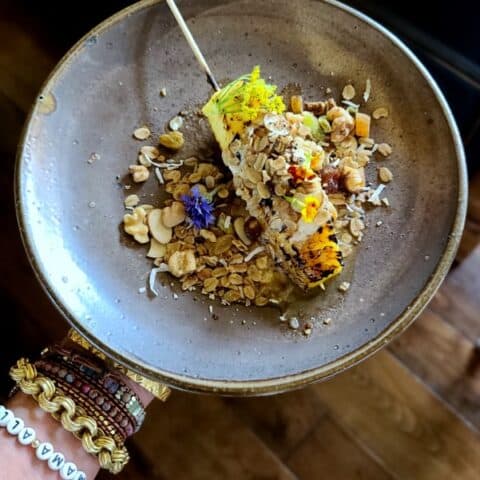 The Awesome Easy Pineapple Skewers Dessert
Ingredients
6-9 8" skewers, soaked in water for about an hour
1 whole fresh pineapple, peeled and cut into skewer spears yielding 6-9 pieces
2 tsp. harissa spice mixture
2 tsp. cinnamon
2 cups Greek yogurt, plain, check NOTE below for Vegans
3 cups Dead Sea Granola, see recipe at allyskitchen.com
GARNISH:
Warm honey
Warm maple syrup
Edible flowers
Instructions
Heat a grill to about 400. Soak the about 8" skewers in water for about an hour. Skewer one pineapple spear onto each of the soaked skewers.
Lightly coat the pineapple with avocado or coconut oil spray. Sprinkle onto the skewers the harissa and the cinnamon.
Place on the hot grill and cook for about 2 to 3 minutes then turn and grill another couple of minutes just until the pineapple begins to caramelize, get grill marks and is hot.

Serve each of the grilled pineapple skewers with yogurt, granola and a drizzle of honey or syrup and edible flowers (optional).

Notes
VEGANS: My vegan friends, please use a yogurt made from plant-based sources, such as peas, soy, coconut, cashews, and almonds.
At times, you may be able to purchase fresh pineapple already cut into spears.
This recipe will also work with a different cut of pineapple. You can cut into large cubes and skewer 3-4 cubes per skewer.
Take a few seconds to warm the honey or maple syrup. It's so worth it!
If you want to serve with a sorbet or sherbet or even an ice cream, that works, too.
I've not tried this recipe with canned, jarred or frozen pineapple. It probably would work, but the fresh pineapple is just a cut above for this presentation and the flavors.