Chocolate Whipped Crème Filled Tart Cake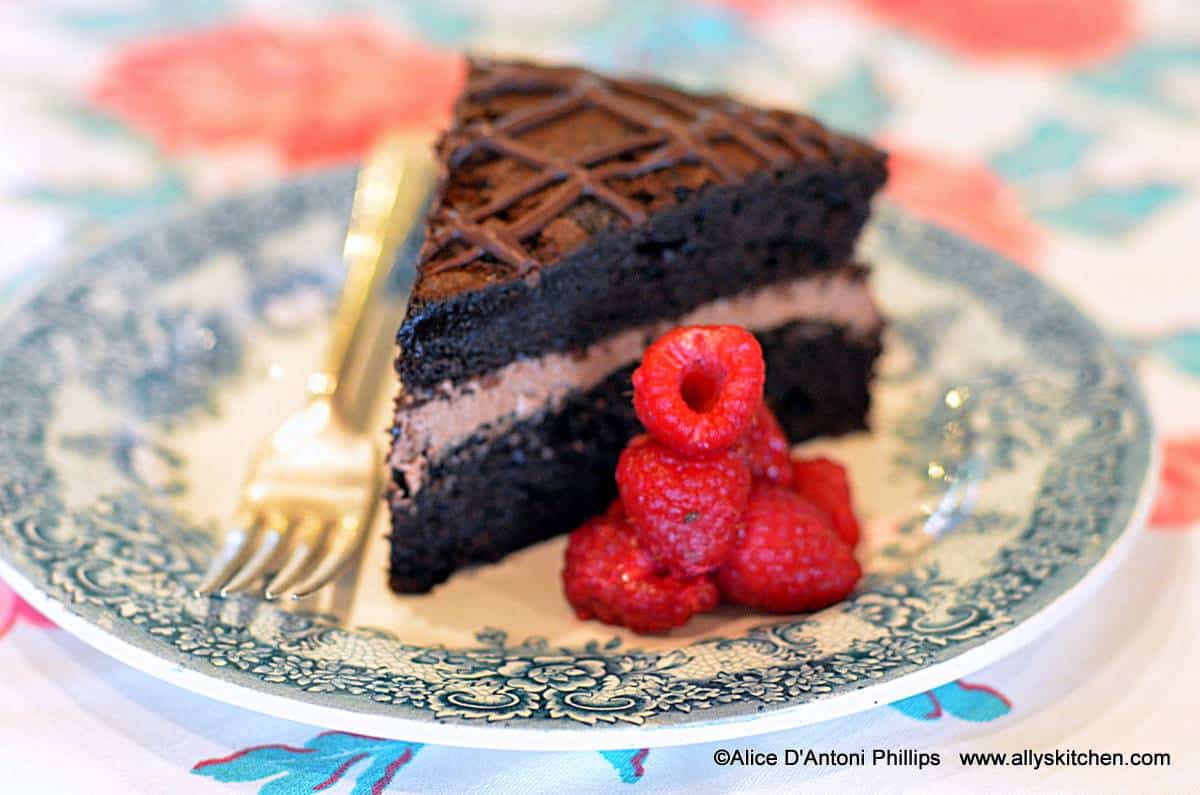 When my boys were growing up, birthdays were always a big deal.  Not like many of today's kids' birthdays where complete entourages of clowns, horses, or entertainers are brought in and there's a location destination.  No, these were birthday parties that were 'themed'~~the kind where I went to the Dollar Store or a party store and bought Star Wars hats or Mickey Mouse horns.  And, the parties were always at home~~sometimes in the back yard in the summer where the water hose would be the main fun attraction or in the family/dining room where all the kids were playing, eating hot dogs and waiting for THE CAKE!
And, THE CAKE was always a boxed cake. Always a chocolate cake. And, always filled with cheap little candles that delighted the kids to no end!  Today boxed cakes are even better than back in the day, so when I asked my oldest son what kind of cake I should make for my sister's birthday party, to which, he, of course, is coming~~even 30-something year olds still love birthday parties~~he said chocolate!  Well, I've snazzed this cake up just a tad from the chocolate cakes of the 1980s and 1990s, but it's still a box cake, and that's the beauty of it~~it's transformed into something totally amazing with ganache and a cream filling!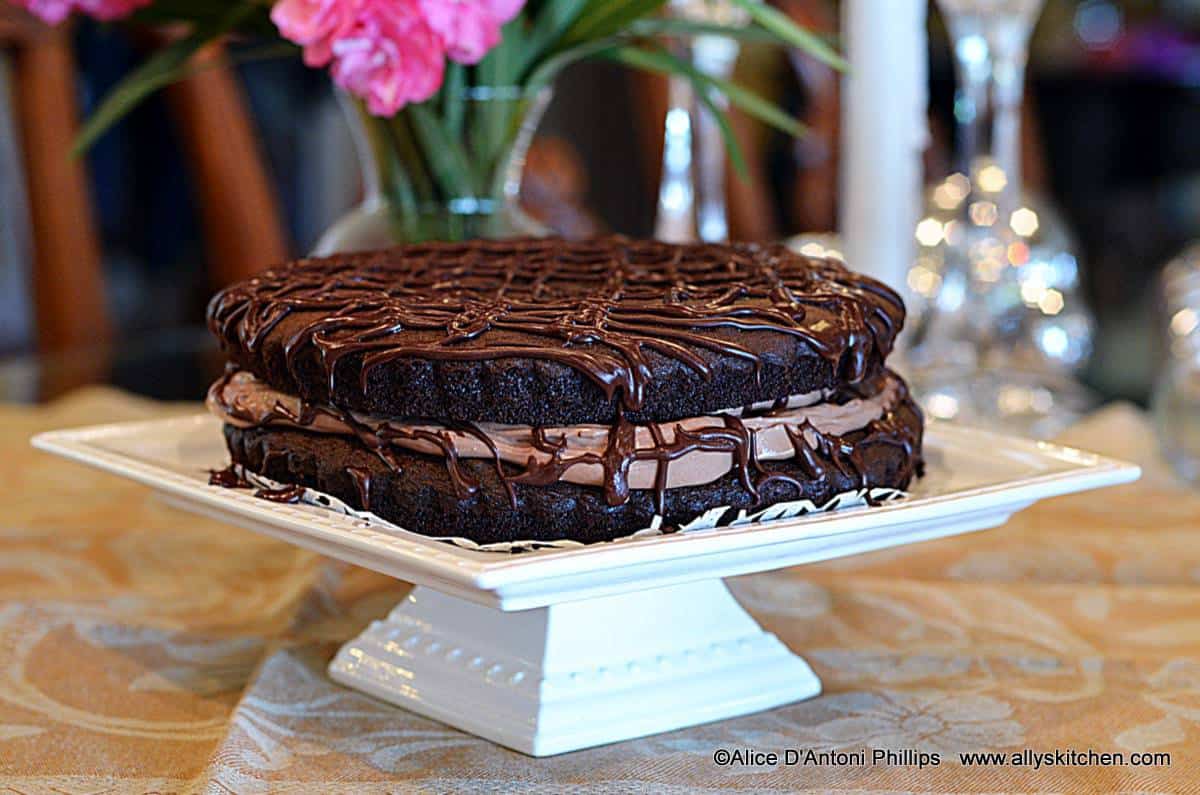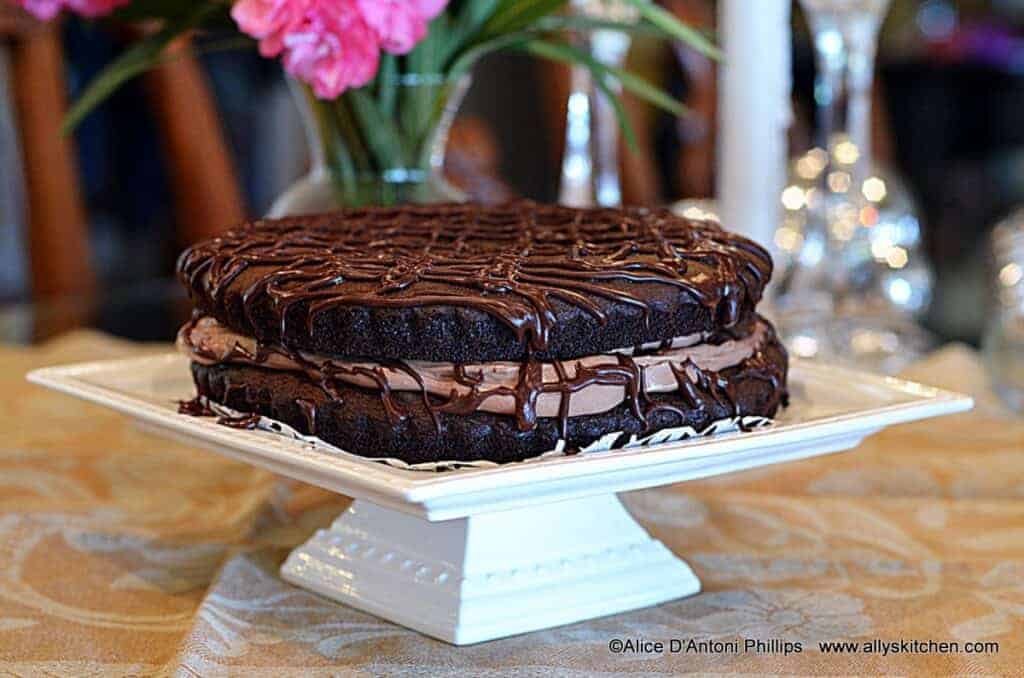 Makes: 1 cake
What you need:
Cake:
One boxed chocolate cake mix (buy the best brand you can afford)
Filling:
½ cup mascarpone (or whipped cream cheese)—room temperature
½ cup sour cream
1 tsp Rodelle Chocolate Extract
1 ½ tsp finely ground coffee (I used Coffee on the Porch 'Frank Sumatra' blend.)
4 heaping tbl powdered sugar
Pinch sea salt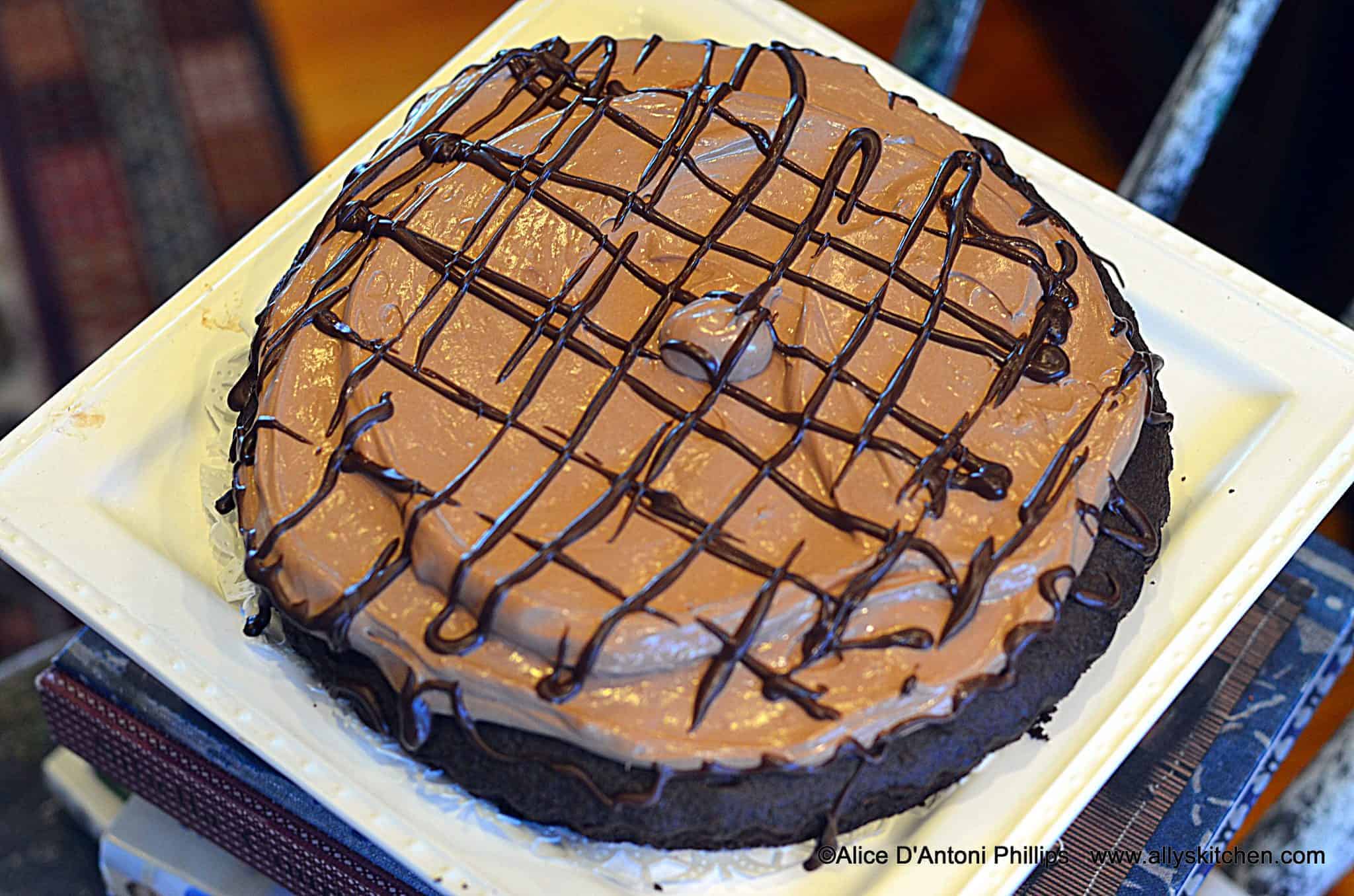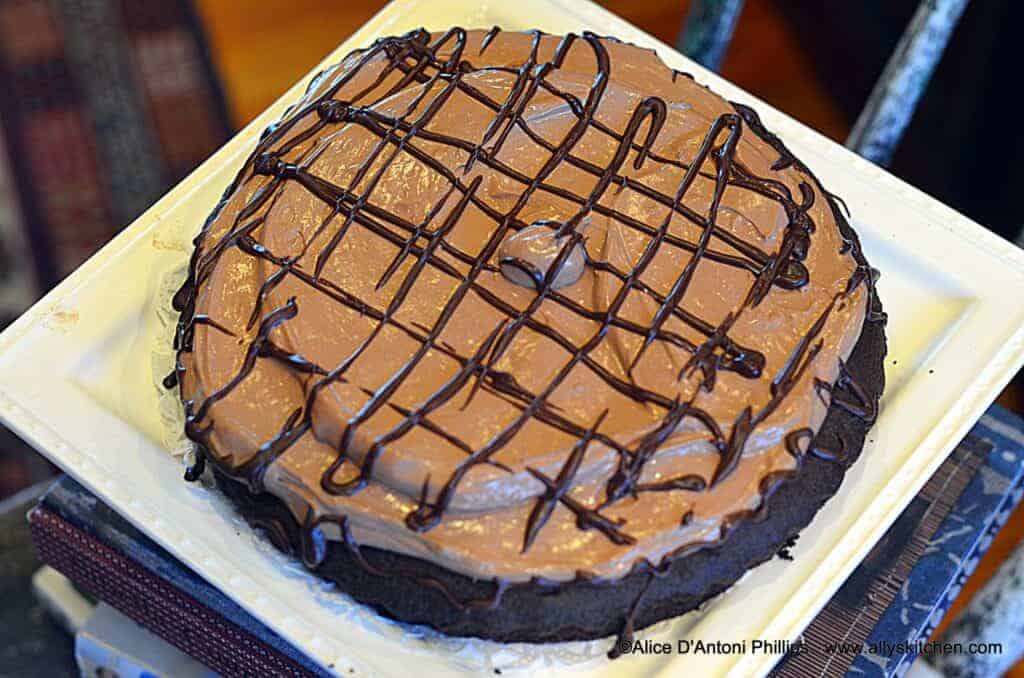 Chocolate Ganache:
12 oz 60-70% chocolate pieces
1 cup cream (or half and half)—take chill off by microwaving about 20 seconds
1 Tbl. butter
1 tsp. Rodelle Chocolate Extract
Pinch sea salt
Garnish:  Fresh raspberries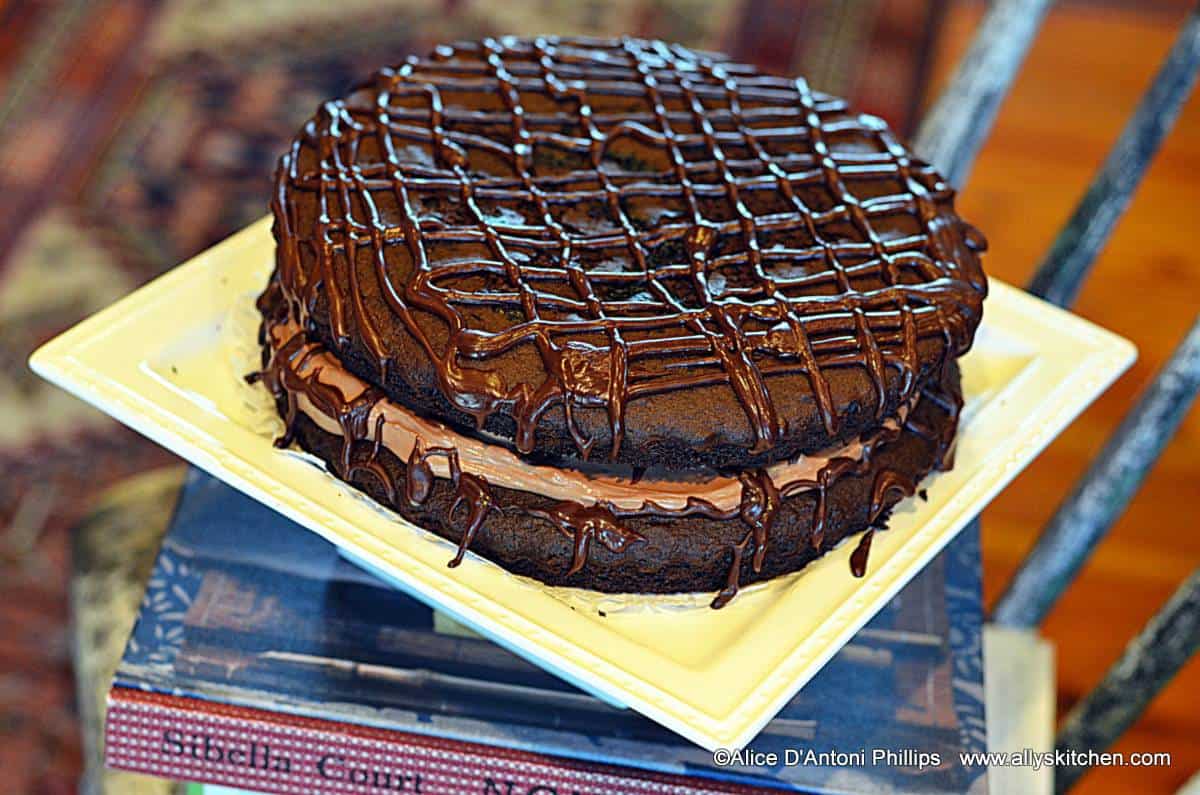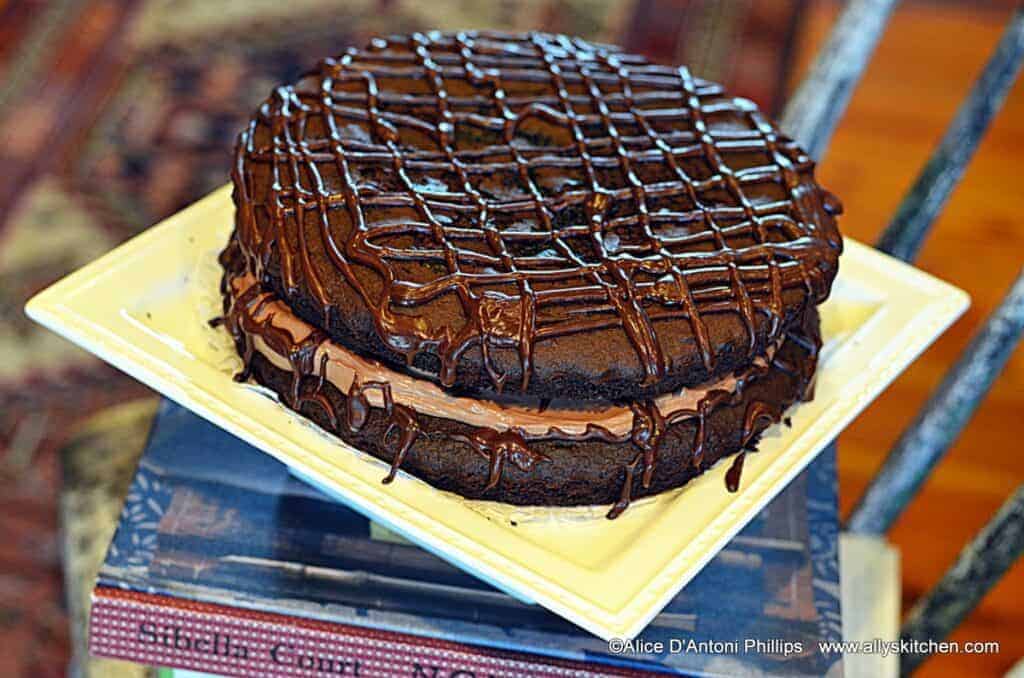 What you do:
Cake:  Prepare according to box directions making two layers.
Filling:  Combine the mascarpone, sour cream, chocolate extract, coffee, powdered sugar and salt in a bowl and whip with a hand mixer for about 3 minutes or until the mixture is blended well and somewhat fluffy.  Chill for about 30 minutes before spreading on layer one of the cake.
Ganache:  Use a double boiler.  Melt the chocolate somewhat then slowly add the cream and blend in well.  Add the butter, chocolate extract and salt and blend in.
Assembly:  Spread the filling on the first layer of the cake starting in the center and out to about ½' from the edges.  Drizzle on some of the ganache.  Put this layer in the refrigerator for about 30 minutes.
Add the second layer and drizzle ganache on top.  Serve with fresh raspberries.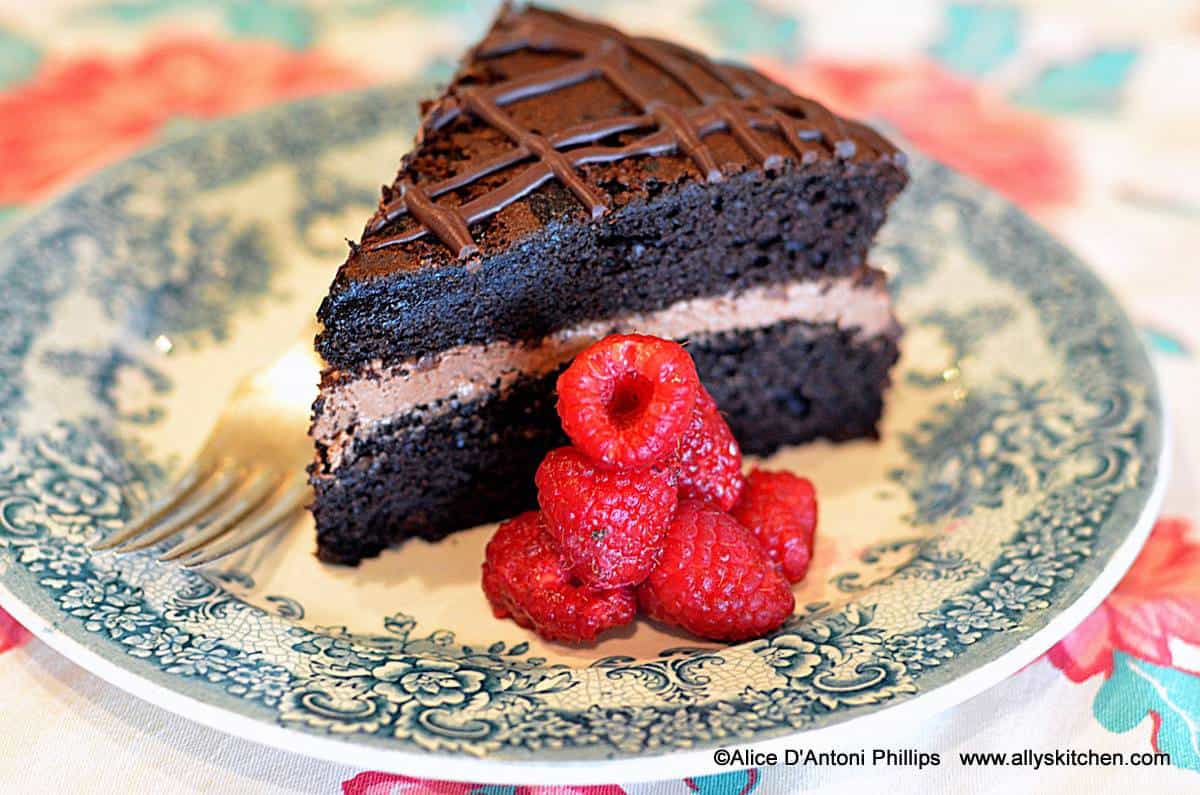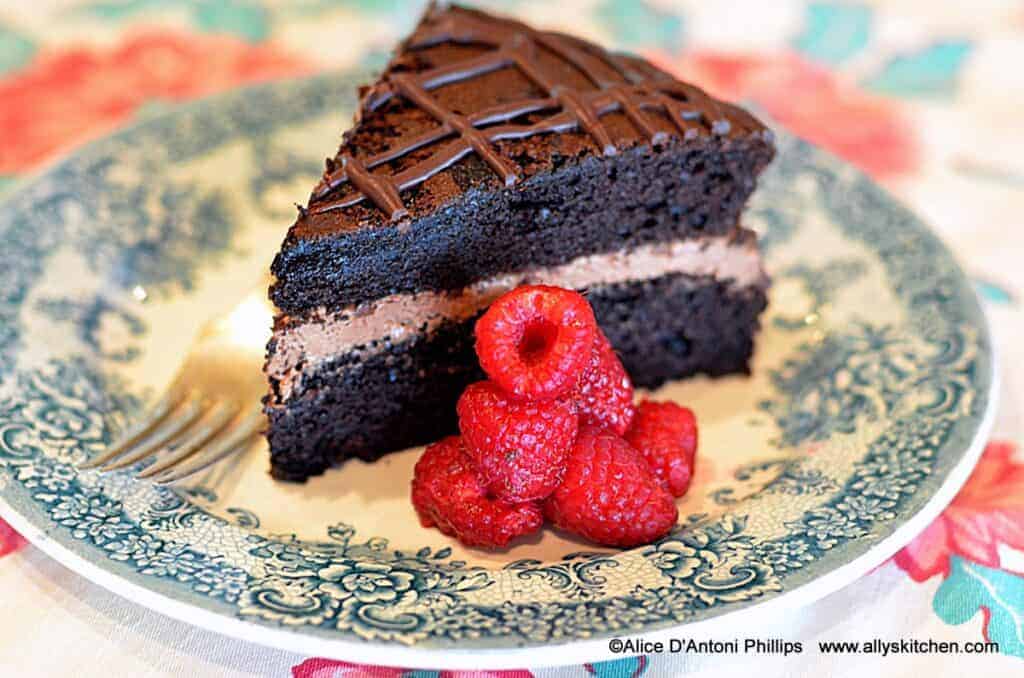 ©alice d'antoni phillips  www.allyskitchen.com