flourless wedding cookie cake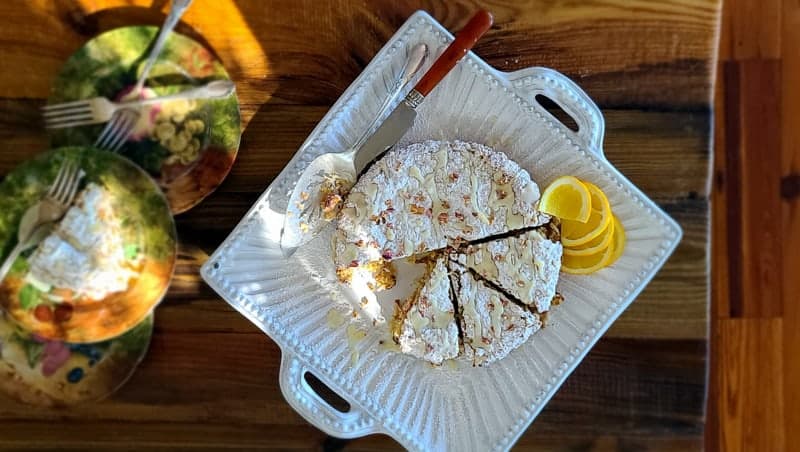 If you love the little fluffy wedding cookie, then you're going to want to make this flourless wedding cookie cake! Perfect for holidays!
Mexican Wedding Cookie Recipe
How can you go wrong with cookies that are made of butter, flour, sugar and nuts! Then rolled in powdered sugar! Well, this is what is sometimes called Mexican Wedding Cookies. Sometime they're called 'Mexican Wedding Cakes' but actually because they're small, they're a cookie.
Russian Tea Cake Recipe
Russian tea cake is similar to Russian tea cake cookies. In fact, they're pretty much the same. You might want to check out my Old World Russian Tea Cakes (that are like baby cakes!) too. OMG! Amazing!
Just a few ingredients. And, these are dairy free because I'm using coconut oil rather than butter. And, there is GF flour!
Flourless Cake
Flourless isn't all that crazy with a cake. Honestly, when you taste this cake you'll probably not even miss the flour. I'm experimenting with more of these kinds of cakes and cookies for my gluten free friends, so be on the lookout. Here's my flourless chocolate espresso tart . Oh, yes!
Russian Tea Cake Cookies
Russian tea cake cookies are classics. Just like Bing Crosby singing 'I'm dreaming of a white Christmas…' during the holidays.
It's crazy but these 'Russian' tea cake cookies have a political spin to it. As the crow flies with historians, it's said that because US-Russian relationships were strained during the Cold War, these cookies were renamed 'Mexican wedding cookie'. Go figure! You can research more if you're so inclined!
Wedding Cookies Recipe
Now you probably could make this batter into wedding cookies. But, why not have a thin beautiful cake and serve small narrow slices. It's a really cool different presentation.
Recipe for Italian Cookies
Traditionally, these buttery balls of goodliness are made with pecans, but who says you can't try almonds or walnuts. And, if you don't want them in ball shapes, then you can try crescent shapes like more traditional Italian cookies. Here's my take on Italian cookies, Orange Almond Wedding Cookies!
Cookies you can Freeze
It's really nice to be able to freeze cookies. And, this recipe lends itself to the freezer. However, here's the caveat, you want to make sure that nothing else is stored on top of it that would damage it, like crack or break the cake. Yes, it is thin. So with that being said, my recommendation is to eat it when you make it!
Wedding Cookies Ideas
Lots of wedding cookie ideas out there, but, honestly when I Googled 'wedding cookie cake' I didn't see anything. Maybe you can. Anyway, that's how this idea came about.
How to Make Wedding Cookies
These buttery cookies have so many names. And, they're one of the easiest cookies to make. Even beginner bakers will be successful with these cookies and my cake version!
What are Italian Wedding Cookies
Sometimes you'll hear these called Italian wedding cookies also. Doesn't matter whether you're talking Mexican, Italian, Russian Tea. They're all very similar and absolutely delicious!
Easy Wedding Cookie Recipes
Like my Oatmeal Coconut Cookies or my Persian Walnut Cookies this wedding cookie cake will last a few days. Simply store in an airtight container at room temperature. If you're making cookies, store with parchment or wax paper between the layers, so they don't stick together.
How to Make Mexican Wedding Cookies
It's hard to mess up this recipe. You'll basically mix your dry and wet ingredients separately. Then combine the wet with the dry. Then put in your baking pan. Now I used a nine inch tart pan, but you can use springform pan. You want this wedding cookie cake to be thin.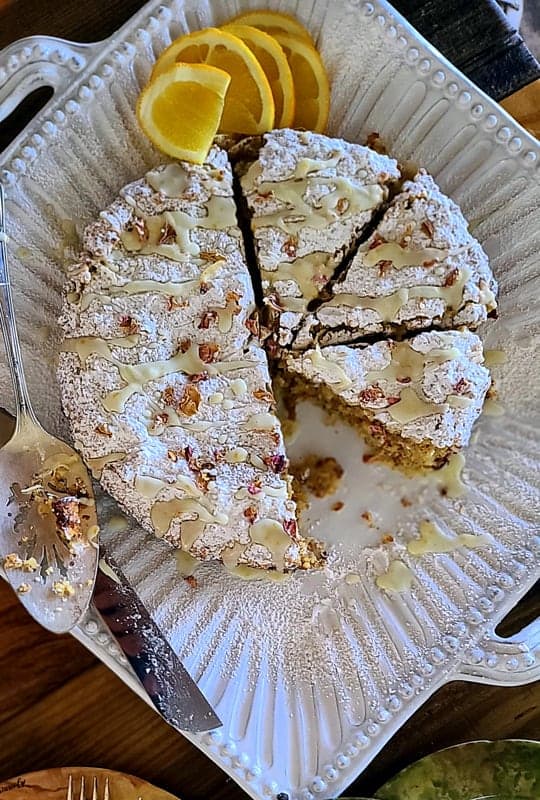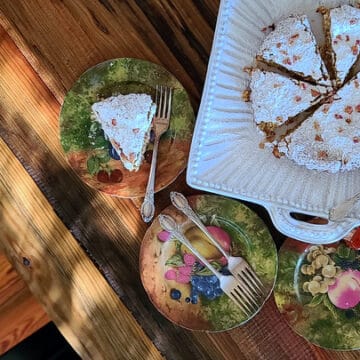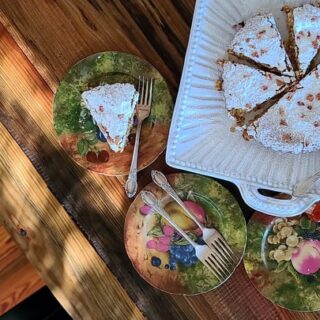 flourless wedding cookie cake
Yield:
Makes: One cake (tart) pan about 7-8" diameter
Ingredients
Preheat oven to 350
CAKE
½ tsp. salt
2 cups almonds, ground
1/3 cup sugar, can use coconut sugar
½ cup coconut, shredded, sweetened
3 eggs
4 Tbl. butter, unsalted, melted
2 tsp. rose water
5 oz. coconut yogurt
CAKE DRIZZLE or JUST POWDERED SUGAR
¾ cup powdered sugar
½ tsp. rose water
2 tsp. orange zest
4 Tbl. orange juice, freshly squeezed
Instructions
In a large mixing bowl, combine the salt, ground almonds, sugar, and coconut. Mix together and blend.
In a large measuring cup, whisk together the eggs, butter, rose water and yogurt. Blend into the almond mixture.
Pour into a well-greased (tart or springform) cake pan. Bake for about 22 to 25 minutes (or until a toothpick is almost clean from the center). Remove to a cooling rack.
For the drizzle, in a small mixing bowl, whisk together the powdered sugar, rose water, orange zest and juice. When the cake is completely cooled, drizzle on top.
For the powdered sugar topping, just dust on powdered sugar!