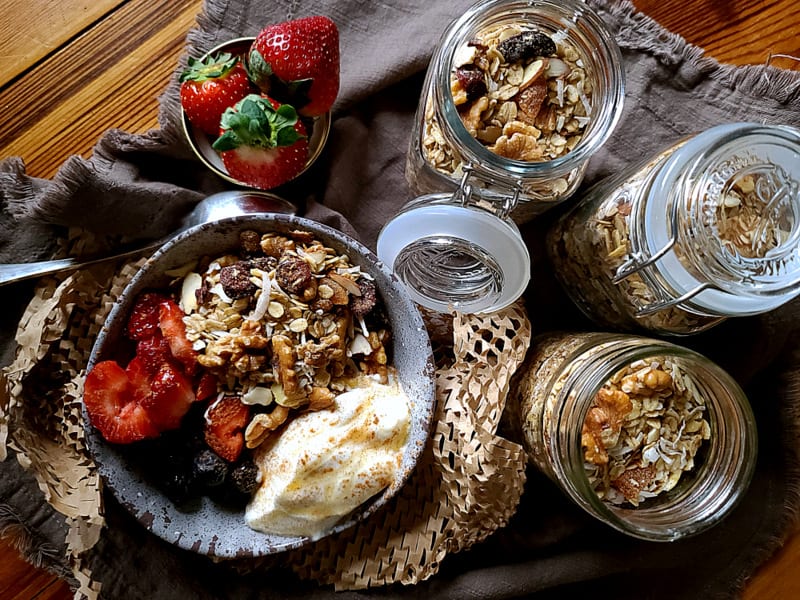 Get close to holeee with my first version of dead sea granola! Spiced, nutty and full of flavor & healthy goodliness! Other granolas are blah!
Homemade Granola
Oh, yes, you can buy granola. It can be expensive if you check the more healthy brands. But, why not make your own homemade granola!
Healthy Granola
Healthy granola starts with healthy ingredients. And, this recipe is full of good things for you.
How to Make Granola
It's simple to make granola. Even my toddler granddaughter has helped me make it. It's a fun recipe for kids to do and, boy, what a kick they get out of their results.
The Best Granola Recipe
The best granola recipe starts with the basics. In my mind, yep, it's the oatmeal. Whole oats. And, next, you have nuts. Nuts are essential to a good granola. And, if you're like me, you like a nut almost in every bite.
Easy Granola Recipe
The easiest thing about granola and making it at home is that you control the ingredients. Amounts and types. Sometimes I make an entire big container of whole oats and give away granola to neighbors. Talk about spreading happy!
Crunchy Granola Recipe
There's a natural crunchy to this recipe. It comes from the combination of ingredients, especially the nuts. Having several different textures really makes granola pop on you palate.
Ultimate Granola Recipe
And, the ultimate granola recipe has a lot of different flavors too. Especially spice mixtures. I'm working on a commercial Dead Sea Granola brand, so stay tuned for that.
Granola Recipe
And, like the Coca Cola recipe, I can't divulge the recipe ingredients and amounts for the gourmet brand that I hope to sell worldwide! Yes, I have big granola ideas and dream! And, it all started about six years ago when I was floating in the Dead Sea while visiting Israel!
Granola Mix for Yogurt
Now this granola mix is great for so many things. Yogurt's a no brainer. Sprinkle it on for fabulous flavors. But don't stop there. How about ice cream, using it in cooking and other things that just excite your imagination. You might love these Dead Sea Granola Cookie Mounds too. What a cookie!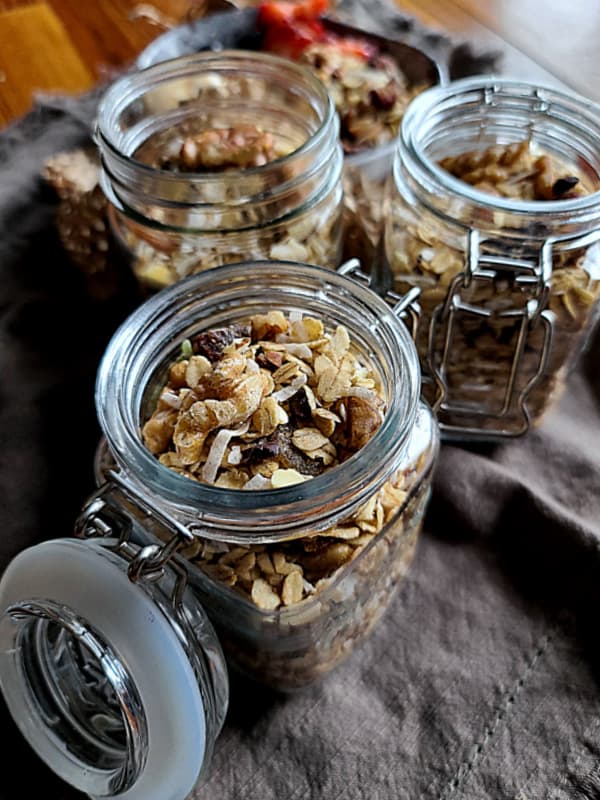 Yield: Makes: About 9-10 cups
dead sea granola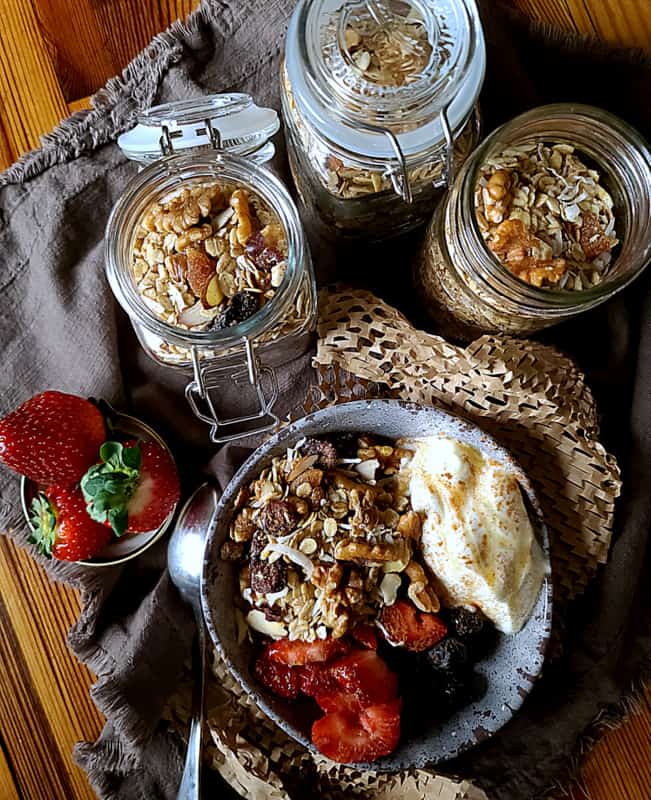 Get close to holeee with my first version of dead sea granola! Spiced, nutty and full of flavor & healthy goodliness! Other granolas are blah!
Ingredients
3 cups rolled whole oats
1 cup almonds, whole
1/2 cup walnuts, chopped
1/2 cup flax seeds
1/2 tsp. sea salt
1 tsp. Chinese 5-Spice
1 tsp. allspice
1/4 cup dark brown sugar
4 Tbl. butter, melted
1/3 cup coconut oil, microwave into liquid if solid
3 Tbl. maple syrup
1 cup dried cranberries
1/2 cup diced dates
1/2 cup cacao nibs
1 cup shredded sweetened coconut
2 tsp. sea salt flakes
Instructions
In a large mixing bowl, combine the oats, almonds, walnuts, flax seeds, salt, spices and brown sugar. Toss well with your hands.

In another small microwavable cup, combine the butter, coconut oil, maple syrup & microwave about 20 seconds or until melted. Pour over the dry mixture and blend well coating everything thoroughly.

Spread on 2 parchment paper lined cookie sheets and bake in a preheated 300 oven about 40 to 45 minutes or until golden brown.

Remove and put in a bowl. Add the cranberries, and dates. Toss and blend.

Let the mixture cool and add the cacao nibs, coconut and toss. Add the sea salt flakes. Toss and blend.
Notes
Store in large glass jars. Keep in a cool place.

Good for about 6-8 weeks.