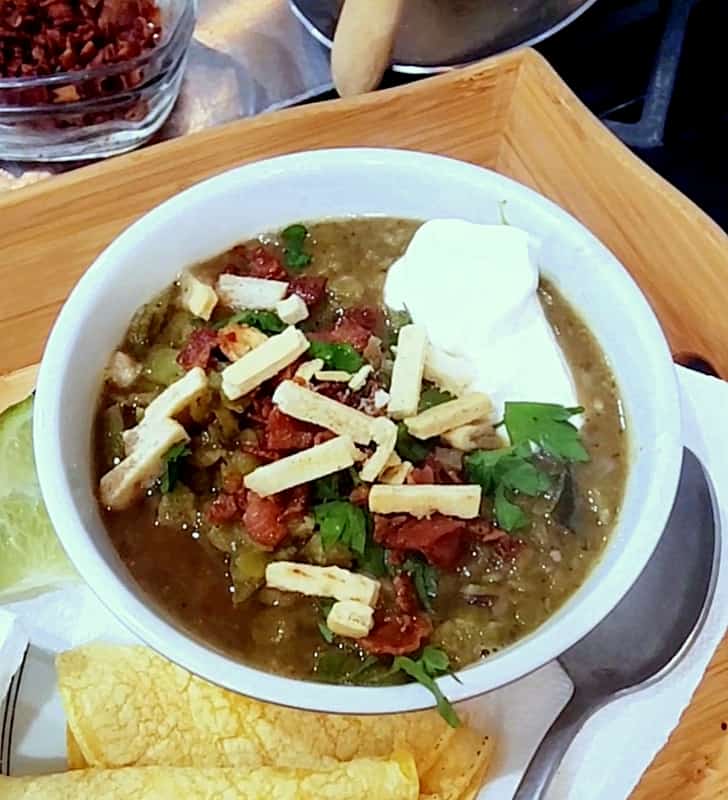 Split pea soup is a meal in a bowl. If you want to feed about six people with something super healthy, then this recipe is a must!
Ham Bone Split Pea Soup
I love cooking split peas with ham, ham bone, ham pieces or even a ham hock or ham shank.
However, I had none of these things. So, I used bacon.
Knowing that the bacon would actually become the serving crumbles, I stacked the five pieces and cut into smaller pieces. Frying took less time and there was plenty of bacon fat for the seasoning of the vegetables and the split peas.
Pea Soup Recipe
This recipe is really simple and straight forward. It's full of flavor. In fact, I served with cheese melted, pepperjack for some kick, corn tortillas.
The soup was thick and rich, and many of the vegetables which had been cut into smaller pieces eventually broke apart and just meshed into the luscious thick soup.
It's the kind of soup that you can make in under an hour and you really need nothing else because it's full of protein and vegetables.
Split Green Pea Soup
Just what are split peas. Well, like it says, the peas are split!
Basically, these are normal peas that are dried. Then they're split and this speeds up the cooking process.
Eaten as a protein or vegetable, split peas can be either green or yellow. They've got this amazingly delicious slightly sweet flavor. And, if you want them more mild, then use the yellow version.
Split Pea Soup Nutrition
If you're wondering if split pea soup is healthy, well, not to fret, it is!
In fact, very healthy. A serving has about 27 grams of protein and 18 grams of fiber. Not too shabby. And, add to that the folate, iron and potassium, and you're talking nutrition.
Split peas are higher in these nutrients than lentils, vitamins A, C, K, and some B vitamins.
If you're looking for another hearty soup (that's meatless by the way!), then this Italian soup is to die for!
How Long to Cook Split Pea Soup
You'll be cooking the pea soup on low until the split peas become tender and kind of 'mooshy'. Unless you like them a tad bit 'nutty', it's best to keep adding liquid as needed and cooking until tender.
My skillet of split pea soup took about an hour. Don't let the liquid evaporate!
Vegetarian Split Pea Recipe
If you want to make this recipe vegetarian, no problem.
A small tweak and you're in business. Instead of using the bacon drippings as your main seasoning agent, use extra virgin olive oil or avocado oil.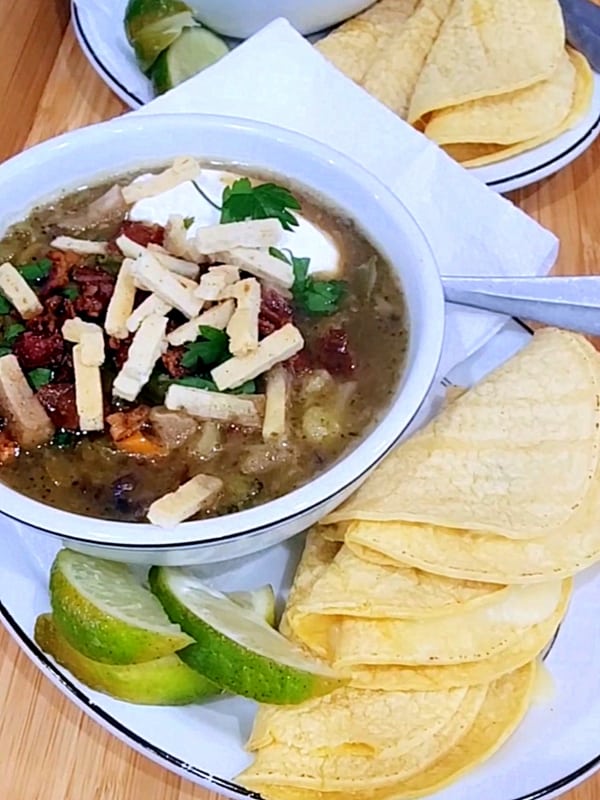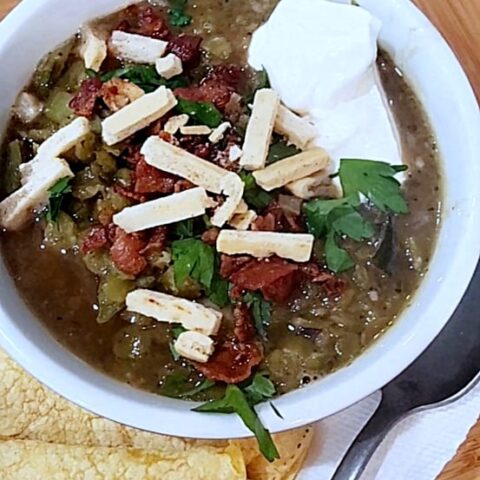 Your Best Split Pea Soup
Ingredients
5 slices bacon, fried, drain crumbles and set aside
4 garlic cloves, sliced
3 cups mixed fresh vegetables, carrots, celery, green peppers, small diced
1 cup sweet onions, small dice
32 oz. chicken bone broth
3 Tbl. nutritional yeast
3 Tbl. Italian seasoning mixture
1/2 tsp. red chili flakes
1 (16 oz.) bag split green peas, rinsed and drained, can substitute lentils
Sea salt and pepper to taste
GARNISH:
Fresh parsley
Sour Cream
Croutons
Tortilla Chips
Instructions
In a large skillet over medium high heat, fry the bacon until almost done. Add the garlic, continue to saute until the bacon is crispy. Use a slotted spatula to remove to another plate or bowl. Set aside for garnish.
Add the vegetables and saute about 3-4 minutes. Add the chicken bone broth. Blend.
Put the nutritional yeast, Italian seasoning mixture and red chili flakes in a small bowl and blend then add to the vegetables/broth. Blend.
Add the green split peas. Blend. Cover and cook about 20-25 minutes checking to see if you need to add more liquid.
Continue cooking another 25 to 30 minutes until the split peas are tender. The vegetables will somewhat 'disintegrate' and blend into the pea soup making it creamy and thick.
Add more liquid (water or more bone broth) to achieve the soup consistency you prefer. We like ours kind of thick like a milkshake consistency.
Serve immediately with your choice of garnishes.